WASHINGTON — Farm bankruptcies are on the rise in Nebraska and Iowa in the wake of this year's catastrophic weather events and rocky trade environment.
"While filings remain well below the historical highs experienced in the 1980s, the trend is a concern," the report says. "The support provided to farmers in 2018 and 2019 is expected to alleviate some of the financial stress, however, not all farmers will benefit from trade assistance, farm bill programs, crop insurance or disaster aid. As a result, it could take some time for the financial relief to manifest in the farm bankruptcy trends."
The report covers the 12-month period ending Sept. 30 and compares it with the one before.
Several Midwestern states have been particularly hard-hit. There were 37 farm bankruptcies in Nebraska and 24 in Iowa. That's a year-over-year increase of six in Nebraska and 10 in Iowa.
Sign up for World-Herald news alerts
Be the first to know when news happens. Get the latest breaking headlines sent straight to your inbox.
The report cites U.S. Department of Agriculture estimates that farms will bring in $88 billion in 2019 — that's 29% below the record high set in 2013. And a lot of that money is coming to farmers via Uncle Sam.
"Nearly 40% of that income — some $33 billion in total — is related to trade assistance, disaster assistance, the farm bill and insurance indemnities and has yet to be fully received by farmers and ranchers," according to the report.
Farm debt is projected to reach a record-high $416 billion in 2019, and farmers are taking longer to service their debt.
The highest number of farm bankruptcies was in Wisconsin, which saw 48. Nebraska tied for second with Georgia and Kansas.
Rising bankruptcy filings reflect a number of challenges currently weighing on the agriculture industry.
President Donald Trump's tariff battles with China have contributed to decreased demand for soybeans and other crops, for example.
And Mother Nature has a hand in the situation, with Nebraska and Iowa experiencing massive flooding earlier this year that affected many producers.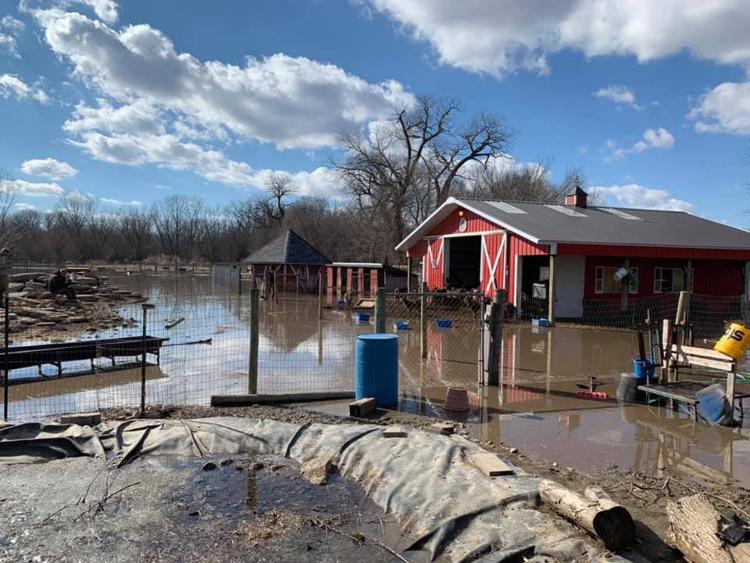 Rep. Jeff Fortenberry, R-Neb., said Wednesday that it would be helpful if the House moved forward on the pending U.S.-Mexico-Canada Agreement and that he hopes a new trade deal with China can be finalized soon.
Farm state Republicans have generally suggested that their constituents continue to back Trump's trade agenda despite the disruptions. Fortenberry said Trump's "America First" sentiment is deeply felt in farm country.
"I've been frankly extraordinarily impressed by our farmers," he said. "They know this reckoning with China had to take place. They want the best possible deal for America. And at the same time this has been painful."
Steve Nelson, president of the Nebraska Farm Bureau, said in a statement that it's concerning any time a farm or ranch goes under and that it's no secret that agriculture faces challenges.
"The flooding and blizzards that impacted so many in our state have not helped the situation," he said. "That's why Nebraska Farm Bureau continues to push for trade deals, like USMCA, that can bring some certainty and opportunities to agriculture markets. Even when these deals go into effect, it could take some time to reap the full benefits, which is why we need to lock deals in place as soon as possible."