LINCOLN — Two words still chill the spines of those who stood between U.S. Sen. Deb Fischer and her political goals, whether on the school board, in the Legislature or in the Senate.
That's when you knew the discussion was done, said Fischer friend and former Speaker of the Legislature Mike Flood of Norfolk. Her mind was made up.
People soon learned what Fischer meant, whether they were on her side or tangling with her: Support her idea, help her improve it or get ready to fight her for votes.
Folks who joined Fischer's team found out how quickly she could whip fellow senators to her cause or her party's, said former State Sen. Lavon Heidemann of Elk Creek.
Those who fought Fischer said that by the time she tipped her hand about something she wanted done, she had already counted votes. The odds were good that you were losing.
"It wasn't just that she was opposed to your bill," said former Sen. Kathy Campbell of Lincoln. "It was that she had talked to other senators who might be inclined to oppose your bill."
That behind-the-scenes work is why Fischer led her first state legislative committee, Transportation and Telecommunications, in two years, and joined U.S. Senate leadership in three.
Co-workers describe Fischer as a tenacious advocate, someone who prepares well, demands expertise from her staff and does not suffer wasted time.
Several former colleagues described Fischer as someone who charted out the framework of possible solutions to an issue and then met with people about how to improve it.
Many described her as honest to the point of bluntness when she disagreed with a policy being pursued, but fair, as a committee chair, in giving those bills a chance.
Few Republicans or Democrats questioned her persuasiveness in one-on-one meetings. Campbell, who butted heads with Fischer on Health and Human Services bills with costs, said she marveled at Fischer's ability to work senators on the floor of the Legislature.
Reading people well, understanding their personalities and motivations and knowing how to approach different kinds of legislators has been a Fischer strength, friends and foes said.
Approaching Senate Majority Leader Mitch McConnell is different from talking to Heidemann or approaching a senator whose support she needs for part of an infrastructure bill.
More than half a dozen people who had opposed Fischer at different times in her career described with begrudging respect her ability to build coalitions and enforce party discipline.
That camp includes former State Sen. Jeremy Nordquist of Omaha, a Democrat who fought some of Fischer's priorities, including earmarking a quarter-cent of the state sales tax for roads. He wanted to direct those dollars to other needs, including developmental disabilities.
Nordquist has observed Fischer in Lincoln and Washington, D.C., where he is chief of staff for U.S. Rep. Tom O'Halleran, D-Ariz. Her skills translate, he said, though she could do more.
She has been a reliable vote for the Republican Party, her record shows. And she's known as a team player for McConnell, Senate Republicans and President Donald Trump.
"She knows how to operate in a setting where leadership sets the direction," Nordquist said. "She's not one to advocate something outside of that leadership line."
That can be a detriment to Nebraska, he said, when she "tucks in behind the leadership and carries the ball," a criticism echoed by her opponent, Lincoln City Councilwoman Jane Raybould.
Fischer has frustrated some of her Democratic constituents by pausing before controversial votes to weigh public input, then voting as her party wanted. One example: her vote to confirm Education Secretary Betsy DeVos. Fischer responds that she listens to the people in her red-leaning state.
She cites the president's stated aim of improving trade deals for farmers and ranchers, and says new deals with Canada and Mexico and South Korea support her approach. She says she pressed him in meetings for movement instead of criticizing him publicly, and he listened.
Fischer dismisses most of the criticism as misunderstandings about what it takes to make Washington work better for Nebraskans. Flood, who sometimes disagreed with Fischer on road spending choices, calls her reliability a strength.
She says she tries to build a vision of what she wants to do to help Nebraska by talking to Nebraskans. And she tries to carry that out by building relationships.
She points to successes in securing $1.5 billion in federal road and bridge funding to Nebraska and to her bipartisan work on rural broadband with Sen. Amy Klobuchar, D-Minn.
She emphasizes her work to secure funding to replace the runway at Offutt Air Force Base and modernize nuclear weapons as part of her emphasis on national security.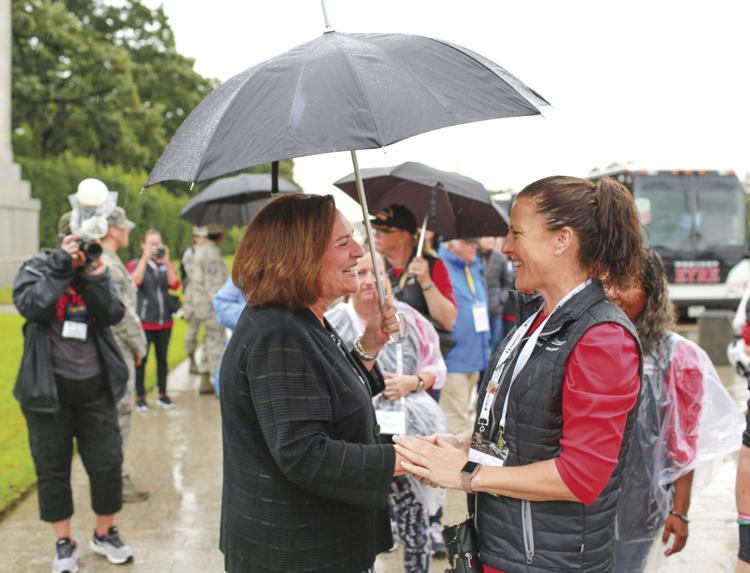 The key to Fischer's legislative successes is that she's more interested in achieving results than being the first to find a television camera to claim credit, said former State Sen. Tim Gay of Papillion.
In all legislative bodies, representatives play an inside game and an outside game, said University of Nebraska at Omaha political science professor Randall Adkins.
The outside game entails building public support for a proposal, often on TV, Twitter or by playing to the crowd, he said. The inside game focuses on building support among senators.
"Those people like Deb, who don't run to the cameras, that's why they're leaders in the Legislature and the Senate," Gay said, a point echoed by Flood, Heidemann and others.
Fischer has found her work drawing support from labor, including the unions representing Omaha and Lincoln firefighters. The leaders of both fire unions have said that Fischer listens to their concerns, while her opponent, Raybould, has been more argumentative.
Polling from 2011-12 shows that broad swaths of Nebraskans did not know much about Fischer before the state senator from Valentine survived a three-way GOP primary for U.S. Senate.
Lawmakers are learning now what her two higher-profile competitors found out then, Flood said: It's hard to outwork a rancher who's devoted a lot of time to public service.
"To get results," Fischer said, "you have to get people to buy into the ideas that you have. The way to do that is to empower them and make them an important part of any proposal or process that we come up with … to achieve that goal."