During the depths of the Great Depression, Bert McKeeman of Council Bluffs quit high school early to help support his impoverished family.
In 1940, he pursued his dream of travel and service and joined the Navy. That dream ended in fire and flood Dec. 7, 1941. The 25-year-old died aboard the USS Oklahoma when the battleship was torpedoed by Japanese bombers and sank at its moorings in Pearl Harbor.
Of almost 1,400 men on board, 429 died — 388 of them, including McKeeman, were buried in Hawaii as "unknowns" because their bodies couldn't be identified.
Seventy-seven years later, on Saturday, McKeeman will be buried in his native Iowa, at Cedar Lawn Cemetery in Council Bluffs.
"We were shocked they found anything because we didn't know what happened to him," said Kathy Rollins, 71, of Neola, Iowa, McKeeman's niece.
"This finally puts things to rest," said Rollins' brother, Bill McKeeman, 56, who lives in Texas.
Bert McKeeman was identified less than 20 miles from his home by forensic anthropologists at the Defense POW/MIA Accounting Agency laboratory at Offutt Air Force Base. The agency has now identified dozens of USS Oklahoma victims using modern DNA technology.
McKeeman had two younger brothers, Earl and Roy Jr., and a younger sister, Erma, all of whom have died, Rollins said. Only recently did they learn that he also had an older sister, Bertha, who died in 1917, at age 6, of diphtheria.
His parents, Roy and Mary McKeeman, lived in a house without electricity or indoor plumbing. "His family was very poor," Rollins said.
His father had been a sailor, and Bert wanted that life, too. After basic training in Illinois, he was assigned as a fireman first class to the USS Oklahoma, based at Pearl Harbor.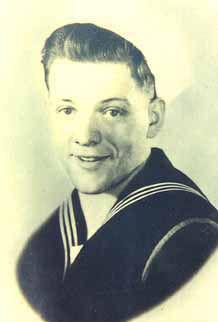 When the Japanese launched their surprise strike early on a Sunday morning, as many as eight torpedoes struck the battleship in the first minutes of the attack. It rolled over and sank in the shallow harbor. Sailors like McKeeman, who worked below decks in the engine room, stood little chance.
Soon after the attack, the family was notified that McKeeman was missing. A few weeks later, the family received a letter stating that he most likely was deceased but hadn't been found, Rollins said.
He was "just a young man waiting to start a life," she said. "He was a very handsome man. To us, he's our hero."
The Oklahoma was raised for salvage in 1942 and 1943, and the mud- and oil-soaked bones of the dead were buried in two Hawaiian cemeteries. After the war, military authorities spent several years in a fruitless effort to identify the remains, but the bones were hopelessly mixed. They gave up and buried all of them in a group of graves at the National Military Cemetery of the Pacific, in an extinct volcano crater overlooking Honolulu.
McKeeman's family didn't share his story with the next generation, Rollins said. In fact, she didn't know that her uncle had ever existed until she asked a relative about a man in a photo, who turned out to be her Uncle Bert.
"That was the sad part," she said. "It wasn't talked about."
She and her husband, Earl, traveled to Pearl Harbor in 1996, she said. She found his name on a memorial wall at the cemetery, but no one could tell her where the unmarked graves were.
Rollins' brother, Ron McKeeman, 70, of Council Bluffs, got a call six years ago from a Texas-based forensic genealogist who said the Navy wanted to identify Bert McKeeman and the rest of the USS Oklahoma sailors. The genealogist was seeking a DNA sample from someone in the family.
"I was surprised as hell," Ron McKeeman said.
Bert McKeeman's brother Earl, who was still living at the time, gave a sample. Rollins was stunned when the Navy notified the family in August that Bert had been found.
"Ron and I, we cried together. He said, 'Is this happening, Sis?' " Rollins recalled.
They visited the lab at Offutt and met the anthropologists whose detective work led to his identification. They saw his bones — a skull, hip bones, part of a leg — and, with gloved hands, were even allowed to touch them.
"It was quite an experience," Rollins said. "Like, 'Here you are — finally!' "
For the past three months, McKeeman's niece has channeled her efforts into planning and organizing Saturday's memorial service, which will be at 1:30 p.m. at Hoy-Kilnoski Funeral Home, 1221 N. 16th St., in Council Bluffs. Burial will follow at Cedar Lawn, with a flag-draped casket and the playing of taps.
Rollins is expecting at least 80 relatives, and many friends and neighbors, to honor a man whom none of them knew, but whose sacrifice isn't forgotten.
"What are the odds?" she said. "We call it a miracle."
This report includes material from the World-Herald News Service.
Honoring our heroes: A gallery of Nebraska veterans
Honoring our heroes: Nebraska veterans and their service.