WASHINGTON — Former Defense Secretary Chuck Hagel offered a blunt assessment of President Donald Trump's decision to pull U.S. troops from northeastern Syria.
That move gave a green light for Turkey's offensive against the Kurds, allowed the Russians to step into the resulting leadership vacuum and undermined American credibility on the world stage, Hagel said in a World-Herald interview last week.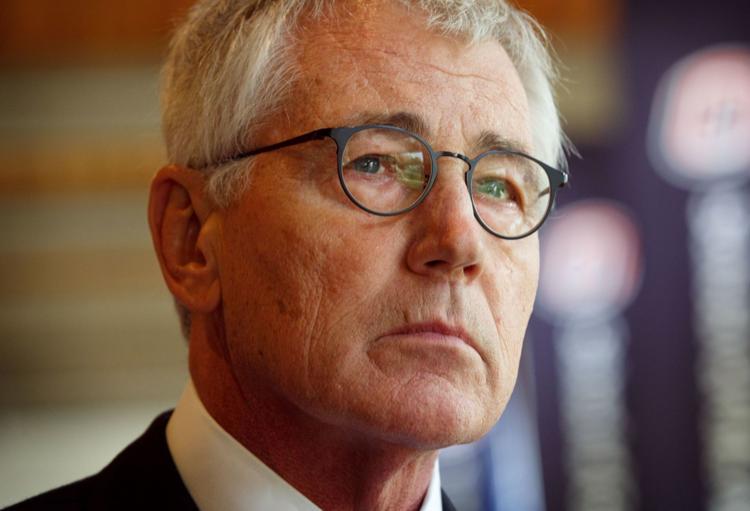 "The Russians have taken over the very positions that we left," Hagel said. "If that's not humiliating and embarrassing to the United States of America, I don't know what is. If Americans don't quite get it or understand it — or want to understand it — everybody else in the world does."
Hagel said he bases the last part of that assessment in part on a recent 10-day trip across Europe, where he delivered speeches in Germany and England. Hagel spoke with officials and diplomats from across Europe and the Middle East who wanted to know just what is going on with America that it would abandon the Kurds who helped fight against Islamic State extremists.
"They were shocked because they see it as a real act of pulling the rug out from under an ally we've depended on," Hagel said. "We've turned our backs on an ally, and that has not been lost with our allies all over the world. So I think it was just shameful."
Trump has cast the pullback as strategically savvy and last week described a Turkish cease-fire as a "major breakthrough" made possible by the pain and suffering from the fighting that preceded it.
Sign up for World-Herald news alerts
Be the first to know when news happens. Get the latest breaking headlines sent straight to your inbox.
While many Capitol Hill Republicans have criticized the troop withdrawal, others have come to Trump's defense and suggested that he was in a difficult position once Turkey announced its imminent offensive.
Given the relatively small number of U.S. soldiers in the area, that argument goes, it would have been irresponsible to leave them in harm's way.
Hagel took issue with that line of thought, however, noting that he has known Turkish President Recep Tayyip Erdogan for many years.
Erdogan has problems of his own at home, and effective use of U.S. diplomacy and influence could have deterred the Turkish attack, Hagel said.
Trump also has made the case that his moves are part of a broader desire to simply get out of the region, saying it's about time someone else did the fighting over "this long blood-stained sand."
"How many Americans must die in the Middle East in the midst of these ancient sectarian and tribal conflicts?" Trump said recently. "After all of the precious blood and treasure America has poured into the deserts of the Middle East, I am committed to pursuing a different course — one that leads to victory for America."
Hagel's conversation with The World-Herald came before Trump announced Sunday that U.S. forces had raided a compound housing Islamic State leader Abu Bakr al-Baghdadi, who apparently blew himself up to evade capture.
In a written statement on Monday, Hagel said Baghdadi's death is good news, although it's tragic that the terrorist reportedly killed several children along with himself.
Hagel praised U.S. military personnel, saying they eventually track down such murderers, including Osama bin Laden. But he also predicted that Baghdadi's demise won't mean the end of the Islamic State, also called ISIS.
"These terrorists organizations are dangerous and sick perversions of religion," Hagel said in the statement. "They're actively decentralized all over the Middle East and Africa. We'll continue to fight ISIS and al-Qaida. This fight is not over."
Before serving as President Barack Obama's defense secretary, Hagel represented Nebraska for two terms in the U.S. Senate.
Much of his second term in the Senate was defined by sharp criticisms of his fellow Republican, President George W. Bush, over that administration's handling of the Iraq War.
So Hagel said he certainly understands the get-us-out-of-there sentiment among Americans who witnessed the aftermath of a misguided invasion of Iraq.
But he also warned about the consequences of completely abandoning the region, as evidenced by waves of refugees who have flooded Europe from there.
"The problems don't stop because America gets out," Hagel said.
He said it requires presidential leadership to explain to the public the necessity of a U.S. role in the Middle East, in contrast to what he described as an incoherent approach by Trump.
One overlap between Trump and Hagel is that both have criticized Obama for not following through on his "red line" over Syria's use of chemical weapons.
Indeed, Hagel said administrations that came before Trump share some of the blame for the current situation in Syria — including the one in which he served.
During his time as defense secretary, Hagel complained to the White House that the administration lacked a Syria strategy — complaints that contributed to his departure from the administration.
"They didn't like it when I said 'We don't have a policy,' " Hagel said. "We didn't."
Photos: Our best shots of 2019 (so far)
Take a spin through the best of our staff photos from 2019. The gallery will be updated throughout our journey through the next year.