LINCOLN — Allen Beermann says he's graduated from being kiddingly known as the "state fossil" to being officially declared "the state's oldest living relic."
But after nearly five decades in the public eye, the 79-year-old is about to take on a new title: "retired."
Beermann, who served as Nebraska secretary of state from 1971 to 1995, will end 24 subsequent years as the executive director of the Nebraska Press Association on Jan. 31.
But the native of a Dakota County farm and trained lawyer wore several other hats during his career, which he says took him to "48 countries in 48 years."
Sign up for World-Herald news alerts
Be the first to know when news happens. Get the latest breaking headlines sent straight to your inbox.
He's served as the state's unofficial diplomat, traveling to dozens of countries as part of trade missions, and has acted as the state's "host" for many visits by foreign dignitaries. Beermann was a tour guide for entourages of Nebraskans on 27 voyages aboard the USS Nebraska, a nuclear submarine, as well as trips to Air National Guard bases to show off training activities to business leaders.
His résumé shows a long list of civic activities, from serving on the national board of People to People International to being on the board of the Cornhusker Council of the Boys Scouts of America.
"I have a lot of contacts," Beermann said.
That is an incredible understatement. Union Pacific Railroad executive Scott Moore, who was elected secretary of state after Beermann declined to seek reelection in 1994, said he was astounded at how many people he met across the state who proclaimed, "I'm a good friend of Allen Beermann."
That familiarity extended overseas. Moore said that once at the Entebbe Airport in Uganda, a person asked him, upon learning that he was from Nebraska, if he knew Allen Beermann.
And there was one time in Taiwan, Moore said, when a Nebraska trade group was meeting with the owner of a steakhouse chain. Then-Gov. Ben Nelson, according to Moore, asked, "Do you think they know I'm more important than Allen Beermann?"
Beermann, a Republican, is a throwback from the old days of politics, when political foes would ride together to campaign events and political acumen was measured by how many people you knew and how many hands you shook, not how many "clicks" you got on Twitter and Facebook.
"Incivility never crossed my mind," said Beermann, recalling a ride-along to a debate in 1970 with his Democratic opponent for secretary of state, Stan Matzke.
Beermann's office at the Press Association in Lincoln is a mecca of memorabilia of political and civic service. There are personalized messages from Barbara Bush, a customized sword from composer Chip Davis and a cigar-shaped pen from Fidel Castro. There's an ornate globe (a present from Taiwanese officials), a replica of a lantern carried by Paul Revere on his famous ride, a commemorative piece of the Berlin Wall and, oh yeah, a picture of him shaking hands with Elvis before one of his last concerts.
"He was nice. Courteous and professional. Very easy to be with," Beermann said of the King.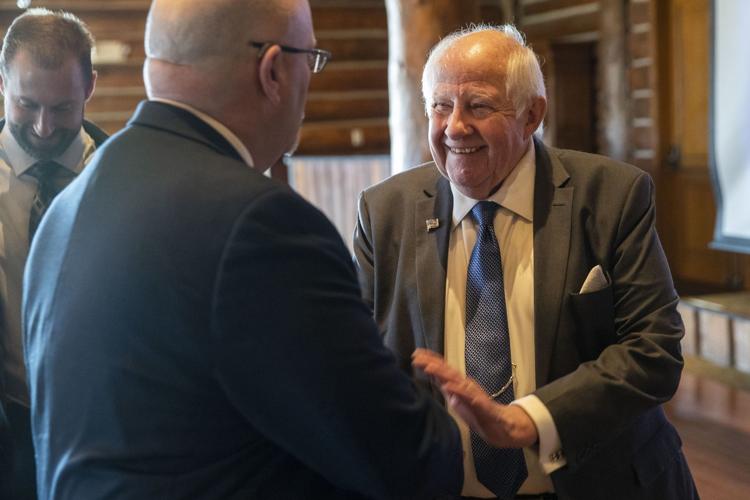 During a recent visit, stories poured forth from the affable Beermann like the floodwaters of March: The favor returned by the mayor of Prague (as in the Czech Republic), his friendship with the Bacardi rum family and the time he was able to use the second floor of Independence Hall in Philadelphia for a meeting of the nation's secretaries of state. He said it was the only time the space had been used since the signing of the Declaration of Independence in 1776.
And then there's the story about becoming engaged to his wife, Linda, a former Lincoln television reporter. It happened at the inaugural ball for just-elected Gov. J.J. Exon in 1971. Allen and Linda were just dating at the time, but seconds before they were to be introduced, walk through the curtain and join the "grand march" of state dignitaries, Beermann pulled out a ring and popped the question.
"She answered, 'Oh my God, I'm going to faint,' " Beermann said, as the couple stepped into the spotlight and were announced as "Secretary of State Allen Beermann and his fiancée."
"She never did say 'yes,' " he chuckled. The couple, married in an Elizabethan ceremony at Nebraska City's Arbor Lodge, have two grown sons.
The "state fossil" nickname was tagged on Beermann because, well, he's been around a long time. His buddies in the Lincoln Downtown Rotary Club regularly shout out "Beermann was there" when a historic event is mentioned.
"We just have fun with it. Life's too short not to have fun," said Beermann, whose past also includes stints as a professional water skier and as a bungee jumper for the opening ceremony of the Nebraska State Fair.
He said he was recently elevated — via a certificate sent to him by Trevor Jones, the head of Nebraska History, the state's historical society — to the state's official "oldest living relic."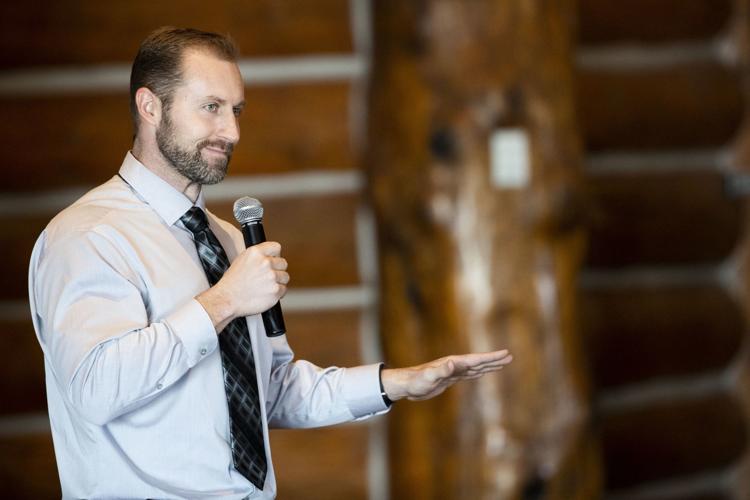 Beermann's career was not all fun and travel. He said he declined to seek Republican Party offices or selection as a delegate to the national conventions to preserve impartiality as the state's top election official.
In 1991, Beermann was the lone vote on the Nebraska Board of Pardons to grant clemency to convicted murderer Harold Lamont "Walkin' Wili" Otey. Nelson and then-State Attorney General Don Stenberg both voted "no." Otey went to the electric chair in 1994, the state's first execution since Charlie Starkweather in 1959.
Beermann said there's no doubt Otey was guilty, but he was bothered that Otey's defense attorney had almost no experience and that similar murders hadn't resulted in death sentences. He received a half-dozen hate letters and boxes of supportive mail after the controversial vote.
"If you're going to do something like that, it has to be done right. And fair," Beermann said.
He said he decided it was time to retire because he and his wife have a few more places to visit, because they have a grandchild to dote over and because the Press Association needs someone with greater expertise in the new digital realm of journalism.
"An informed citizenry is really the bedrock of democracy," Beermann said, adding that the press has an "awesome charge" that is enshrined in the U.S. Constitution to do that.
He said he would like to be remembered for his public service and service to others, and performing his duties with dignity and civility.
"You don't get rich doing that," Beermann said.
That is, unless you gauge wealth in terms of friends and adventure.