GIBBON, Neb. — Exhausted firefighters stood in a semicircle Sunday morning outside the Gibbon fire hall and shared stories from the past four days.
They said floodwaters covered most of their town but couldn't drown the community's spirit.
"All the people came together to help. So many of them brought food. People who don't even live here were showing up," said Stephanie Brown, wife of Gibbon Fire Chief Rick Brown.
After drenching rains Tuesday and heavy snow on Wednesday, Gibbon's low spots became apparent, first as water filled streets to the curb, and later on Thursday and Friday as the water spilled into lawns and driveways before lapping at foundations.
"I've never seen so much water, or the force and damage it can do in a short time," firefighter Jamey Rome said.
Other firefighters were impressed by the encouragement they heard from Gibbon residents whom they rescued from stalled vehicles and flooded houses.
"Their houses were devastated, but they were upbeat," firefighter Sydney Meyer said.
The firefighters also said they were thankful for their spouses and other family members who cared for children and took care of their houses while they stayed on the job for nearly five days straight.
In all, the community's volunteer fire department made 55 water rescues.
"Some people said we're heroes, but we're not heroes, we're just doing our jobs," firefighter Trista Cress said, recalling one of the water rescues she helped with.
"One little boy we rescued, he was probably 7 or 8. He was so brave. He rode alone in the boat holding his two dogs," Cress said.
One of the Gibbon residents the fire department helped lost his home to the floodwaters.
Don and Rhonda Ash arrived home Saturday after helping other flood victims and discovered part of the foundation of their place just west of Gibbon Packing Co. had collapsed. With the foundation compromised, Don Ash thought the house could collapse, so he called the volunteer fire department for help.
Photos: Nebraska flooding viewed from above
After 60 minutes of hard work, the firefighters had removed most of the contents from the upper floor. Ash's friends in the Legion Riders motorcycle club came to finish the work.
Ash said the sound of creaking wood could be heard as firefighters carried out the housewares.
"It's stressful, but nobody got hurt," he said. "I don't know how to describe how thankful we are for everyone who helped."
Across Union Street from the Ashes, Roland Mosel and his son Quinton were busy Sunday morning removing items from their house.
The basement flooded and water rose about 6-12 inches above the ground floor, leaving the carpet and furniture a soggy mess.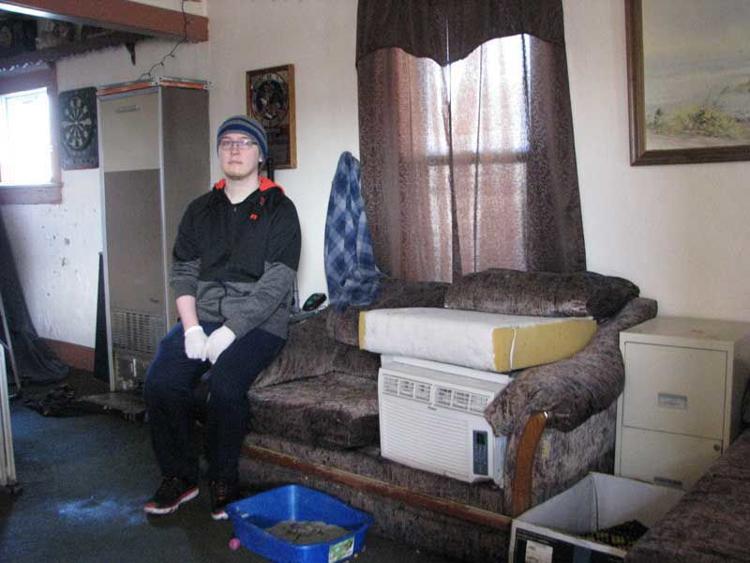 Quinton was alone in the house and asleep on the second floor when he woke up Friday morning to refill his water bottle. After he discovered the house was flooded, the volunteer fire department came to rescue him. Roland works in Kearney and was busy during the rain and snowstorms helping his father after surgery.
Mosel said removing furniture and ripping out the carpet will be his first steps in flood repairs.
Also nearby Sunday on Union Street was Pastor Juan Carlos Escobar of the Iglesia El Aposento Alto. Escobar and two church members were removing water-damaged materials from two storage units. Nearly everything was destroyed in one unit, but the contents of the second unit were OK.
He said he was thankful the church lost so little, but he was more thankful that no lives were lost in Gibbon.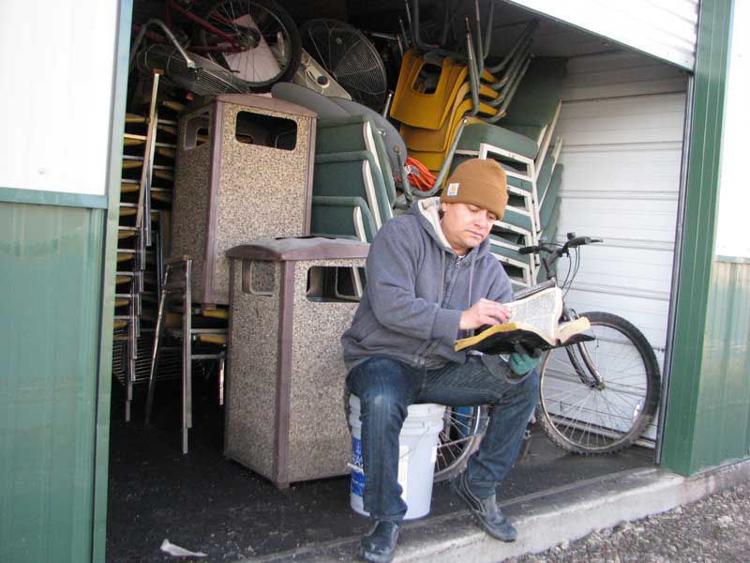 He said in his 12 years as pastor in Nebraska, he hasn't seen a natural disaster of such magnitude.
"Our church is praying together for the people of Nebraska to continue moving forward," Escobar said.
Fire Chief Rick Brown said volunteer fire department members train a lot, "but there's no way to train for something like this."
He said that at times it's difficult recruiting volunteers to the fire department, but the outpouring of support during the past several days has shown every volunteer in the Gibbon department that their work is important and appreciated.
"I've got an awesome group of people that I couldn't be more proud of," Brown said. "Yeah, we're dragging, but we're still pushing forward."
Photos: Nebraska flooding viewed from above