Back-to-back storms on Tuesday and Wednesday dumped 4 to 8 inches of rain on parts of north-central Nebraska.
Officials in Brown and Rock Counties on Thursday asked drivers to stay off roads entirely as they took stock of washed-out roads, bridges and culverts.
As waterways rose overnight, firefighters conducted at least one water rescue north of Ainsworth early Thursday after a pickup fell into flooded Bone Creek, according to radio station KBRB.
The 35-year-old driver slipped and fell trying to get out of the truck and was swept 200 to 300 yards downstream by a fast-moving current before she was able to grab onto a tree, KBRB said.
Firefighters and rescuers were able to locate her by the light on her cellphone. The woman spent about 20 minutes in the water.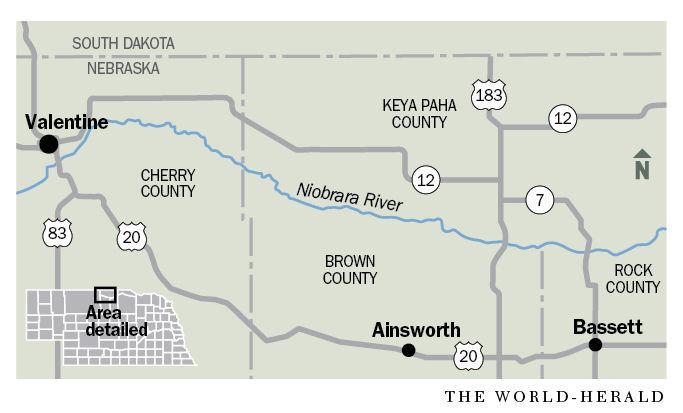 At midday Thursday, the National Weather Service said flood warnings remained in effect for Rock, Brown, Holt, Keya Paha and Boyd Counties.
Areas that might flood included O'Neill, Spencer, Ainsworth, Bassett, Lynch and Stuart.
A flood warning continued for the Ponca Creek at Verdel, which measured 11.8 feet Thursday morning, 1.7 feet below flood stage, and the Elkhorn River near Ewing in Holt County.
Douglas Fox, director of Emergency Management Region 24, which covers Boyd, Brown, Cherry, Keya Paha and Rock Counties, said the flood damage may be worse than what occurred in mid-March, when a monster storm caused catastrophic flooding across parts of Nebraska and Iowa.
Flash Flood and Flood Warnings are in effect along with Flood Advisories across Holt, Brown, Keya Paha, Rock, and Boyd counties. Local officials are recommending no travel across Brown and Rock Counties due to flooding issues. #NEwx pic.twitter.com/vp7sknOHCP

— NWS North Platte (@NWSNorthPlatte) September 12, 2019
It's been a steady onslaught of rain and flooding since the spring, Fox said.
"It just keeps raining. Since March, it's just one thing after the other," he said. "We fix roads and they get washed out again. We put culverts in and they get washed out again."
Brown and Rock Counties are southeast of Valentine and include the towns Ainsworth and Bassett.
In Ainsworth, pockets of storms that blew through the area in the afternoons and evenings Tuesday and Wednesday brought more than 8 inches of rain over the two days, said Jaclyn Gomez, a meteorologist with the weather service office in North Platte.
"A lot of that ground is saturated," she said. "With the saturated ground, there's just nowhere for that rainfall to go."
Rod Worrell, publisher of the Ainsworth Star-Journal, said he had about 5 inches of rain in his home rain gauge both Tuesday and Wednesday.
Hail measuring nearly 2 inches in diameter fell in Imperial, south of Ogallala, breaking car windows. In North Platte, officials clocked winds of 72 mph, Gomez said. The weather service received reports of downed trees and power lines in Hayes County.
Sign up for The World-Herald's afternoon updates
Receive a summary of the day's popular and trending stories from Omaha.com.
The bridge over Long Pine Creek northwest of Bassett was washed out by flash flooding Wednesday night, and the Hidden Paradise Cabins near Long Pine took on water.
Brown County Sheriff Bruce Papstein said Bone Creek and Plum Creek are flooded, too. Some state highways and county roads from central to north Brown County are covered by water.
"There's lots of county roads and culverts washed out, lots of holes in the roads and all that," Papstein said. "Just what everybody needs."
Road crews have been working all summer to patch previously flooded roads, and the most recent storm is just another setback, he said.
The Niobrara River was still rising Thursday, Fox said.
"Of course, water's coming from the west," he said. "I don't know when it's going to come down."
The rain fell as part of a storm system that unleashed three tornadoes on Sioux Falls, South Dakota, and triggered widespread flooding in southeastern South Dakota as the Big Sioux River swelled. Forecasters are keeping an eye on the Missouri River near Blair, Omaha and Plattsmouth; it is expected to rise over the next week to minor flood stages.
Photos: Major flooding hit Nebraska and Iowa towns in March 2019