Scooters have been buzzing around Omaha streets (and sidewalks) for about a month. In that time, a few dozen riders have been treated for injuries from scooter-related falls, but authorities have issued only two true tickets.
The electric scooters debuted May 15 in the downtown, midtown, Blackstone, Benson and Aksarben areas after Omaha Mayor Jean Stothert approved a six-month pilot program the day before.
Since then, between 30 and 40 people have been treated in the emergency room at the Nebraska Medical Center for scooter-related injuries, said Kayla Thomas, a hospital spokeswoman.
Most of the injuries were cuts, bumps or bruises to the riders' ankles or feet, she said.
About 3 p.m. Sunday, a 32-year-old man from Fayetteville, Arkansas, was riding a scooter on the sidewalk south of 15th and Cass Streets when he drove into the grass and crashed. He told police that he thought he cut his left leg below the knee on exposed tree roots nearby.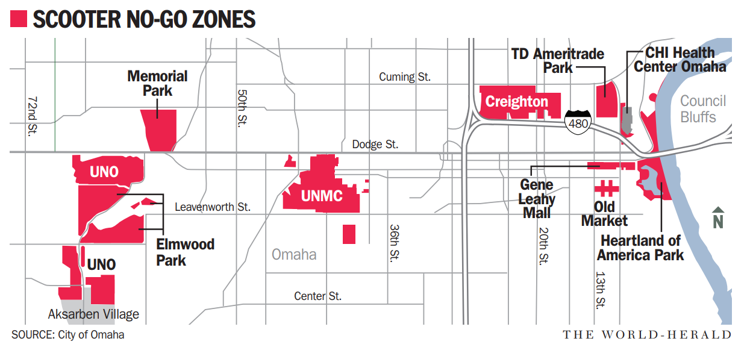 The man was taken to the Nebraska Medical Center. There was no indication that he had been using alcohol. The report didn't say whether the man was cited for riding on the sidewalk, which is not allowed.
About 6:30 p.m. Sunday, a 23-year-old woman from Kansas City, Missouri, lost control of the scooter she was riding near 15th and Nicholas Streets when she hit some debris in the street.
Witnesses told police that the woman lost consciousness. Officers saw a hematoma on the right side of her head with blood on her face and chest. The woman was "noticeably confused and unsteady when standing," the report said. Officers did not note any alcohol use. She was taken to the Nebraska Medical Center in serious condition.
No patients hurt while on scooters have shown up at CHI Health's two emergency rooms closest to downtown — University Campus at 2412 Cuming St. or Creighton Medical Center-Bergan Mercy at 7500 Mercy Road — spokeswoman Kathy Niver said. And no scooter-related injuries have been reported at Methodist Hospital or Methodist Women's Hospital, spokesman Patrick Smith said.
A recent study in the American Journal of Otolaryngology that looked at electric scooter injuries from 2008 to 2017 found that head injuries were on the rise because of people not using helmets.
The police reports on the two Sunday crashes did not say whether either rider was wearing a helmet.
Just two days after the scooters arrived, a 16-year-old girl fell off a scooter near 31st Avenue and Farnam Street and injured her right ankle. She may have been the city's first reported electric scooter injury.
Omaha police started ticketing riders May 20. Of the 63 citations given, 61 were warnings for driving on the sidewalk, said Omaha police spokeswoman Kelsey Murphy. The warnings do not carry fines, she said.
Roughly half of the warnings were issued this past weekend, the opening weekend of the College World Series. The event draws thousands of people to the city, and Lime, one of two companies that have electric scooters in the metro area, said it was adding about 400 scooters to its fleet of 200 already downtown.
Lime was the first company to provide scooters in Omaha and has the largest fleet.
Alex Youn, a spokesman for Lime, said he was not able to provide specific ridership numbers for Omaha. However, he did say that since May 15, a quarter of all the scooter rides in the metro area occurred Friday through Sunday, and ridership over the opening CWS weekend was three times the normal amount of weekly rides taken in Omaha.
Youn said the company is seeing "an incredible amount" of ridership in the metro area and believes that the scooters are filling a "giant transportation gap."
Photos: Our best shots of 2019 (so far)
Take a spin through the best of our staff photos from 2019. The gallery will be updated throughout our journey through the next year.