LINCOLN — Fifty years ago in a Lincoln living room, Robert F. Kennedy's campaign for the presidency got on track.
It was late March 1968 and Kennedy, a U.S. senator from New York, had just entered the race for the Democratic nomination for president. The incumbent president, Lyndon Johnson, and a staunch anti-Vietnam War candidate, Minnesota Sen. Eugene McCarthy, were already on the ballot in Nebraska and other early primary states.
Kennedy's Nebraska campaign organizers — including former Lt. Gov. Phil Sorensen, who returned to his home state from Indiana as a liaison between the national and state organizations — huddled at the Country Club neighborhood home of Edie Van Neste. They had little time to cobble together a statewide campaign. Nebraska's mid-May primary loomed in about seven weeks.
Mary Ann Hanson of North Platte (now Mary Ann Strasheim of Omaha), the campaign's Lincoln County chairman, said Sorensen wished aloud that there were a big rodeo or some other event on the state's spring calendar for Kennedy to visit and meet people.
"I sat there thinking," Strasheim said. "I piped up: What if we could do a whistle-stop train that would go all the way through the state?"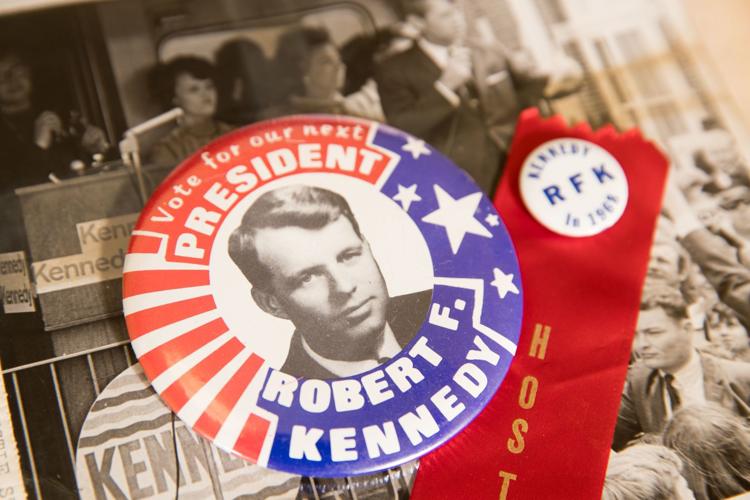 Strasheim said Sorensen turned to her and said, "Mary Ann, you may have elected the next president of the United States."
A month later — Saturday, April 27 — a seven-car Union Pacific Railroad train festooned with "Kennedy for President'' banners rolled out of Cheyenne, Wyoming, heading east into Nebraska. An overnight dusting of snow hadn't yet burned off the short, winter-bleached prairie grass as Kennedy's old-fashioned whistle-stop tour to engage Cornhusker voters began.
Shadows cast by billowing clouds moved across the rocky bluffs. Windmills and pine trees spiked the high-plains horizons as the candidate and his entourage — including wife Ethel and Freckles, the family's springer spaniel — and more than 100 newsmen from around the world settled into the rhythm of the rails.
The throwback tour illustrates the fading luxury of presidential candidates taking time to meet people in the present era of rapid-fire social media campaigns, said Peter Longo, a political scientist at the University of Nebraska at Kearney.
On his trip to share his vision of the nation's future with Nebraskans, Kennedy received visitors in the observation car who hopped aboard for a stop or two, or he roamed the train to seek them out. They were local mayors, Democratic officials, volunteers and others with connections. They brought gifts — a basketball, kolaches and flowers — as tokens of loyalty and symbols of local pride.
"You can't cross Nebraska without a conversation,'' Longo said. "It's a long trek."
Kennedy speechwriter Jeff Greenfield later said the tour was the most successful day of the 82-day campaign because the candidate — who was mortally wounded the night of his June victory in the California primary — began to believe he could win the nomination.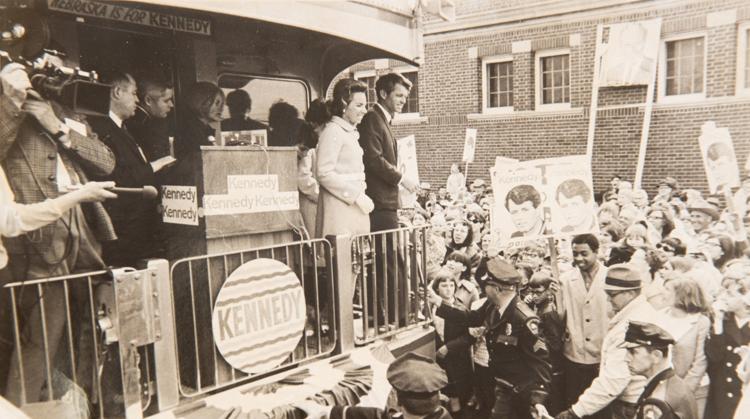 The initial stop was Kimball, just 20 miles into Nebraska from Wyoming. Scenes and speeches that would be repeated at each community during the next 14 hours unfolded there first.
A welcoming pep band — Kimball's decked out in its green school colors — performed on the depot platform. A large, friendly crowd of young, old, ranchers, farmers and town folk flooded across the rails and surrounded the rear of the train. The candidate leaned over the railing of the observation platform for quick touches and grips of outreached hands.
Kennedy, a bona fide New Englander — he pronounced "Nebraska" as "Nebrasker" — appeared comfortable and quickly attempted to break down barriers of geography and politics with the Plains people spilled out at his feet.
Photos: Robert F. Kennedy's whistle-stop tour through Nebraska
On April 27, 1968, Sen. Robert F. Kennedy took a train across Nebraska to promote his presidential campaign. 
"You may not know it," he said with a grin, "but I come from a farm state. New York is first in sour cherries.''
Kids laughed. Their elders smirked.
Kennedy noted signs waved for the presumed Republican nominee.
"Actually, Richard Nixon is speaking up in front of the train,'' he said. "We thought that was fair. He has no crowd at all."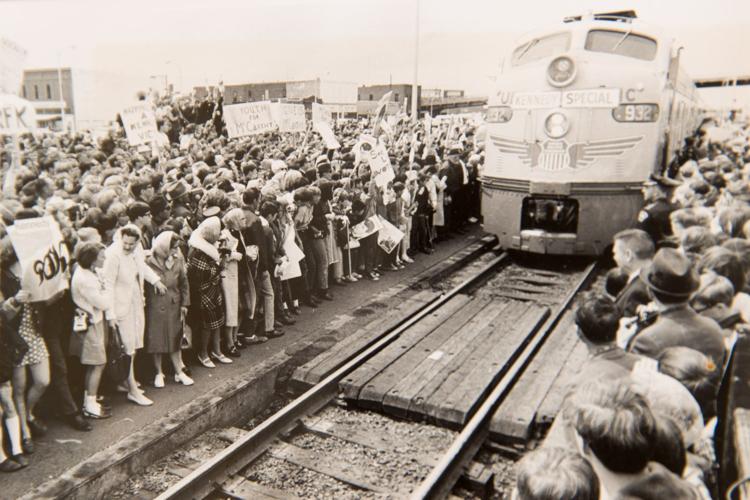 Nebraskans turned out by the thousands not only to experience firsthand the Kennedy mystique but to take the measure of a man who was bold enough to want to be president.
Friendly and receptive crowds greeted Kennedy across the conservative and Republican-tilting state. Eight years earlier, Nebraskans favored Republican Nixon by the widest margin of any state in the presidential election won by the candidate's brother, John F. Kennedy.
As the train approached North Platte, reporters aboard the train heard a local radio broadcaster announce the arrival: "We can see the light of the engine approaching. It is passing the Poplar Street crossing. It's going under the viaduct. I think the crowd is going to knock me off my ladder!"
The train slowly rolled through the waving swarms. When it stopped, Kennedy appeared on the platform and said, "President Johnson once said to me, 'Go west, young man.' I thought he was trying to tell me something, because I was in California at the time.''
Ethel Kennedy was a surprise addition to the entourage. Clad in a coral orange coat, she joined her husband on the platform, often leaning over the railing to touch hands in the crowd.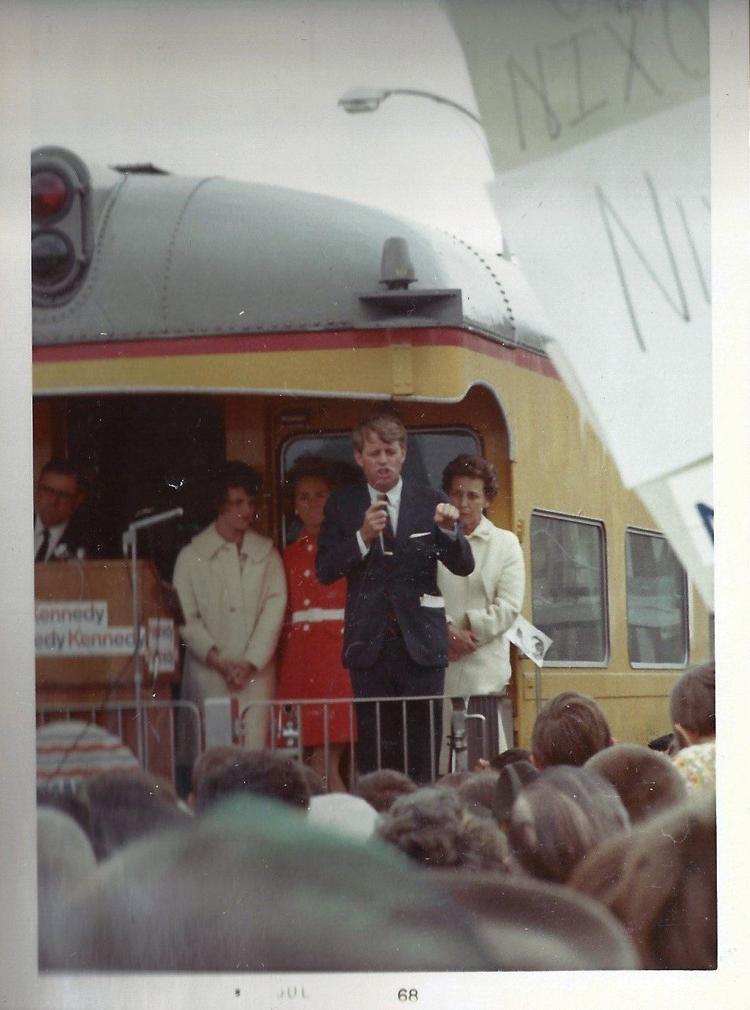 "This is my wife, Ethel," Kennedy would say, gesturing in her direction. "Now you wouldn't want her to say, 'He lost in Nebrasker,' ... A nice girl like that ... with all those children.''
In Columbus, the crowd chuckled at the quip, "pleased with his sense of the ridiculous ... and then settles back to look for tell-tale signs of ruthlessness," wrote Loudon Wainwright, a Life magazine columnist who rode the train from Cheyenne to Omaha.
Robert Kennedy's whistle-stop stump speech repeated two themes: small towns and family farms must be preserved, and the war in Vietnam must be returned to the Vietnamese if it cannot be settled quickly.
"This is not America's war," he said in Kearney, "but we have tried to make it ours and thus committed a grave error. I think we can and should help the South Vietnamese government in this struggle, but we cannot win it for them. We cannot substitute our will and determination in place of theirs.''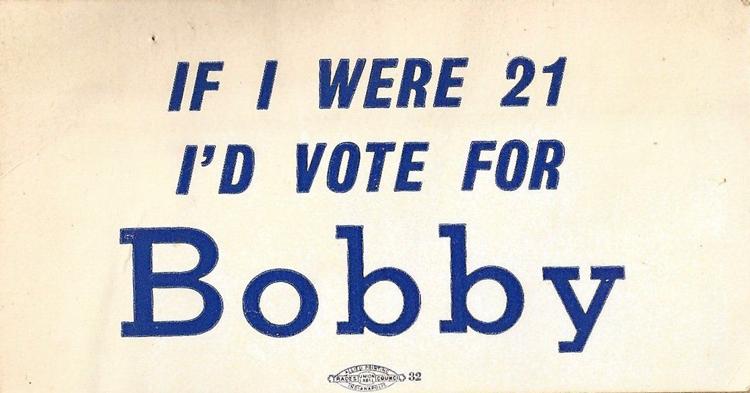 He also talked of poverty, racism and urban strife.
He promised that he understood the hard problems facing rural Americans and that he would bring the presidency and the government back to the people. He vowed to work toward restoring peace and order to America and to help recover the nation's shattered sense of dignity.
Crowds applauded at the right places and Nebraska's Democratic voters gave him the victory in May. Kennedy took 52 percent of the vote to anti-war candidate McCarthy's 31 percent. Johnson, who surprised the nation in late March by deciding against seeking re-election but remained on the ballot, finished a distant third.
Kennedy's whistle-stop speeches each ended with his signature line: "As George Bernard Shaw said, 'You see things; and you say, why? But I dream things that never were; and I say, why not?' "
For reporters who left the train to interview people in the crowd, the wind-up quote — a designed applause line — signaled that it was time to scramble back aboard. As the train started pulling away, hands in the crowd reached up to touch Kennedy's in the parting. People followed the train down the tracks until it vanished.
So it went across Nebraska.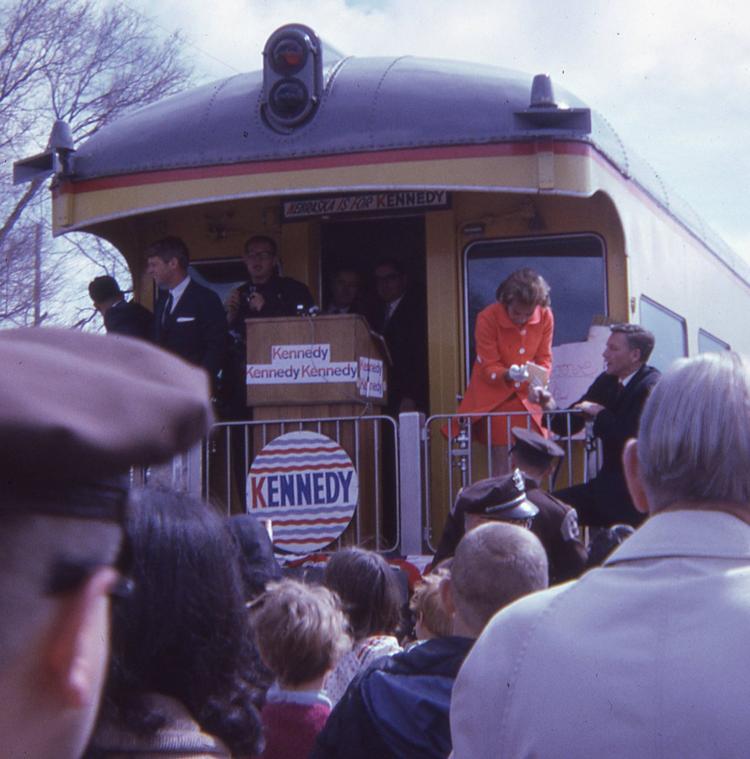 In Omaha that night, Kennedy said of the tour: "I learned one thing I will never forget. It is a long way across Nebraska by train."
Kennedy's first whistle-stop gifts were a driller's hard hat, symbolic of Kimball's claim to be the Oil Capital of Nebraska, and a key to the city from Mayor G.M. "Curley" Hensley.
Miss Kimball, Georgia Killham, was among local community and party dignitaries sharing space on the platform with the candidate.
The Kimball County Observer newspaper's report noted that Kennedy's famous hair was "clipped around his ears and shorter than normal, confirming national reports that Kennedy has shorter hair cuts in recent weeks."
The story also mentioned that Ethel Kennedy's coat was "several inches above the knees" and that she wore white textured stockings. One of the signs in the crowd read, "Welcome Ethel Bird,'' a reference to President Johnson's wife, Lady Bird.
Political buttons for McCarthy, Nixon and other candidates peppered the crowd. None was older than attorney Gerald Matzke's vintage, sunflower-shaped Landon-Knox button representing the Republican candidates for president and vice president in 1936.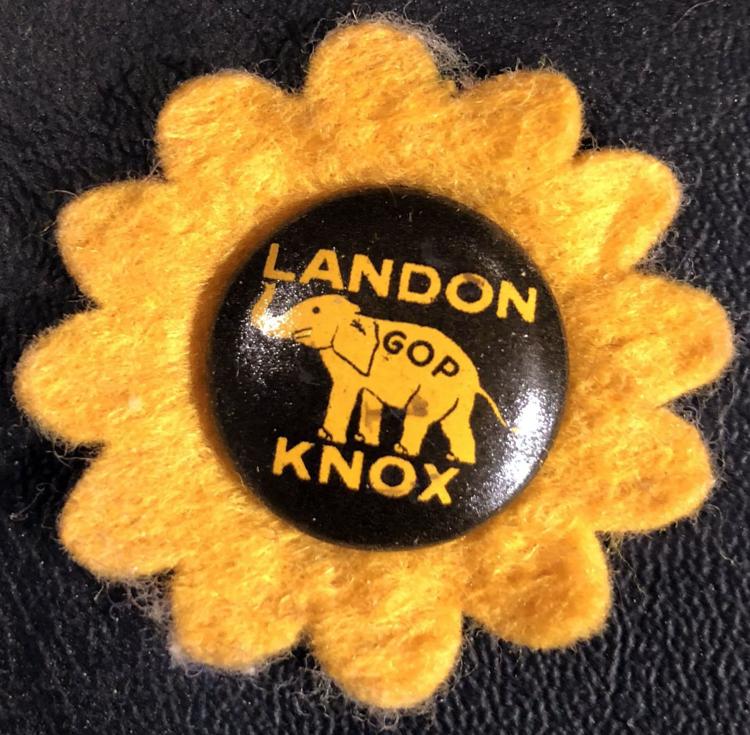 "We were honored to have him stop and what we did was a joke," said Matzke, now 87. "I think he would have made a remarkable president. If I have known then what I know now about the service he rendered to the country (during the Cuban missile crisis), I would have voted for him. He saved us from a war with Russia over Cuba."
Matzke, who served in the Nebraska Legislature from 1993 to 2001, said he laments how national political campaigns have evolved.
"Our politicians grandstand too much and have forgotten how to be seen, meet and talk with people,'' he said. "Everything is just showmanship now. This (Kennedy's visit) wasn't showmanship."
Kennedy personalized his stump speech for every community along the route.
His opening remarks in Ogallala congratulated local law enforcement offices for their recent alertness in issuing a speeding ticket and a $25 fine to the driver of Hollywood character actor Victor Buono. The actor, a passenger in the vehicle, complained about the incident on television entertainer Joey Bishop's late-night talk show, saying Ogallala was "a horrible place to visit."
"You noticed how slowly we came into town," Kennedy joked.
The candidate said U.S. farm policy should reward, not penalize, farmers and ranchers for their efficiency. He quipped that he and his 10 children were already helping Nebraska agriculture that no other candidate could match: "We're the greatest supporter of Sandhills beef of any candidate."
Kennedy said he hoped people in the crowd had "thrown away their Nixon buttons."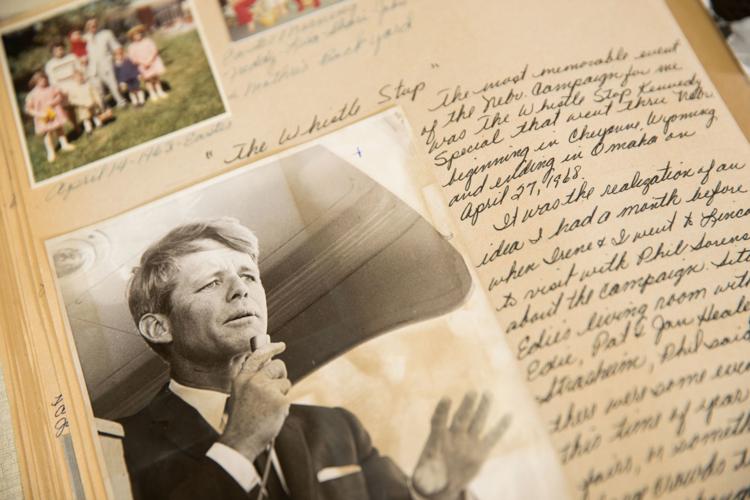 Jack Pollack, editor and publisher of the Keith County News in Ogallala who rode the train from Cheyenne, wrote that Kennedy's hair was considerably shorter than several of the newsmen aboard the train. He also noted that the "most noncommital passenger aboard the train was a member of the Kennedy family — the dog Freckles."
Mayor Jack Martin made Kennedy an honorary Trail Boss in the old Texas Trail cowtown. Larry McCormick presented a western vest on behalf of the Jaycees. In the crowd, a young woman attired in western wear sat in the rain on the back of a larger-than-life-sized plastic Hereford steer.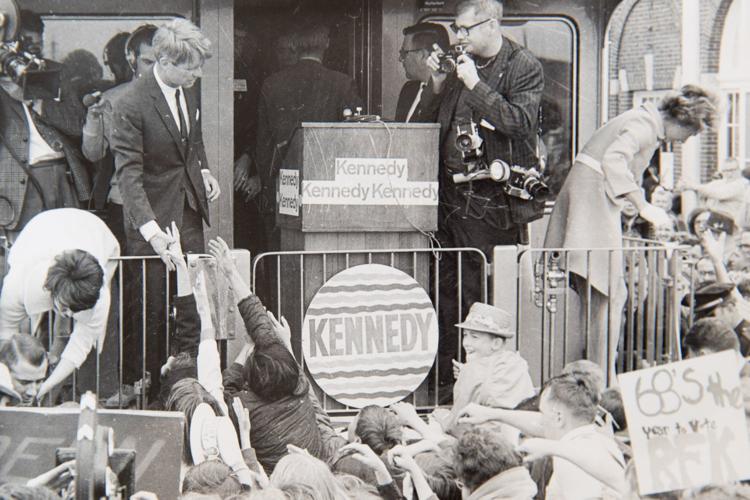 Kennedy said he had heard about the city being the home of Buffalo Bill, but said he was "not hunting buffaloes, we're hunting elephants."
Keith Bystrom was a 17-year-old North Platte High senior, Kennedy volunteer and son of Irene Neville Bystrom, co-chairman of the candidate's Nebraska campaign. One of the youth brigade's jobs was to spread out and ensure a supportive, loud crowd.
"Of course, we didn't have to worry about that,'' he said. "It was packed."
Bystrom and a few others with passes to ride the train to the next stop managed to get nearly a dozen friends aboard. Kennedy spent about 10 minutes talking with the young men and women.
At Lexington and still toting their campaign signs, they walked two miles to Interstate 80 and hitched a ride with a stranger 63 miles back to North Platte.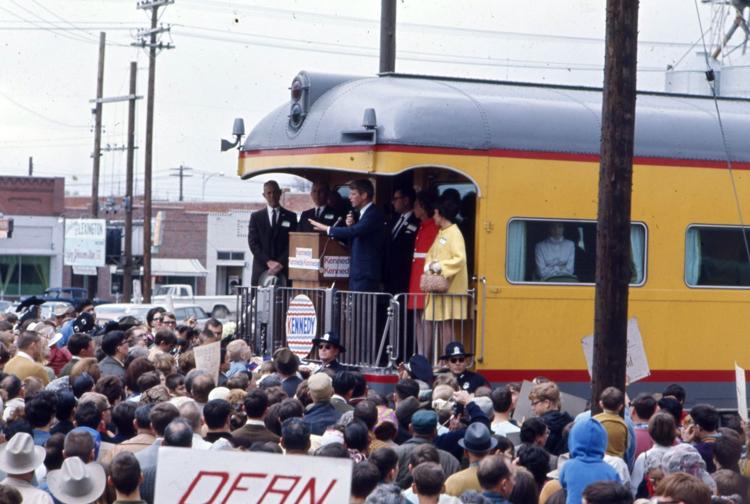 News of Vice President Hubert Humphey's entry into the race reached the train before it arrived in Lexington. Kennedy told the crowd that Humphrey's decision "makes it more complicated."
From the Lexington Clipper: "Apparently without qualms that his farmland listeners might think him a city slicker knowing little about farming and disregarding the fact he was in mainly hawk-sentiment territory, he hammered away the heaviest on the farmer's plight and his chief crusade — ending the Vietnam conflict."
Kennedy said he didn't want to pull U.S. troops out of Vietnam. "I do think we should help the Vietnamese, but they should carry the burden,'' he said.
He said it was not right that a young man in Lexington could be drafted to fight in Vietnam but a young man in Vietnam could buy his way out of the draft.
People crowded three deep on an overpass sidewalk above the railroad tracks in a brisk wind and drizzle. Youngsters climbed trees for a glimpse. A man in a straw hat hawked Nixon buttons.
Law enforcement officers pushed the swelling crowd back behind restraining cables. As the train pulled up to the depot, the crowd broke through the barrier and spilled across the tracks behind the train.
An amateur photographer worked continually during the 20-minute visit, ripping Polaroid pictures from his camera as fast as he could shoot them.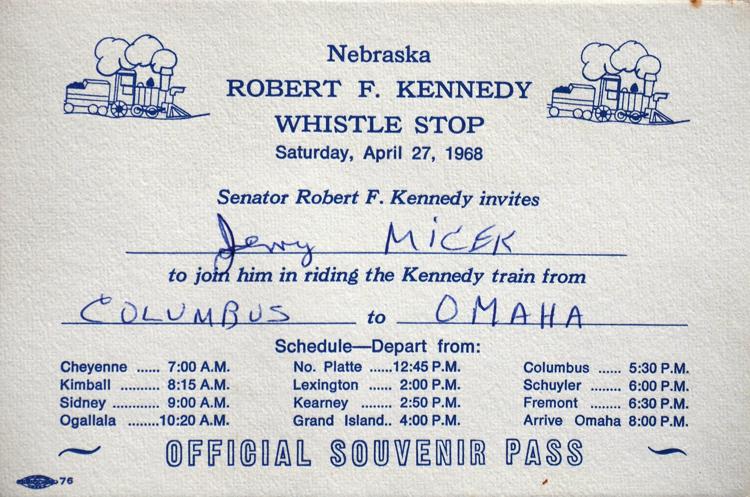 Campaign workers from across the nation worked day and night in preparation for the train's brief stop, said longtime Democratic volunteer Donna Sydow (now Donna Frederick) of Grand Island.
When she and Kenny Jenkins, co-chairmen of the campaign's Hall County organization, stepped onto the platform with the Kennedys, they got their payoff.
"All we could see was heads. No railroad tracks. No cement street crossing. Just heads," said Frederick, now a 90-year-old retired school teacher.
Enthusiastic spectators knocked down several people when the Kennedys leaned over the platform railing to shake hands. The senator stepped back and returned to the microphone to admonish the crowd to be orderly and not to push.
Kennedy said he favored government decentralization. "Not all wisdom is in Washington,'' he said.
Jerry Micek said he sometimes wonders what happened to the autographed football presented to Kennedy by Claire Stramel, coach of Scotus Central Catholic High School's 1967 Class C state football champions.
"The Kennedys like to play football. They may have used it,'' said Micek, who was the 29-year-old area chairman of the Kennedy campaign.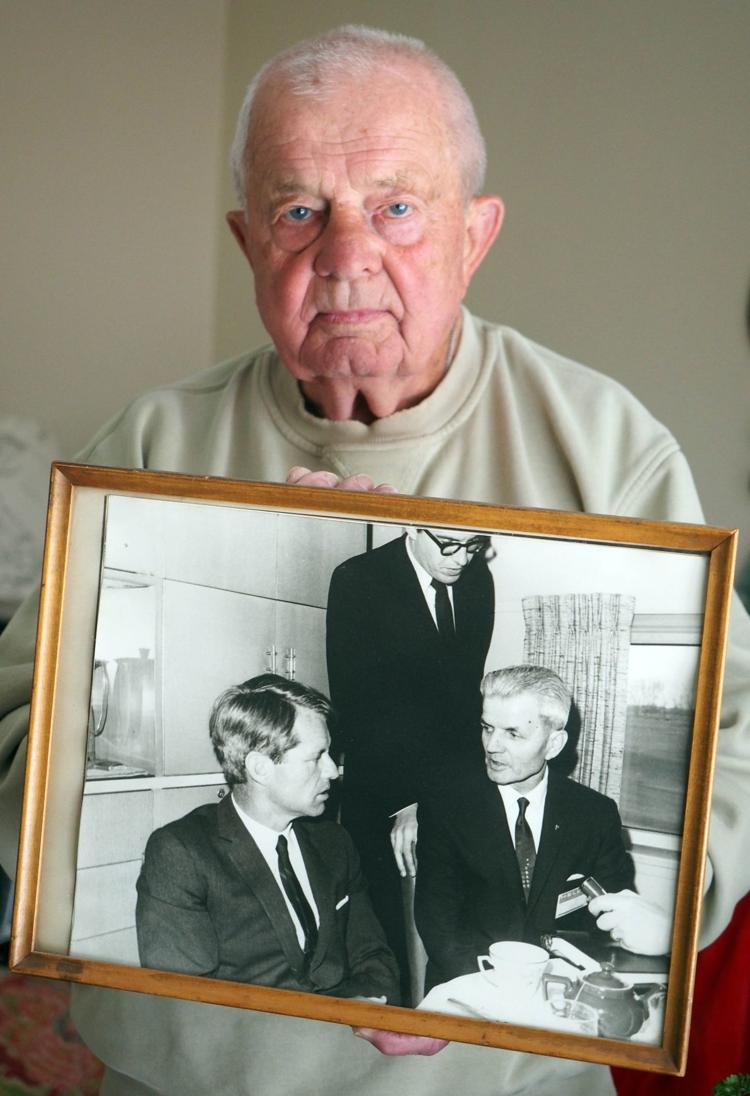 Micek's father, Barney, was Columbus mayor. Both were aboard the train to welcome Kennedy to Columbus. In the crowd were sisters Anita and Charlotte Micek at the base of the platform. The Scotus High students were campaign volunteers holding homemade signs and wearing plastic Kennedy hats.
"We were right up front,'' said Anita. "Back then there wasn't so much Secret Service (security). You could get up close and personal. It was just nice."
"I just remember being in awe, and for some reason I remember the green trench coat I wore to the train," Charlotte said.
The candidate kidded about a Micek political dynasty: "The Kennedy family is also accused of being involved in a dynasty!"
The Kennedys spotted a sign in the crowd held by the Joe Kobus family. The sign read: "Kobus Family 14. Kennedy Family 10," referring to the Kobus kids outnumbering the Kennedy kids.
"No one said we were through,'' the senator quipped. (They weren't. People aboard the train learned that Ethel was pregnant. The couple's 11th child was born after the senator's death.)
Fifty pounds of T-bone steaks — a gift from a Columbus farmer — were in the refrigerator when the train left Columbus.
Chuck Jura, dressed for prom and not old enough to vote, was on Kennedy's list of possible vice presidential candidates for a fleeting moment.
Jura, a 6-10 high school All-American senior, presented Kennedy with a basketball signed by players from Schuyler's freshly crowned Class B state championship team. After watching Jura's agility in handling the basketball on the platform, the senator quipped: "I should have this boy as my running mate."
After the presentation, Kennedy remained on the platform as Jura and others gathered behind him inside the car.
"We were all sitting in back and he turned and said, 'I need everyone to be quiet. I'm going to be speaking,' " Jura said. "He was a good politician. It was a unique experience."
Harlan "Red" Hamernik, mayor of Clarkson, clad in a Czech costume, presented Kennedy with a box of kolaches baked by Geraldine Vodehnal and a Czech Days souvenir spoon. The kolache box was half empty when the train arrived at its next stop.
Schuyler Junior High students Candace Johnk and Renee Svec presented pink and yellow roses to the Kennedys.
"We were waiting and waiting,'' said Johnk, now of Omaha. "Suddenly the train was there, then the train was gone."
Jura stayed aboard when the train left Schuyler and the Kennedys briefly chatted with him about the basketball team. Jura left the train in Fremont and a friend drove him back to Schuyler for prom.
Dozens of spectators climbed the ladders of parked, nearby railroad box cars to catch a glimpse of Kennedy at his last stop before Omaha.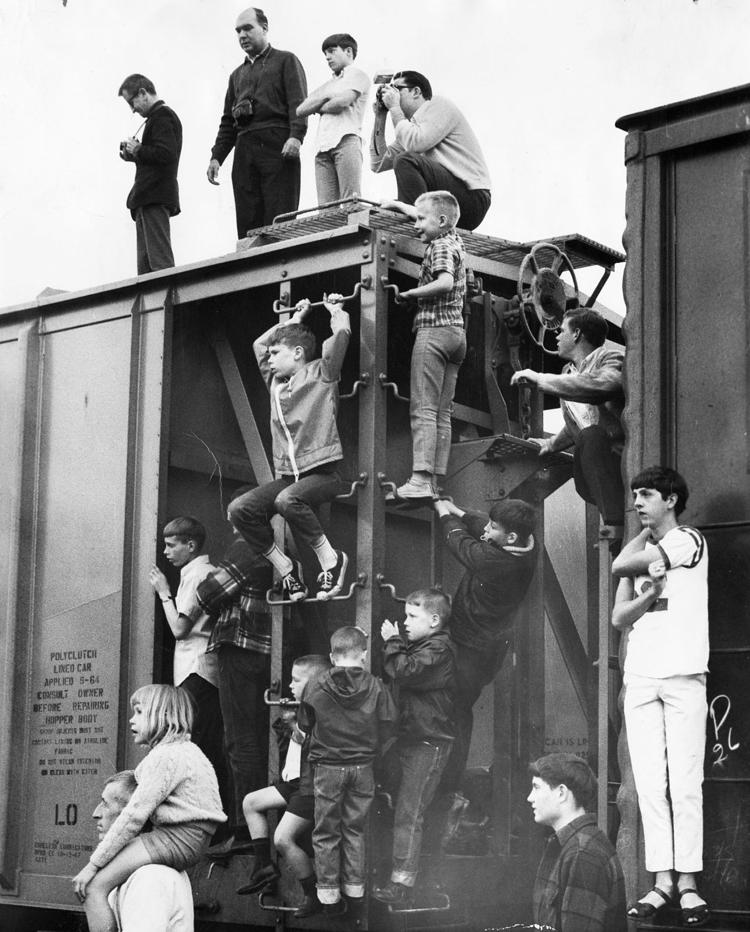 Signs for Kennedy — and a few for Nixon and McCarthy — bobbed high across the crowd. The candidate asked that they be lowered so those in the back could see him.
Kennedy said the nation's population would double in the next four decades and "we can't have all those people going into our cities."
Tax incentives for industries willing to locate in rural areas to help sustain small communities are necessary, he said. The alternative is more welfare. "I don't think the welfare system, the dole system, the handout system, is a satisfactory substitute for jobs,'' he said.
Union Station was packed with people when Kennedy arrived. He was whisked through the crowd and a group of cheering high school girls in plastic boaters to a bannered convertible. He stood in the back of the car, touching outstretched hands.
Police motorcycles thundered to life, sirens screamed and the motorcade ferried the candidate 15 blocks to a packed Civic Auditorium, where he addressed a waiting capacity crowd of more than 8,000.
A heckler in the balcony briefly grabbed the spotlight. "You don't have it!" he shouted.
An unperturbed Kennedy replied: "I have just learned the election in Nebraska is not going to be unanimous. Oh well."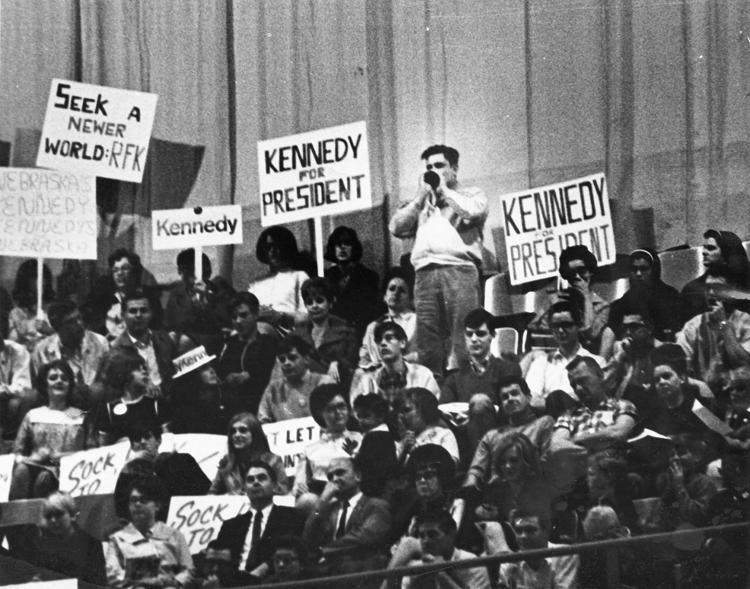 The heckler persisted: "Why don't you back up the boys in Vietnam? You'd sell 'em out for a nickel."
Kennedy: "I support them so much I'd like to see the South Vietnamese doing the fighting."
The candidate called on returning Americans' government to the people and called on his audience to help.
"It does not help to ask, as we have so often done in the past, is this program liberal or conservative or supported by the right people, or does it sound like a good idea?" he said. "These, in fact, are not even the right questions."
They do not ask whether a policy will do more harm than good, or whether its cost outweighs its benefit, or whether it will create conditions worse than those it seeks to cure, he said.
"The next administration is going to make the effort to bring government back to the people ... for I think that is the kind of leadership you want in America."
Photos: Robert F. Kennedy whistle-stop memorabilia
Those involved with Sen. Robert F. Kennedy's Nebraska whistle-stop tour have kept a variety of memorabilia from the 1968 trip.