WASHINGTON — Rep. Steve King, R-Iowa, has carved out a national profile as an outspoken conservative firebrand, but Democratic challenger Kim Weaver is questioning what he's actually accomplished for his constituents during seven terms in office.
With his advantage in campaign cash and the Republican tilt of northwest Iowa's 4th District, King is heavily favored to return to Capitol Hill for another two years even as he continues to stir the pot with controversial statements.
His most pointed rhetoric often comes on immigration, such as his recent warning about "cultural suicide by demographic transformation" and earlier references to drug smugglers coming across the border from Mexico with "calves the size of cantaloupes."
Over the summer he talked about the superior contributions of Western civilization and drew attention for keeping a Confederate flag on his desk.
"That's not Iowa," Weaver said. "I was raised to be tough but also be compassionate, to treat people with dignity, not disdain."
For his part, King expresses no regrets about what he sees as simply telling it like it is.
"I stand by everything that I've said and done," he said. "If I didn't, I would have apologized for it. If that's the best they've got, then I guess they can go ahead and play that hand all the way to Nov. 8."
Weaver said her critique goes further, however, and points to a nonpartisan website, Inside Government, that ranked King as the least effective member of Congress based on how many of his bills have moved forward in the legislative process.
King said he's not sure how anyone could come up with that ranking. He said he's been an active member of Congress, influencing the debate by frequently offering amendments on a range of topics.
King recently proposed an alternative continuing resolution that would have trimmed overall government spending and defunded a litany of budget items opposed by conservatives. Those include money for Planned Parenthood, the Affordable Care Act and President Barack Obama's executive orders on immigration. King's proposal did not pass.
King said the first bill that he introduced after taking office in 2003 eventually became law: expanding tax credits for ethanol and biodiesel producers. But he said congressional gridlock soon set in after Democrat Nancy Pelosi became speaker of the House in 2007 and Obama became president in 2009.
Dennis Goldford, a political science professor at Drake University, said King has often been criticized both for a lack of legislation and for over-the-top rhetoric, but the voters have sent him back to Congress again and again.
It's a sign of ideological times, Goldford said, that King's statements are valued over bringing home material gains for the district. He said the website that named King the least effective legislator isn't taking that into consideration.
"The rating service is judging him in terms of baseball — but he's playing hockey," Goldford said.
While King's statements outrage some, others among his constituents seem to love watching him poke liberals in the eye.
"He's a tremendously charming guy who says things his opponents consider to be toxic, but they are things his supporters believe to be truth-telling," Goldford said.
Weaver said it might be a good thing that King hasn't seen more legislative success recently, noting that King has supported budget cuts that negatively affect how much funding is available for flood insurance and prevention, for Pell grants and for helping student borrowers with lower interest rates.
"There's not too many Iowans that can afford to send their kids to school without Pell grants or student loans," Weaver said.
King said he makes no apologies for being a strong proponent of balancing the budget by controlling spending.
"Everything that we do needs to fit within a broader overall budget," King said. "It doesn't help students to put dollars on the national debt and then say that we reduced the amount of student loans that they would have upon graduation — but here's your big debt that you owe to China and Saudi Arabia. It's kind of a 'pay me now or pay me later' situation."
He said his focus is on the important tasks before him: repealing the Affordable Care Act, balancing the federal budget, defeating "radical Islamic jihad," securing the nation's borders and reducing the regulatory burden on American businesses.
King also said he's been ringing the bell on budget issues for a long time.
"We don't have $19.5 trillion in national debt because I wasn't doing my job," King said. "We have that because we've had presidents that have overspent and they've used the leverage of the veto in order to overspend."
He said Congress needs to grow a spine and stand up to the president to reject spending. And he criticized colleagues who cave simply because they are afraid of a government shutdown.
Weaver works for the State of Iowa as a long-term care ombudsman. She says she understands the struggles of middle-class families as a divorced mother of three.
She says she wants to protect Social Security and Medicare and invest in new infrastructure.
She has proposed a new way of helping those with student loan debt, inspired by her own observations with seniors and her daughter's volunteer experiences. The program would forgive some student loan debts in exchange for a few hours a week of volunteering in the community. She said that would foster more community spirit as well as allowing people to buy new cars and houses and thereby stimulate the economy.
"I don't believe in trickle down, I believe in bubble up," Weaver said.
The two candidates split on immigration, with Weaver favoring comprehensive legislation that includes a path to citizenship. She noted that the American Farm Bureau also has called for action on immigration. She said King's approach would hurt farm country, particularly the dairy industry.
King said he hasn't heard that position directly from the Farm Bureau but said that generally it's natural for business interests to become dependent on cheap illegal labor even while millions of working-age Americans are out of the workforce.
He said the problem is not a lack of labor but overdependence on federal assistance programs, and that it's his job to defend the rule of law and the Constitution.
With only a shoestring budget, Weaver is trying to get her message out any way she can, including through newspaper interviews and Facebook.
She has criticized King for not agreeing to debates, calling his refusal both "cowardly" and a thumbing of his nose at the district's voters.
King said he doubts that anyone believes that he's afraid. He said he just didn't see the point of a debate. He said he and his staff go to all the counties and towns in the district in addition to maintaining offices around the district, so his constituents have good access to him.
"I couldn't come up with a reason to debate," King said. "What is there to clarify? People know where I stand."
Iowa's 4th District
Occupation: long-term care ombudsman, State of Iowa
Public offices held: none
Education: bachelor's degree, Iowa State University
Family: divorced, three children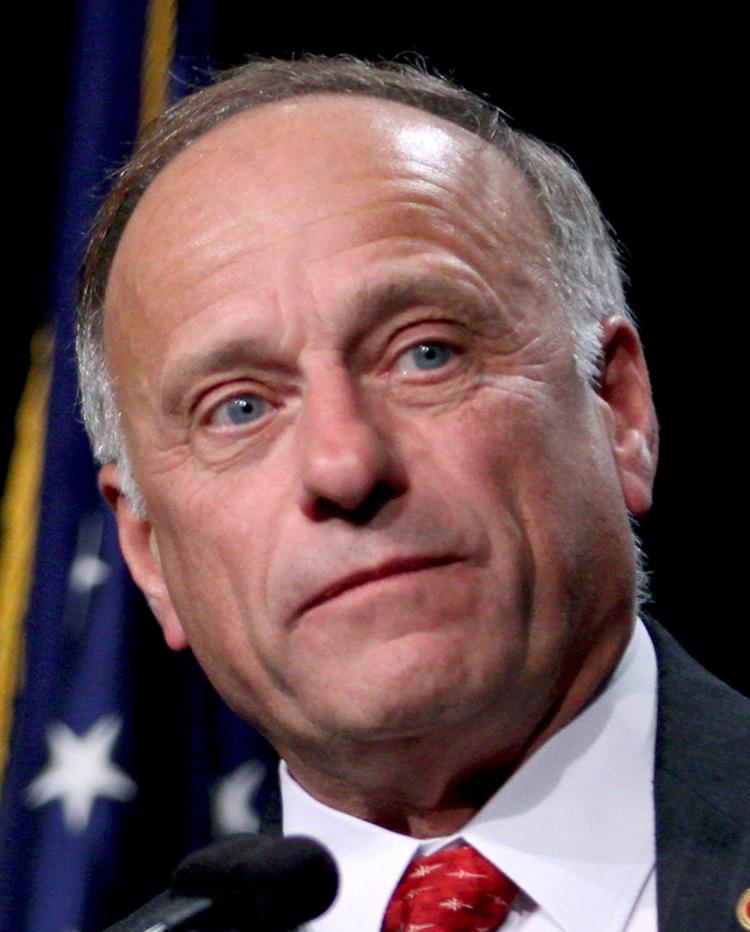 Occupation: congressman; founder of King Construction
Public offices held: U.S. House of Representatives, 2003-present; Iowa Senate, 1997-2002
Education: attended Northwest Missouri State University
Family: married; three children