Don Bacon is heading back to Congress. The incumbent Republican U.S. Rep. in Nebraska's second district had to wait late into the evening, but it eventually became clear Tuesday that the Republican would edge out Democratic challenger Kara Eastman.
At a joint watch party for Bacon and Ricketts, the crowd cheered as Ricketts claimed victory.
At about 10:20 p.m., Eastman addressed supporters, urging them to stay upbeat and wait for more votes to be counted. But just a few minutes later, the screens in the room flashed the news that at least one network was calling the race for Bacon.
In the state's other House races, Nebraskans are sending Republicans Adrian Smith and Jeff Fortenberry back to Washington. In the 3rd District, Smith rebuffed Democratic challenger Paul Theobald, who faced significant disadvantages in fundraising and name recognition.
Fortenberry defeated Democrat Jessica McClure to secure an eighth term representing the 1st District that stretches across much of eastern Nebraska. It covers the city of Lincoln and parts of Sarpy County that include Bellevue and Offutt Air Force Base.
Meanwhile, the measure to expand Medicaid in Nebraska won approval. Initiative 427 rode strong support from Omaha and Lincoln voters to victory on election night, adding Nebraska to the majority of states that have adopted the program that was part of President Barack Obama's 2010 health care law.
In Iowa, Democratic challenger Cindy Axne ousted Republican incumbent David Young in the 3rd Congressional District. The race had drawn national interest because it was considered one of a handful that decide which party controlled the House. Meanwhile, Gov. Kim Reynolds defeated Fred Hubbell, and Rep. Steve King, the embattled eight-term Republican congressman who has declared his support for ethnic nationalism and made a series of other racially incendiary comments, survived a challenge from a first-time Democratic candidate, J.D. Scholten, in Iowa's 4th Congressional District.
The latest updates from World-Herald reporters:
Battiato, Daub trailing challengers 
With new returns from Douglas County at 8:45 p.m., a number of local races were taking shape.
• Walt Peffer was narrowly leading Democratic incumbent Diane Battiato for county assessor/register of deeds. Peffer had 50 percent to 49.8 for Battiato, the two candidates separated by just 200 votes.
• Incumbent NU Regent Hal Daub trailed his challenger, Barbara Weitz, 53 percent to 47 percent.
• Initial returns had incumbent Republican Auditor Charlie Janssen under the gun in his bid for re-election. He led Democratic challenger Jane Skinner just 51 percent to 49 percent in early returns, the race surely made tighter by revelations that he had frequently been spending his afternoons not in the office but at a Lincoln sports bar. Janssen apologized for his behavior and vowed to change.
Half-hour wait at 104th and Fort 
At the polling place at the Lord of Love Lutheran Church near 104th and Fort Streets, voters waited a half-hour to vote. As of 7:10 p.m., 636 voters had cast ballots, and at least 50 to 75 people remained in line to vote
Medicaid expansion, immigration key concerns for voter
Maria Chavez brought two of her daughters, Toni Marie, age 19, and Pilar, age 15, to the polls. Mexican-born, Maria has been a U.S. citizen for 20 years and votes every election for "better benefits, better jobs, better education for our kids."
She works at OSI, a meatpacking plant in Oakland, Iowa, and was driven to vote this run by two issues: Medicaid expansion and immigration.
Omahan bothered by voter suppression
Brandon Mosley, 32, a Democrat from Omaha, said the divisiveness in the country is weighing on him.
"There is so much hate out in public. It used to be behind closed doors," he said as he prepared to enter his Florence area polling place, Mount Olive Lutheran Church. "People feel comfortable with it, they feel like they can get away with it."
Mosley said the voter suppression that he sees occurring in other states added to his determination to vote.
Noting what's happening in Georgia, he said, "They're doing everything they can to stop people. If voting wasn't so important, they wouldn't try to take it away."
'I always vote'
Nearly 530 people had voted at Rockbrook United Methodist Church at 98th Street and West Center Road by 4:30 p.m.
Seth LeGrand, 43, said he got off from work a little early and seemed to miss the post-work rush.
It only took him 10 to 15 minutes to cast his ballot.
"I always vote," he said. "It's frustrating because I don't always like all the candidates.
'The loudest thing we can do is vote'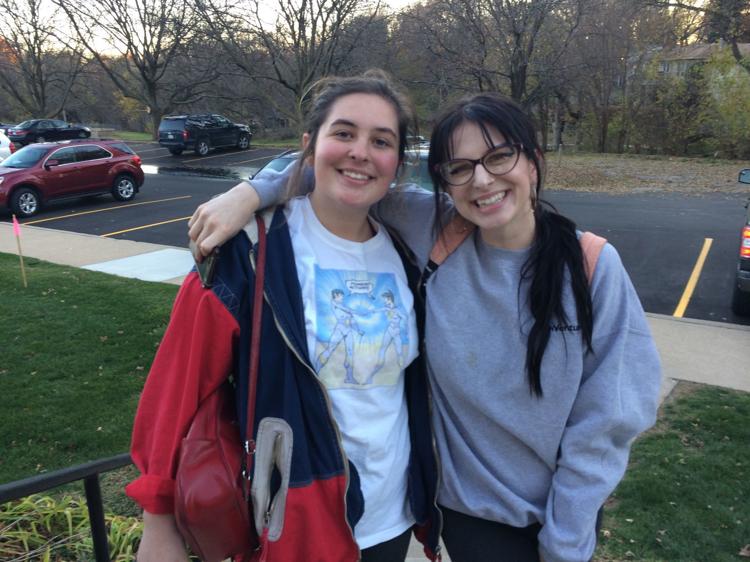 It's time for younger voters to make their voices heard.
That was the message of sisters Maggie Brekke, 22, and Kendall Brekke, 19, after the two voted at Rockbrook United Methodist Church at 98th Street and West Center Road.
This is Kendall's first time voting — she just missed the cutoff for the 2016 presidential election.
Marches and other forms of activism are great ways to participate in politics, they said. But that's not enough.
"The loudest thing we can do is vote," Maggie Brekke said.
"We're not just talking the talk," Kendall Brekke said.
"We're walking the walk," her sister chimed in.
Both said they supported Democrats, citing concerns about the environment and access to health care. They were excited to cast votes for Kara Eastman in the 2nd Congressional District race, and said they hope to see more women candidates who share their values.
"We want good women, not just any women," Maggie Brekke said.
Sign up for World-Herald news alerts
Be the first to know when news happens. Get the latest breaking headlines sent straight to your inbox.
Independent voter goes 'mainly red'
Ray Gourley, 60, an independent from Omaha, has voted for both Barack Obama and Donald Trump for president. He said he was voting a "mainly red" ticket Tuesday. "I don't like the attitude of the Democrats ... all they want to do is impeach and work against doing anything."
Immigration and infrastructure are some of Gourley's top issues, he said as he prepared to vote at his Florence area polling place, Mount Olive Lutheran Church.
Lines were nuts at a Bellevue store
Voters who arrived at Bellevue's Herman Nuts after 4 p.m. faced lines of 50 or more people and wait times in excess of 25 minutes. The line ran from the front door straight through a store selling coffee grounds and legumes, giving impatient voters just enough eye candy to keep from going nuts.
One older voter, who declined to share his name, wore a Marines ballcap and a shirt bearing the message "GOP: Greedy Oligarch Party."
Two voters cancel each other out
Two people standing in a line at least a dozen people long at Karen Western Elementary School will cancel out each other's votes on Medicaid expansion.
Michelle Keebler, 26, is a certified nurse's assistant who hears from patients at Quality Living about how hard it is to get Medicaid. She's voting for expansion.
But right in front of her stood Doug Hamilton, age 64, a truck driver and Teamster with a disabled wife who can't see paying any more in taxes. He's even considering retiring out of state because he says Nebraska taxes on pensions are too high.
Alphabetical order
Voters with last names starting with A-K drew the short straw at Papillion's Heritage Church of Nazarene on Tuesday afternoon. Around 4 p.m., the line of voters with names A-K numbered more than 35, while last names L-Z waited for a few people to have their turn.
"It goes in spurts," said election inspector Lyn Kopp. "I think the longest anybody has waited is 10 or 15 minutes. Everybody has been patient."
As of 4 p.m., the church had processed nearly 600 votes.
'The world is crazy right now'
El Salvadoran native Karolina Villacorta took time off her two jobs to vote because of "so much racism," said her 17-year-old daughter, Lesly.
Villacorta is a U.S. citizen who voted twice for Barack Obama but moved before the 2016 election and did not register in time to vote then. Lesly said she "made" her mom register and Villacorta voted in the May primary and again Tuesday. She said it felt good to cast her ballot and she hopes President Trump softens toward immigrants.
"The president says a lot of things. Some people (are) bad," she said. "There's no 'Everybody (is) bad.' "
Villacorta's oldest daughter is in college. Lesly, a senior at Bryan High, said she wants to be a special education teacher. She can't wait to vote.
"The world is crazy right now," Lesly said. "I hope one day the world will be kinder to each other."
South Omaha voter pulling for Eastman
Leah Morris is a registered Democrat so it's no surprise who she wanted for Congress: Kara Eastman. Morris likes that Eastman is a woman and she likes her position on healthcare. Morris, a 40-year-old tech support worker for Cox who voted at a south Omaha church, said she voted to expand Medicaid because she sees "medical coverage" as vital.
'I put his head in a toilet'
During their high school days at Creighton Prep, Stephen Long, 62, claims he gave gubernatorial candidate Bob Krist a swirly.
"I put his head in a toilet at Prep," Long said.
Today, he gave Krist something else — his vote.
"Yeah, I voted for Bobby," Long said outside the Good News Church at 74th and Hickory Streets. "He doesn't stand a chance in hell."
Asked why he was voting today, Long didn't hesitate.
"Because I'm an American, man."
Construction doesn't hinder voters
Just south of Q Street, a stretch of South 108th Street is closed just in front of polling place The Waterford at Roxbury Park, a senior living center. But election officials say it didn't deter people from voting in crowds rivaling a presidential election.
"I think the street being closed isn't too much of a hindrance, since it has been closed for a few weeks," said Mike Bowman, an election official at the polling place.
Poll worker says voters seem more diverse
Carol Lynch thinks it's imperative to keep Congress in the hands of Republicans.
"I believe the processes, what passed in years of Democratic rule, did not help any of us, specifically Obamacare," she said.
Lynch was voting at Good News Church at 74th and Hickory Streets, where 280 people had voted as of 2:35 p.m.
Echoing other voters, Lynch said she wasn't particularly excited by any of the statewide or local races.
Poll worker Peter Gadzinski said traffic was steady all day, and voters seemed more diverse — in age and race — than in past elections.
Election workers were taking more provisional ballots, too, suggesting to Gadzinski that they were getting voters who have changed addresses recently or might be voting for the first time in awhile.
Turnout 'much higher' at 44th and Grover
Eighteen people were lined up to vote at 8 a.m. at the old Peace Lutheran Church at 44th and Grover Streets. By 2:45 p.m. 405 people had cast their ballots here.
"We're higher, yeah," said longtime poll worker Shirley Zeek. "Much higher."
It didn't hurt that right outside the voting room were tables laden with baked goods for sale.
Sharon Odom said some people came for the sweets and then voted. Others care to vote, then buy. Either way brisk voting has meant brisk sales.
"I have a coffee pot going," she said.
The church now serves primarily Sudanese and Ethiopian worshipers.
'I wish they'd get more done with the important things'
Voting booths at St. Paul's Lutheran Church in Millard were bathed in stained glass light by mid-afternoon, as lines measured about 10 people long.
Voter Mike Kaspar, a 69-year-old retired support staffer for Millard Public Schools, said he didn't feel particularly inspired by any of the candidates, but thought it was important to vote regardless.
"I wish they'd get more done with the important things that need to be taken care of," he said.
Kaspar said he voted against expanding Medicaid because "there is a lot of fraud there right now. There are a lot of people on it who should be working but aren't."
Man says politicians don't reach out to all communities
David W. Finney, Jr., 75, said he doesn't see too many politicians in his north Omaha neighborhood — unless it's an election year.
"Then you see them come out of the woodwork," he said.
He'd like to see elected officials and candidates for office try to connect more with — and listen to — minority voters.
"I don't see them over here," he said. "I don't see them in my community."
Finney said the first time he voted, decades ago, he walked over to the same polling place — now King Science and Technology Middle School — and voted together with his mother and father.
"It's something I've done every year, no matter where I lived," he said. "I feel it's important for my people" — the black community.
Voter concerned about education, Medicaid expansion
At King Science and Technology Middle School, Andrea Goodwin planned to vote straight Democrat, all the way down the ballot.
She's concerned about funding for education and the Medicaid expansion.
She doesn't want to see Gov. Pete Ricketts, a Republican, re-elected.
"He doesn't see us common people as anyone he needs to work for," she said.
Lines in Gretna longer than past midterms
Workers outnumbered voters at Gretna's Good Shepherd Lutheran over the lunch hour, but that wasn't the case in the morning. Voters from the 51st and 61st precinct snaked down the hall and out the door of the church when polls opened. Election officials said it was significantly longer than past midterm elections.
Voter Paul Garman, 65, said he voted against Gretna's bond issue and against the Medicaid expansion, saying "I pay enough in taxes," but said his key issue was immigration.
"It's simply insane what we've allowed over the last 50 years," he said.
Political season was 'epic fail,' one woman says
Cathy Banks is ready for the political season to be over.
The registered independent, who voted at Emmanuel Fellowship in northwest Omaha, said she's sick of the political ads, the mailers and, new this year, the text message reminders from canvassers.
"They invade my mail, my television set," she said.
The incessant text messages were the last straw.
"It was an epic fail," she said.
'Last two years have been trying'
Ernest Banks, 54, is looking for political change.
"These last two years have been trying," he said.
Asked if he was referring to any politician in particular — maybe President Donald Trump? — Banks laughed.
"I mention no names," he said.
Banks is a proud Democrat and said he did his homework on the Medicaid expansion ballot question and decided to vote for it. His polling place is Emmanuel Fellowship in northwest Omaha.
Banks also threw his support behind several women running for office.
"I think it's time to get more women in here," he said. "No man can tell a woman how to treat her body better than a woman can."
One voter had no wait
Darryle Todd, 60, wouldn't share much about who he voted for or if he's registered with a particular party.
But outside Emmanuel Fellowship, he said he researches issues and candidates.
"I listen to the issues, I take heed," he said.
While election workers at Emmanuel noted high voter turnout this year — 154 people had voted by 11:10 a.m. — Todd walked right in to vote, without a wait.
Voters pack into Skutt Catholic High School
At Skutt Catholic High School, voters packed into a lobby as early as an hour before polls opened. By 11 a.m., 184 voters had cast a ballot.
Voter turnout at the high school has been closer to a presidential election than a primary, said inspector Richard Sampson.
"The turnout is heavier than the primary, much heavier," Sampson said.
Nurse Elizabeth Vincent, 48, voted despite saying she didn't find herself very passionate about most issues on the ballot.
"I still think it's important to use your right to vote," she said. She voted in favor of expanding Medicaid and said she was disappointed there weren't any environmental issues on the ballot.
'Do I get a free car if I vote here?'
A sparkling new SUV with a giant crimson bow on the sunroof makes for an unorthodox backdrop at a polling place near 132nd and West Dodge Road. At Lexus of Omaha's showroom, voters often make the same comment.
"People ask 'Do I get a free car if I vote here?'" election official Liz Rea said. "I say 'No, but you can certainly look around.'"
Rea, a retired high school history teacher, said she has noticed more polling places in businesses recently as school security concerns rise.
Voter totals at the Lexus dealership are about the same as they were during the primary, Rea said, with a steady stream of voters but little accumulation, with lines topping out around 20 people when polls opened.
Vietnam vet a fan of Bacon
Vietnam veteran Frank Gaxiola, 77, is a big fan of Congressman Don Bacon, a retired Brigadier General with the U.S. Air Force.
"I believe he's honest. I believe he's for the veterans," he said.
A registered Republican, Gaxiola said issues like immigration and Medicaid expansion were on his mind as he prepared to vote at Bethany Lutheran Church in Benson.
He planned to vote against the Medicaid ballot question.
"I do believe we can support ourselves without the government's help," he said.
Man not excited about voting options
Jered Kuhl, 29, didn't see much that excited him on his ballot when he voted at Bethany Lutheran Church in Benson.
But the registered Republican said he felt a responsibility to vote.
He was impressed by the turnout — it took him about 30 to 45 minutes to move through the morning voting line.
"I've never seen it like that before," he said.
Woman sells snickerdoodles for fundraiser
Inside Bethany Lutheran Church in Benson, volunteer Kathy Cox sold 75-cent snickerdoodle cookies and cinnamon rolls to hungry voters and election personnel, part of a bake sale fundraiser to send kids from the church's youth group to a national convention in Minneapolis next year.
"The kids will thank you for all the good times they'll have next summer," she told one customer.
Man votes Republican in northwest Omaha
Lines were short at Standing Bear Elementary in northwest Omaha. Voters weren't keen to share their votes for publication, but one woman winked and said "for Trump!"
Among the voters was Ron Kretchmer, 79, who voted primarily Republican with a few exceptions for local office.
"We've got to keep the Democrats out of office," he said. "They want to bring the country back to the way it was when Obama was president."
'I want to have my voice count'
Wendell Boone Jr., a recent transplant to Omaha from Tampa, Florida, brought three children so they could see him vote. Like a lot of people interviewed outside the OPS Teacher Administrative Center, Boone declined to say exactly how he voted. He identified himself as nonpartisan, said he left the liberal camp and likes President Donald Trump's "America first" philosophy.
"Take care of here first," he said.
He added that he wants candidates who are bipartisan and can work together. He said he doesn't typically vote in the midterms but is doing it now because "I want to have my voice count."
70-year-old voter takes hard look at candidates
Jim Abraham, a 70-year-old owner of a small heating and air conditioning business, is exactly the type of Democrat the party had lost.
He said as much outside the OPS TAC building Tuesday morning. Though he remains a registered Democrat, he said he does not vote a straight party ticket and looks hard at individuals. One criteria? Can they work with others.
That's the question he said he put to U.S. Rep. Don Bacon once. Which Democrat in Congress can you work with? He said Bacon named a Democratic congresswoman who was being pressured by her party not to play ball with a Republican. This dismayed Abraham.
"The biggest thing is the atmosphere of our politics today is horrible. We don't talk. We don't compromise. We don't disagree in a positive way," he said. "We desperately need people who can sit down together."
Voting means honoring the past
Alexandra Goswami, 35, turned out to support Democratic candidates like Kara Eastman and Bob Krist and anyone who supports Planned Parenthood and women's health, she said.
"I think that we're not getting anywhere toward equality with one party dominating Nebraska for so long," she said.
To her, voting, "despite how broken parts of the system might be," means honoring the past, too — specifically, the women who fought for the right to vote.
Voting is your 'civic duty"
John Zak, 61, doesn't think he's ever missed an election.
"You can't complain if you don't vote," he said. "That's your civic duty and right."
He was surprised but gratified to see a line of 20-plus people at his Joslyn Castle polling place.
A registered Democrat, Zak voted against Medicaid expansion.
It was a tough decision, he said. He works in healthcare and knows some people have trouble accessing health insurance, but he's worried about the costs and increased taxes expansion could bring, he said.
Patriotic professor
At the Comfort Inn & Suites near 72nd and Grover, election official Maria Walinski-Peterson was dressed head to toe in red, white and blue. The University of Nebraska at Omaha human geography professor wore American flag sneakers, a patriotic sweater and blue jeans. It was a coincidence that her hair was already died pink and blue.
While the 48-year-old was drafted to volunteer, she said working the polls is a privilege, one she doesn't take lightly.
"There are people around the world who don't get to vote, or their vote doesn't count," she said. "I take this seriously."
Pens replacing pencils
For folks hitting the polls in Douglas County, don't be alarmed when you see blue pens in the voting booth instead of pencils.
Election Commissioner Brian Kruse says current technology will work with pencils or blue or black pens. Future technology the state is considering for vote-counting equipment works best with pens.
Long lines 'a cool problem to have'
Voter Lauren Anderson wore a Navy blue beret, red scarf and blue dress to vote. The 29-year-old who works in advertising demurred on saying how she's registered or how she'd vote.
But looking at the long line outside the OPS Teacher Administrative Center, she said: "This is such a cool problem to have. I usually walk right in."
Baker wants expanded Medicaid
Austin Ulmer stood in the cold sunshine outside the OPS headquarters, where a long line had formed out the front doors at 31st and Burt Streets.
The 33-year-old baker at Sweet Magnolias has no health insurance. He can't afford it. So one of the big drivers for him is the ballot measure to expand Medicaid.
Though registered nonpartisan, Ulmer said he planned to vote for "progressive" candidates, and definitely Kara Eastman, who is challenging Rep. Don Bacon in Omaha's 2nd congressional district.
Voters battle through cold
A line of about 20 people stretched out the door at the Joslyn Castle polling location at 8:30 a.m.
Several voters joked that they would have brought gloves to combat the early-morning chill if they had known they'd be waiting outside for awhile. "This is awesome," one woman said after voting and seeing the line.
27-year-old pushes followers to vote
Laddan Abbasi was first on the alphabetical list and one of the first in line to vote at the University of Nebraska at Omaha's Mammel Hall at 8 a.m.
The 27-year-old snapped a selfie outside the building to encourage her Instagram followers to vote.
"You never want to live in regret about not voting," she said.
When Abbasi moved to Omaha from California last year, she expected to find a Republican-dominated state, but instead she said she has noticed plenty of diversity in Omaha's political opinions. She came to the polls to support largely of Democratic candidates and said key issues for her are immigration and healthcare.
Polls open
Polls opened at 8 a.m. Tuesday in Nebraska, with officials predicting turnout to be among the highest in recent midterm elections. Nebraska Secretary of State John Gale predicted a record midterm turnout of 56 percent statewide.
"I have high hopes for record turnout," Gale said. "But it all comes down to the voters."
Douglas and Sarpy Counties also expect higher-than-usual turnout for a midterm election, with Douglas County Election Commissioner Brian Kruse predicting a turnout of 52 percent and Sarpy County Election Commissioner Michelle Andahl predicting 53 percent turnout.
Turnout is being driven in part by the races on the ballot. Voters will choose their next governor, a senator, three House members and decide whether to expand Medicaid coverage.
Dozens of local races in school boards, city councils and other political entities are also on the ballot, setting the leadership for bodies for years to come. 
World-Herald staff writers Erin Duffy, Erin Grace, Chris Peters and Jeffrey Robb contributed to this report.