Omaha ended 2018 on a high note not seen for decades — no one was criminally slain in Omaha in the final three months of the year.
In fact, no homicides were recorded for 106 straight days at the end of 2018, a streak not seen by the Omaha Police Department since at least the 1960s.
Twenty-two people were homicide victims in Omaha in 2018, the lowest number in 14 years. Department officials said achieving those milestones was a credit to continuing cooperation between police and the community, along with increased communication and hard work among the Police Department's homicide, gang and assault units.
"It represents a significant amount of progress, and that progress equates to real people," Police Chief Todd Schmaderer said. "These are far fewer victims and far fewer families that have been affected than in the past."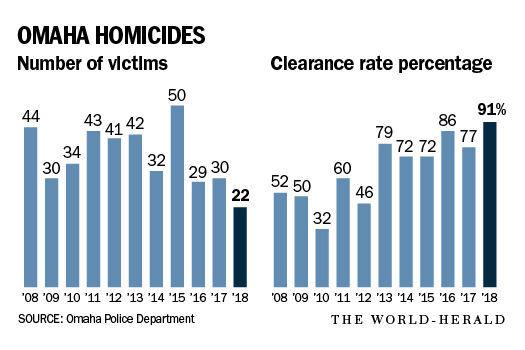 The city's homicide rate per 100,000 residents has consistently been well below the national average of cities of about the same size, except in 2015, when there was a spike of slayings with multiple victims.
In 2018, that rate was at 4.7 — the city's lowest since 1990. In 2017, the national average of cities roughly the same size had homicide rates more than 2½ times Omaha's — 12.1.
Officers and detectives have focused on securing arrests in nonfatal shootings because those people often will shoot again. Officials meet weekly to talk about shots-fired calls or actual shootings — and leads are shared across the department.
"It's just been a major factor in targeting the biggest problems and the biggest offenders, effectively lessening those numbers," said Capt. Steve Cerveny.
Partnerships with the Omaha 360 Violence Prevention Collaborative and the U.S. Attorney's Office, as part of Project Safe Neighborhoods, also have contributed to reductions in gang activity and gun crimes.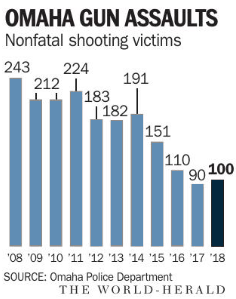 Nonfatal shooting incidents have trended downward in the past 10 years, from 197 in 2008 to 78 a decade later, as of Dec. 30. Victims from those shootings ticked slightly upward to 100 from 2017, but represent a marked improvement from 243 a decade ago.
Gang-related shootings usually make up about half of a year's homicides, said Deputy Chief Ken Kanger. In 2018, 10 of the homicides were gang-related.
"When we see the gang-related homicides go down, our overall number of homicides goes down," he said. "We obviously know that they're going to be involved in other criminal activity, and we're gonna find a way, because they're a danger to the community, to get them off the street."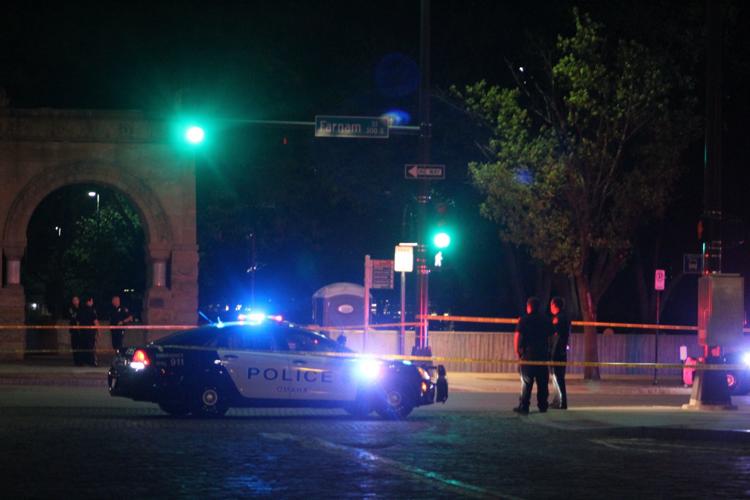 One of 2018's most noteworthy shootings occurred downtown on June 2 as people streamed out of the weekend food festival Taste of Omaha. Jasmine Harris, a 20-year-old innocent bystander, was fatally shot in the crossfire between rival gangs. Six others were injured.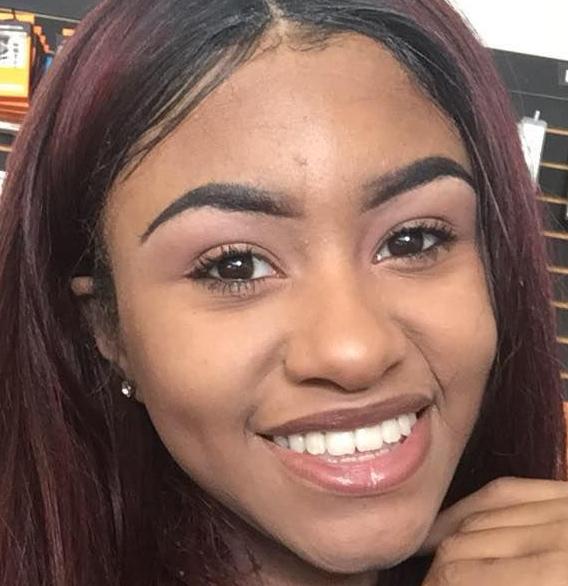 Many of those gang members also had been involved in a May shooting at a house party near 32nd and Decatur Streets, where bullets injured seven people. Several people involved have since been arrested on gun or assault offenses, Kanger said, although the person who shot Harris has not been arrested.
Schmaderer ordered extra patrol and gang unit officers downtown after the June 2 shooting. Another key factor, Kanger said, is that police officials and community leaders continued to communicate and work together.
"That's where the culture is in place within the community that violent crime isn't going to be tolerated," Kanger said. "And nobody panicked. Even if we have a spike in crime, we have that strong culture in place to address it."
Detectives continue to work on Harris' case and other unsolved homicides. They have more time, Kanger said, because new homicides aren't adding to their caseload.
Therefore, it's not surprising that the department's homicide clearance rate for 2018, which includes arrests in homicides that occurred in prior years, reached another 10-year high, at 91 percent.
"When a community knows that you're going to clear those cases and solve them, they're more apt to come forward," Kanger said. "That relationship with the community is a huge piece."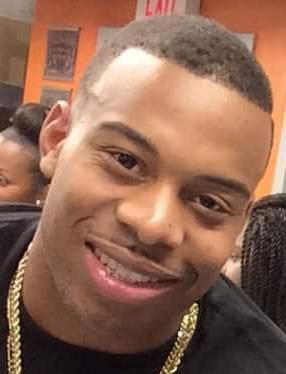 "We continue to work on the case to see if we can develop more information," Kanger said. "We want to hold everyone responsible that was involved in that."
One of Goynes' attorneys, Mallory Hughes, has maintained that he was not responsible for the slaying and disputed the allegations against Goynes.
Only six homicides from 2018 remain unsolved.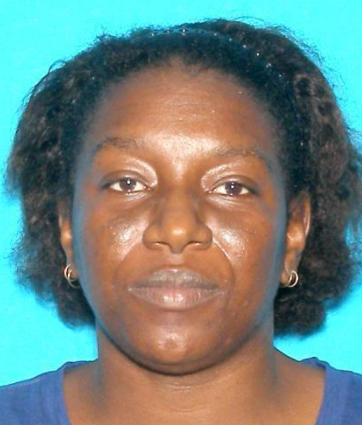 One of those is the death of Camisha Hollis, who went missing on Easter and whose remains have not been found. Homicide detectives and the FBI had been investigating her missing-person case, but it was officially deemed a homicide Dec. 12.
Her boyfriend, Marvin Young, has not been charged in connection with her disappearance but is in jail awaiting trial on charges of intentional child abuse. The couple's children told police they were given cold medicine and awoke the next day alone. Hollis' blood and two spent shell casings were found by police.
Schmaderer said that although he is proud of the milestones the department reached last year, it doesn't take away the grief and pain suffered by those who have lost loved ones.
"The Omaha Police Department remains committed to those that have been affected by violent crime as we try to bring closure to their cases and justice to those offenders," Schmaderer said.