BATTLE CREEK, Neb. — The school mascots at Battle Creek High School surely make culture critics cringe. At this school 10 miles west of Norfolk, the boys are Braves, the girls Bravettes.
But in this town, critics are as popular as a burr in your boot.
The town of Battle Creek, population 1,207, serves as an example of what critics are up against if they try banning Native American mascots in Nebraska schools.
Battle Creek clings to its association with Braves despite a rising national tide to do away with Native American mascots on grounds they devalue Native American people and culture and hurt the self-esteem of Native American school kids.
Sign up for World-Herald news alerts
Be the first to know when news happens. Get the latest breaking headlines sent straight to your inbox.
Also that month, members of the Nebraska Legislature's State-Tribal Relations Committee introduced a resolution calling on senators to examine the replacement of Native American mascots in Nebraska at nontribal schools.
The resolution calls on members of the Education Committee to study the issue and report their findings. The committee has not acted on the resolution.
Nebraska has more than two dozen schools with Native American mascots. Although a few have retired them, none have done so recently. Millard South High School switched from the Indians to the Patriots in 2000. In 1971, the University of Nebraska at Omaha changed its mascot from the Indians to the Mavericks.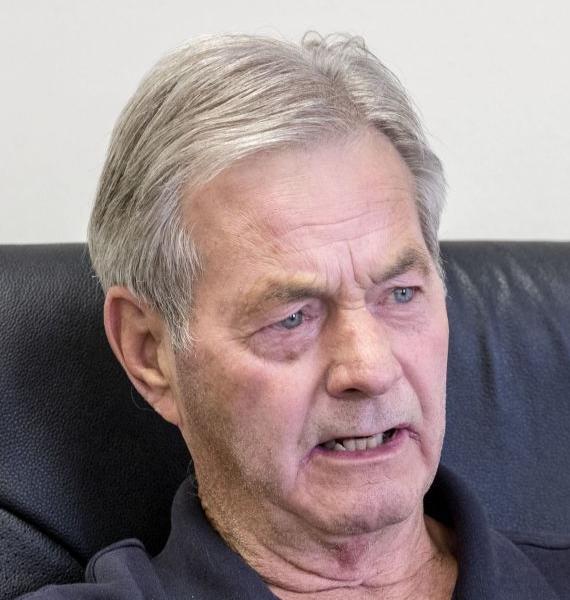 Battle Creek Mayor Barry Ponton says a mascot change there won't happen without a fight.
In fact, Ponton and the town's leaders recently doubled-down on the Native American connection.
A flashy electronic monument sign, erected a year ago by the town council on the main highway through town, features the image of a Native American brave with a feathered headdress.
Ponton calls the effort to eliminate mascots "a bunch of s---."
"We're the city of Battle Creek," he said. "We're the Braves."
Ponton, whose family moved to Battle Creek in 1944, is white and a 1962 graduate.
His dad was a butter-maker at the creamery and later ran a gas station in town. His mom was a homemaker, raised on a farm southwest of town.
The mayor, whose phone ringer plays the theme song from the Clint Eastwood spaghetti western "The Good, the Bad and the Ugly," is not alone in his fervor for the mascots.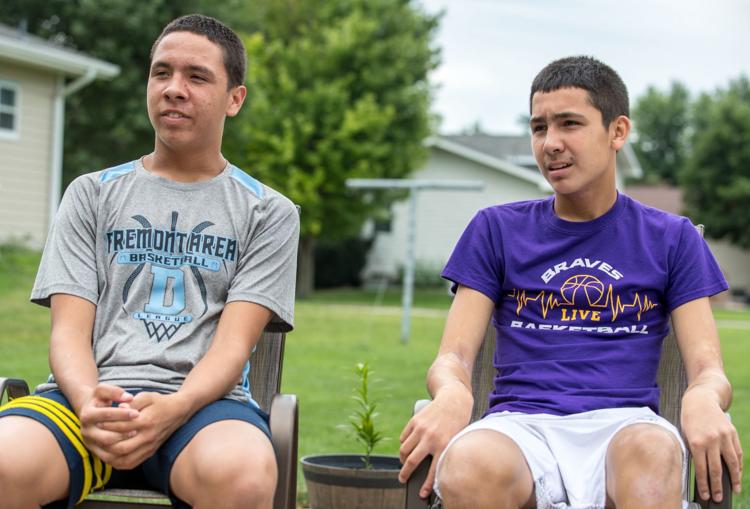 Two students at Battle Creek High School who are of Ponca descent are happy to wear the Braves logo on their sports uniforms.
Hunter and Tanner Oestreich, who love basketball and spent the hottest weeks of summer making money detasseling corn, are among a handful of Native American students attending the mostly white school.
For them, the mascot's a matter of pride and an expression of their heritage, which their family embraces. They see it as a tribute, not an insult.
"I think it's really cool," said 15-year-old Hunter Oestreich.
He likes the strong image the mascot projects when his school competes against other schools.
"I like it, personally," said Tanner, 16.
Taking the mascot away would be "taking away history," he said.
Tanner said non-Native American students embrace it, too.
"I think everybody here, they don't have a problem with it," he said. "It's just a mascot, and they don't really make a big deal of it at all. They just play for themselves and their team, and represent their school, not their mascot."
The boys said their mascot stands out from the animal mascots at other schools.
The origin of Battle Creek's mascot names is not easily divined.
Neither the mayor, school superintendent nor the librarians at the Battle Creek public library could say definitively where the Braves and Bravettes names originated.
"All the old people that would know about this, they're all dead," Ponton said.
However, most everybody knows the curious story of how Battle Creek got its name.
Turns out, there was no battle.
Local resident Charles C. Zimmerman wrote about it in his book, "Centennial Reminiscing: A Story of the People of the Community of Battle Creek, Nebraska, 1867-1967."
In 1859, a series of incidents had raised tensions between settlers and Pawnee, the main tribe that lived in and hunted the area.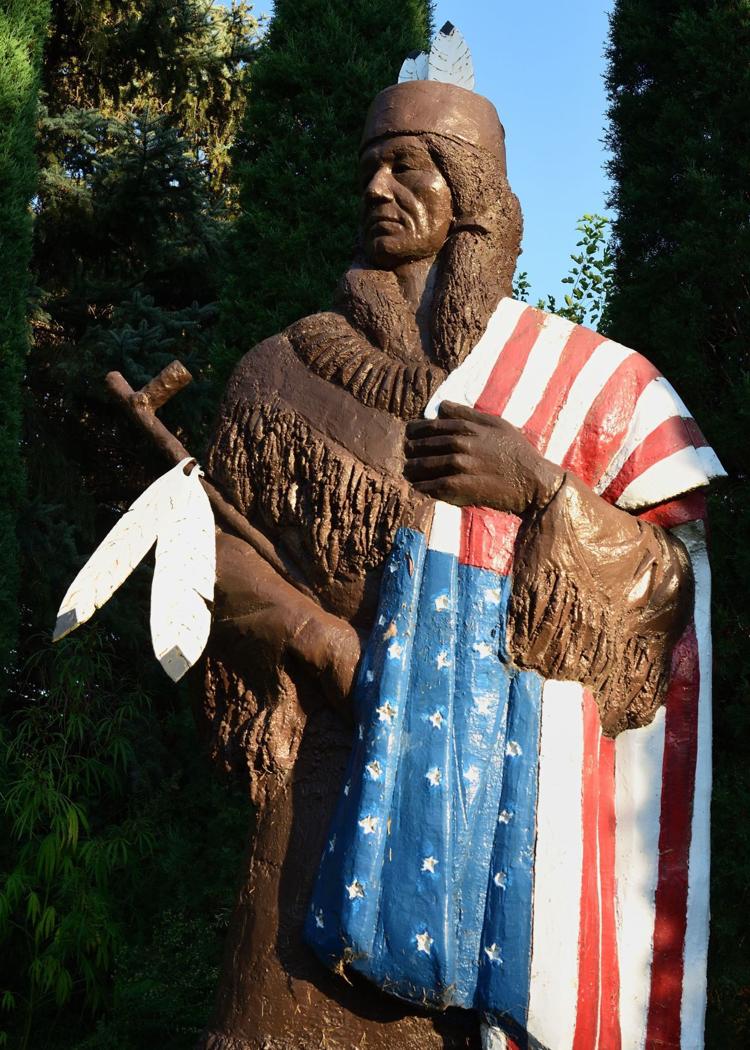 About 200 government troops and volunteers confronted about 700 to 800 Pawnees along a small stream about 10 miles above the fork of the Elkhorn River, Zimmerman wrote.
The soldiers were about to charge when Pawnee Chief Peta-le-sharu, hastily wrapping a United States flag around himself, advanced to parley, and the soldiers were halted.
"The little stream on the bank of which the Indians surrendered was thereafter called Battle Creek to commemorate the battle that might have been," Zimmerman wrote.
The town sprang up by the creek and took its name.
A historical marker recounts the story.
Matt Reed, chairman of the cultural committee of the Pawnee Nation in Oklahoma, said the Pawnees were fortunate to be led that day by a dynamic man.
Peta-le-sharu had just traveled to Washington, D.C., with other chiefs to negotiate a treaty, he said.
"He went out with an American flag that he had just gotten from the president, and peace medals and a pipe, and was waving his hands and trying to talk to them and calm them down," Reed said. "Whatever it was he said, it must have worked, because cooler heads prevailed and they went off, but it narrowly avoided a massacre like Sand Creek or Washita."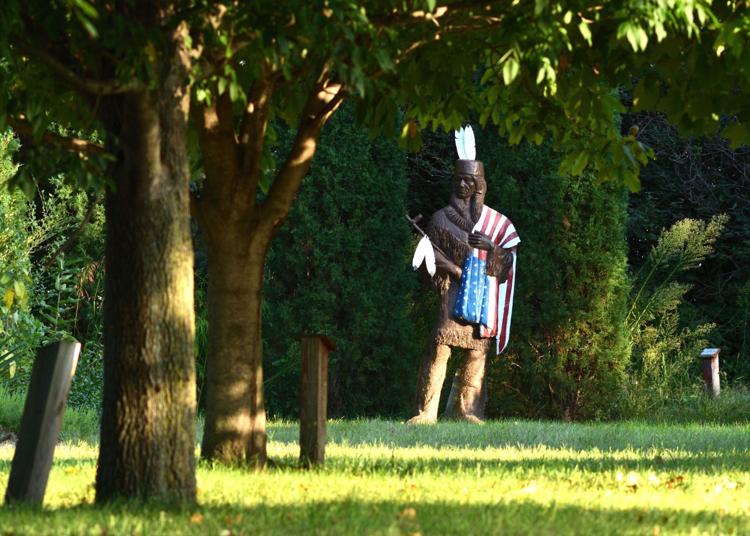 Residents decades later put up a statue of Peta-le-sharu in the town's Heritage Park.
The statue of the chief draped in the flag was commissioned by Irene Zimmerman, according to her daughter, Jane Brandstetter, who graduated from Battle Creek High School in 1967.
Brandstetter said that when Native American mascots were criticized in the early 1990s, her mother sought out Pawnee tribal leaders in Oklahoma.
Her mother secured their approval in writing to use the mascots, she said.
"According to the elders of the Pawnee at the time, we were not being disrespectful in the least," she said.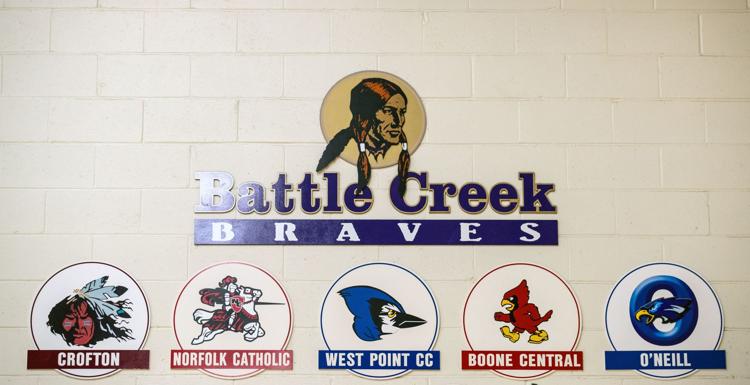 The whereabouts of the letter are apparently unknown, either lost in her mother's papers or buried in a file cabinet at the school, she said.
But Jay Bellar, a former superintendent who now is executive director of the Nebraska School Activities Association, said he recalls seeing it.
Reed, in Oklahoma, said he was unable to verify that tribal leaders gave their approval.
Reed said the Pawnee leaders have not taken a formal position on mascots, he said. The National Indian Education Association, however, calls for their elimination.
Reed said he believes the use of Native American mascots is a holdover from an older generation.
"Back in the '40s and '50s you used to see that a lot in Indian Country," he said.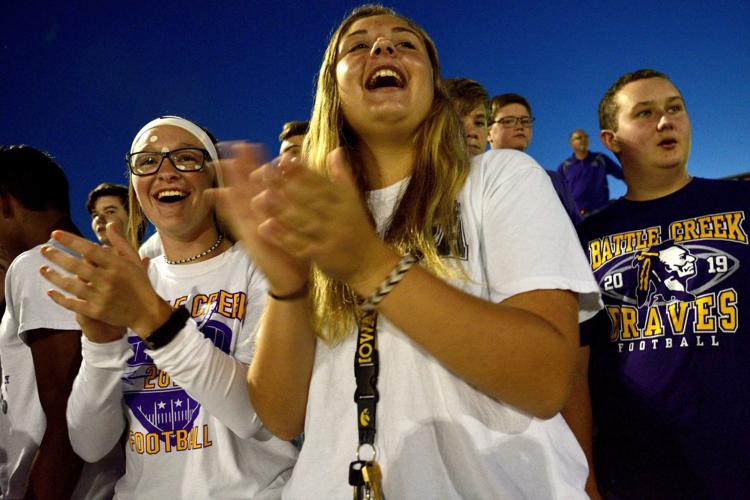 Younger people are less likely to support it, he said.
He believes it impacts students' self-esteem.
"If your culture is being used as a mascot or something like that it kind of sends a negative message to a younger generation," he said.
Michael Fleer, Battle Creek city administrator, compared the Braves mascot to teams calling themselves Vikings.
"Are the Scandinavians upset because they have schools named the Vikings?" Fleer asked.
He said the situation would be different if Battle Creek was using patently offensive terms like "redskins" or "squaws."
Jake Luhr, 45, is in his second year as Battle Creek superintendent.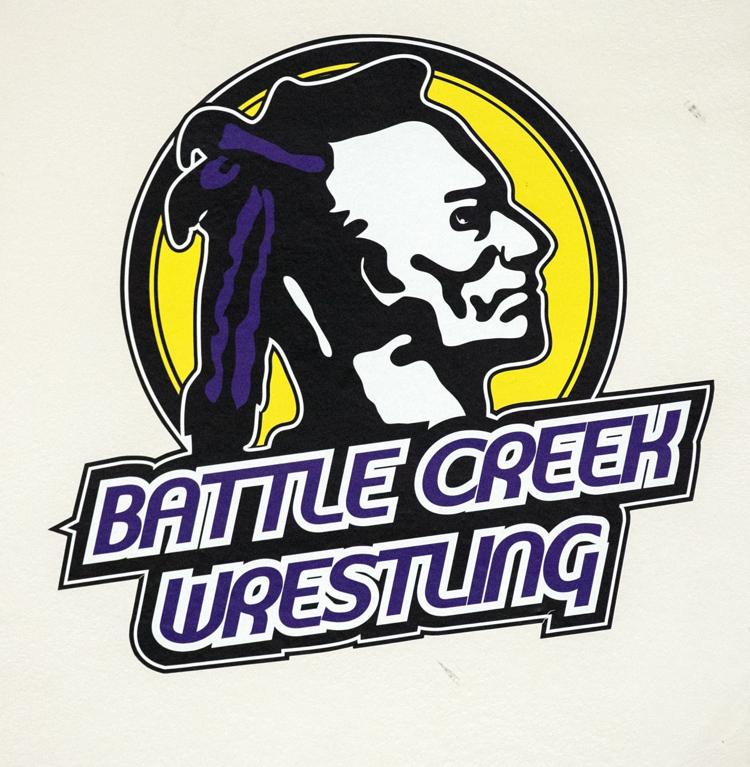 He said the community is proud of the mascots.
Painted on the gymnasium walls is a giant arrow. Embedded in the gym floor is the image of a tomahawk. The school uses a logo with the caricatures of a Native American man and woman.
Luhr said the school doesn't use a live mascot at games — a student in a Brave or Bravette costume. Those are too easily misinterpreted, he said. Nor do the students do the "tomahawk chop," he said.
At Friday night's football game, when the team starters were introduced, the Battle Creek band played a Native American drumbeat. A reporter observed no face paint, headdresses or props that have sparked criticism elsewhere.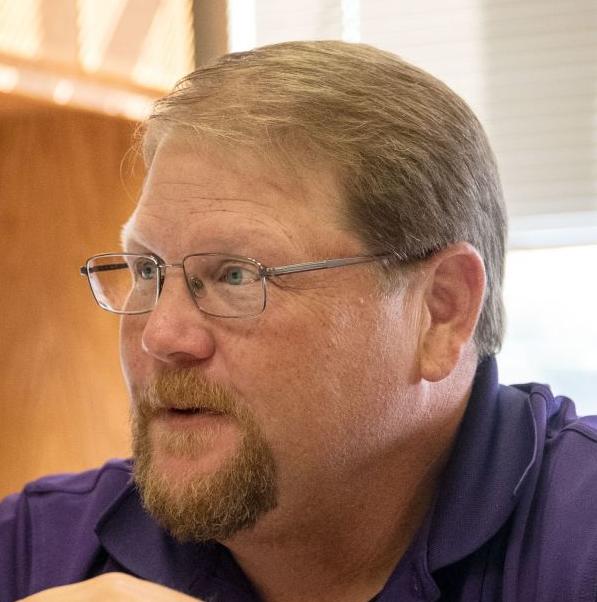 Luhr said the mascots represent courage and commitment to the community.
"I grew up in northeast Nebraska," he said. "I was an Osmond native. We were the tigers, but the Battle Creek Braves always had a lot of pride and a lot of confidence and a lot of success."
He said the Braves are pretty well-known throughout the state and beyond for success in extracurricular activities.
He said no one has questioned the mascots.
If required, he said, the school could drop the 'S' off Braves and just be Brave or The Brave, expressing an attribute instead of a person.
More important than mascots, he said, is the character of the kids.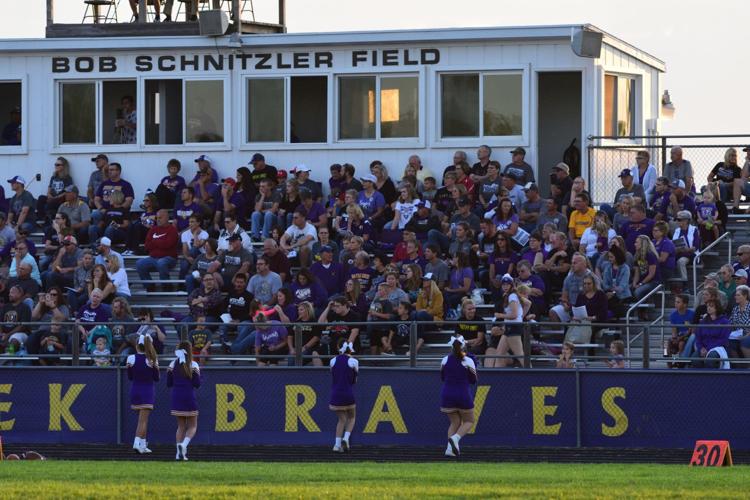 "I think it has a lot to do with the way the kids present themselves. When they're competing or when they're interacting with other schools. Our kids are fantastic kids and they just represent themselves very, very well."
Janet Ernst, a 1982 graduate, was born and raised in Battle Creek. A bookkeeper for Cubby's in Norfolk, Ernst said she sees no problem with the mascots.
They are not done in a derogatory manner, she said.
Years ago, she said, her sister dressed up as a mascot. Ernst said her sister braided her long hair, wore buckskin and occasionally rode out onto the field on a horse.
"If it's mandated to change it, who is going to help fund the cost to replace scoreboards, gym floors?" Ernst said. "Everything's going to have to be reranded. And where's all that money going to come from, because scoreboards and things like that are not cheap."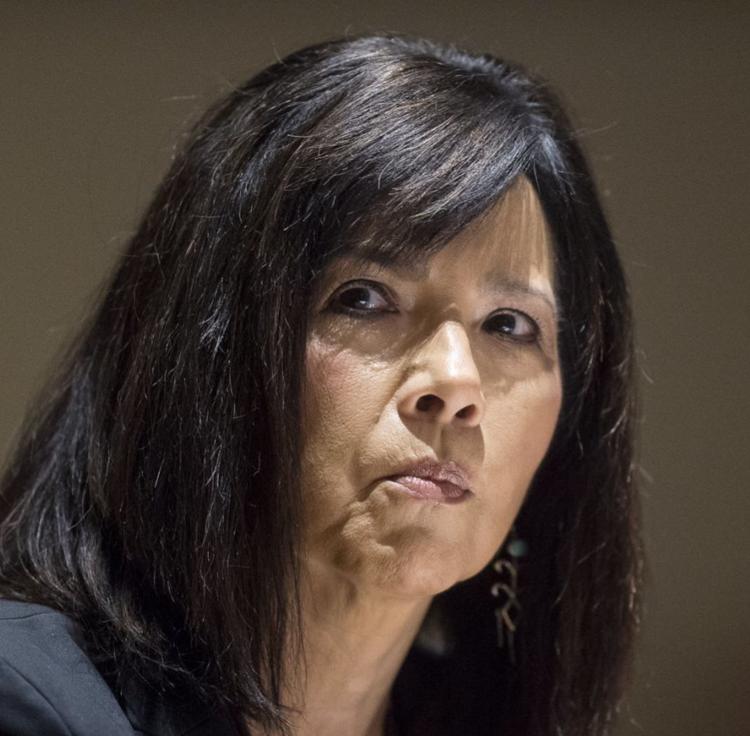 If lawmakers mandate it, they should provide the money, she said.
Judi M. gaiashkibos, executive director of the Nebraska Commission on Indian Affairs, is aware of the challenge presented by towns like Battle Creek.
She favors scrapping Native American mascots.
"It dehumanizes us," said gaiashkibos, whose heritage is enrolled Ponca and Santee Sioux.
She said that when mascots are entrenched in a community's history, getting rid of them gets more complicated.
But she's not deterred from trying. She says it's the right thing to do, and she believes that educating people about the negative impacts will help.
"Do I think it's going to happen overnight? No. It's an emotionally charged minefield," she said.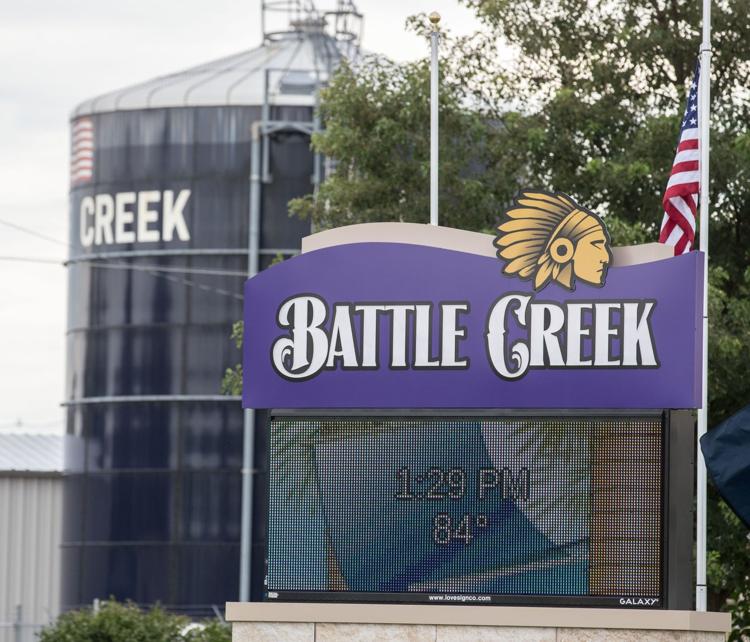 If the federal government hadn't mandated forced busing to address racial segregation, the country would still have black schools, she said.
State Sen. Tom Brewer, whose mother was Lakota, said he would oppose a mascot ban.
Brewer attributes the latest legislative push to "a handful of new senators that like being activists as much as they like being a senator."
"It's become a cause," he said.
He said he's disappointed that senators are focusing on mascots when Native Americans face bigger issues like missing Native American women and health care and alcohol-related issues on reservations.
Schools that use terms like "warrior," "red raiders" and "Indians" don't do it in a negative way, he said. They are symbols of strength that inspire pride and a winning attitude, he said.
"How excited can you be saying we're the Fighting Kittens?" Brewer said.