The shopping areas at 132nd Street and West Center Road were built as Omaha was just starting its suburban push west.
Now, decades later, drivers don't just want to get to 132nd and Center — they want to get through the intersection.
But the busy traffic of today and the ready access left over from earlier times has often collided at the intersection, making it one of the top-ranking places for the number of car crashes in Omaha.
To help remedy the problem, the City of Omaha is starting a $5 million project to rebuild the intersection — cutting off two access points and widening the area to add turn lanes.
Business representatives in the area have expressed concern to the city about the more limited access.
Zio's Pizzeria, which sits along West Center Road, is one business that will lose part of its closest access.
Rick Ledwich, owner and operator of Zio's, said he's very worried about the short-term effect of construction and watchful about the long-term impact of the change.
"It's wait and see," he said.
Work started this month and is scheduled to end in November. The city expects one lane of traffic to be open in each direction throughout construction.
Jeff Riesselman, the city traffic engineer, said people will still be able to access area businesses from all directions after work is completed.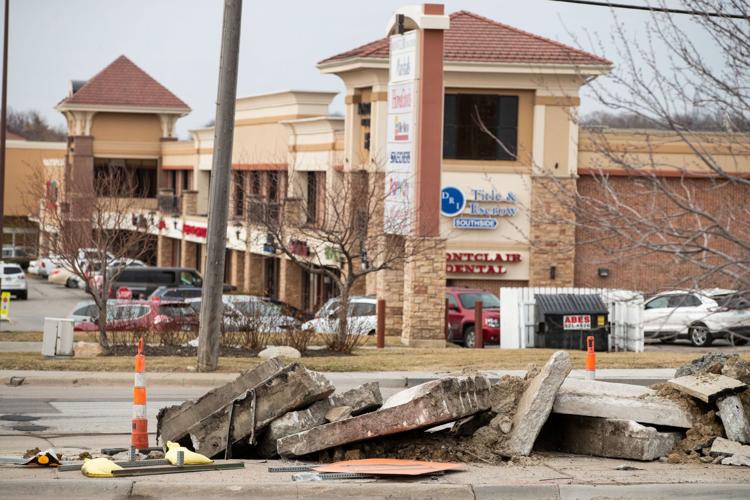 But two access points in particular will go away: a median break at South 130th Avenue that allows turns across West Center and a median break along 132nd Street where drivers can access Baker Square or Montclair on Center.
A good number of drivers use those access points, Riesselman said.
That's contributed to a high number of accidents — 24 in the most recent annual count available from the city. That doesn't place it in the current top-10 list of intersections with the highest number of crashes.
But Riesselman said the area has ranked higher in other years, particularly when taking into account crashes at access points around that area.
On the south side of West Center, shopping centers run from 120th to 134th Streets, broken up by a few blocks of offices and golfing.
The ready access to the Baker Square and Montclair shopping centers are remnants from their development in the early 1970s.
Along West Center, much of the land from 114th to 135th Streets was developed under a master plan that included shopping centers, housing, schools, churches and civic sites, with a library, rec centers and the Westwood Golf Course.
But today, the 132nd and Center intersection presents a classic problem, said Marty Shukert, a principal at RDG Planning & Design and a former Omaha city planning director.
It has a tremendous number of drivers making turns in all directions, including into the long stretch of shopping centers there, Shukert said. That's compounded, he said, by having turning lanes that don't have much stacking space, which backs up traffic.
And it's not always clear how to get to the shopping centers, which can cause drivers to hesitate, which creates conflicts, he said.
"There are a lot of issues with this one," Shukert said.
Sign up for our Money headlines newsletter
Get the latest development, jobs and retail news, delivered straight to your inbox every day.