O'NEILL, Neb. — Her mother always warned that immigration agents could someday come and take her away.
But Stephanie Gonzalez said she never expected officers would come to this small, rural town — until her mother was swept up in an immigration raid on Aug. 8.
The 17-year-old high school senior was on the golf course practicing with her teammates on the O'Neill Eagles girls golf team when she got a text from her mom, saying she'd been detained by Immigration and Customs Enforcement officials at the town's big tomato greenhouse.
"Steph, I love you. Take care of your brothers," her mother texted.
A native of Guatemala, Stephanie's mother, Flor Gonzalez-De Paz, remains jailed and faces up to two years in prison and a $250,000 fine for "illegal entry after deportation."
She had worked at a meatpacking plant in Grand Island before being deported in 2004. Because this is her second time caught entering the U.S. illegally and she is now facing a felony, Gonzalez-De Paz does not get the option — like many first-time detainees — to be released from custody.
Now Stephanie, who is a U.S. citizen born in Grand Island, has been thrust into the role of a teen mom, arranging for the care of her two brothers, ages 1 and 7, while preparing to graduate with her classmates at O'Neill High. Her father, who was deported years ago, has never been a part of her life.
She's a popular student who has a 3.75 GPA, is a National Honor Society member and ranks sixth in her senior class. She credits her mom for some of that — she admonished her to focus on her studies, and said no boyfriends.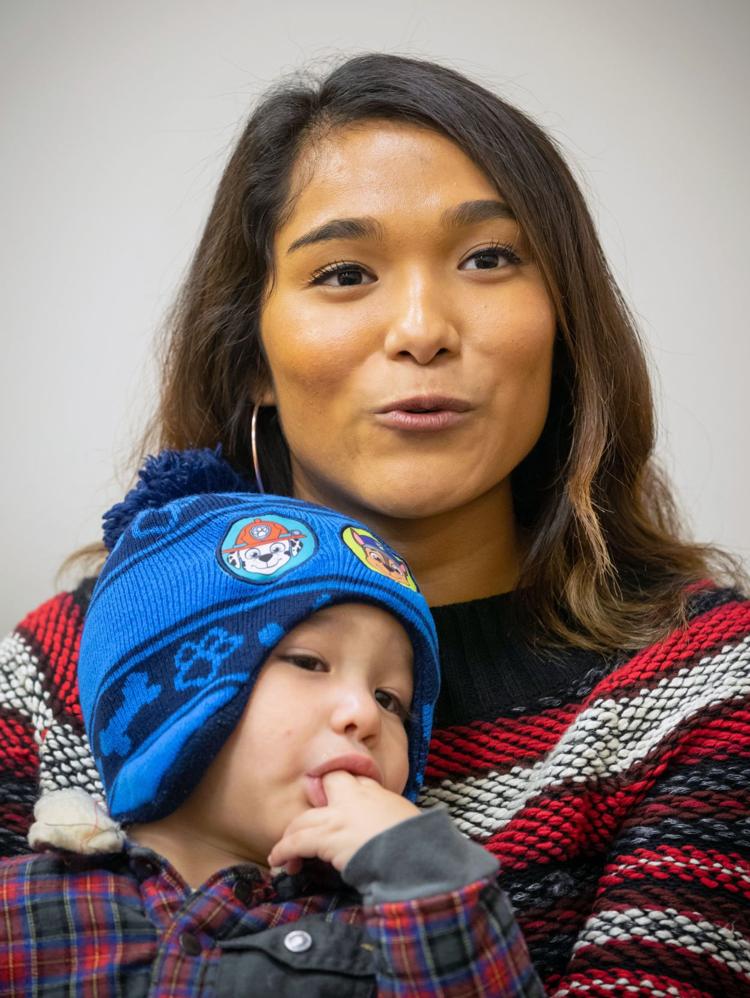 But now, she'll walk alone at the "senior night" recognition.
"She's a good mom," Stephanie Gonzalez said. "I never thought this would happen now, when I really need her."
Known for an almost constant smile, Stephanie is a cheerleader, a member of the marching band's color guard, a student manager for the girls basketball and boys track teams, and works after school at a local assisted-living center.
She gave up golf after the raid, moving to Grand Island for a while to live with relatives and be closer to her mother, who is in jail in Wilber, Nebraska.
She said she talks to her mother over the phone almost every night, sharing tears over what's to come — possibly more jail time, followed by likely deportation.
Stephanie knew her mother was taking a risk in returning to the U.S., but she said it hurts to think that people consider her a "criminal."
"She doesn't rob anybody, she doesn't kill anybody ... she was just here working for her and her kids," Gonzalez said. "She isn't taking a job away from anyone. She is working jobs no one will take.
"Wouldn't you come here for a better future?" she asked.
Two weeks ago, Stephanie and her two brothers moved back to O'Neill, accepting an offer from her best friend's family to take care of them pending the outcome of her mother's legal proceedings.
She's thankful for the help, and the support local people and teachers have given those impacted by the August raid.
"I want to graduate here with people I know, and graduate with recognition for what I have done," said Gonzalez, who has attended school here since third grade.
The future is unclear. Back in Guatemala, she said, there are no jobs for her mom, and poor education for her brothers, Daniel and Gabriel, both born in the U.S.
Gonzalez said she plans to build a life here. She hopes to pursue a nursing degree in college.
She hopes someday to help her mother fulfill a dream of building a house on lots she bought in Guatemala with her earnings in the U.S.
"As soon as I can get my dream to come true I'm going to help get hers," she said.