A 139-year-old mystery is one step closer to being solved in Valley thanks to people who cared enough to put history back together.
And one seemingly random phone call.
On Nov. 9, 1879, 4-year-old Rosanna Rhoades died of scarlet fever. According to century-old records, she was buried in the old graveyard in Valley.
But her gravestone was lost when her body was moved in 1881.
The gravestone was found almost a century later and passed through a number of hands in the community; no one was quite sure what to do with it.
Two weeks ago, its final resting place was finally determined. And on Friday, in her family's plot in Valley's cemetery, the gravestone of Rosanna Rhoades was rededicated on the 139th anniversary of her death.
The story began when Fred Toewe of Round Rock, Texas, an amateur genealogist, traced one branch of his family's story to Valley, where his great-great-grandparents Samuel and Rebecca Rhoades moved from Pennsylvania in the late 1800s.
In an attempt to bring the Rhoades family history to life, Toewe and his wife trekked to Crescent, Iowa, where the oldest-known living member of the family, 89-year-old D.G. Rhoades, lives with his wife.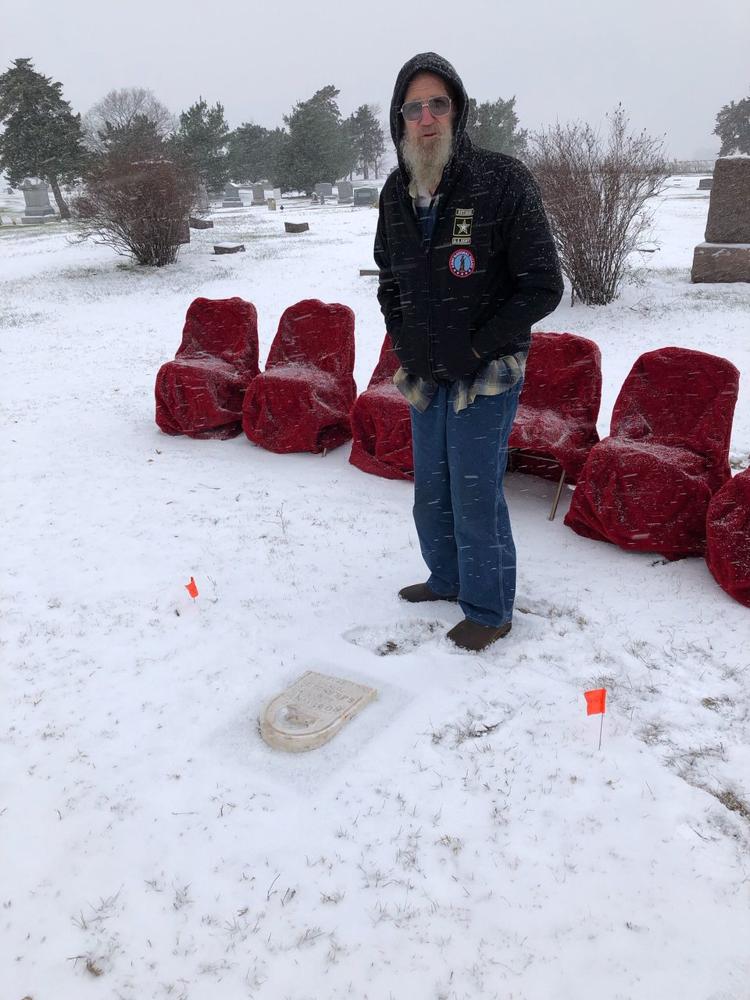 They all headed to Nebraska, where D.G. Rhoades guided the Toewes around the Elkhorn, Waterloo and Valley areas for several days, adding real-life, personal memories to the history Toewe had known only on paper.
Genealogy "can be a lot of work," Toewe said. "There's no limit to the ancestors you can find. But it's especially fun when you can find out personal things about people."
In Valley, while searching through records of the Rhoades family in the public library, Toewe found a one-page description of Plot No. 2 in the Valley Cemetery:
"No headstone available. Child buried. Owner: Rhoades, S. Price paid: $5."
The Toewes tried to find the grave, but as the description said, there was no headstone to be found.
That's because it had been sitting in the trunk of a car owned by Georgene Gottsch, president of the Valley Historical Society Museum.
It had landed at the Historical Society Museum when the high school cleaned its storage rooms and figured that a gravestone probably belonged in a museum. Or a graveyard.
The high school had it because former history teacher Dean Slader used it to teach his eighth-graders about Nebraska history before he retired in 2001.
And Slader had it because he found it in a construction shed in the early 1980s, not long after excavation had started for business complexes being built over the old graveyard.
Gottsch reached out to her sister, another amateur genealogist, who found records for a Rosanna Rhoades who died of scarlet fever in 1879. Just like the headstone said.
So when Fred Toewe called Gottsch to inquire about the unknown little girl buried in his ancestors' plot, Gottsch was beside herself in disbelief.
"I said, 'Sit down, because you're not going to believe what I have in my car,' " Gottsch recalled.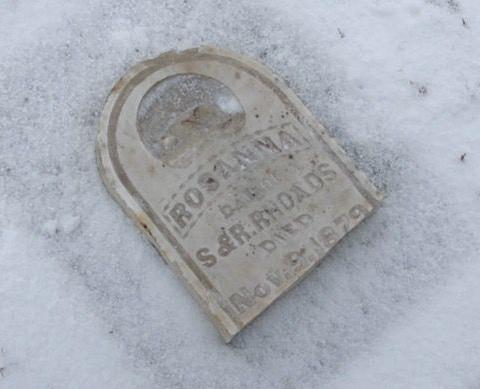 Toewe, a retired engineer, said he was skeptical that it was the same child at first.
For starters, Rosanna's surname was spelled differently on the headstone from the "Rhoades" Toewe was familiar with.
It's a bothersome indicator, Toewe said, but not one so strong to deter him from believing that the stone belongs to a daughter of his great-great grandparents.
"We have (found) other instances where large family markers are spelled wrong," Toewe said. "People did things so much more phonetically back then."
Gottsch and other members of the Cemetery and Library Boards organized Friday's small ceremony for the rededication of Rosanna's gravestone in Plot No. 2.
Along with several community members, an Advanced Placement History class was there for a balloon sendoff and a few prayers, Gottsch said.
"It won't be a huge deal, but it's just a cool thing to do in this terrible day," Gottsch said. "It's something nice that happened (because of) a connection of people."