Every few minutes Wednesday, Yesenia Arias checked the surveillance cameras inside the Mary Chuy restaurant in Gibbon, hoping the water inside from the flooding Wood River wouldn't rise too high.
Her parents, Bernardo and Maria Trevino, lost almost everything at the restaurant in March when the Wood River came rushing over its banks. The Mexican eatery and tortilla bakery at 205 Union Ave. spent $20,000 to replace ovens, a griddle, fryers, a refrigerator and furniture.
Late Wednesday night, emergency management officials asked the residents in low-lying areas of Wood River to voluntarily evacuate because floodwaters were approaching the community of 1,300.
"Residents are asked to evacuate NOW before waters become dangerous and puts rescuers at risk," Grand Island and Hall County emergency managers tweeted. "Pack essentials, secure your home, drive safely. Shelter is open at Wood River High School. Please don't wait."
Wood River Fire Dept reports flood waters approaching City of Wood River. Residents are asked to evacuate NOW before waters become dangerous and puts rescuers at risk. Pack essentials, secure your home, drive safely. Shelter is open at Wood River High School. Please don't wait.

— GIHallEMA (@GIHallEMA) July 11, 2019
Early on in Gibbon, there was reason for hope for the Mary Chuy restaurant, as friends, family and volunteers fought back with sandbags and plastic.
The sandbags seemed to help until the pressure from floodwater became too great. Water had reached at least 15 inches deep inside the restaurant before the video from the camera went off line. The restaurant had 2 feet of water inside in March.
"Hopefully, the water subsides quickly," she said late Wednesday night. If there's any good news, it's that the river is expected to crest Thursday morning a few inches below the record set in March.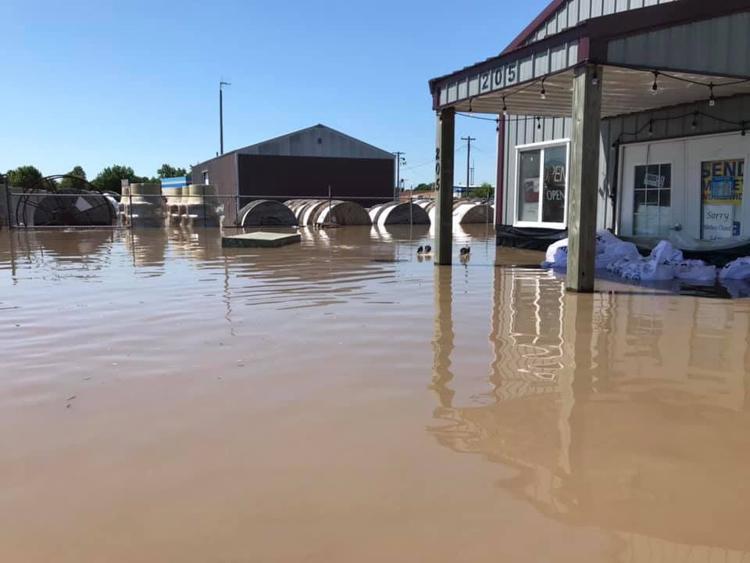 Deb VanMatre, mayor of Gibbon, said the town seemed to have more time to prepare this time than it did in March. As was the case then, the north side of town was in the most danger, she said.
"Our first responders are basically working the north side of town where the water is coming up fast," VanMatre said. "They are assisting people in getting out of their homes."
Flood warnings are in effect this week for several communities after three days of rain in south-central Nebraska. An estimated 3 to 6 inches of rain fell across the region Monday night into Tuesday, with some even higher amounts: 8.88 inches of rain fell at Loomis. An additional 1 to 2 inches of rain fell across the area Tuesday night into Wednesday, said Aaron Mangels, a meteorologist with the National Weather Service in Hastings.
"The storms (Tuesday night) didn't help any," Mangels said Wednesday. "It looks like we're done (with rain) until at least Friday night, when we see the next chance."
Gov. Pete Ricketts and several state senators surveyed the flood damage Wednesday morning.
Sign up for World-Herald news alerts
Be the first to know when news happens. Get the latest breaking headlines sent straight to your inbox.
In a helicopter flyover with State Sens. John Lowe of Kearney and Matt Williams of Gothenburg, Ricketts assessed damage from Lexington, where new government housing units are inundated; to Kearney, where the city's lodging district is under water; to Gibbon, where sandbagging was done.
The University of Nebraska at Kearney had about 250 people take shelter at their residence halls overnight, and the Red Cross reported that it had 16 in a shelter at Lexington High School.
Some 700 to 800 vehicles were flooded in Kearney, according to city estimates.
Damage assessments don't include a preliminary dollar figure yet, Ricketts said.
Kearney City Manager Mike Morgan said Archway Parkway was washed out. The street carries traffic from Kearney's main Interstate 80 exit to the Archway museum.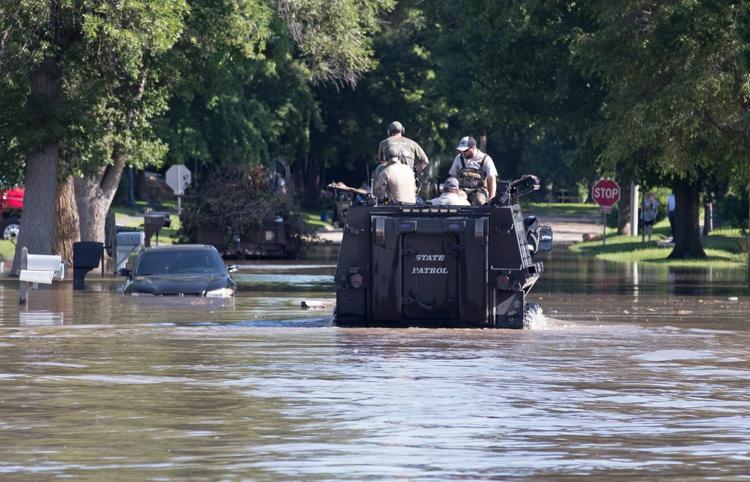 Flooding in Kearney on Tuesday was caused largely by Turkey Creek and the water was starting to subside Wednesday.
Along the Wood River, communities like Gibbon, Wood River and Alda still contending with a slow crest to the flooding or still rising waters.
"Gibbon is our big problem today," Darrin Lewis, the emergency management director for Buffalo County, said Wednesday. "We have the same amount of street flooding as there was in March. The whole north side of town was inundated with water."
By Thursday, the town of Wood River could be the next big problem because the river was expected to continue rising several feet Wednesday night into Thursday.
The Wood River is expected to crest at 16.8 feet at Gibbon on Thursday, up more than 10 feet from its level before the rains. Flood stage is 15 feet. Many Gibbon residents have heeded authorities' advice and evacuated, Lewis said. The community of Wood River is downstream of Gibbon and its crest will come later.
The weather service is forecasting significant flooding in Wood River by Thursday evening, and the American Red Cross has set up a shelter there.
About 85 miles to the southwest of Wood River, the Republican River had been expected to crest Wednesday at a record 14.2 feet before gradually receding in the afternoon and evening. Flooding of rural agricultural land is expected to be widespread.
West and southwest of Kearney, the cities of Lexington, Cozad and Holdrege also are dealing with flooding.
Major flooding is not expected on the Platte River.
In Gibbon, Arias said her parents are anxious to see what damage occurs in their seven-year-old restaurant. The area is accessible only by airboat, she said.
"Last time, we didn't get cleaned up and open again until May 12," Arias said. "That was two months of work. Now, we're facing it all over again."
World-Herald staff writer Nancy Gaarder contributed to this report, which includes material from the World-Herald News Service.
Photos: Flooding in central Nebraska in July 2019
Kearney, in addition to other towns in the surrounding area, is suffering the effects of Monday night's rainstorm. Roads and buildings are flooded, stranding some in their homes. 
If you'd like to share a photo with us for use in this gallery or publication in the paper, please email news@kearneyhub.com, stating that you own rights to the photo(s) or video attached and give Kearney Hub permission to use the content for publication.