LINCOLN — Owners of the four now-closed beer stores in the border village of Whiteclay, Nebraska, have reached settlements in their lawsuits challenging nearly $700,000 in allegedly unpaid state taxes and fees.
The beer stores and the Nebraska Department of Revenue filed a joint motion to dismiss the lawsuits on Monday. Each party was ordered to pay its own legal costs and court fees, but how much the store owners were required to pay under the agreement was not disclosed.
A spokeswoman for the Nebraska Attorney General's Office, which handled the case for the Nebraska Department of Revenue, said the settlements were confidential. Attorneys with the Lincoln law firm of Rembolt Ludtke, who represented the beer stores and their owners, did not respond to requests for comment.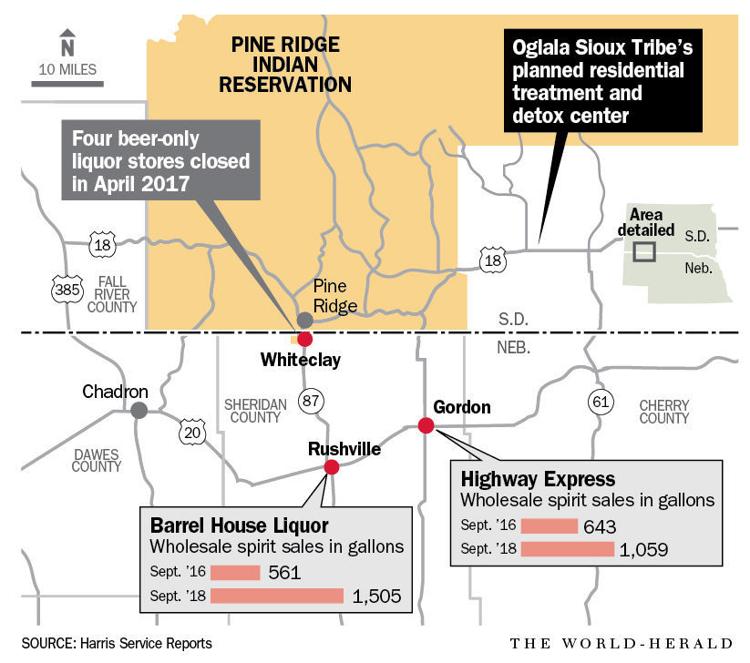 State tax auditors conducted surprise on-site audits of the four stores seven months before they were closed in April 2017. The auditors, according to court records, said they were forced to estimate sales and profits — and the subsequent $680,000 in taxes and fees they projected were owed — because the stores lacked adequate cash register receipts. One store, Stateline Liquor, didn't even use a cash register.
The estimates of income and sales taxes and litter fees owed were challenged as inaccurate and flawed by the liquor stores and their owners, who challenged the auditors assumptions that every can in a 24-can case of beer was sold individually, which would tend to increase profits and the taxes owed.
After State Tax Commissioner Tony Fulton upheld the estimates, the beer stores filed an appeal in Lancaster County District Court. After 11 months of wrangling over what was owed, and after the Revenue Department agreed to lower at least one initial estimate of taxes and fees owed, a pretrial settlement was finally reached this week.
The closings ended a torrent of beer sales — the equivalent of 3.5 million cans of beer a year — that went almost exclusively to residents of the adjacent Pine Ridge Indian Reservation, an officially dry reservation just across the South Dakota border. The closings also quelled criticism of Nebraska for allowing sales that exacerbated alcohol-related problems on the impoverished reservation, including epidemic rates of fetal alcohol syndrome and high rates of alcoholism.
The State Revenue Department had initially estimated that the Arrowhead Inn, the beer store closest to the reservation, and its owner, Jason Schwarting, had failed to pay $207,000 in sales taxes, litter fees and interest, and $113,000 in state income taxes beginning in tax year 2013.
The other stores, Stateline Liquor, Jumping Eagle Inn and D&S Pioneer Services, and their owners, Clay and Daniel Brehmer, Stuart Kozal, and Doug and Steve Sanford, were accused of not paying a combined $360,000.
Photos: One year after beer sales ended in Whiteclay