KEARNEY, Neb. — A vineyard devastated by a July fire will serve wine again from its tasting room.
At its meeting last week, the Buffalo County Board approved three special designated liquor licenses for Cedar Hills Vineyard & Gardens near Ravenna. The licenses allow wine sales during three weekends in September.
Cedar Hills Vineyard & Gardens owner Clay Schutz requested approval, which will allow him to sell other vineyards' wine. His current liquor license covers only sales of wine made at his vineyard.
"Because it is a farm winery, you can only serve what you produce," Schutz told the board Tuesday. "So every weekend that I want to serve somebody else's wine, I have to apply for this."
Schutz also plans to sell the wine that's left after the July 5 fire claimed the vineyard's wine-processing building and its contents, including 500 cases of wine.
The fire didn't damage the tasting room and vineyards.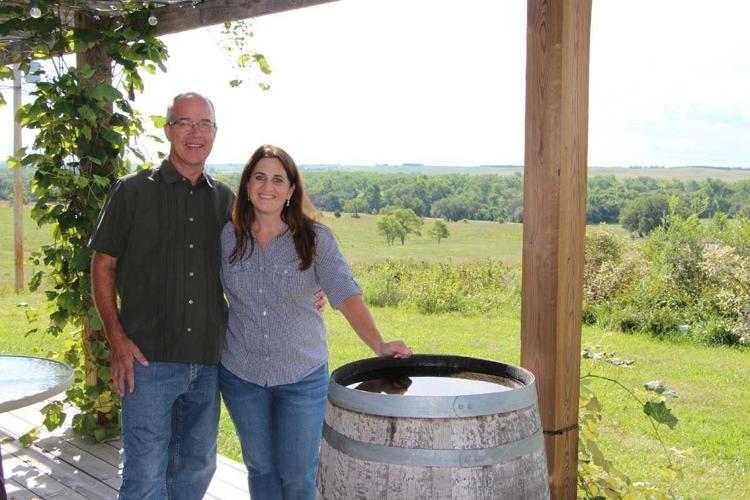 Selling other vineyards' wine will allow Schutz and his wife, Heidi, to continue to operate their tasting room, he said.
"We can promote Nebraska wines. That's what we're all about."
The Schutzes will have more Cedar Hills wine on hand after Mac's Creek in Lexington processes the Ravenna vineyard's latest harvest. But Schutz said the wine won't be bottled until January or February.
But beyond those plans, Schutz said, "Our future is still kind of uncertain. (We're) still working with the insurance company to see, you know, where we settle and where we land there and make the business decisions on how we go forward."
If the Schutzes decide to rebuild, their production in 2020 will be back to where it started four years ago when they bought the vineyard — 40 cases of wine.