GRAND ISLAND, Neb. — Twiggy the squirrel went around a pool Tuesday afternoon, holding on to a boat while standing on water skis. As Twiggy circled the pool, a large crowd gathered around to see the creature water-ski for as many laps as it could.
Twiggy the Water-Skiing Squirrel is one of many shows at the Nebraska State Fair this year. The show is inside the Aurora Cooperative Chill Zone in the fair's marketplace.
Sydney Garrett, marketing director and Twiggy's handler, said Chuck Best Sr. and LouAnn Best started training and touring with water-skiing squirrels — all named Twiggy — after a joke that Chuck Sr. made.
Garrett said Chuck Sr. bought his oldest daughter a remote control boat for her birthday.
"She was driving it around the lake, and his friend said, 'You didn't buy that for your daughter, you bought it for you.' He replied, 'No, I bought it so I can teach my pet squirrel how to water-ski.' His friend told him he couldn't do that, and he said, 'Watch me.' "
Garrett said Best took the photo of the water-skiing squirrel to the local newspaper, and "it was supposed to stop there."
"But it caught on, and it became huge," she said. "Chuck Sr. started getting calls to do shows, have Twiggy perform, and they started touring."
Garrett said she has been involved with the Twiggy show since January, when she and Chuck Best Jr. took over for Chuck Sr. and LouAnn.
Two squirrels are used during the shows: Twiggy No. 9 and Twiggy No. 10. Garrett said Twiggy No. 9 is 6 years old and Twiggy No. 10 is 1 year old.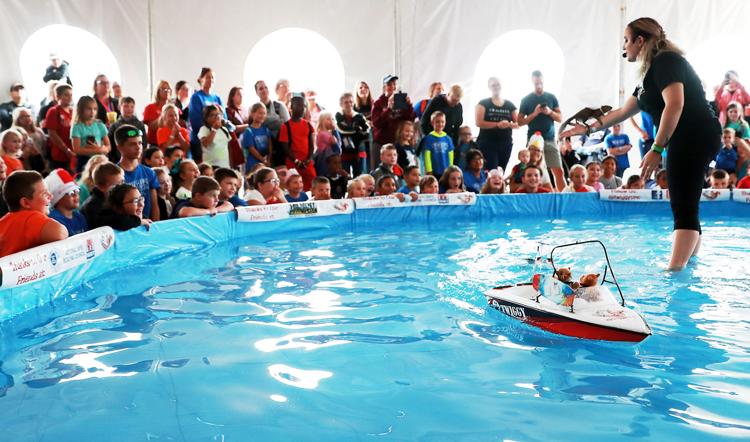 What goes into training squirrels to water-ski? Garrett said it is all about repetition.
"They are just like your cat if you are trying to train them how to do a trick," she said. "They are super smart, but they have a short attention span. It takes about an hour a day with 10 minutes skiing and a 10-minute break. They are affection-motivated, so instead of getting food, they want to be petted, hugged and kissed. They want attention, rather than food."
In order to train the Twiggys, Garrett said, she makes sure they are comfortable with her as their handler, because that way they will be comfortable performing in front of hundreds of people.
Garrett said it takes six months to one year to train "a perfect Twiggy." She said one squirrel has been training for six months, while the other has been training for eight months.
"They are still not perfect, but they are getting pretty good," Garrett said.
Garrett said the Twiggy show was last at the Nebraska State Fair about 25 years ago. She said the show is "very family-oriented" and is used to promote water safety to kids.
"I personally just love the look on everybody's faces when they see Twiggy is a real squirrel and they go, 'Oh, my goodness,' " Garrett said. "It could be a 60-year-old or a 6-year-old. Their faces are the same. They are both in awe and are loving the show. It warms my heart to see that."