Every night it's the same. Lucia Pedroza is startled from sleep feeling hopeless after dreaming of her children being taken from her.
The stuff of her nightmares is reality for families affected by recent immigration policy that has separated children from their parents.
Pedroza, who attended a Saturday protest, watched her 8- and 9-year-old boys run through the parking lot playing with their cousins. She looks at them differently now.
"I can't look at them without thinking about the other kids that are being taken from their parents," Pedroza said.
The young mother was one of about 500 people who gathered on a hot, humid Saturday afternoon in the Plaza de la Raza in South Omaha for the "Families Belong Together" protest. Their voices joined thousands of others in cities coast to coast who rallied to protest the separation of immigrant families trying to enter the country without authorization.
"The crisis is not over until every single child is reunited with their parents," Rose Godinez of the ACLU of Nebraska said during the Omaha rally.
Children who are separated from their parents experience "toxic stress" that can lead to long-term health and mental health issues, said Kristine McVea, a doctor and the chief medical officer of One World Community Health Center.
The crowd pressed in toward the stage, holding signs with phrases like "Stop tearing families apart," "Abolish ICE" and "Children are not pawns" while listening to religious and other community leaders echo similar messages about the cruelty and immorality of family separation.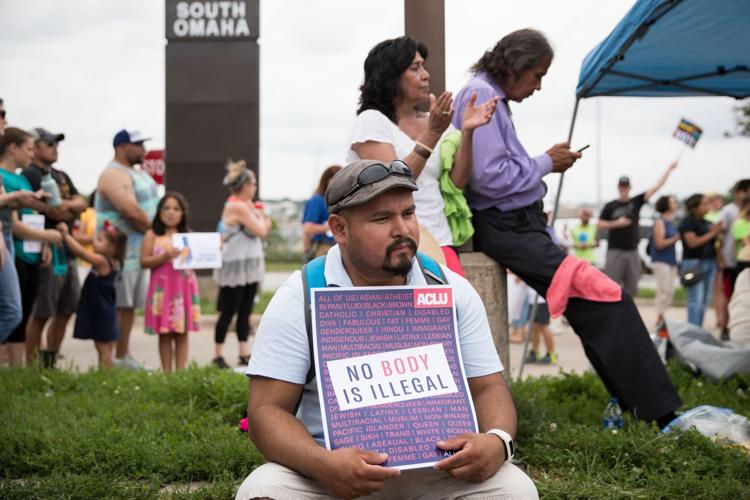 Other rallies across the state took place in Alliance, Chadron, McCook, Scottsbluff and Lincoln, according to MoveOn, the online platform that showed rallies organized in all 50 states.
A crowd of about 1,500 gathered outside the State Capitol building at 10 a.m. in Lincoln with no incidents, said Sam Sowl, the event's volunteer coordinator.
"People saw a need and they stood up," Sowl said. "That's invaluable to our state."
Miles Bannan, vice mayor of Chadron, a city of about 5,700 in the northwest corner of Nebraska, said about 75 people participated in the town's rally. Local pastors gave speeches and protesters held signs along the highway. Some drivers flashed thumbs-up while others honked in disapproval, he said.
In a place where people are expected to "fit a certain mold," Bannan said, he was encouraged by the strong showing of people.
"This is something that I feel crosscuts so many different parts of society, different demographics, different people," Bannan said.
The rally was organized by Indivisible Chadron, a local chapter of a national political movement organized after the 2016 election to encourage activism and support progressive causes. Bannan said he hopes the rally helps progressive locals feel less afraid to express their beliefs.
"I think that a big impact of this is reminding people that they're not alone in these beliefs," Bannan said.
The Omaha rally was nonpartisan, but many speakers urged those gathered to use their voice to vote.
Pedroza, whose family fled violence and poverty in Guatemala to come to America two decades ago, said she is proud she and her family are now U.S. citizens. And she is using her voice to combat the hopeless feeling she wakes up to.
"With the power that we have, we plan to use it in November," Pedroza said to a cheering crowd. "Now is not a time to give up. Right now is the time to fight, the time to do something. We can't do it on our own. We need all of you, we need all your families. Everybody can do something."
Pedroza's message of hope was echoed in the lyrics of a song by American civil rights activist Cesar Chavez. Singing was led by three young children onstage.
"Si se puede, si se puede," the people sang together. "Yes we can, yes we can."