Their worries have a long history.
For nearly 50 years, rural residents outside Omaha have battled governments intent on damming creeks on the residents' land for reservoirs that would help reduce urban flood risks.
First it was the Army Corps of Engineers, beginning in the late 1960s. Then it was the Papio-Missouri River Natural Resources District, beginning in 2004.
Now, the two government agencies are collaborating on a $3 million, three-year study of flood risks in the greater Omaha area. Both government agencies have the authority to use eminent domain, and the return of the corps brings into play the federal government's deep pockets.
"We've been battling this for nearly 50 years," said Shawn Melotz, president of the Papio Valley Preservation Association, a 500-member group dedicated to protecting the natural resources of the Papillion Creek watershed. "We're fearful, because there is a history of mistrust for both organizations. My parents' generation dealt with the corps, and my generation dealt with the NRD."
Back-to-back years of devastating floods in Omaha in the 1960s spurred a cry for flood-control reservoirs. The worst flooding occurred in June 1964. Seven people died and many more lives would have been lost were it not for heroic efforts, according to accounts of that era. At least $48 million in damage was done, adjusted for inflation.
With the Flood Control Act of 1968, the Army Corps of Engineers responded with a proposal to build 21 dams in the Papillion Creek watershed. Those that were built have become the metro area's most popular lakes, including Cunningham, Wehrspann and Zorinsky. But the dam-building came to a halt in the face of opposition, including a successful lawsuit, and because alternatives had been found.
Then, in 2004, the Papio-Missouri River Natural Resources District revived the idea of dam-building. It announced an ambitious proposal that included two large reservoirs that would flood the Big Papio Valley in Washington County and affect about 100 landowners. That led to a bruising political battle between the NRD and landowners.
John Winkler, NRD general manager, said his agency has no appetite for a similar fight with this flood study. The NRD has abandoned, for its part, any plan to build those or any reservoirs in Washington County.
"We have absolutely zero interest in those," Winkler said.
Nine of the original 21 dams on the corps' list have been built — either by the corps or the NRD. Two more reservoirs that weren't on the original list are underway.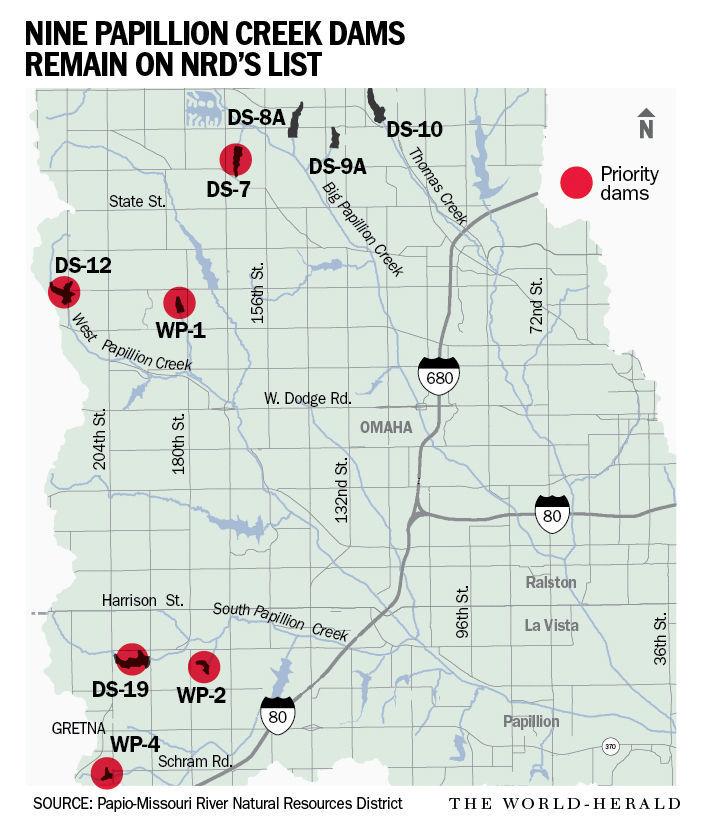 But Winkler said those 11 dams aren't enough to protect Douglas and Sarpy Counties. Additional dams are needed, he said, and with each passing year, the cost of land climbs. The NRD already has lost one prospective dam site to development, he said.
There are nine remaining sites in Sarpy and Douglas Counties where the NRD would like to build reservoirs. Six of those are priorities because of development pressures, he said.
Winkler said he believes that the NRD generally can move forward without antagonizing landowners because these days, people are asking the NRD to buy them out. But he acknowledged that eminent domain might be used on some parcels of land.
"The tables have flipped," he said. "I have $12 million to $15 million in offers that I can't act on," because the NRD lacks the money.
This is why, Winkler said, the NRD needs the corps' help.
"We need their help on the ones we know we can build," he said. "If we have their help, we can build them much faster, much cheaper."
Melotz comes from a family of farmers, and two of the Douglas County dams would be built on their property.
"Our family has owned and farmed our land for over 100 years, and it is special to us," she said. "You cannot place a value on our land."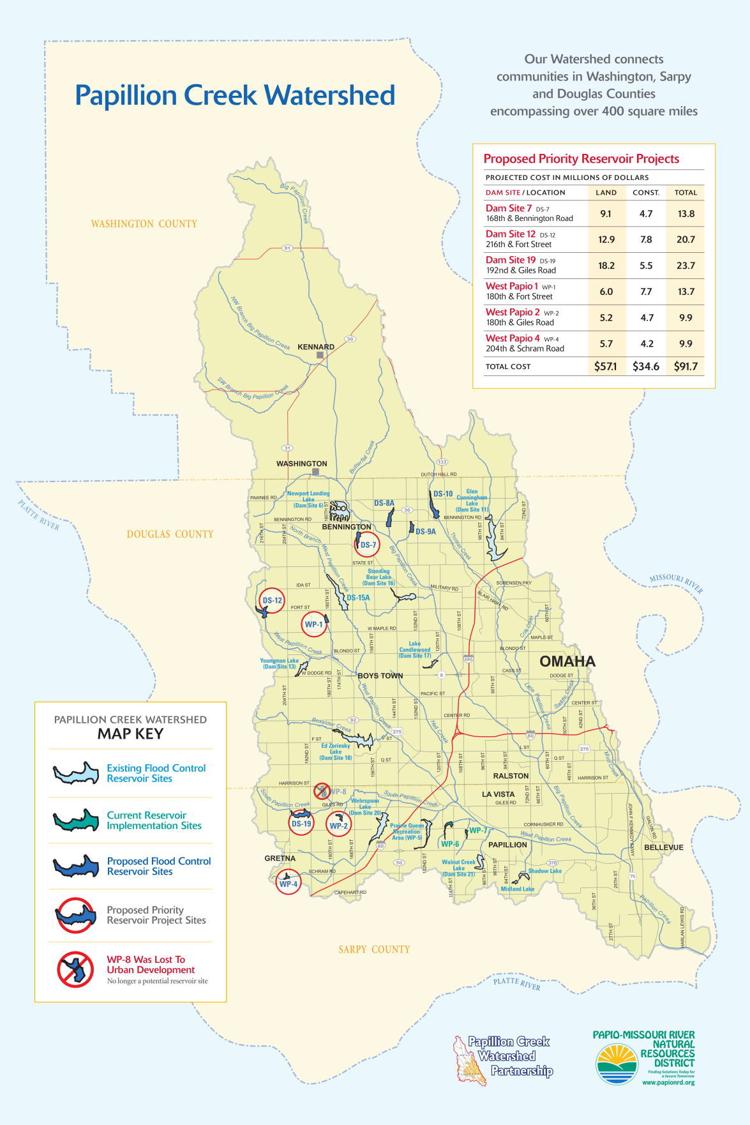 Melotz said that farmers take runoff-control measures and that she wants the study to include ways local governments can do more to discourage construction in flood plains.
Construction in flood plains is legal, with some restrictions, but it's not uncommon for those restrictions to be waived. The NRD and the corps estimate that nearly $2 billion worth of property has been built in the metro area's 500-year flood plain.
The corps and NRD held two public meetings last week to solicit public input as they launch the flood study.
Tiffany Vanosdall, the project manager for the corps, said the agency will adopt some of the suggestions made by residents at the meetings. As requested, progress on the study will be posted online — to the NRD website, papionrd.org — and another round of public meetings will be held in the spring, once the two agencies have a better idea of what solutions would work best.
A draft analysis should be ready by the fall, she said. It most likely will analyze several options and recommend a specific route forward. Other options include levees, channel improvements, buyouts, flood-proofing and dry dams, which contain water only when it rains.
The involvement of the Corps of Engineers in this study should better guarantee that the results will be reliable, said Steven Shultz, a professor of real estate and land use economics at the University of Nebraska at Omaha.
"It's a positive sign," he said. "(The corps) has well-established and sound methodology for evaluating these projects."
Winkler said the NRD is glad to be partnering with the corps.
"When this is all done," Winkler said, "we want to be able to say we did the best we could."
Our best photos from November 2018