UPDATE as of 10:15 a.m.: All on-grounds parking is closed Saturday due to weather, Nebraska State Fair said in an email.
Guests are encouraged to use the off-site Fair Express Shuttles which run continuously during the event. A list of stops and other updates can be found at statefair.org.
GRAND ISLAND, Neb. — The 150th edition of the Nebraska State Fair got off to a wet start Friday, alternating between drizzle and bright sunshine.
At the fair's opening extravaganza Friday evening, Executive Director Lori Cox noted there was a lot of water out there. But what do you do with water? she asked. You make lemonade.
"We're going to make a lot of lemonade this whole week," she said.
The opening ceremony itself was pushed back by Friday afternoon's rainfall. Presented at the CHI Health Stage, it began at 5:30 p.m. instead of 5.
Asked about the weather after the ceremony, Cox said the fair business teaches you to persevere and be flexible.
The fair will proceed in the face of rain, hail, sleet or snow, she said. "We're not afraid of a little rain, and we hope that people will come out and have a great time."
The opening ceremony, which included music and a few speeches, was hosted by Steve White of NTV.
The North Bend Community Band provided music as people waited for the ceremony to begin.
The national anthem was presented by members of the Northwest High School show choir. The rest of the choir joined them to perform "The Greatest Show." That number's first solo was not captured by a microphone. But new director Jeff Vyhlidal zipped up to get the microphone working in time for the second solo.
When the Northwest students were done, a good portion of the audience — parents and siblings — went with them.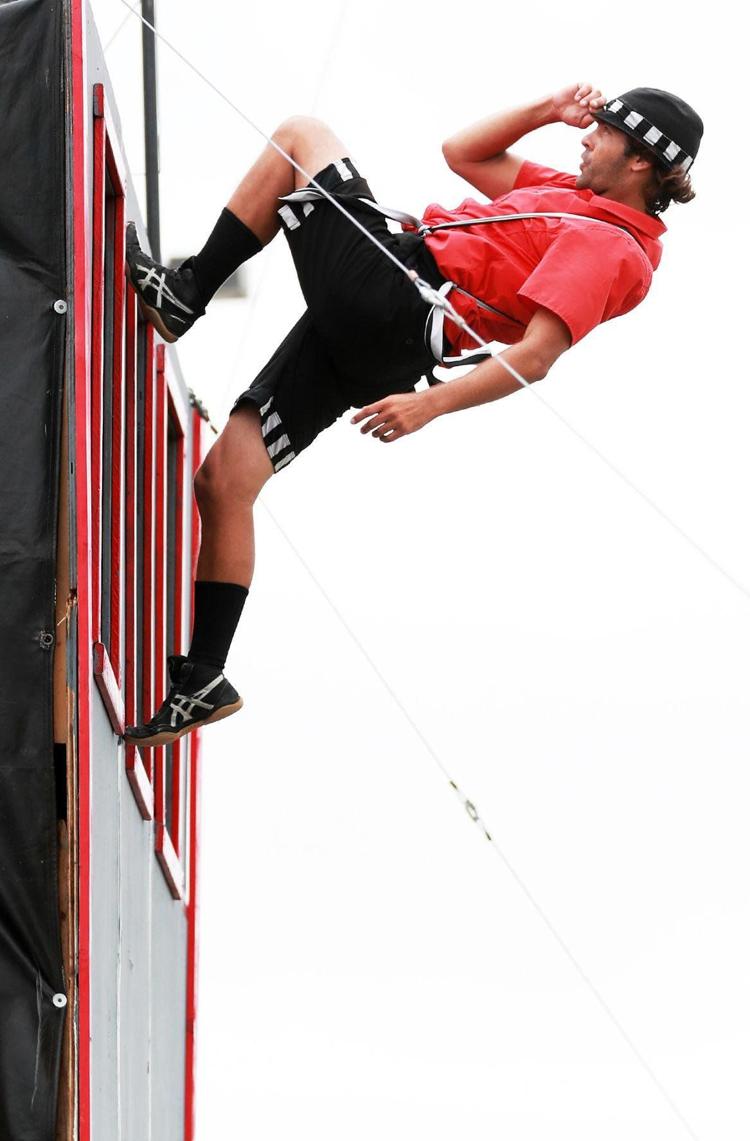 Kearney native Brody Ray, who appeared on "America's Got Talent," sang his song, "Stomping Ground." He then invited the audience to join him from 8 p.m. to midnight at the Pump and Pantry Party Pit. The extravaganza also included the Magic Bean magic show.
Cox expressed thanks to a number of individuals, including Rep. Adrian Smith, who was in the audience. She acknowledged the fair's board of directors, 4-H and FFA officials, Nebraska State Fair 1868 Foundation Director Lindsey Koepke and the fair's partner, Fonner Park. Cox noted that a tree has been planted in honor of Nebraskans who battled this year's floods. She also said this year's Ranch Rodeo is dedicated to Nebraska Strong.
Grand Island Mayor Roger Steele said that for most people there, the State Fair is part of their background and heritage. When he was 10, he was told he could go to his first State Fair if he helped get the cattle ready to show. He looked forward to the fair with great excitement and anticipation, he said. And every year, he still anticipates the State Fair with that excitement.
If anyone in the audience needs anything while they're in town, Steele said, they should call the mayor's office. While they're in Grand Island, he looks upon himself as their mayor.
Steele said that both he and former Mayor Jeremy Jensen, now part of the fair board, are "proud of our city."
He invited the visitors to try the official State Fair beer, made by Kinkaider Brewing, and to eat Sparky's Wing Nuts, made by a retired Grand Island firefighter.
At the end of the gathering, Cox and Chris Kircher of the fair board saluted the University of Nebraska-Lincoln with the Milestone Partner Award.
Charles "Chuck" Hibberd, dean of the Cooperative Extension Division, was welcomed onstage. Cox said the fair is presenting UNL with a carousel horse built on an oak base.
Hibberd urged the audience to return Sunday, Sept. 1, when the UNL marching band will appear at the fair. In the meantime, he invited everyone to enjoy Nifty 150 ice cream, which was available nearby.
"Help yourself," he said.