That's Scott Evans' advice for homeowners fretting about the effects of this week's blistering heat on their grass and flowers.
Temperatures in eastern Nebraska and western Iowa are expected to approach 100 this week.
"The best thing is don't love your plants to death,'' said Evans, the horticulture program coordinator at the Douglas-Sarpy County Extension Service. "Don't overwater. Just because it's hot, it's not in distress, it's not needing rescued.''
Evans said flowers and turf grass can survive this week's sauna with the right attention — just not too much attention. For example, watering every day can actually drown turf grass.
If you need to water, from 5 a.m. to 8 or 9 a.m. is the best time. It's usually cooler, and there's higher humidity, so there is less evaporation. It also helps prevent fungal problems.
"Some plants will tell you, 'Stop watering me,' " Evans said. "Some plants, like hibiscus, the leaves turn bright yellow.''
So before that garden hose gets overworked, here's Evans' advice on how to help the grass, flowers and even insects in your yard outlast the heat spell:
Turf grass
Provide a half-inch of water every third day. With this week's forecast, Evans suggests watering either Wednesday night into Thursday morning or Thursday night into Friday morning. Every other day works, too.
"If it's just that hot, there is only so much we can do,'' Evans said. "Much of our grass is cool-season grasses. Once we start approaching 100-degree heat, they are going to be really stressed out.''
You'll know because the grass takes on a bluish-green appearance and doesn't bounce back quickly when walked on. Don't bother with a light spray. "It does absolutely nothing," Evans said. "It cools it for five to 10 minutes.''
Also avoid fertilizing your lawn. That promotes plant growth and is the last thing a plant wants to do in this heat. Pesticides combined with sunlight in the high heat can burn turf. Cutting grass to 3 to 3½ inches allows the canopy to shade the crown and keep it cooler.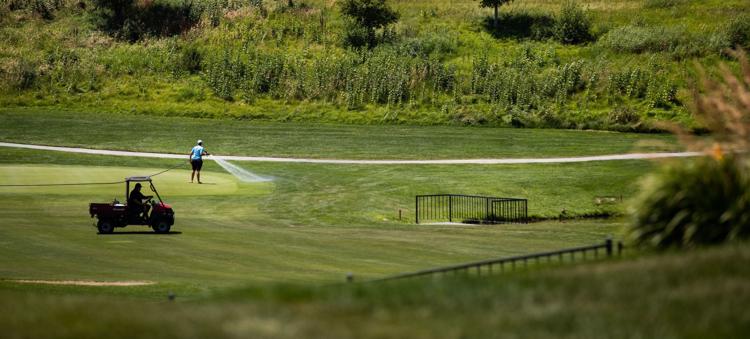 Container flowers
These will need more attention than anything else because the soil in pots dries out quickly. They can and will need to be watered daily.
Perennials
One inch of water a week should suffice. But spot water when a plant looks sad or off-color, Evans said. They will get that same bluish-green tint as turf grass. Others will curl up their leaves to prevent water loss.
"That's why we're big advocates of planting natives or semi- natives,'' Evans said. "They are used to Nebraska summers and can tolerate this high heat.''
Water about five to 10 minutes, and when the liquid starts running away from the plant, move on to the next area.
Vegetables
Tomatoes, peppers and eggplants may need watering every day to every other day, depending on location. Putting mulch around both veggies and flower plants will help with water retention. Vegetables will not set fruit during this type of heat.
"Pollen becomes sterile when it gets above 90,'' Evans said.
Fruit already on a vine will take longer to ripen.
Trees and shrubs
If they are established, Evans, said, they will do fine because of their extensive root systems. If they are newly planted, two deep waterings would be good this week.
Insects
Put out pie tins, add some gravel for safe footage, then fill the pan halfway with water.
"It's an easy, simple way for insects to get to water,'' Evans said.
Put a few rocks in your bird bath, too; otherwise, if a bee falls into the water, it can't get out.