Gina Pospichal never expected her Facebook post to Ellen DeGeneres to go viral.
She just wanted to vent a bit about the TV talk show host's call to eat less meat because, she said, it's better for the environment.
Pospichal says DeGeneres' recent comments couldn't have come at a worse time for Nebraska's cattle industry, which is already facing big challenges because of rainy weather and low beef prices.
"It's just one gut punch after the other," Pospichal said.
About 15,000 people have shared her letter to DeGeneres. A total of 2,500 people have commented, many thanking Pospichal for standing up for the industry.
Pospichal, a school counselor in Chambers, Nebraska, grew up on a ranch and married a rancher, so she knows the issues.
It's important, she says, to educate DeGeneres' 32 million followers on Facebook, 77.5 million on Instagram and 78.6 million on Twitter.
As Nebraska rancher Kathy Ehlers says: "She paints such a horrible picture. She obviously knows little about a ranching operation, but the spread of her ignorance is contributing to the possible demise of the independent cattle rancher."
A University of Nebraska-Lincoln professor of animal science, Jim MacDonald, said after examining the numbers that he's not sure how the beef industry became the whipping boy for greenhouse gas emissions blamed for climate change.
"Reducing beef consumption is going to have minimal impact on reducing an individual's carbon footprint," he said.
Beef cattle produce about 1.9% of greenhouse gas emissions in the United States, he said. Add dairy cows, swine and poultry and that number is about 4%.
If you include items such as the corn grown to feed cattle and the energy used to run a tractor, U.S. beef production contributes to 0.47% of global greenhouse gas emissions. Worldwide, it's 5.7%.
"Those are really small numbers," he said. "The big gorillas are energy and transportation."
Officials from "The Ellen DeGeneres Show" didn't respond to an email requesting comment.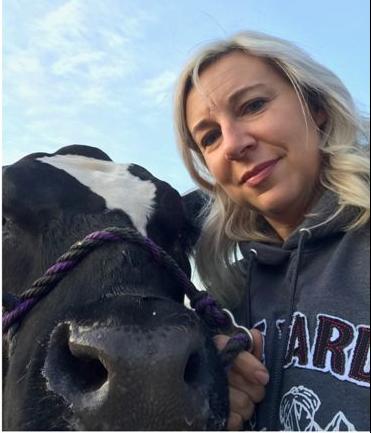 Pospichal hopes that DeGeneres' campaign won't be a big blow to the industry.
The U.S. Department of Agriculture has predicted that U.S. consumers will eat about 9% more beef this year than in 2015.
That would be some good news for producers still reeling from the spring floods and the effects of what has seemed like constant rain.
After getting such a robust response to her first missive, Pospichal wrote a second post on Facebook, further detailing issues that her family and others are facing.
"This summer, I watched in tears as my husband and my father-in-law loaded up our fall-calving herd and sold them at market because we have no feed to help them survive through the winter," she wrote. "My father is faced with constant financial struggles as he just tries to keep the ranch afloat.
"And the cattle market? Don't even get me started. We sold a bull for $4.00 two weeks ago. Last week I started working my fifth job to help our family financially. We have no crops. We have no hay. And the almanac is predicting a bad winter."
Because of record amounts of rain in the past year, many ranchers in the Sand Hills haven't been able to harvest enough native prairie hay to feed their herds this winter. Soggy meadows can be ruined by heavy equipment, and ranchers want to avoid that. Even some hay that has been baled is too wet to move into hay yards.
Pospichal said most summers she can look across the horizon and see bale after bale of hay. Her family usually puts up thousands, but has done just 800 so far.
That won't meet demand. A shortage of hay forces producers to buy feed, which likely means another big loan from the bank. It's credit that loan officers are reluctant to provide, especially if someone is already struggling. So cattle are sold because they can't be fed.
"A lot of people don't realize just how dire the situation is," said rancher Matt Ehlers, who runs 550 mother cows on 5,500 acres of owned and leased land near Amelia, Nebraska. "The cows are the backbone of your operation."
He says he's never seen people in the cattle business so frustrated. The father of five says conditions facing the industry are the talk of every football and volleyball game he attends. Some have had it.
"You don't want to sell your life's equity when the prices are at the very low end," he said. "It's having a way bigger effect than in 2016, when calf prices were low, because our expenses have gone up."
There are reasons for those cattle prices.
Cassandra Fish, an Omaha beef industry expert and consultant, said the industry is still at the peak of calf crop production. Producers aggressively expanded the national herd after numbers were drastically trimmed during the six-year drought that ended in 2012.
Sign up for The World-Herald's afternoon updates
Receive a summary of the day's popular and trending stories from Omaha.com.
While cattle prices haven't reached the historic lows of 2016, they are still $7 lower than last fall. Fed cattle prices bottomed at $100.07 per hundred weight the week of Sept. 13 and have risen to $104.
Feeder cattle prices were at $141.14 per hundred weight last week, compared with $157.67 last September. A recent fire at a beef plant in Kansas halted production there until January, but the market is recovering.
"The market is stabilizing, prices are stabilizing and prices will kind of rise again," Fish said. "However, we are still at the peak supply from rebuilding the herd."
Pospichal still has hope for the industry, despite the challenges. Producers care about their animals, she says, and want to keep them healthy. Most send their cattle to local feedlots, where they know owners practice good husbandry.
"We want to market meat that is the same quality we put on our own plate," she said.
Although she directed the letter to DeGeneres, Pospichal doesn't expect an answer. It was just therapeutic for her to share her feelings, and she was thrilled to get the chance to let people know what life in rural Nebraska is all about.
"I've been blown away by the thousands of Facebook comments about how agriculture impacts their lives," Pospichal says. "We just keep pushing on and rolling with the punches. At some point in time, something has to give."