So many counties in Nebraska and Iowa have been declared eligible for disaster assistance that it's almost easier to count the ones where declarations haven't been made.In Nebraska, 76 out of 93 counties have been declared for some type of aid. Tribal areas in Nebraska also qualified for aid.
In Iowa, 56 out of 99 counties are receiving assistance.
The idea behind federal disaster aid is that the damage must outstrip a state's capacity to respond. A blizzard, damaging winds and catastrophic flooding combined to create the worst disaster in Nebraska's history. Iowa sustained significant damage, especially counties along the Missouri River.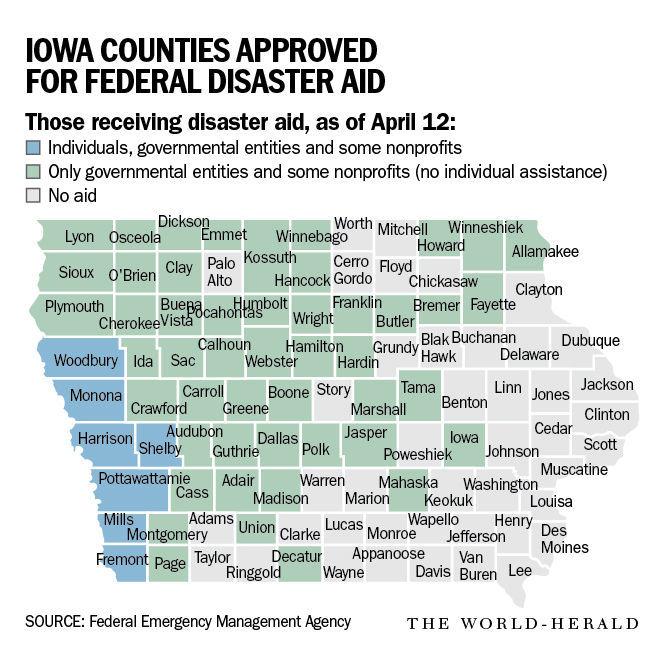 Assistance falls into two basic categories — aid to private individuals or aid to governmental entities and select nonprofits that perform governmental-type work. In both cases, damage must reach certain thresholds for the counties to be eligible.
Nebraska sustained $553 million in public damage and about $90 million in losses in the private sector, according to the Nebraska Emergency Management Agency's website. At least 4,900 people in Nebraska have applied for individual assistance. At least 2,500 have been approved and have received a total of about $18.7 million in aid, according to the Federal Emergency Management Agency's website.
The assessments are preliminary and work continues evaluating damage, said Jodie Fawl, spokeswoman for NEMA.
Iowa sustained at least $113 million in damage to its public infrastructure, according to its Homeland Security and Emergency Management office.
FEMA has approved at least 840 Iowans for aid, and they've received about $5 million in assistance, the FEMA website says. Most individual aid is for housing.
Aid to governmental agencies ranges from debris removal and emergency protection to reconstruction. Only the most heavily damaged counties receive the full range of federal aid.
Darrel Habisch, a FEMA spokesman, said damage assessments continue, so it's possible other counties will be added.
Sign up for World-Herald news alerts
Be the first to know when news happens. Get the latest breaking headlines sent straight to your inbox.
Photos: Residents return to Pacific Junction after flooding