Pacific Junction, Iowa under mandatory evacuation
Pacific Junction, Iowa, has been placed under a mandatory evacuation order as floodwaters rise. Mills County Emergency Management said in a press release that gas has been shut off to the entire city and electricity is being turned off, too.   
Lincoln puts water usage restrictions in place
The City of Lincoln Sunday night issued mandatory restrictions for water usage. The mandate, announced on Twitter by Lincoln-Lancaster Emergency Management shortly before 10 p.m. Sunday, calls for a 50 percent reduction in residential usage for and a 25 percent reduction in commercial usage. In addition, restaurants have been instructed to use disposable tableware.
The restrictions are in place until further notice. 
City water remains safe to drink, the release said.
DC West cancels school for week
Douglas County West Community Schools has canceled classes for the entire week. Superintendent Melissa Poloncic said the Unified Command, which is in charge of the emergency operations for the county, has asked the district to cancel classes.
The majority of the district's families have evacuated, and officials want to be sure families stay out of the area until it is safe to return, she said.
"We have no roadways, there is no way in and hardly any way out," she said of the district's campus in Valley. 
Additionally, the boiler room of the old elementary school has been damaged, she said.
Almost 980 students are enrolled in the district.
Gavins Point Dam releases slow
Releases from Gavins Point Dam in South Dakota have been reduced to 43,000 cubic feet per second, the U.S. Army Corps of Engineers said. At one point in the past week, Gavins Point releases surged as high as 100,000 cfs.
Water over levee in Hamburg
While Hamburg, Iowa, residents tried to shore up parts of their town with sandbags, swelling Missouri River waters topped a levee to the west of town shortly after 3 p.m. Sunday.
UPDATE, 1:45 p.m.: Volunteers and donations are still needed. 
On Sunday, Omaha metro area residents were streaming into a donation center to drop off items for flood victims. The Salvation Army has set up the collection and distribution center at the old Canfield's sporting goods store near 84th Street and West Center Road. The center will be open until 7 p.m. Sunday. The schedule for Monday hasn't been set. The agency is suggesting donations of flood cleanup and flood relief items such as shovels, masks, disinfectant, tarps, bottled water and sports drinks. Volunteers are still needed at sites throughout the recovery effort. To sign up, call 402-898-6050 or visit registertoring.com.
UPDATE, 1:15 p.m.: Classes have been canceled for Monday at all three Douglas County West schools due to flooding, the superintendent said Sunday. 
The campus is inaccessible, said Melissa Poloncic. Groundwater is also coming up in the school's boiler room, she said. 
"We'll take it one day at time," Poloncic said. "The water is coming up in our boiler room but the school is otherwise dry."
UPDATE, 12:55 p.m.: The Elkhorn River has dropped at the Maple Street bridge near Waterloo, the town's fire chief said Sunday. 
"I can't speak to other parts of the river, but it has dropped at the bridge," Chief Travis Harlow said. 
Members of the Waterloo Fire Department continue to respond to medical emergencies and make evacuations as needed, he said. Harlow said the Douglas County 911 dispatchers have been a great asset during the emergency. 
UPDATE, 12:45 p.m.: The Omaha metro area's drinking water remains drinkable, Metropolitan Utilities District reiterated Sunday in a statement. The utility takes water from the Missouri River and from aquifers in the Platte River valley. Both rivers are flooding. In the statement, MUD said its water, which is tested daily, continues to meet all state and federal standards.
Rumors have been swirling about the utility's water and the utility has been issuing statements in an effort to tamp those down. 
Omaha, Bellevue, Bennington, Carter Lake, La Vista, Ralston, Waterloo and Fort Calhoun get their water from MUD's treatment plants. The Papio-Missouri Natural Resources District is the conduit for the water going to Fort Calhoun.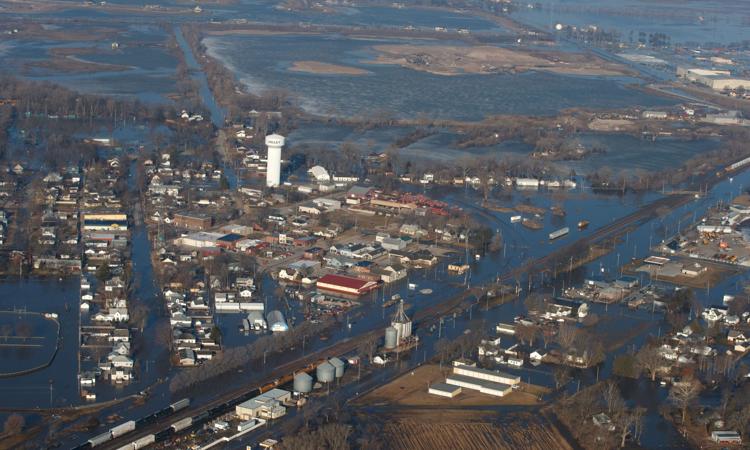 UPDATE, 12:10 p.m.: Valmont Industries, which is located near Valley, Nebraska, will be closed on Monday due to issues related to access to the plant. Decisions about subsequent days will be made day-to-day.
UPDATE, 11:50 a.m.: A Nebraska National Guard convoy loaded with food and other supplies from Lincoln is expected to arrive Sunday in Fremont between 2 p.m. and 5 p.m. 
Mayor Scott Getzschman said the convoy will distribute the supplies to the city's five active shelters. The trucks will roll into town on U.S. Highway 275, which is open now to emergency vehicles only, he said. 
"We've stabilized the situation short term, and we are planning for the beginning of the week," Getzschman said. "The teamwork and collaboration of the people of Fremont has been an amazing sight."
Getzschman said the city's shelters have been home to about 450 people during the day, swelling to 800 or 900 at night. 
UPDATE, 11:15 a.m.;  By late Saturday on Fremont "island," you couldn't get bottled water.
Walmart had sold out of all but the kiddie and electric toothbrushes. By 10 p.m., there were only two pairs of rubber boots — men's, both size 10 — on the shelves. No bananas on the shelves, either.
Hy-Vee still seemed like a horn of plenty, though it, too, had run out of individually bottled water. Worries that Fremont's municipal water supply would be compromised by the flood had caused a rush. It's fine so far. Both Hy-Vee and Walmart still had ways to fill up water jugs.
"Want five gallons?" the Walmart greeter asked.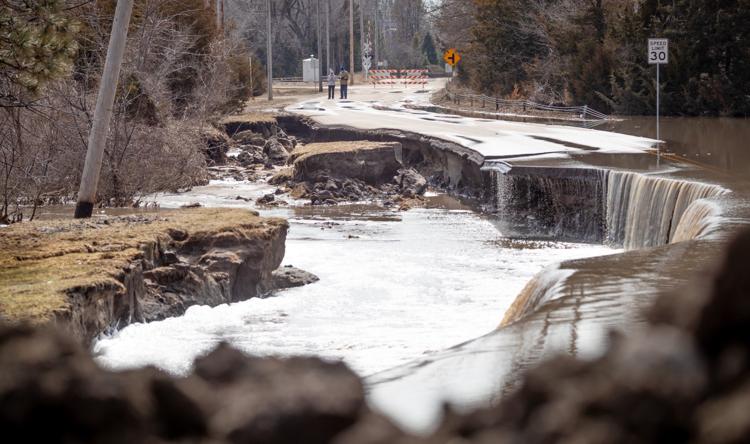 UPDATE, 11:10 a.m.: Saunders County authorities continued a mandatory evacuation Sunday of residents in several lake communities after a levee along the Platte River was breached Saturday. 
The levee is about a quarter-mile north of County Road F, said Terry Miller, director of Saunders County emergency management. The breach resulted in flooding of the rural area south of County Road F to Camp Ashland Road and as far west as Nebraska Highway 66, he said. 
Communities affected included Big Sandy Lake, Lake Allure, Thomas Lakes and Sandy Pointe Lake. 
UPDATE. 10:30 a.m.: Columbus is no longer an island, but it may be a peninsula, said Mayor Jim Bulkley. 
A circuitous route is needed to go south from the Platte County city, Bulkley said. Motorists aiming for Omaha today must go north on U.S. Highway 81 and then west on Nebraska 91. 
Vehicles can start heading south at Albion on state or county roads. Motorists will eventually reach Interstate 80 just east of Grand Island. 
"It's about a three-hour route for a trip that usually takes an hour," Bulkley said. "You can also go north to Norfolk, but I'm still not sure how you get down to Omaha by going east." 
Sign up for The World-Herald's afternoon updates
Receive a summary of the day's popular and trending stories from Omaha.com.
Bulkley said stores in Columbus have been receiving groceries, gas and other supplies via roundabout routes into town since Friday. 
"We've been blessed with how we've come through this (flood)," Bulkley said. "I know a lot of people have been hurt but it could've been worse."
When floodwaters do recede, Bulkley said, motorists need to wait for roads to be cleared by the state's Roads Department before using them. Floodwaters have caused damage to roads and bridges that could make them unsafe, he said. 
"The Loup River bridge needs to be assessed by the state," Bulkley said. "We're hoping they can make that assessment today."
The Elkhorn River at the Maple Street bridge is shown under water Monday March 18, 2019.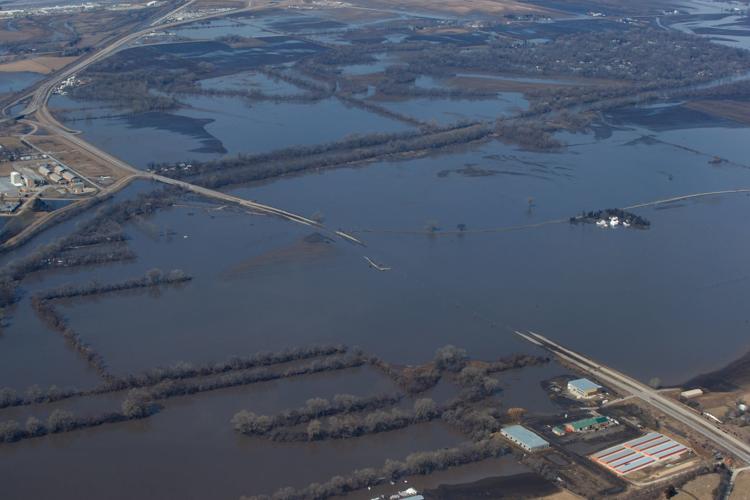 Floodwaters from the Elkhorn River have gone down and now expose a heavily damaged West Dodge Road.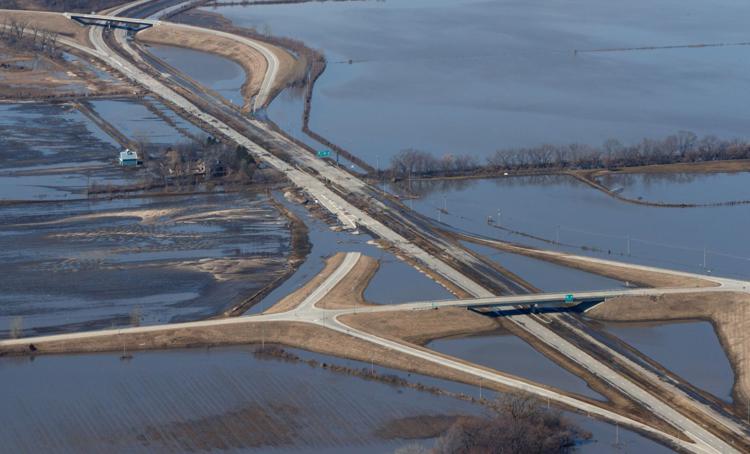 Floodwaters from the Elkhorn River have started to recede, exposing a heavily damaged West Dodge Road.
The eastbound lanes of West Dodge Road just west of 228th Street show the damage done after floodwaters went down Monday.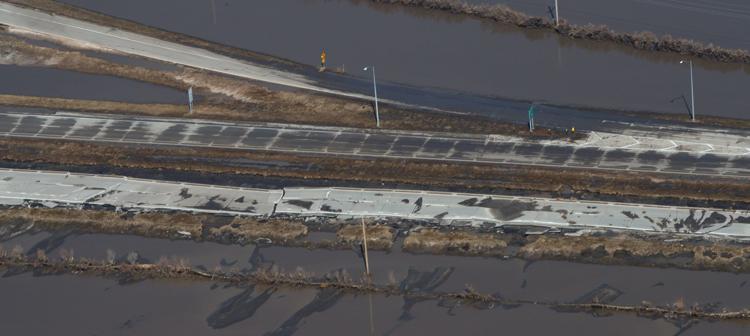 A cow makes its way through floodwaters near Columbus, Nebraska, on Friday.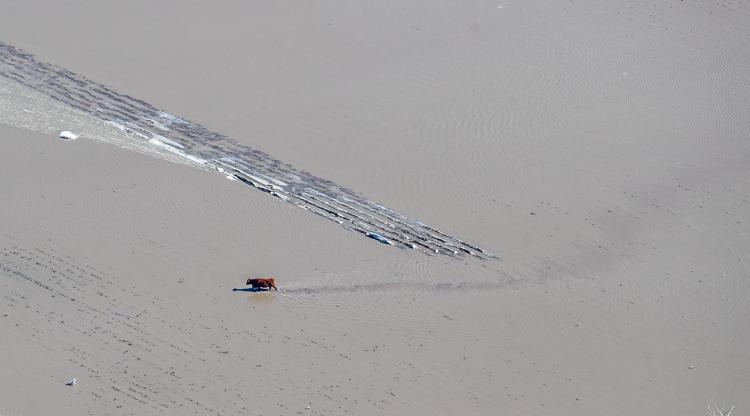 A shell of the Spencer dam is left on the Niobrara River.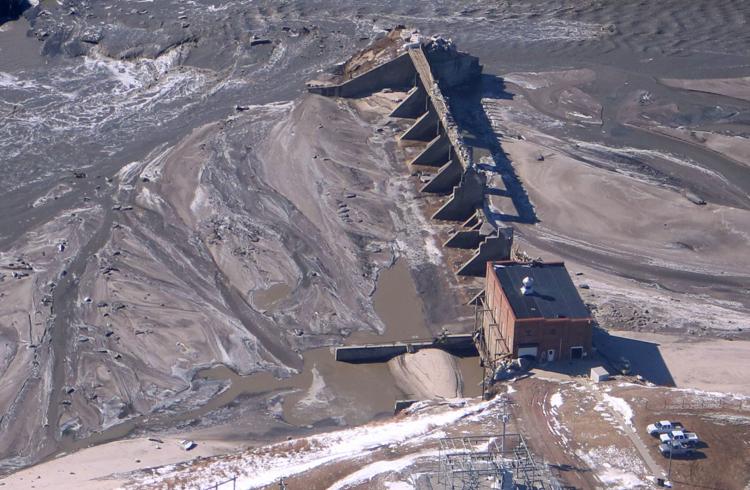 Floodwaters engulf a farm near Missouri Valley on Friday.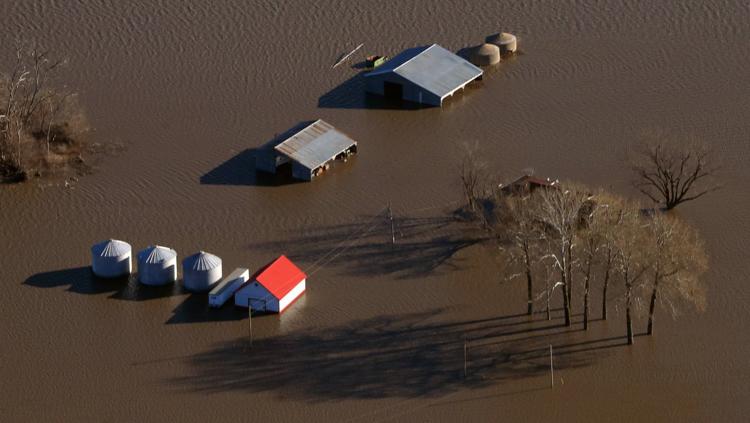 Floodwaters flow over a railroad bridge near Arlington, Nebraska, on Friday.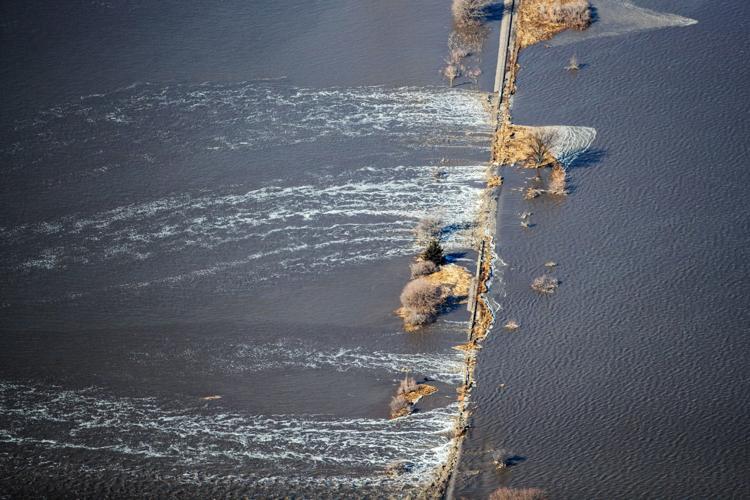 Floodwaters make their way into North Bend, Nebraska, on Friday.
The Elkhorn River encroaches on Waterloo on Sunday.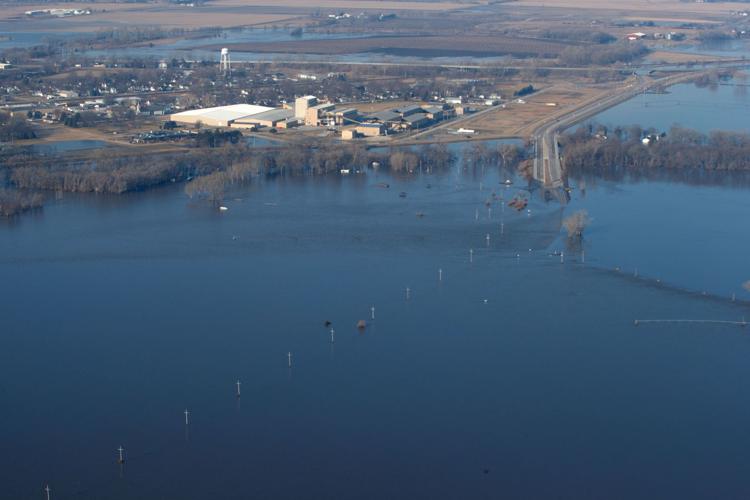 A portion of Highway 92 has been destroyed by floodwaters in western Douglas County.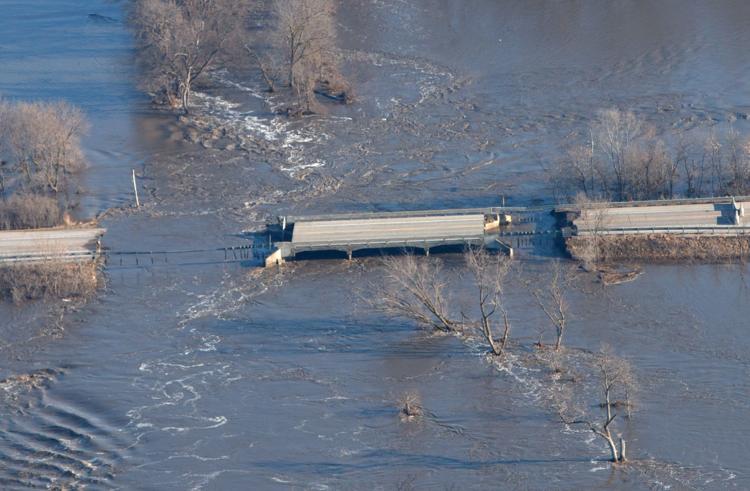 The Elkhorn River has covered several parts of western Douglas County.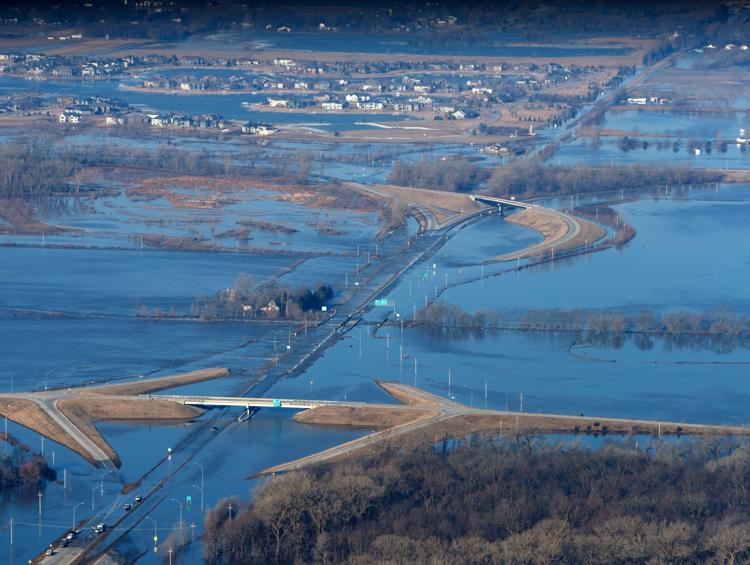 A levee breach is shown on the Platte River near Ashland on Sunday.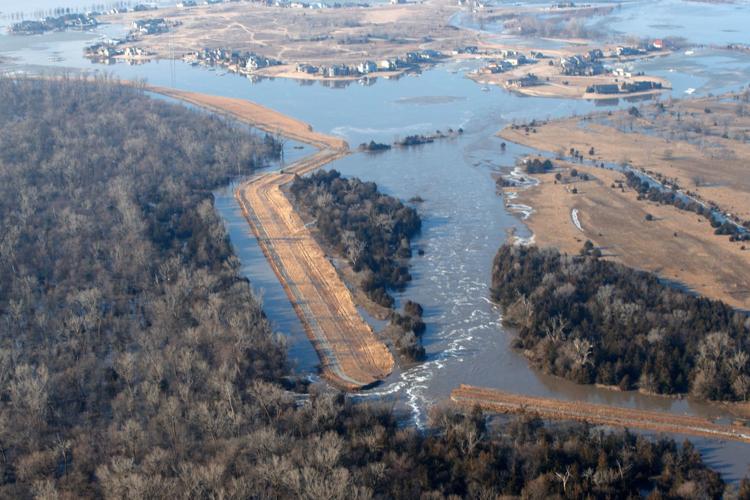 Valley is shown inundated by floodwaters on Sunday.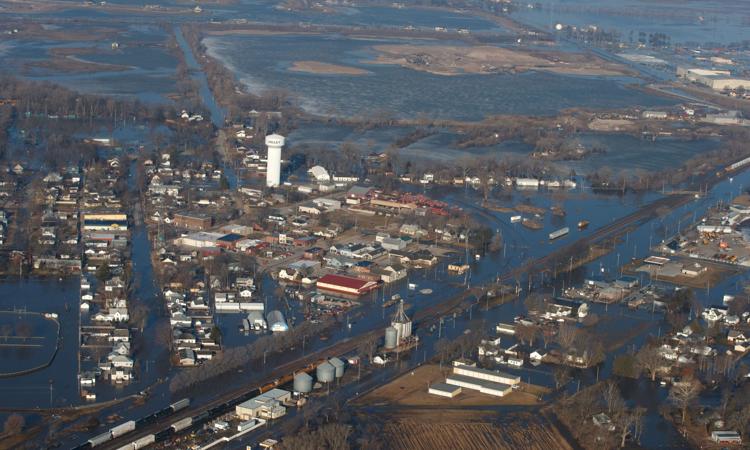 An aerial view of Missouri Valley near the Interstate 29 exit on March 15.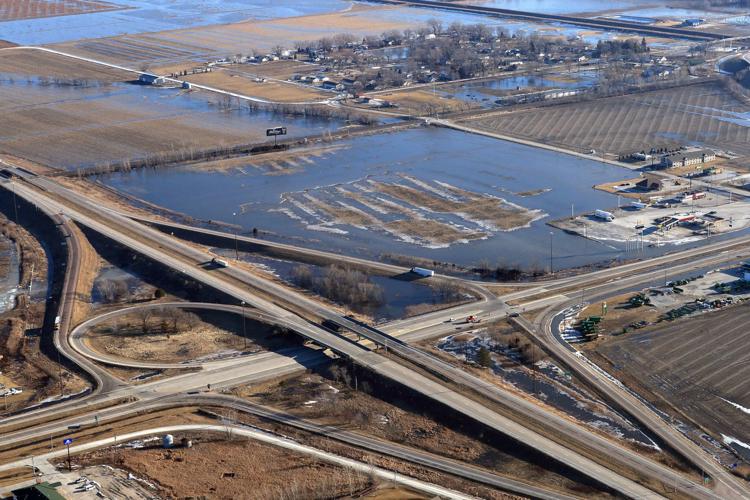 An aerial view of Missouri Valley as floodwaters continue to impact the area on Friday.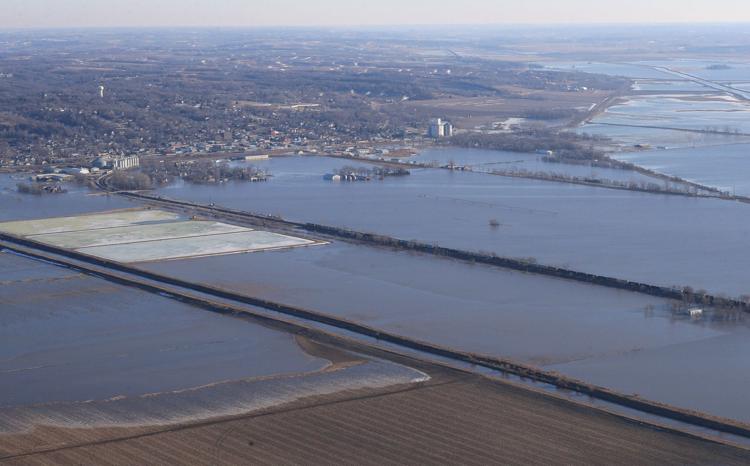 A house is surrounded by floodwaters near Waterloo, Nebraska, on Friday.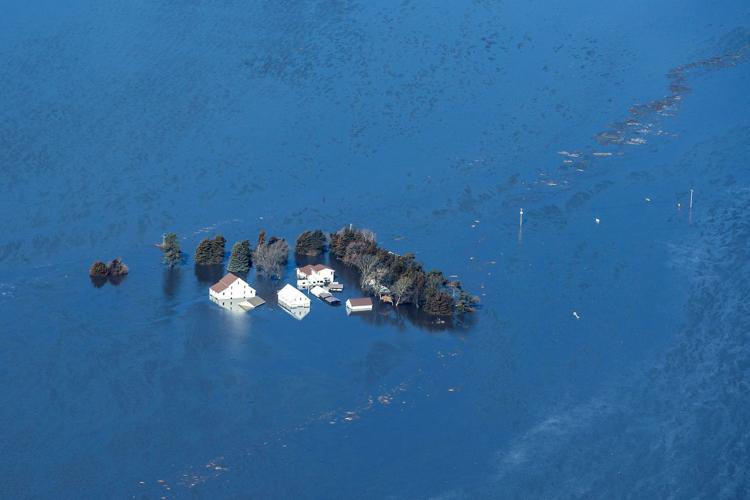 Floodwaters envelop King Lake, Nebraska, on Friday.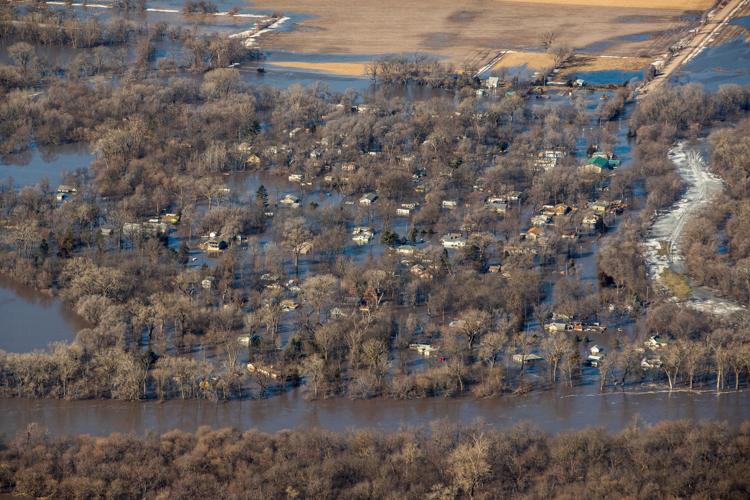 Floodwaters swallow the town of Rogers, Nebraska, on Friday.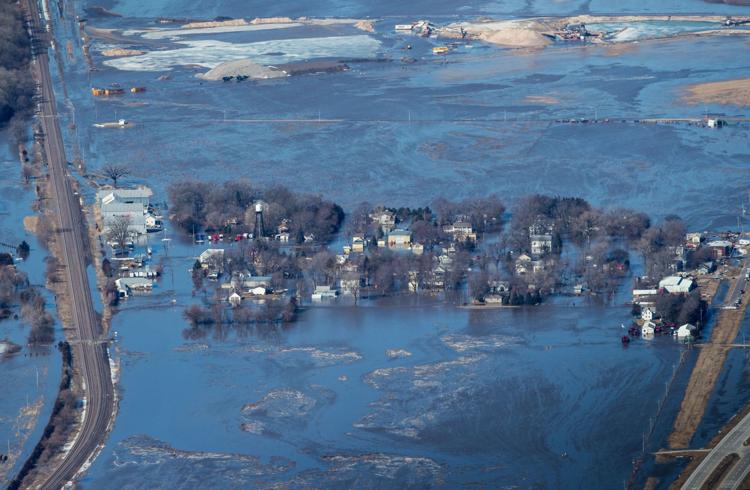 Water recedes in the town of Niobrara Neb. The highway showing is Hwy 12 and Hwy 14 Junction.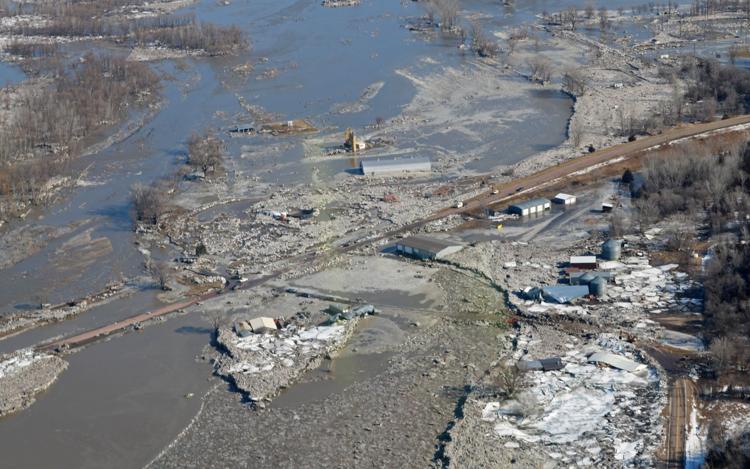 The Morman bridge on Highway 12 between Niobrara and Niobrara State Park was wiped out by a flood.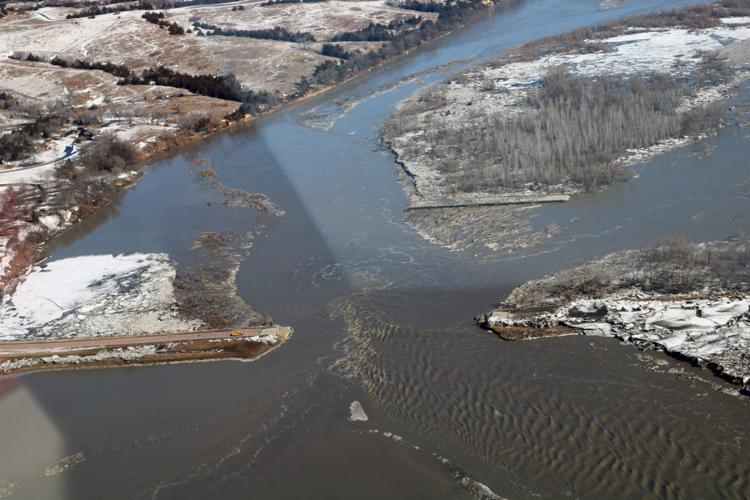 A train is stopped on flooded tracks next to the Platte River near Cedar Creek, Nebraska, on Friday.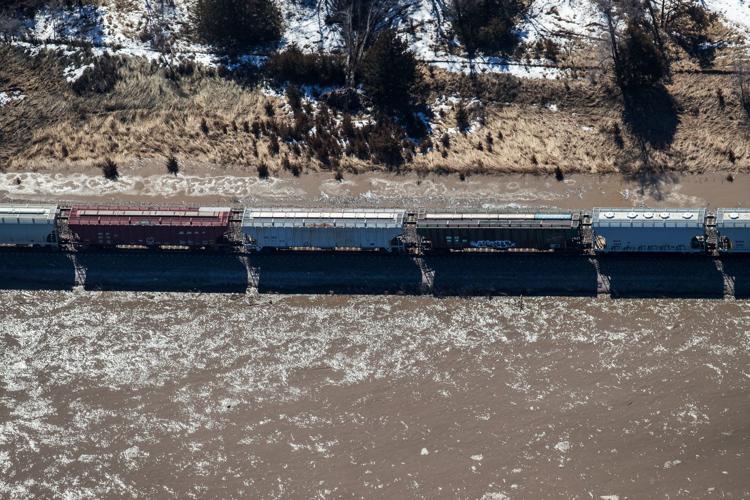 Interstate 29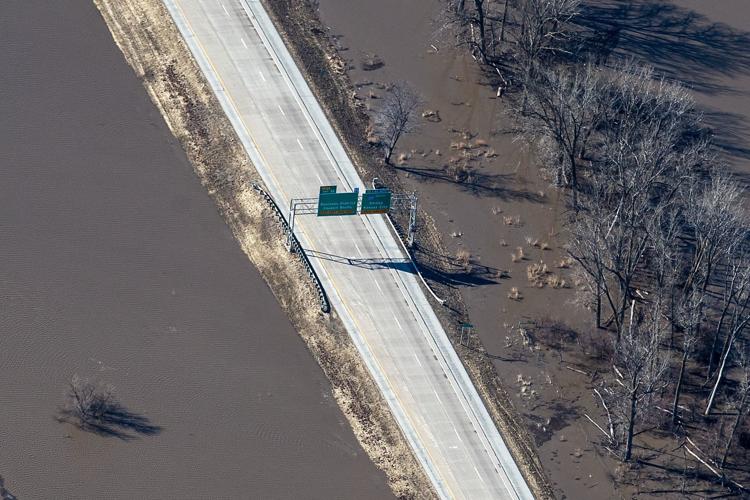 Highway 75's northbound lane is closed because of flooding near Merritt's Beach RV Park on Friday.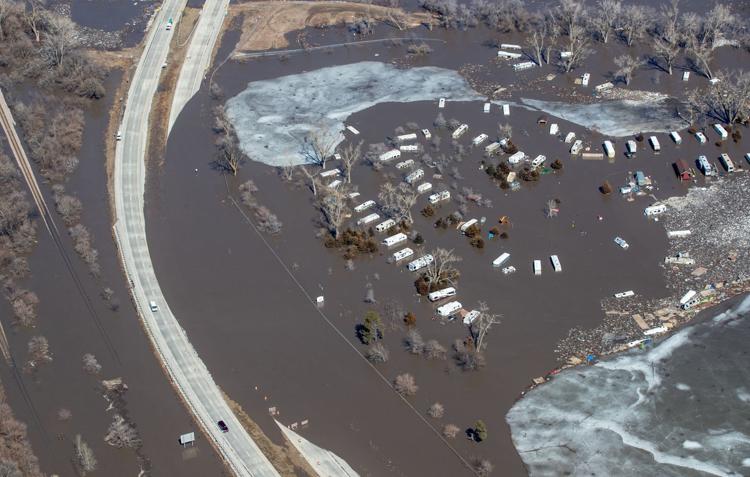 A Nebraska National Guard helicopter flies over areas flooded by the Platte River near Columbus, Nebraska, on Friday.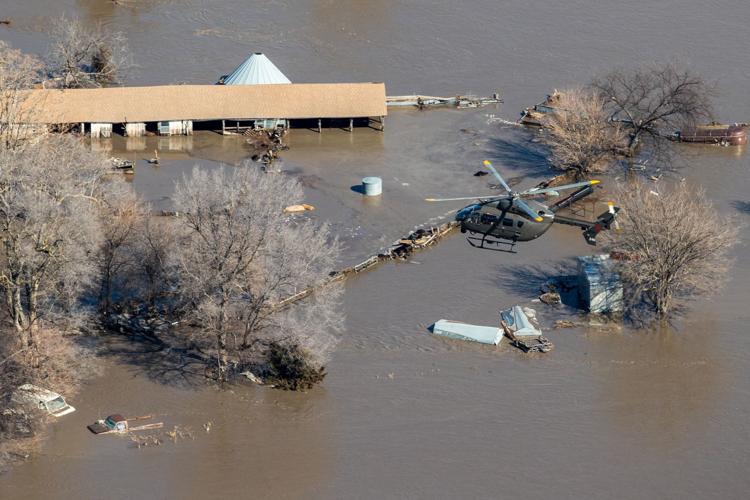 Highway 81 covered in floodwaters south of Columbus, Nebraska, on Friday.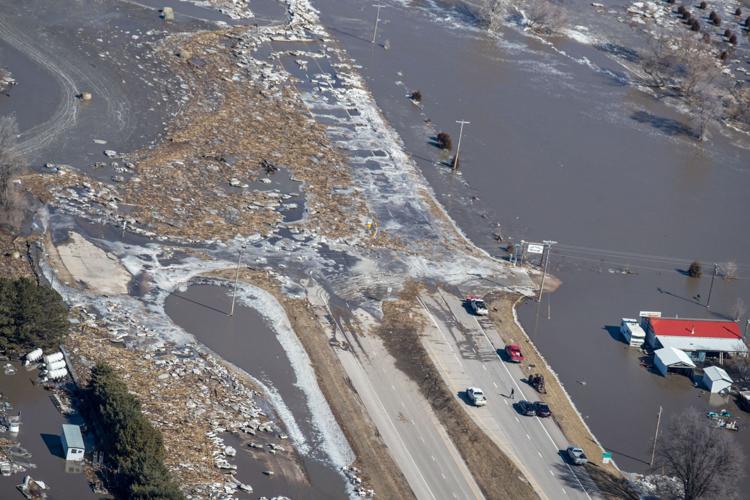 A Nebraska National Guard helicopter flies over flooded Waterloo on Friday.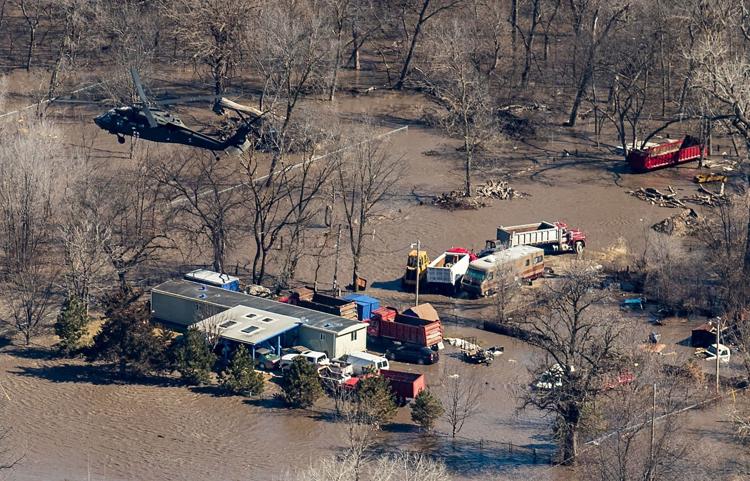 Cars drive drive across a flooded Platte River on Highway 50 just north of Louisville.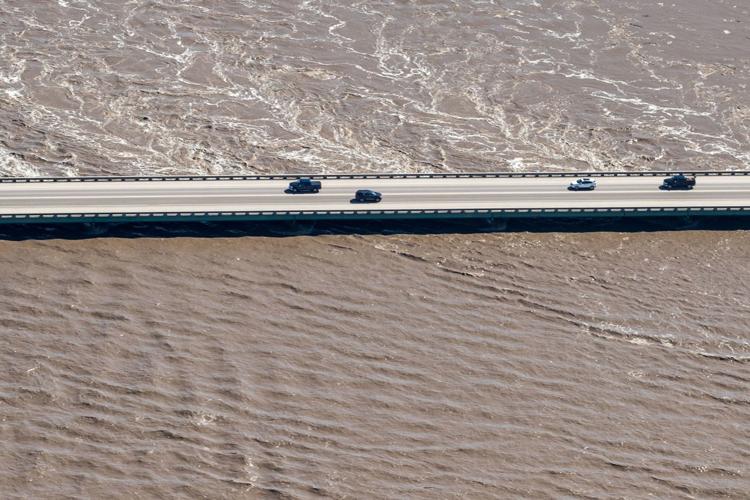 Water covers a road near Valley, Nebraska.
A westward, aerial view of a flooded Tom Hanafan River's Edge Park on Friday.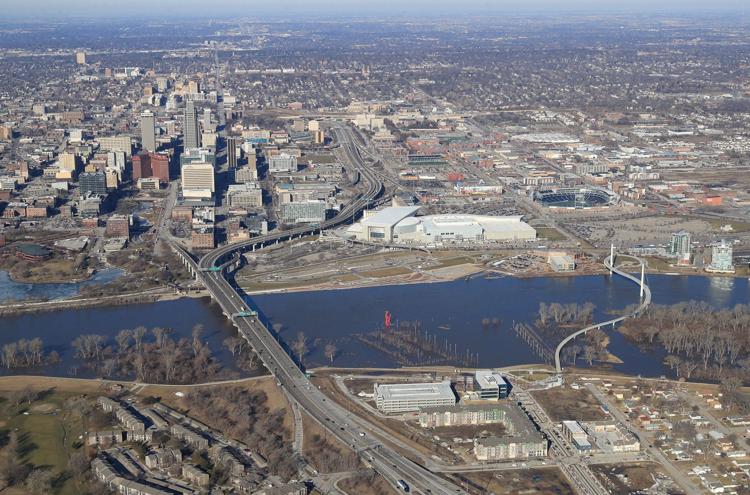 An aerial view of Missouri Valley, Iowa, as floodwaters continue to impact the area on Friday.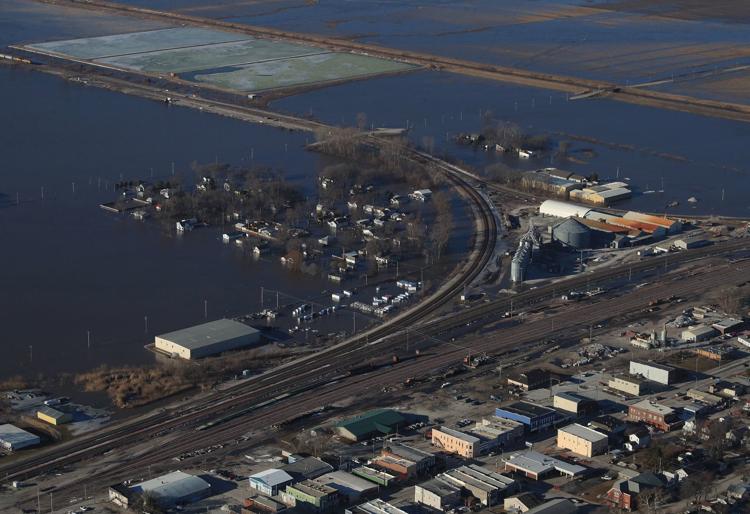 The National Weather Service in Valley, Nebraska was evacuated due to flooding.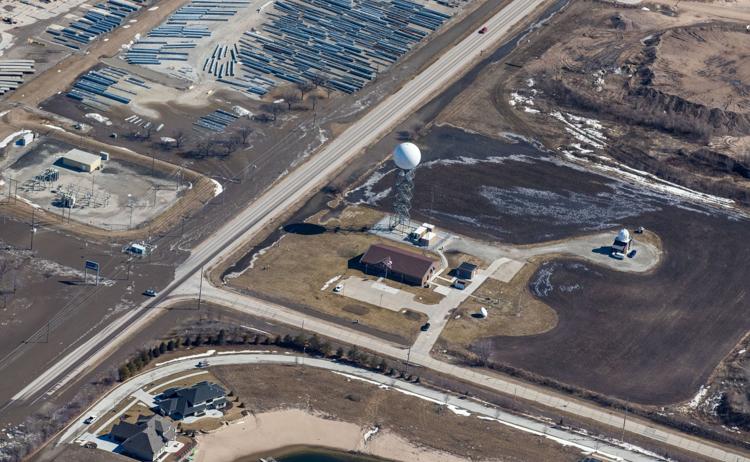 A truck drives through a flooded road near the Platte River.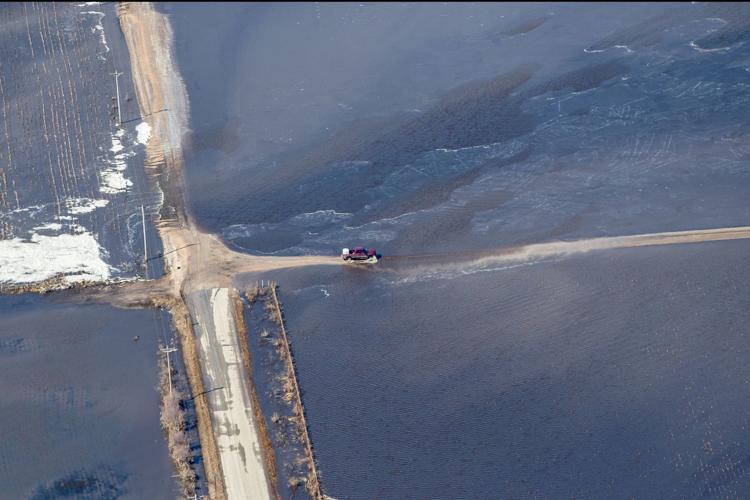 UPDATE, 8:45 a.m.: The Elkhorn River has crested at all points in eastern Nebraska, the National Weather Service said Sunday.
The river remains at major flood levels but is expected to be back below its flood stage of 14 feet by Tuesday. The river crested at 24.63 feet Saturday and was down to 22.17 feet near Waterloo at 6:15 a.m. Sunday, according to the weather service. 
Washington County Sheriff Mike Robinson said deputies reported that the Elkhorn River was receding near Arlington. U.S. Highway 30 reopened on Saturday, and water is in the process of receding from Nebraska Highway 91. 
"We want to remind (motorists) not to go around barricades," Robinson said. "They are still subject to arrest and citations if they do."
UPDATE, 8:20 a.m.: Plattsmouth residents are being urged to conserve tap water, the city's administrator said Sunday. 
The city's water treatment and wastewater treatment plants are shut down due to flooding. The city is getting about two-thirds of its daily water from a connection to Cass County Rural Water, Plattsmouth City Administrator Erv Portis said. 
"We need to get out the message that even though we have that connection, and thank goodness for Cass County Rural Water, people need to conserve water," Portis said. "People need to find a way to figure out how to use about two-thirds of the water they normally use. This is critical."
One bit of news that might be temporary: The Missouri River has dropped about a foot Sunday morning, Portis said. 
"We don't know if that's due to the - break (at Thurman, Iowa) or not," Portis said. "The (Army) Corps of Engineers gauge shows 39 feet and we had 40.5 feet (Saturday)." 
UPDATE, 7:55 a.m.: Offutt Air Force Base announced that only mission-essential personnel should report. The base's clinic, child development center,  commissary and gym will keep normal hours. The StratCom gate is closed. The Bellevue gate is opening full-time. The chapel's protestant service is canceled. Veterinarian services are not available today.
UPDATE, 6:13 a.m.: Fast-moving water was approaching the town of Thurman, Iowa, early Sunday, the National weather Service in Omaha said. 
"This is likely the result of levee breaches in the area," according to a weather service statement. "Evacuation operations were beginning for the town."
At 5:30 a.m., the weather service said many rivers were still experiencing minor to major flooding. While smaller streams are falling, larger main-stem rivers will be above flood for days.
The weather service advised heeding all road closures and evacuation orders.
World-Herald staff writers Erin Grace, Paul Hammel, Aaron Sanderford and Steve Liewer contributed to this report.