Airmen at Offutt Air Force Base filled up to 100,000 sandbags in a last-ditch effort to block flood waters that are covering much of the southeastern part of the base.
An aerial photo, posted by 55th Wing Commander Col. Michael Manion on his Facebook page, showed the Missouri River had crept up to the southeast end of Offutt's single runway. A lake, campground, and baseball fields were under water, and several buildings south of the runway are surrounded. Water also is coming toward the StratCom Gate to the airbase on Capehart Road.
"Water is entering from the river and through the storm drains," Manion wrote in the post Saturday afternoon. "Several buildings including the (55th) Wing Building are inundated with water. We continue to work as rapidly as possible to improve water defenses around critical infrastructure."
Several RC-135-variant reconnaissance aircraft were flown out to other bases Saturday evening.
Photos showed water had reached the hangar that houses the 595th Command and Control Group, which operates the Air Force's fleet of four E-4B Nightwatch airborne command post jets.
The Air Force flew in a 740-foot length of 4-foot Aqua Dam barriers from Louisiana to deploy around another building that houses the 55th Wing's expensive flight simulators.
Meanwhile, Manion said power to the base has not been interrupted.
The water was expected to crest near the base late Saturday, Manion said.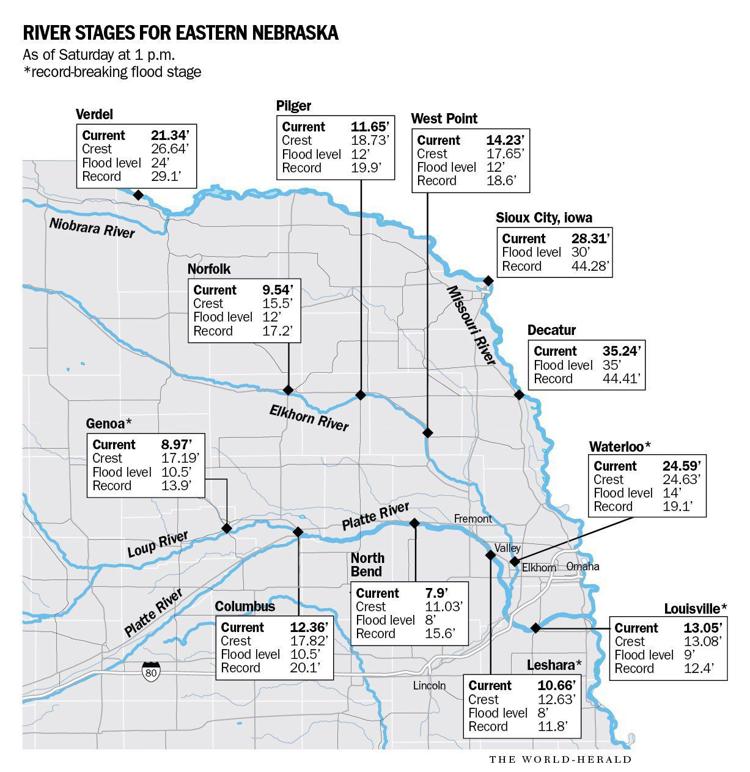 A flood-related fatality in Iowa
Fremont County Emergency Management Director Mike Crecelius said one person drowned Friday night after a car drove around a barricade and quickly took on water near Riverton.
Aleido Rojas Galan, 55, of Norfolk, Nebraska, was taken by medical helicopter to Bryan Medical Center's west campus in Lincoln, where he died, the Fremont County Sheriff's Office said in a Saturday press release. 
Two other men from Norfolk who were also in the car were injured and rescued.
After driving around the barricade, the car was swamped with water and started to float.
"When they say 'Turn around, don't drown,' the barricades, they're there for your safety," Crecelius said. "There's a reason for them."
Evacuation order issued for parts of Saunders County 
The Saunders County, Nebraska, Sheriff's Office announced an emergency evacuation order Saturday evening. 
The county's emergency management agency said the following communities must evacuate due to an "imminent levee failure" along the Platte River:
The Sheriff's Office said emergency personnel were facilitating the evacuation. The Ashland Fire Department said in a tweet to "get out NOW!" 
Salvation Army's Gene Eppley camp is 'total loss' after flooding 
The Salvation Army's Gene Eppley Camp, which is just south of Omaha near U.S. Highway 75, looks to be a total loss after the nearby Platte River flooded.
The camp sits on the north bank of the Platte between Bellevue and Plattsmouth. It was inundated by floodwaters on Saturday, a Salvation Army spokesman said.
"Water levels have reached all the way up to the roofs of the cabins and other buildings," said Todd Andrews, the spokesman.
An initial survey of the property indicates the Eppley camp, which sits on 118 acres, is a "total loss," the Salvation Army said.
Some 3,400 people were scheduled to use the camp this year, which for decades has been a year-round camp.
U.P. evacuates people from Waterloo and Valley using rail lines; curfew enacted
On Saturday afternoon, Union Pacific began to transport people who were evacuating the flooded Waterloo and Valley areas to the safety of Elkhorn.
Evacuees were being transported by so-called high-rail vehicles along U.P.'s rail lines. They were being taken to Elkhorn Middle School.
Douglas County, the city of Omaha and other government agencies working under the area's Unified Command for emergencies were working with Union Pacific to arrange the evacuation, according to a county spokeswoman.
At the school, kennels and pet food will be available from the Nebraska Humane Society, as will services from the American Red Cross. Medical and behavioral health professionals also have been requested, the county said. The Omaha Police Department will provide security.
Meanwhile, the Unified Command said an 8 p.m. curfew would be enacted for Valley and Waterloo. The U.P. operations also will stop at 8 p.m. Rescues also will stop at that time, the county said, so if residents haven't been rescued from their homes by then, they should "shelter in place" until morning. Rescues will begin again on Sunday at sunrise, the county said. Residents with emergencies still can call 911.
Nebraska nuclear power plant along Missouri River continues operating
The Cooper Nuclear Station near Brownville, Nebraska, along the Missouri River still is operating at 100 percent on Saturday evening, the Nebraska Public Power District said.
The plant continues to operate under a "Notice of Unusual Event" with its federal regulator as the Missouri River is elevated, though water levels near the plant have been going down, NPPD said.
"Water levels in the river have had no impact on operations and there is no indication of leakage at the facility," the power district said.
No flooding in city of Columbus as residents sandbag
The Loup River has dropped by about six feet since yesterday, said Columbus and Platte County emergency management director Tim Hofbauer.
There is no flooding within the city of Columbus, he said. Still, residents have been sandbagging the area for weeks, especially around the lake areas. "The levee helped in Columbus," Hofbauer said. "We love our levee."
The Nebraska Task Force One swift water rescue team worked Thursday and Friday, and Nebraska National Guard medevac units arrived in the area around 7 p.m. Thursday. The unofficial rescue count is 48, Hofbauer said, but he's not sure what the number is for pet rescues.
"Our biggest concern out in the rural areas is that the county roads are extremely soft and muddy," Hofbauer said. If anyone has to travel, he advised them to use extreme caution and not drive through any water.
M.U.D. monitoring river conditions; drinking water still safe, utility says
The Metropolitan Utilities District of Omaha, which provides water to much of the Omaha metropolitan area, is monitoring conditions on the Missouri and Platte Rivers as flood waters rise and spark some concerns about contaminants.
The utility said drinking water is safe. It still meets or exceeds all state and federal standards based on more than 1,000 tests a day, the utility said.
"Precautions are in place to protect the reliability of our water treatment and distribution systems," the utility said in a statement. "We are closely monitoring all of our facilities and have contingency plans in place to address any issues that might occur."
In Lincoln, the city said its water also was safe. The Lincoln Water System sources its water from ground water, which isn't at risk from contamination in a flood, the city said.
Governor: Evacuate now if you're in the path of floodwaters
Gov. Pete Ricketts said Saturday morning that what's happening is an ominous sign for those downstream, who are likely to face flooding. 
Ricketts and other state officials said people should consider leaving preemptively — don't wait to be told to evacuate. 
And the National Weather Service said areas like Ashland and Plattsmouth still face trouble Saturday as the Platte and Missouri Rivers continue to rise.
"We're just smashing some records on the big boys, the Missouri and the Platte," said meteorologist Jeremy Wesely.
Water levels on the Platte, Missouri and Elkhorn Rivers have crested or are projected to crest Saturday.
In Sarpy County, a string of river and lake communities near Bellevue and the Platte River were evacuated, including Hanson Lakes, Chris Lake and Betty Lake. Residents of Hawaiian Village, north of Papillion, and Villa Springs, south of Springfield, were urged to evacuate immediately to avoid being stranded by rising waters and road closures.
Water levels were expected to keep rising over into Sunday and possibly Monday. 
In Plattsmouth, positive attitudes as Missouri River gushes over banks
People walked in twos and fours from the Plattsmouth business district on Main Street to the spot where the Missouri River has gushed over its banks.
"Crazy, isn't it?" said a woman walking up to where the water lapped onto the street.
Ed Olson acted as a narrator of the scene.
"This is a cornfield," he said, pointing to the small sea in front of him. He motioned to some submerged trailers, RVs and summer homes.
"Now it's a marina," Olson said.
The day was sunny and cool.
"Pretty day for a flood. You've got to stay positive," Olson said.
North of Plattsmouth two deer drank from a pool that had seeped into a farmfield.
No disruption to flights at Eppley Airfield 
The Omaha Airport Authority said Saturday that flight operations at Eppley Airfield have not been affected by flooding, though travelers should be mindful of regional road closures if coming to Eppley Airfield."
Mills County evacuation issued; I-29 closed in some places
Mills County, Iowa, officials expanded an evacuation notice Saturday morning for residents near the Missouri River who live east of the Loess Hills, said Sheri Bowen, a spokeswoman. Residents should evacuate by 5 p.m. Saturday. 
A shelter has been set up at Salem United Methodist Church in Council Bluffs.
Meanwhile, the county has requested volunteers to help with a sandbag-filling effort on Sunday. It will begin at 10 a.m. on Sunday at Al Hughes Auction, 21929 S. 221st St. in Glenwood. Volunteers can get more information by calling 712-527-3107.
Don't sightsee the floodwaters, authorities warn
City of Omaha officials urged residents not to "sightsee" the flooded rivers or drive through barricades in western Douglas County.
Omaha police officers will be along the Missouri River levee in the city limits to prevent anyone from nearing the dangerous floodwaters.  
The Douglas County Sheriff's Office also plans to ticket anyone driving around barricades on closed roads around Valley and Waterloo, said Capt. Wayne Hudson.
Nearly 900 Nebraskans in temporary shelters
Nearly 900 residents were staying in 18 American Red Cross shelters as of Saturday morning, according to a post from a Nebraska National Guard official.
The Red Cross, the National Guard and state emergency crews are distributing four semi-trucks worth of water donated by grocer Hy-Vee. Communities that need clean drinking water should contact their local emergency management agency for more information on how to receive water.
For more information on shelters and efforts underway to help flooding victims, click here.
Check for road closures, bridge washouts before traveling 
The Nebraska Department of Transportation reported a number of bridges connected to the state highway system have been washed out and are damaged and impassable. 
Click here to see the Nebraska Department of Transportation's live map, or dial 511 to get the latest on road closures. To see Douglas County road closures, Omaha Mayor Jean Stothert recommended checking dogis.org/closedroads
By Betsie Freeman World-Herald staff writer
Nebraska rivers hit record levels
A few rivers have hit record levels as National Weather Service meteorologists caution that water levels will continue to rise for the next several days.
No additional moisture is expected in the coming days that will add to the totals, other than a low chance of snow Monday night, said weather service meteorologist Dave Eastlack.
nd of receding until mid- or late next week," he said.
U.S. Army Corps of Engineers expects the Missouri River at Omaha to crest at 33.7 feet by Sunday, but City of Omaha officials said the river is not expected to compromise the 13 miles of levee it controls.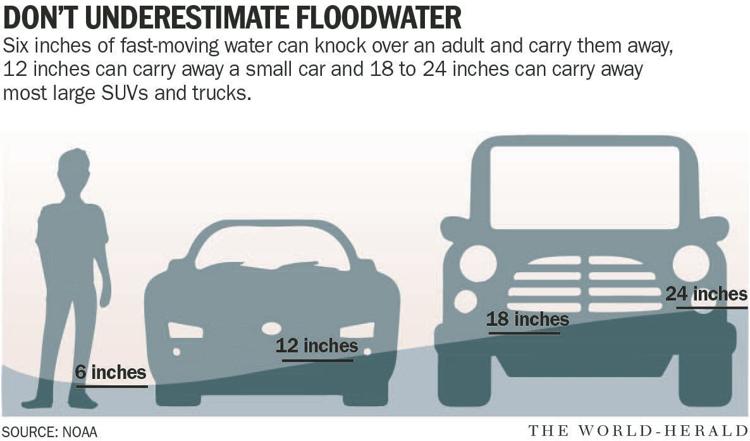 Sign up for World-Herald news alerts
Be the first to know when news happens. Get the latest breaking headlines sent straight to your inbox.
Emergency lines open around the state
The Nebraska State Patrol Highway Helpline is available 24 hours per day for motorists in need of assistance. Drivers can reach NSP by dialing *55 from any cell phone or 911 in an emergency.
World-Herald staff writers Alia Conley, Julie Anderson, Erin Grace, Steve Liewer, Nancy Gaarder Reece Ristau, Rick Ruggles, Alli Davis, Brad Davis and Susan Szalewski contributed to this report, which includes information from the World-Herald News Service.