Editor's note: For Thursday's forecast and weather updates, click here.
9 p.m. update: On the east side of the state, the potent system has kicked up severe thunderstorms, and the Beatrice area is under the threat of a strong storm, with damaging winds and possibly large hail. In general, big hail is the most likely severe weather threat in southeast Nebraska Wednesday evening, according to the National Weather Service. 
8:30 p.m. update: Interstate 80 has closed west of the junction with Interstate 76 west of Big Springs, and westbound I-80 is considered impassable west of North Platte, according to Nebraska Department of Roads. Some of the other roads in the Nebraska Panhandle are considered impassible.
The blizzard also has caused Interstate closures to the north, including stretches of I-90 and I-29 in South Dakota. A stretch of I-29 north of Council Bluffs remains closed due to flooding.
4:35 p.m. update: The Nebraska Department of Transportation now says that because of the blizzard moving across the state, it will close westbound and eastbound Interstate 80 west of the Interstate 76 junction at 5 p.m. MDT/6 p.m. CDT.
Officials are asking people to stay off the roads in the western two-thirds of the state as a life-threatening blizzard rides in on a massive storm.
On the eastern side of the state, people are casting a wary eye toward the Missouri River, since the storm is bringing more rain and snow to the river's already water-logged watershed.
The potentially historic storm comes one month after a deadly bomb cyclone struck Nebraska, and forecasters say this one will pack a similar punch, with one significant exception: flooding.
Stream levels have dropped, the ice has moved out and the ground has thawed, so there are no worries about the kind of historic flooding that happened with the March storm.
Most of Nebraska west of Kearney has been placed under a blizzard warning by the National Weather Service. The warning generally runs from Wednesday afternoon to Thursday night. The State Patrol is reminding people to carry a safety kit. Troopers will be on the roads to help people who get stranded. State plow crews will be working to keep roads open, as conditions allow.
South-central and southeastern Nebraska are expected to see mostly rain, with maybe a few snowflakes mixed in that shouldn't stick. By Friday, an inch of rain could fall in the Omaha area.
Severe thunderstorms and hail remain a possibility for Wednesday afternoon and evening, along with an isolated tornado threat along the Nebraska-Kansas border, said Van DeWald, a lead meteorologist at the weather service office in Valley.
Some areas could get icy, too, and storm conditions could endanger drivers and livestock and down power lines.
Photos: April blizzard strikes portions of Nebraska
A potent winter storm dumped several inches of snow across part of Nebraska. 
State Patrol advises those under blizzard warning to stay home
All but eastern Nebraska is under a blizzard warning. Winds of 50 to 60 mph are expected to make travel treacherous.
Col. John Bolduc, superintendent of the Nebraska State Patrol, asked that those under a blizzard warning do the same thing they did in March: Stay home.
"We ask that people do the same with this dangerous storm and only travel when necessary and safe to do so," he said.
Additionally, the Nebraska Department of Transportation advised people to take well-traveled routes. Road crews will be out, but they will be working only if conditions permit. This storm is noteworthy for the exceptional power of the winds that are forecast across western and northern Nebraska, meteorologists say.
Threat of flooding not as severe, National Weather Service says
However, the flooding threat is not as severe this time around, a weather service meteorologist said. Forecasters are watching sections of the Missouri River where water levels are still high.
"The immediate flooding threat is not catastrophic like it was last month, but it's something we'll certainly have to monitor," DeWald said.
"We don't have ice in the rivers, and the ground isn't frozen," he said. "That's something that's completely different than last month. It doesn't mean the ground isn't saturated."
On Tuesday, Cherry County road crews were swapping out graders fixing flood-mangled roads for snow plows.
"Our biggest concern is we're trying to recover from flooding three weeks ago, and now we're going to get this on top of it," said Douglas Fox, emergency management coordinator for Boyd, Brown, Cherry, Keya Paha and Rock Counties.
John Winkler, the general manager for the Papio-Missouri River Natural Resources District, said the wild card with this storm is weakened levees.
"We're kind of in uncharted territory, because a lot of the infrastructure has been damaged and even minor flooding can cause some problems," he said. 
While major levee breaches have been fixed, the NRD still hasn't finished assessing or repairing last month's damage to flood management systems.
"No one knows how that's going to play out," he said. 
Elkhorn, Platte river levels have dropped; parts of Missouri River still high
Water levels of rivers that flooded last month, such as the Platte and Elkhorn, have dropped significantly since reaching record-breaking levels last month. That helps reduce the flood risk near those rivers.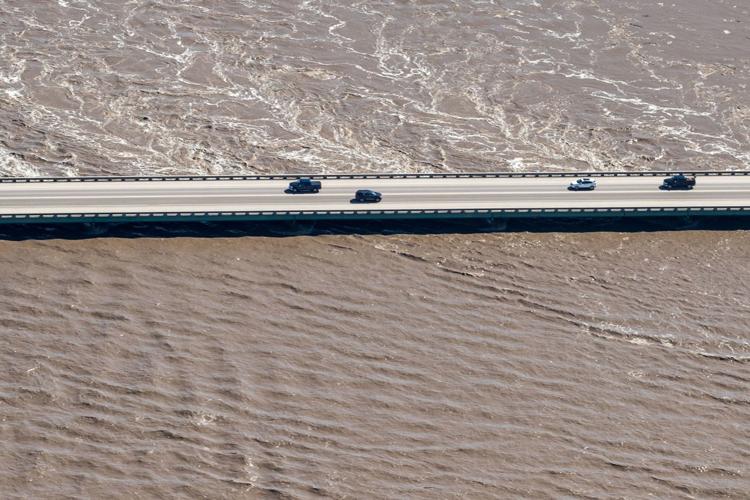 The Elkhorn River at Waterloo measured just over 4 feet Tuesday morning, much lower than the 24.63-foot crest recorded March 16, according to weather service data. The Platte River at Ashland was just under 16 feet, well below its flood stage of 20 feet.
But many rivers still have a heavy volume of water flowing through, said Jason Lambrecht, the chief of hydrologic surveillance at the U.S. Geological Survey Nebraska Water Science Center.
"Most of the major river basins of Nebraska (Loup, Elkhorn, Niobrara, Blue, Lower Platte) are already flowing double to four times their normal flow for this time of year," Lambrecht said in an email. "The basins are still draining from the peak event in mid-March, and could be very responsive to the upcoming rains and snowfall depending on the magnitude of the precipitation."
Parts of the Missouri, especially near Niobrara and south of Omaha, are running high, and water levels could gradually rise more over the next week due to rain and melting snow. In many of those areas, roads still are damaged and residents still are clearing out flooded houses and businesses from the last round of nasty weather.
"Downstream from Omaha, the flooding has never ended," DeWald said. "Plattsmouth on downstream never had a chance to dry out."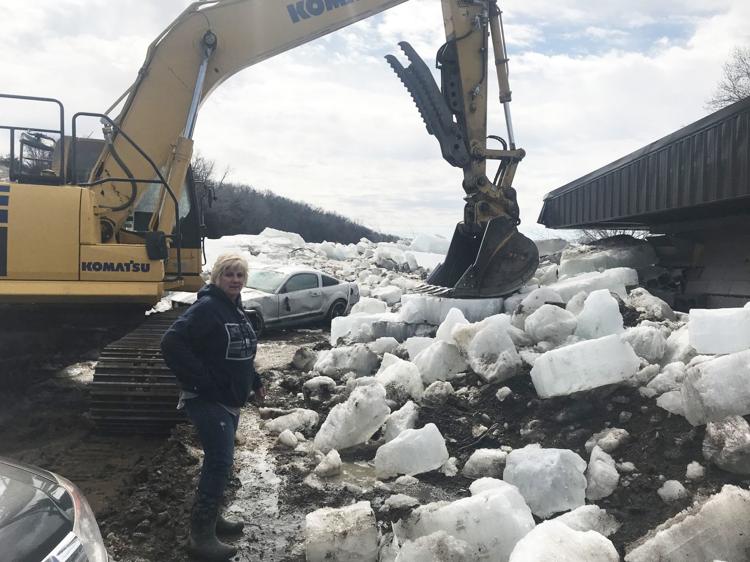 Missouri could rise more as rain falls, snow melts
A flood warning is in effect for the Missouri near Niobrara, which was inundated with water and blocks of ice last month after the collapse of the Spencer Dam. There, the river still was at a moderate flood stage of 23.2 feet around noon Tuesday.
In Plattsmouth, the Missouri level was about 26.5 feet Tuesday, just above flood level. The National Weather Service said that could swell to nearly 31 feet by Monday morning. For context, at 28.5 feet, the river would start to flood a campground off River Road about 1.5 miles downstream of the river gauge.
"We're all just sitting here waiting to see what happens," said Cass County emergency management director Sandy Weyers. "My hope is people that are in and along that path have been listening and monitoring this enough that they're taking precautions themselves. If it looks like the river's up, you need to get yourself to a safe place."
At 25.5 feet Thursday, the Missouri at Omaha is several feet below flood stage. But the weather service said it could rise to nearly 30.5 feet by early Sunday afternoon, a level that would start to flood low-lying parts of NP Dodge Park and Tom Hanafan River's Edge Park on the Council Bluffs side of the river.
"It's going to be kind of a double-barreled punch here," DeWald said: The Missouri could rise initially due to the immediate rainfall, and then continue rising next week as snow melts elsewhere.
Rain and snow could add up to 1 to 3 inches of water content that will be absorbed by the soggy ground or run into rivers and streams, he said. Melting snow in North and South Dakota also is making its way down waterways in Iowa and Nebraska.
The snow, even in places like Valentine that could get a foot of snow or more, shouldn't linger for too long. But the hope is that the melting process will take place gradually over several days as temperatures rise into the 50s over the weekend.
"Best-case scenario, it takes several days to melt and allows moisture to soak into the ground slowly," DeWald said.
Not a 'bomb cyclone,' but still a strong storm
The storm that's moving in Wednesday afternoon may not meet the definition of a "bomb cyclone," but it's still a very powerful storm, a National Weather Service meteorologist said Wednesday.
"It is going to be near-record low pressure," said Taylor Nicolaisen, who is based in Valley. The "bomb" in "bomb cyclone" means it develops quickly, Nicolaisen said. The cyclone that's moving in, he said, is "not developing really quickly. It's strong already."
High winds and heavy snow will create blizzard conditions Wednesday evening, he said. The track for the heaviest snow has shifted west, Nicolaisen said. The Sioux City area probably won't see much snow, but Niobrara could end up with either 3 inches or a foot of snow. It still looks like Valentine still will get a foot to 18 inches of snow, he said.
"There's a pretty distinct line of where heavy snow goes," Nicolaisen said.
Wednesday morning, ice already was sticking to vegetation and some surfaces in the Valentine area.
Also on Wednesday, Nebraska Gov. Pete Ricketts extended four disaster orders as the storm threatened to extend the state's misery.