A restaurant in London brags that it uses only Nebraska beef, and so it needed a real Nebraskan for the cover of its menu.
That's how feedlot operator Mark Spurgin of Paxton, Nebraska, came to be a cover boy in Great Britain.
But he didn't know about it until recently. Dr. Kallie Schneider from Paxton, who practices internal medicine in Bend, Oregon, has a friend who traveled to London and saw the Burgers and Lobsters restaurant.
You can't eat fish and chips every day in merry olde England, so he entered and received a menu. "What's your beef?" it said. "Ours is Nebraskan."
The friend posted a photo of the menu online, and Kallie noticed it was Mark, from her hometown. The photo soon got back to him.
A former member of the Nebraska Game and Parks Commission who has served on various agricultural boards, Mark got a good chuckle out of it.
Planting wheat when I reached him Friday, he said: "I never would have known about it except for the gal from Paxton."
The Nebraska Beef Council and the Nebraska Wheat Growers, he said, previously had used the picture. The restaurant in London requested a photo emblematic of Nebraska beef, and the Beef Council sent one of Mark, wearing a western hat and leaning on his pickup in front of a pen of cattle.
At 71, with no plans yet for retirement, he's still working in an area his family has farmed since the early 1900s.
"I'd like to retire," he said, "but what would I do? You just get involved in this. Cattle in every week, and cattle out. Where do you stop?"
Central High teacher gets photo with ex-pupil, Dodgers pitcher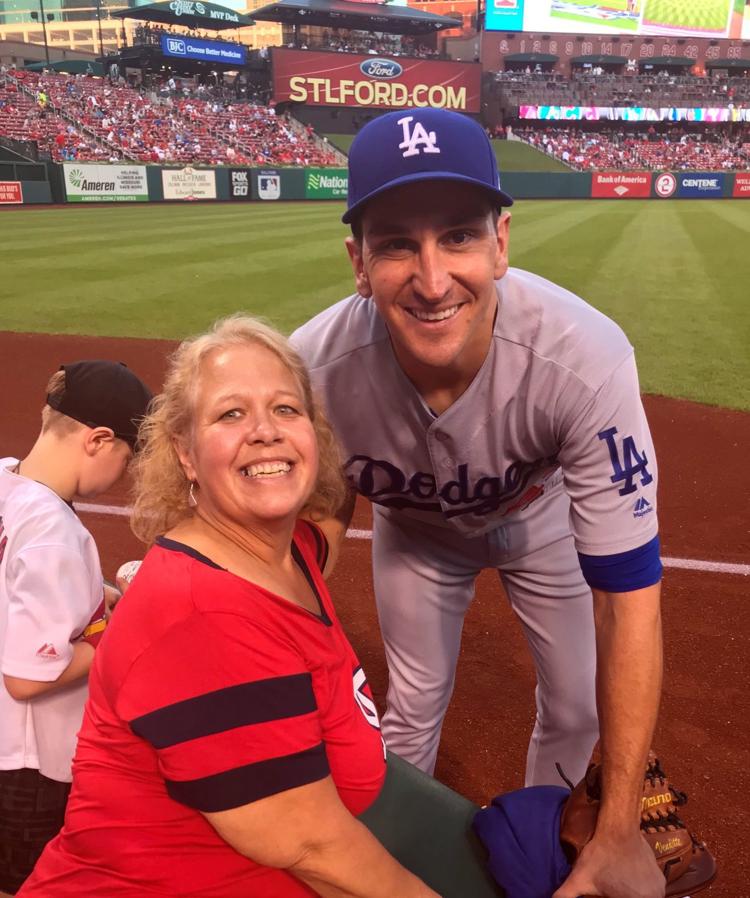 Central High math teacher Christine Goetz attended a game in St. Louis recently and flagged down a former student — Los Angeles Dodger pitcher Pat Venditte.
The switch-pitcher — he throws right-handed and left-handed — posed for a picture and autographed a ball. The photo was shown this week in the Central High Foundation's "Eagle News."
A hilarious online video from Pat's first year in the minor leagues, titled "Pat Venditte, switch-hitter vs. switch-pitcher," has been viewed nearly 1.5 million times.
As Pat prepared to pitch right-handed, the batter switched to bat left-handed. So Pat switched to pitch left-handed, and the batter changed to bat right-handed.
It went back and forth until the umpire ordered the batter to get in the box and hit. He struck out and slammed his bat to the ground.
Professional baseball then enacted the "Venditte rule," requiring a switch-pitcher to declare which arm he would use against a switch-hitter, and then not change during that at-bat.
In the game against the Cardinals, Christie said, Pat pitched in relief to two batters and got them both out.
Ex-Husker, County Board member turns 65 after tough year
Happy 65th birthday to George Mills, former Husker defensive lineman and former member of the Douglas County Board, who says prayer has helped him through health problems.
In February, his right leg was amputated below the knee, the result of Charcot disease, also called Charcot arthropathy. It's a degenerative condition, and there is no specific cause.
It started with ankle pain and deterioration, and George said it's not from an old football injury. He is learning to walk with a prosthetic lower leg.
"You fall back on your sports training," he said Friday. "You just try to get a little better every day."
Omaha North High class of 1968 holds 50-year reunion
The Omaha North High class of 1968 is celebrating its 50-year reunion this weekend with — what else? — a sock hop.
The fun began Friday night with a dinner for 150, including more than 90 class members. Saturday morning they tour the school, and then there's time for golf at Miller Park or bowling at Kelley's North Bowl.
Saturday night they kick off their shoes and dance at the Florence city hall.
Marian Shalander Kaiser, the reunion's treasurer, noted the coincidence for classes celebrating 50-year high school reunions this year — most members of the class of '68 are turning 68.
Omahans enjoy National Geographic tour in Alaska
As a couple of Omahans learned recently, there is no place like Alaska — especially with its connections to Nebraska.
David Corbin, chair of the Nebraska Sierra Club, and wife Josie Metal-Corbin enjoyed a National Geographic tour in Alaska. First they encountered Sandhill cranes in Fairbanks, though "nothing like the number we see in Nebraska."
David met Zia Yamayee from Afghanistan, who knew Tom Gouttierre from his Peace Corps days there. Zia also knew that Gouttierre for years headed the Center for Afghanistan Studies at the University of Nebraska at Omaha.
Jessica Bauer from Nebraska was "an exuberant operations coordinator" for NatGeo, and Bob Denholm, formerly of UNO, has lived in Anchorage for eight years and gave a private tour.