Austin Endorf woke up Friday morning to an urgent phone call. The flood was coming. Get out.
Endorf, a junior at North Bend Central High School, packed his bag, grabbed his keys and — with his parents behind him — turned his Dodge Durango toward 100 yards of water rolling over the only road out of his neighborhood.
"It was kinda fun," Endorf said, "but also kinda scary."
Endorf recognized the feeling. Six days earlier, he played for a Class C-1 basketball championship, North Bend's first state title game since 1926. Convoys of cars rolled south to Lincoln, hoping to see the Tigers climb ladders and cut down nets. Friday the convoys headed north even faster in search of higher ground.
Platte River levees busted and water poured into the North Bend golf course, then over the railroad, then over Highway 30. By noon, Endorf was 4 miles north of town, staying at a friend's house with about eight other families, including his basketball coach.
For how long? Nobody knew.
Sign up for World-Herald news alerts
Be the first to know when news happens. Get the latest breaking headlines sent straight to your inbox.
Suddenly North Bend's historic basketball team isn't the biggest local news event of March. That would've been hard to believe a week ago. The Tigers, not exactly a traditional powerhouse, stirred school spirit all winter and qualified for state with a 23-3 record.
When the team walked into the elementary gym for a pre-tournament pep rally, they might as well have been the Golden State Warriors. But spirit doesn't necessarily equal success in Lincoln. North Bend hadn't won a single game at state since Prohibition.
The Tigers broke the drought in round one against Adams Central, thanks in part to sophomore Breckin Peters, who came off the bench and scored five points in the final 90 seconds. The next day, North Bend upset undefeated Ogallala and chants of "NBC!" rang through Pinnacle Bank Arena.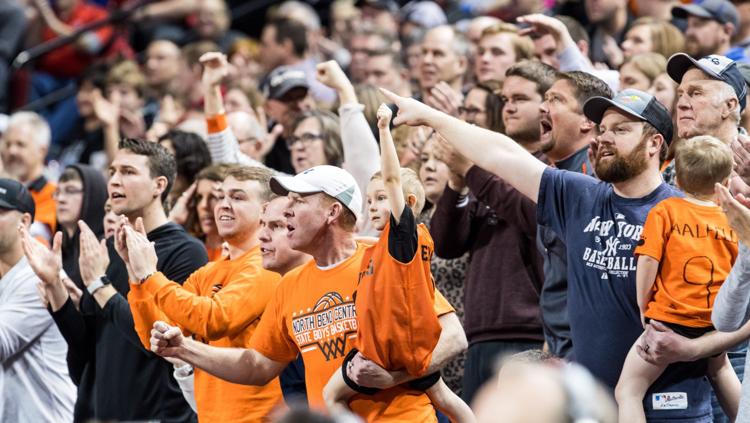 "There was no way not to just love every second of it," said Endorf, the superintendent's son.
On championship Saturday, Peters looked up at the biggest crowd of the season and realized that his hometown — population 1,177 — must be empty. They were all in Lincoln.
Auburn led most of the game, but North Bend chipped away. Tied at 27 in the final minute, the Tigers could've held for the final shot. But Peters, who averaged four points per game, boldly drove and scored. North Bend was 17 seconds from a state championship.
Then Auburn took it away. Cam Binder's buzzer-beating 3-pointer from 25 feet silenced North Bend's side of the arena.
"You kinda feel like the whole weight of the whole season was resting on that moment," Peters said. "You question what it was even for."
Coach Jon Baehr walked into the locker room and tried to lift spirits.
"The measure of a man isn't whether you win or lose a game," he said, "it's how you go about your business as a person."
The Tigers returned home and staggered through the weekend, receiving little flashes of perspective. They'd finished 25-4, including the first state tournament win in 92 years.
"As the days roll by and you realize what you've really done," Peters said, "it's not as painful."
When Mother Nature rolled into town, the community came together again, this time to fill sandbags. The Tigers stood shoulder to shoulder Wednesday with the same people who cheered them in Lincoln. Thursday they came back for more.
What did they talk about all those hours? Basketball, of course. The gutsy sophomore reserve got a laugh when strangers approached his dad and said, "Oh, you're Breckin Peters' dad."
Wait a second, isn't it supposed to be the other way around?
North Bend went to bed Thursday night thinking the scare was over. They'd heard the ice jam on the Platte had blown open and water flowed freely. Creeks receded. No worries. Friday morning Mother Nature changed plans and everyone took off for the farmhouses on the bluff.
They don't know what they're going to find — or miss — when they return to their homes.
"But at the end of the day, they're possessions," coach Baehr said. "We got them one way, we can get them again. Our community will come together. We'll find a way to replace it."
There is one possession Endorf can't replace. He received it last weekend, wore it around his neck coming home and hung it on his bedroom wall before the floodwaters came. His silver medal is on high ground.
"That's probably gonna be up there forever."
Photos: Major flooding hit Nebraska and Iowa towns in March 2019