Seventy-year-old Rod Hollman has been farming all his life. He's experienced bitterly cold winters and snowy ones.
This year ranks in his top five for the struggle and effort he's put in to keep his new calves alive.
"It's a combination of all the bad ones," he said this week from his Angus farm near Martell, Nebraska.
Other farmers and ranchers across Nebraska echo those words.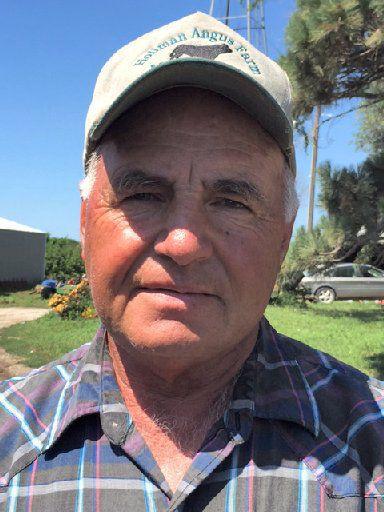 Temperatures 15 to 20 degrees lower than normal, combined with heavy snow in some areas, have turned a normally challenging calving season into an unrelenting slog. There is no central clearinghouse in the state of cattle deaths caused by the elements, but the farmers and ranchers interviewed didn't report severe losses, though more than normal.
But that may be because farmers and ranchers have been diligent in checking on herds. They've been able to grab only a few hours of sleep at a time.
"It's bad. This is terrible," said Larry Woitaszewski, who raises black Angus on his property near Wood River. "The ground is frozen, the snow and the ice. Everything is just frozen."
Woitaszewski, his daughter Lacey Woody and son Lance brought three calves into their barn Wednesday night in the wind and snow.
Tyler Williams, an extension educator in Lancaster County, said he hasn't heard about severe losses.
"It's definitely more than usual," he said. "There is no place or opportunity for anything to warm up."
A calf can freeze to death in under 15 minutes in these conditions.
Dan Braesch, the owner of D&D Cattle Co. near Herman, Nebraska, has been checking his pregnant cows every hour and a half to two hours since the middle of January when they started calving.
Woitaszewski and his family are taking turns checking every half hour to an hour.
In a normal year, it might mean a check every three to four hours, Braesch said.
Sign up for World-Herald daily sports updates
Get the headlines from Creighton, Nebraska, UNO, high schools and other area teams.
"You don't have very much time to save them, they get hypothermia so quick," he said. "They won't last long if you don't get them in and warmed up."
The calves' ears can freeze in 10 minutes if the wind is blowing and temperatures are below zero, leaving them looking like a cow version of Shrek.
Owners have tried to take precautions with wind breaks, by putting bedding on the ground for pregnant cows to lie on and by keeping them in calving pastures. But the cows will often head off on their own when birth is imminent.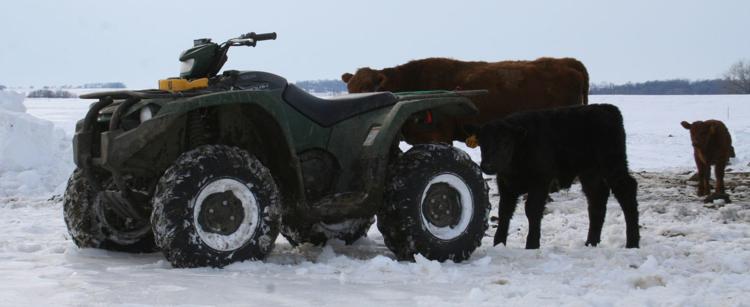 That sends Hollman, Woitaszewski and Braesch and their families out into the elements at all hours, often on four-wheelers. Rescued babies are brought into calving sheds, where they are dried off, get their first drink of milk and in some cases are tagged and vaccinated.
"Once you get them inside, in the straw, they are normally OK," Woitaszewski said.
In a normal, warmer year, when there might be a short cold snap or snowstorm, Woitaszewski said he'll maybe have to bring in 5 to 10 percent of his new calves. But this year hasn't been normal.
Temperatures have dropped below zero five nights since Feb. 16 in the Lincoln area, including minus 6 and minus 9 last weekend.
"Ninety percent of our calves have gone through the calving barn, which we usually never do," he said. "We make sure they're healthy and nursing mom and get their first milk. After a day, we let them back out in the pens."
Despite their 24/7 efforts, some calves are already near death when they are born. That's when they'll bring them inside and put them in what is called a hot or warming box. Woitaszewski's is in the basement, and after an hour or two of electric heat he's brought four calves back to health.
Because he's been so vigilant, Braesch has lost just one calf because of the weather. But he's had a few others with health problems die.
He attributes that to the weather, too, because when they're huddled together in a calving barn or shed, there's a greater chance of disease.
"It's just not good, all the way around," he said.
Cows require more feed in this weather, and that affects the bottom line. Although they grow heavy coats of hair in the winter, they need that digested food to generate heat and provide energy.
Hollman said he's using more bedding for his animals, and has already gone through 40 big round bales of straw. The bales and twine have a frozen cover, too, making them tough to handle.
The hay is expensive this year, "about twice the cost of normal," he said. "It's up to about $70 a bale. There's been a big demand for hay."
Tractor fuel lines freeze in the cold, as do automatic water lines. Snow has to be cleared so the ground will dry quicker. The cows hate to walk on ice and frozen ground.
These farmers and ranchers aren't complaining; it's just part of the job. They understand it's been tough for their neighbors, too.
"You know they've had some troubles. But you don't ask. You don't ask questions," Braesch said.
Woitaszewski said this winter's challenges won't be over when the temperatures ease. Then, he said, there will be bad mud problems from the melting snow. The cows' udders will get dirty, which can cause intestinal problems in the calves due to bacteria.
It takes a sense of humor to make it through these tough times, he said.
"You have to love what you are doing," he said. "I like the cattle, and I like working outside. You hope you don't have conditions like this very often."
Check out 42 stories that built, defined and characterized Nebraska
The World-Herald has gone back through the archives and uncovered stories that define not only the Omaha area, but the entire State of Nebraska.