KEARNEY, Neb. — In late October, a young man with short, slicked-back blond hair and colorful tattoos walked through the doors of Riverdale Christian Church. The Sunday morning service was over, but he wasn't there to worship.
A handful of people stood in the sanctuary talking as the unfamiliar man asked for the Rev. Scott Guthrie. It was the third time the man had been at the church, although parishioners didn't know it.
The first time he was at the church, he was only hours old. It was a crisp 60-degree fall morning on Sept. 6, 1996, when three Riverdale, Nebraska, boys found him as a newborn on the church steps with only a towel near his head. The boys were headed to catch the bus to a Kearney middle school when one of the boys heard a sound that drew their attention.
Named Baby Doe by law enforcement — and Baby Dale by some Riverdale locals — the 7-pound, 7-ounce infant was bloody, mucus-covered and blue, and a portion of his umbilical cord was still attached. His body temperature had dropped to the mid-80s, and he suffered from hypothermia.
After a week's stay in a hospital, the baby was placed in foster care.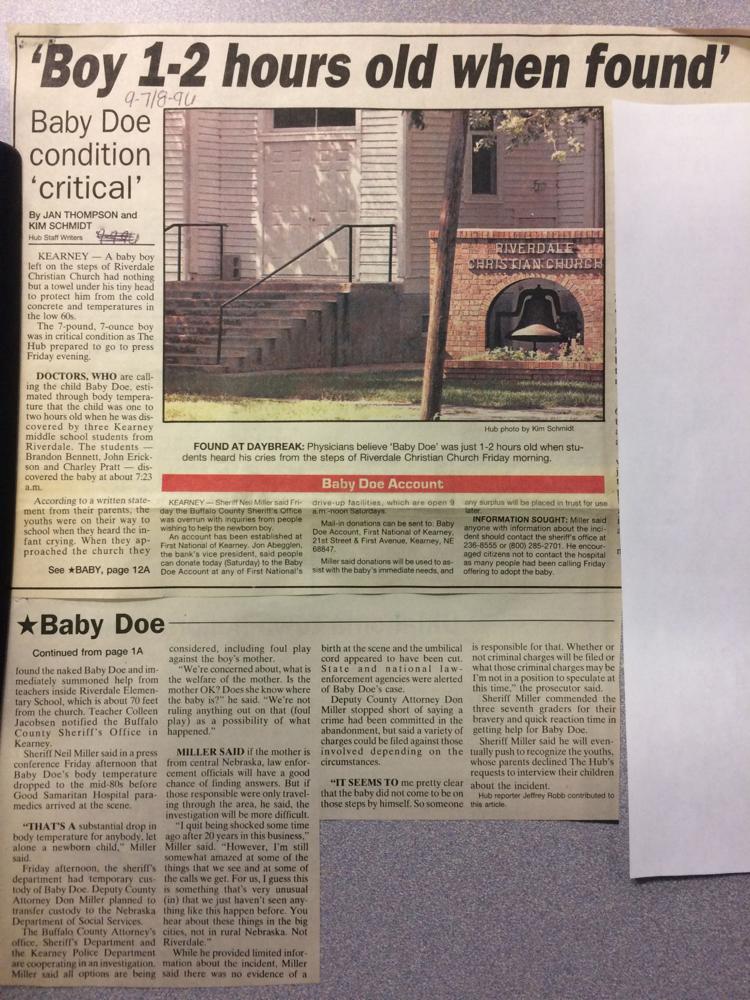 Law enforcement canvassed the neighborhood for possible witnesses and followed up on tips about the baby's possible mother, but none of them panned out.
Months later, after no one came forward to claim the child, the court terminated parental rights, and the baby was adopted by his foster family.
About a year after the baby was found, a couple with a toddler came to a church service, sitting in a back pew. After the service, the parents, who never gave their names, told Guthrie, who was also the pastor when Marvin was found, that they were "from the south" and that the toddler was Baby Doe.
"The sense that I had was that they wanted us to know he was OK and being taken care of," Guthrie said. "The courage they showed to walk up those steps and bring him to that service ... "
Adoption records are private in Nebraska, so to almost everyone, Baby Doe's identity and whereabouts were unknown. Until late last month.
From the time he was 9 days old, Joseph D. Marvin has lived with his adoptive parents, Larry and Melodie Marvin of Holdrege, Nebraska ("down south"). He and his older brother, Ryan, now 29, of Atwood, Kansas, were the last of numerous children the couple fostered.
Marvin first learned the word "adoption" from other kids in day care when he was 5 years old. He questioned his parents, who confirmed that they adopted him.
The Marvins did not respond to a request to be interviewed for this story.
When he was a high school freshman, Joseph Marvin's parents told him that he was Baby Doe and showed him a March 1997 Kearney Hub article about his adoption. Marvin tried to research his story online, but the Hub stories weren't online at the time.
In high school, Marvin played on the Holdrege Dusters tennis team, but shortly before his 17th birthday, doctors found ulcers lining Marvin's large intestine and diagnosed him with ulcerative colitis.
"I almost died," he said.
Two weeks later, he started having circulation problems in his left leg. The problems got so bad that he missed an entire year of tennis competition.
Doctors eventually determined that he was born with a rare genetic condition that causes poor blood circulation. A stent was put in Marvin's leg, and his circulation improved.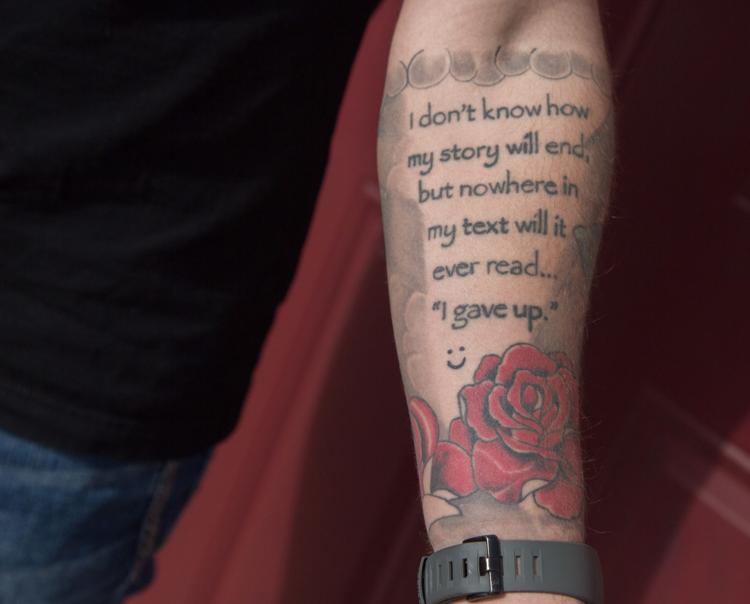 Marvin started classes at the University of Nebraska at Kearney but was often ill. When he was 19, his colon ruptured.
"They told me I was going to die if I didn't have surgery," he said.
Marvin would have three surgeries over nine months to remove and reconstruct his colon. Each day, he takes blood thinners to prevent blood clots.
If only he knew about his medical history.
It wasn't until the last few weeks that he seriously began looking into the early hours of his life, reaching out to those who played a role in the events — law enforcement, the boys who found him, Kearney Hub writers and Guthrie.
After 22 years, Marvin is hoping to get some answers.
"This last month has been weird to me," Marvin said. "Everyone is finally getting closure on me — except me."
Buffalo County Sheriff Neil Miller echoed the sentiments of those involved in Marvin's case in saying, "It does my heart good" to hear that Baby Doe is doing well and was taken care of by the Marvins.
Marvin wants to find his birth mother, whom he believes is in her 40s, and learn about his medical history.
"Looking at the grand scheme of things, I think she left me at the church as a safe place," he said. "I've never, ever really been mad at the situation until I was sick. Just because if I would've known my medical history, I could've told my doctors."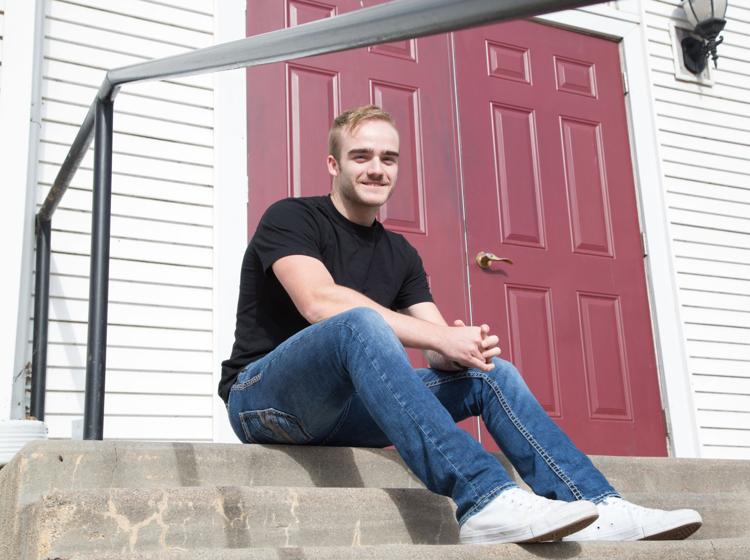 Marvin is now a senior at UNK majoring in sociology and criminal justice. His blood disorder prohibited him from pursuing a career in the military, which was his dream. He now wants to be a law enforcement officer.
He's active in the Phi Kappa Alpha fraternity on campus, for which he is the recruitment chair, and in GAMMA (Greeks Advocating for Mature Management of Alcohol). He also has been president of the criminal justice club for the last two years and plans to graduate in December 2019.
With a strong faith, Marvin feels that God has always had a hand in his life, especially now.
"I feel like He wants me to figure this out," he said.
Guthrie couldn't agree more, saying courage played a big role in the case and taught everyone the value of life. He quoted John 3:16 — "For God so loved the world, that he gave his only begotten Son, that whosoever believes in him shall not perish but have everlasting life."
"I think the person who left him had a tough decision," Guthrie said. "There's only 10 little steps going up there, and to leave him there and turn and walk away is a hard thing.
"I think they loved him and they thought that was the best thing for him. There's some reason he got left at the church."