FREMONT, Neb. — Fremont Municipal Airport this weekend became a sanctuary for nervous people trying, hoping, pleading to be flown out.
These included would-be spring-breakers, a trio of Midland University students who spent much of Saturday in a Toyota Highlander that was unable to find high enough ground for road travel to Omaha.
They included a family of five with airline tickets to Fort Myers, Florida.
There were nurses who were just exhausted after long days at Fremont Medical Center, the hospital in town.
There were meatpackers, stranded away from their children in Omaha.
Sign up for World-Herald news alerts
Be the first to know when news happens. Get the latest breaking headlines sent straight to your inbox.
And there was sweet little Gabby Schakat-Martinez. The round-faced infant was so good inside her car seat as her mother, Tatim, tried to keep a brave face.
Tatim was trying to get to Omaha to connect with her mother and 3-year-old son. Her son had stayed with grandma in Valley. But grandma, Stephanie Blackman, had to evacuate. Her home was filling with water and her Waterloo business, a tavern on the Elkhorn River called the R Bar, most likely faced a similar fate.
Grandma and the preschooler had gotten to Omaha, but that left Tatim and the baby in Fremont.
Tatim brought Gabby to the airport and a building that is as cozy as a 1970s rec room with its wood paneling, pleather couch and easy chairs and some cold pizza, free for the taking.
The airport was swamped — not with water but people trying to get out and pilots, like the young, tall, bearded man in clean tan shoes who approached Tatim with a big smile.
"Do you need a ride to Omaha?" asked Tanner Lockhorn, a banker by trade in Lincoln and pilot by hobby.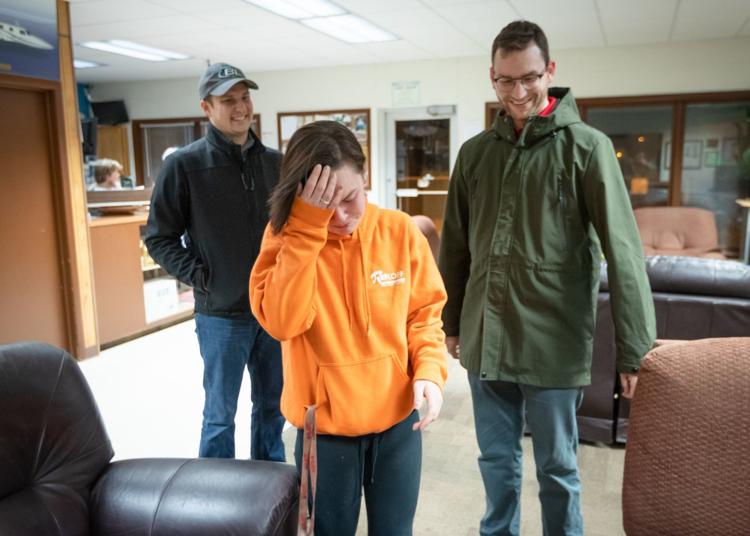 Tanner wore a big smile. Tatim, who until now was recounting her tale stoically, melted. She started to cry, and Tanner wrapped her in his arms.
"People in Lincoln are like, 'What can we do?' There's no roads. And not everybody has a plane," he said.
But Tanner did. A four-seater Piper Arrow.
And on Sunday, a tired but relieved Tatim answered the phone to report how the journey went. She got to Omaha. A friend picked her and Gabby up at the airport. She was hoping to reunite with her mom and son Parker soon.
"We're all good. It was good. It was fast," she said.
And how did the baby do in the air?
"So good," the mother replied. "She didn't even cry."
Fund created to help arrange flights: On Sunday, a GoFundMe page was collecting donations to help facilitate flights to and from Millard Airport to the airport in Fremont.
Photos: Major flooding hit Nebraska and Iowa towns in March 2019