KEARNEY, Neb. — Two of Kearney's largest hospitality companies — Holiday Inn and Ramada — alerted customers Tuesday that their hotels were flooded and that they were trying to salvage whatever bookings they could.
A lot is at stake as Kearney hotels and restaurants work to recover from the flooding.
An estimated 1,600 people are employed in tourism in Kearney, and the industry is a major generator of municipal sales tax as well as lodging and occupation taxes. Those revenues help promote tourism and subsidize some of the city's biggest attractions, including the Archway and Classic Car Collection and some major statewide events.
A large group had planned to meet in Kearney on Wednesday night, and the annual Miss Basketball event was scheduled to begin Friday, but was canceled, according to the Mr. Basketball website. Miss Basketball teams had been expected to come to Kearney from around the nation.
A week or two later are Cruise Nite and other gatherings — the kind of events that help Kearney to rank fourth among Nebraska communities for tourism.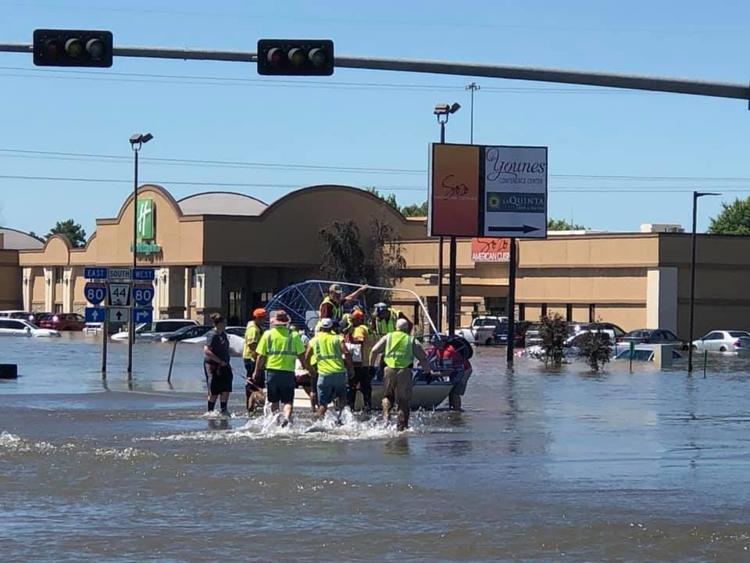 Roger Jasnoch, executive director of the Kearney Visitors Bureau, estimated that the flooding put 400 to 500 rooms out of commission.
"The next biggest hurdle is when do we get the power so we can start rehabilitating things?" he said. "How many groups can you delay their event in order to accommodate them? This flood will affect us drastically."
As the Kearney City Council meeting concluded early Tuesday evening, City Clerk Lauren Brandt was on the phone with local hotel owner Paul Younes, who was intent on making arrangements so customers could still have several weddings this weekend, even though his Holiday Inn had taken on 2 to 3 feet of water.
Aside from finding suitable venues, relocating the weddings would require having a liquor license for the places. Brandt said she already was working with the Nebraska Liquor Control Commission to help Holiday Inn acquire the special designated licenses.
Sign up for The World-Herald's afternoon updates
Receive a summary of the day's popular and trending stories from Omaha.com.
Tuesday was supposed to be a day off for Ramada Inn Manager Tammy Jackson. Most of the Ramada's guests had been evacuated when she arrived later in the morning. The water was rising rapidly as she and her staff performed a quick walkthrough.
Jackson, who has been employed 37 years at Ramada, said her eyes became misty as she and the staff took a final look around. They walked through knee-high water as they left.
"It hit me when I went outside, what has happening to my second home," she said.
Photos: Flooding in central Nebraska in July 2019
Kearney, in addition to other towns in the surrounding area, is suffering the effects of Monday night's rainstorm. Roads and buildings are flooded, stranding some in their homes. 
If you'd like to share a photo with us for use in this gallery or publication in the paper, please email news@kearneyhub.com, stating that you own rights to the photo(s) or video attached and give Kearney Hub permission to use the content for publication.