NEBRASKA CITY — Their futures uncertain and too much heartache behind them, people who have seen their properties repeatedly flooded by the Missouri River crowded into an old hall in Nebraska City on Thursday.
They called for changes in the way the Army Corps of Engineers manages the nation's longest river.
Some suggestions drew applause and agreement from the crowd of about 200:
Undo changes to the river to help endangered or threatened species.
Existing reservoirs need to be kept lower to make room for additional flood storage.
Another massive dam, perhaps more than one, is needed.
Better levees need to be built.
There's an immediate need for updated river forecasts that take into account breaks in the levees.
"We've had six years of flooding, and the blame can no longer be put on Mother Nature," said Donette Jackson of Tekamah, Nebraska. Jackson lamented the "environmentalistic dream of an untamed river."
The Missouri River's natural tendency to flood twice a year from snowmelt was subdued some 60 years ago by six massive upstream dams and by an engineered channel downstream. That has enabled farming and development in the river valley.
But the environmental damage to the ecosystem, political squabbles between upstream and downstream states and other issues have led to numerous conflicts. Ultimately, the river's management has landed in court, resulting in conflicting rulings.
Sign up for World-Herald news alerts
Be the first to know when news happens. Get the latest breaking headlines sent straight to your inbox.
Landowners along the river say flooding worsened after the Corps made changes to some of the engineered structures that guide the river's flow.
Those changes were made to help endangered species. And that has incensed property owners who have seen crops drown and homes flood.
The river is changing, Jackson and others told the Corps.
Its flow, its height, the way it silts and scours, and the way it washes past levees have all changed, they said.
"Flood control has taken a backseat to habitat, which has put us in harm's way," Jackson said, referring to changes going back more than a decade.
A number of people in the room lost homes in last month's flooding or can't get to their homes.
One Percival, Iowa, family said they've been told that they won't be able to get to their home until late summer.
A neighboring farmer said he's hundreds of thousands of dollars in debt and was planning on this year's crop to pay that off. Now, he doesn't know if the river will drop low enough for him to plant.
Farmer and businessman Scott Olson took the microphone during the question-and-answer session and choked up at the magnitude of the losses people are facing.
"Think of all the commerce that is lost," he said, and pulled away for a minute. "The corn is gone, the soybeans are gone, the feed is gone. The cost of this flooding? How do you even wrap your head around it? There's no way."
The Corps has made managing the river for flood control the priority since March 2018 because runoff has been so high, John Remus of the Corps of Engineers has said.
The Corps hasn't undertaken controversial spring pulses since 2009.
Intended to help an endangered fish, some people blame those pulses for increased flooding. Remus said research determined that the pulses weren't helping to create habitat that benefited the fish.
And Remus had a message for those who want to see the Corps make flood control the permanent top priority of the eight designated purposes of river management.
Don't kid yourself. It's much tougher than it appears to rewrite the rules for managing the Missouri. The last overhaul of the manual guiding river management took about 15 years and more than one trip to a courtroom.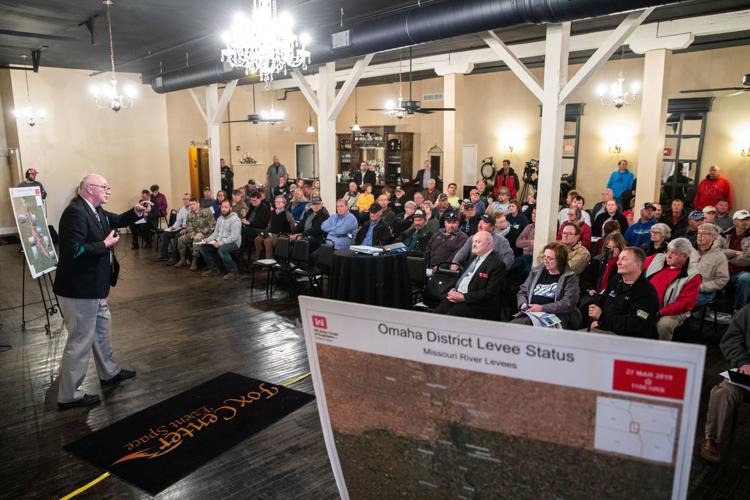 "It is not a fast process, it is not a particularly pleasant process," Remus said.
"There are people in this basin who think there is too much flood control," he said, without elaborating.
Even changing the management manual won't be a guarantee against flooding, Remus said. This year's devastating floods occurred along reaches of the Missouri River and its tributaries where dams don't exist, or in the case of Gavins Point Dam, weren't designed to provide significant flood control.
Historic flooding in 1993 and 2011 led to studies that proposed costly upgrades, and only Congress controls the purse strings for those.
"In the end, there wasn't the political will to carry through on those," said Col. John Hudson, commander of the Omaha District of the Corps of Engineers.
Competing needs along the river make solutions difficult.
Improving flood control downstream deprives upstream states of the economic benefit the huge lakes provide in the form of tourism, for example.
Beefing up levees costs money.
"There's no one simple fix," Hudson said, "Otherwise it would already be done."
Photos: US Army Corps of Engineers meeting about flooding
Several hundred people attend the US Army Corps of Engineers' Spring public meeting at the Fox Center Event Space in Nebraska City, Nebraska, Thursday, April 11, 2019.