For as long as she could remember, Amanda Bohm says, her father had verbally and physically abused her mother.
Then, she says, Carl Bohm began choking, hitting and threatening her.
In July, Amanda's mom, Janet Franks-Bohm, applied for a protection order against Carl Bohm.
Franks-Bohm and Amanda Bohm had returned to their north Omaha home after dinner July 23 and found Carl Bohm burning the family's personal belongings in a giant bonfire in the yard. Bohm had done this multiple times, Franks-Bohm wrote. He also had threatened to burn down the house and kill her.
Despite those and other details she provided, the protection order was denied by Douglas County District Judge Shelly Stratman on the same day the application was filed. The judge didn't list a reason and didn't hold a hearing.
The women were told they didn't have evidence to back up their claims, said Amanda Bohm, 18.
"We both cried quite a bit," she said. "We were lost. What are we supposed to do? We're trying to do this the right way, but it's not working."
More than a quarter of all protection-order applications in Douglas County are denied outright, usually without an explanation from a judge.
Lawmakers and victims' advocates say Legislative Bill 532 would clarify the language of the law — requiring at least an initial hearing for all protection-order applicants.
But some family law attorneys say they believe judges immediately dismiss an application because it doesn't meet standards of the law, which applies needed scrutiny to unsubstantiated requests.
Franks-Bohm remains in a medically induced coma as doctors treat the third-degree burns on more than 60 percent of her body, which is swollen and wrapped in bandages. Amanda suffered second-degree burns and was released two days after the fire occurred.
Carl Bohm also is hospitalized with critical injuries and will be booked into jail upon release, Omaha police say.
The fire was a painful end to a search for help.
"We've reported him multiple times, but nobody followed through," Amanda said. "The thing that's wrong with our system is they don't do anything until it's too late."
The legislative bill to require hearings in such cases has been in the works for months.
Advocates say such incidents demonstrate what can happen when victims of domestic violence don't succeed in securing a protection order. While they hesitate to say that a denied protection order is directly tied to an abuser later committing a crime, they do say a protection order can provide a measure of safety for victims who are seeking refuge.
"These are victims who asked for help and were denied. They've outlined exactly what they feared, and nobody listened," said Jill Heggen, a spokeswoman for the Women's Fund of Omaha.
Kristina Lesley made sure her October application for a protection order against her husband was thorough — she even sought help from legal experts at the Women's Center for Advancement.
She, like Franks-Bohm, applied for a domestic abuse protection order. According to Nebraska law, a domestic abuse protection order must be between family members and should show attempts to cause "bodily injury with or without a dangerous instrument" or "placing, by means of credible threat, another person in fear of bodily injury."
In addition to five screenshots of texts between the couple, Lesley included three handwritten pages documenting several instances in which she said Matthew Lesley was verbally abusive, threw items at her, punched walls and drove aggressively.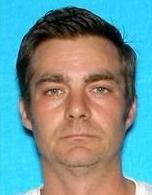 She recounted a speeding road-rage incident involving Matthew Lesley that she believed was going to end in a crash. It was, she wrote, "the most terrifying experience" of her life.
Despite the details she provided, Kristina Lesley's application was denied three days later by Douglas County District Judge Timothy Burns, with no reason given and no hearing.
"I felt obviously confused because I didn't get an explanation," Lesley said. "What do you do? You do everything that you're supposed to do, and you're like, 'Well, now what?' "
She tried again for a protection order in February after filing for divorce in January. She wrote about her husband's threats to kill her, verbal abuse and his threat to kill himself in front of her so she would "have to live with it."
This time, the application was approved, by Douglas County District Judge Thomas Otepka.
Law enforcement officers tried to serve the protection order to Matthew Lesley on Feb. 14. The next day, he showed up with a gun at Kristina Lesley's employer, Uta Halee Academy, and ultimately fatally shot himself.
Lesley said she empathizes with Franks-Bohm's situation. She speculated that a lack of evidence of physical abuse led to her own petition denial in October.
"Sometimes, it's hard to convey what you're feeling, what you're thinking on a piece of paper," Lesley said. "So, being able to have your say in court, the judge allowing you to speak and say what you need to say, is absolutely imperative."
Getting a protection order denied immediately can be disheartening to victims, said Christon MacTaggart, the domestic sexual violence project manager at the Women's Fund. If a protection order is granted, she said, the alleged aggressor can be taken into custody and booked into jail if he or she violates the order. A first-time violation is a misdemeanor. After that, it's a felony.
In 2018, Omaha police responded to 185 emergency calls to investigate a violation of a protection order and filed 922 incident reports on violations.
"When survivors reach out to the system in whatever way, if we're refusing to hear that, not even allow that to be heard, what message are we sending to victims of domestic violence about their ability to protect themselves?" MacTaggart said. "I think it's fair to ask, if someone's filing a protection order, that the court hears that."
About 250 to 300 protection orders are filed per month in Douglas County, Douglas County Clerk John Friend said. The total number of protection orders filed in 2018 was about 3,300.
Franks-Bohm's and Lesley's denied protection orders were two of 929 applications that were outright denied in Douglas County in 2018, according to the Women's Fund, which obtained the information from the Nebraska court system. That's about 28 percent of all filed protection orders that year, up from 24 percent in 2017.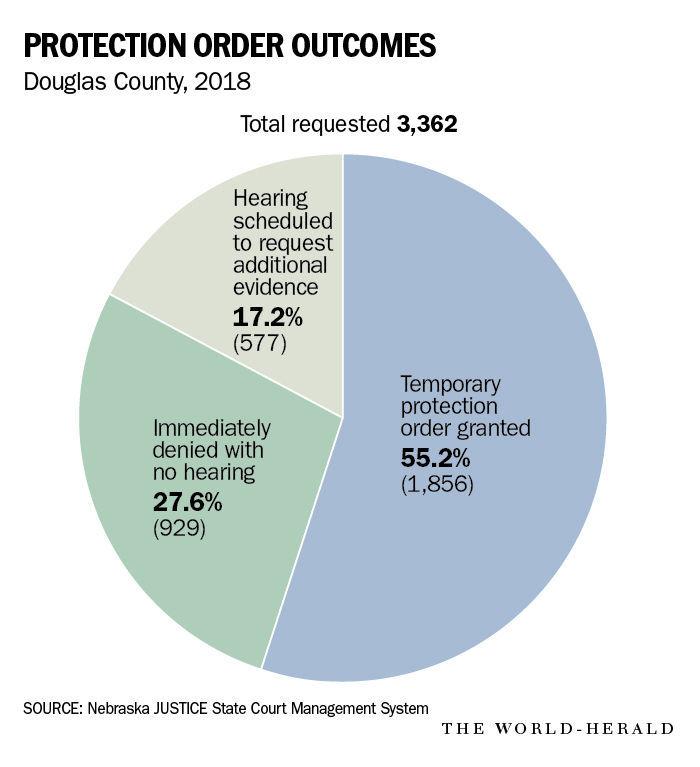 A little more than half of applicants' petitions for protection orders are granted immediately. In such cases, judges have determined that the victim will be in immediate danger of abuse before the matter can be heard.
About 17 percent of applications move on to a hearing scheduled within two weeks for more evidence. Of those, about half are approved.
MacTaggart said all victims should get a hearing, and it's unclear why judges are denying applications without them.
Jerrad Ahrens, an attorney in the Omaha office of the divorce law firm Cordell & Cordell, speculates that the judges will deny a protection order outright if it doesn't meet guidelines under state statutes.
The statutes provided are pretty straightforward as to whether or not a protection order is warranted, Ahrens said.
Omaha State Sen. Machaela Cavanaugh said she interprets current law as requiring judges to hold a hearing for a protection-order application if one is not immediately granted. She said her legislation, LB 532, would explicitly spell that out.
"If it is going to be dismissed, they should be given the opportunity to hear from the judicial system," Cavanaugh said.
She said she hopes the bill will be voted out of the Legislature's Judiciary Committee and advance to the floor so the full Legislature can discuss it. The bill also would ensure the same renewal process and uniform penalties for all three types of protection orders — domestic abuse, sexual assault and harassment — and clarify what information and specific abuse details are required in the application.
In their opposition testimony, Nebraska Bar Association officials said they want senators to be mindful that requiring hearings within 14 days of an application would add court time to judges' dockets and be tricky in rural areas where judges serve multiple counties. However, the organization is working with advocates on amended language on which all can agree.
MacTaggart and Cavanaugh said Nebraska is one of only two states that don't require hearings for protection-order petitions. Cavanaugh said she knows the court system is stressed, but that doesn't mean the state shouldn't adopt best practices.
Susan Reff, an attorney at Hightower Reff Law in Omaha, said her firm represents both protection-order applicants and those targeted by them. She said people should understand the weight of filing for a protection order and what restrictions it imposes on the other person. Her firm has dealt with "frivolous" protection orders that can be retaliatory and stem from divorce or child custody cases.
"I don't use the word 'frivolous' lightly, but I think there's a lot of stretching of fact patterns to make it into what they think the judge will grant," Reff said. "We've been really successful in getting them denied by saying, 'This isn't really what happened.' "
Advocates say the process of applying for a protection order should be accessible for victims, without the need to hire lawyers to help. The WCA provides free and confidential assistance for women in abuse situations and can help them apply for protection orders. Last year, the WCA helped with 638 protection orders, up from 488 in 2018.
Lesley praised the group's work. She said she hopes victims can receive better treatment, as her experiences when filing her forms at the courthouse weren't the best.
When she went in October to turn in her paperwork, she saw a woman sitting in a cubicle, crying as she filled out a protection order.
"I don't know if she had support. That was very heartbreaking to me," Lesley said. "There needs to be a more empathetic position when women who have gone through trauma reach out for help."
Amanda Bohm said she won't forget how the gasoline looked poured out on the garage floor.
She remembers her dad holding a lighter and flicking it. And she remembers the gigantic flames.
Amanda was the closest person to the door. Her mom got out of the house after she did and dropped to the ground. Amanda threw snow on her mom to put out the flames.
She said she plans to visit her dad in the hospital. She wants answers.
"I want to know if he even remembers what he did," she said. "I want to know why. What was going through his head to do that. Other than that, I've got nothing to say to him."