NELIGH, Neb. — People in Sydney Loofe's hometown were still hoping to find her alive, even as the search for the missing 24-year-old stretched to almost three weeks.
But now that her body apparently has been found, friends and family in this northeast Nebraska town are left to grapple with the news that the sweet girl beloved by many died so young.
Lincoln Police Chief Jeff Bliemeister said Tuesday that authorities believe a body found in rural Clay County is that of Loofe, who was last seen on Nov. 15. Police suspect foul play.
The announcement was a sad development in a case that had drawn attention from around the state and beyond. Loofe had gone on a date with a woman she met online, then failed to show up at work the next day at a Menards in Lincoln.
As the FBI and others searched for her, word of her disappearance spread in news accounts and on social media. Neligh residents adorned their city with green ribbons, signs and porch lights — a color used to signify missing children.
And in an odd twist, two Wilber, Nebraska, residents who were in contact with Loofe on Nov. 15 and were described as "persons of interest" released a series of videos in which they asserted their innocence. They were later taken into custody, though they have not been charged in connection with Loofe's disappearance.
Bliemeister said law enforcement officials have "extensively explored" the pair's statements and have not been able to confirm their accounts.
Authorities said an analysis of "digital footprints" led officials to the discovery of the body. So far, they have not released many other details. They are awaiting results of an autopsy.
The news of Loofe's death hit Neligh hard. Just about everyone in town knows her parents, George and Susie Loofe. George Loofe has been the principal of the high school for more than 15 years and also served as the football coach. Susie is a special education teacher.
"Everyone's a neighbor, everyone's a friend and a family member," said Superintendent Scott Gregory. "They definitely want to help any way they can."
George Loofe's brother Dan Loofe said the family hadn't expected this outcome.
"It's tough," Dan Loofe said. "At least we have closure. George and Susie really needed it. They wanted her back, bad."
George Loofe said he appreciated the public support.
"The entire state and beyond tried to help and in our minds, a lot of good people exist in the world," he told the Neligh News and Leader. "Sydney just happened to run into someone that wasn't."
Tuesday, Nebraska troopers continued to search for more evidence in Clay County, about 90 miles southwest of Lincoln. Officers carrying small, pink flags could be seen methodically walking up and down rows of harvested cornfields, looking for evidence. A helicopter buzzed above all day.
A blustery, cold wind persisted throughout the day.
About 40 law enforcement officers were in Clay County as part of the investigation. Troopers blocked off access to a road near the Smith Lagoon National Wildlife Management Area.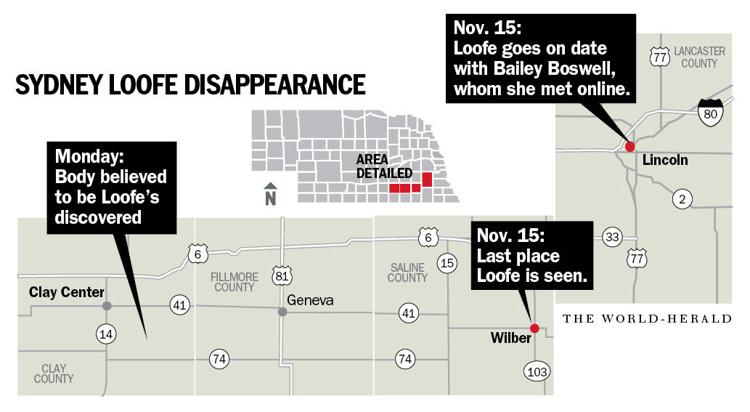 Meanwhile, about 120 miles north in Neligh, hundreds gathered at the high school for a soup fundraiser for the family that was planned last week. It also coincided with home high school basketball games, where attendees observed a moment of silence.
Sydney Loofe's uncles, Dan and Mike, along with their wives, Judy and Vickie, arrived to help serve soup. The building was filled with green shirts, ribbons and ties, and after dark the town lit up with green lights.
In addition to the soup, people could participate in a silent auction and buy pies or green light bulbs, with money going toward the Loofe family.
Blackburn Manufacturing in Neligh had donated 5,000 feet of plastic for ribbons and printed 2,000 signs with Loofe's picture and information, said Jennifer Blackburn-Nielsen, the company's president and chief operating officer.
Blackburn-Nielsen said she heard that signs and fliers reached Lincoln, Beatrice and other cities as people took them along on their Thanksgiving travels. Others said they heard that fliers reached as far as Arizona.
"In a small town like this, everybody knows everybody, and you just want to help," she said.
Still in custody in the Saline County Jail are Aubrey Trail, 51, and Bailey Boswell, 23, the persons of interest in the investigation. They were roommates in Wilber, which is the last place that a cell tower received a ping from Loofe's cellphone.
In a video posted to Facebook last week, Trail said he didn't kill Loofe.
"I'm a crook, I'm a thief, have been all my life," he said. "But I'm not what you're trying to make me out to be."
In a 9-minute video that circulated on social media until being removed, Boswell wore sunglasses and a black hoodie. Only half of Trail's face was visible.
Boswell said in the video that she went on dates with Loofe on consecutive days. Following the second date, she said, she dropped Loofe off at a friend's house and hasn't heard from her since.
Trail and Boswell were picked up in the Branson area of Missouri.
Bliemeister, the Lincoln police chief, said officials are continuing to speak with Trail "and we'll continue to do so as long as he's willing to do that."
Now the Loofe family is in limbo waiting for answers and the release of Sydney Loofe's body. Dan Loofe said he hopes that his niece's case brings more attention to other missing people.
"And keep praying for the family," he said.
World-Herald staff writer Alia Conley contributed to this report.
Sign up for World-Herald news alerts
Be the first to know when news happens. Get the latest breaking headlines sent straight to your inbox.