HAIGLER, Neb. — This small town in the far southwest corner of the state might have more stray cats than people.
But a retired couple from Omaha are proving that you can go home again to places like Haigler, and bring people, and new activity, to a village with only 158 residents.
LaNeta and Stan Carlock moved back to their hometown in 1996 after ending careers in Omaha. Since then, as something akin to a two-person chamber of commerce, they've led the establishment of town festivals, local museums, a bed-and-breakfast, and a visitor center for tourists.
"What they have done for Haigler is amazing," said Jerry Pascale, an Omaha friend who often makes the 360-mile drive to Haigler to help with the multiple projects.
LaNeta, 74, was a longtime teacher and administrator in the Westside Community Schools and later a business and education consultant. Stan, 76, was an engineer and supervisor in the U.S. Army Corps of Engineers.
When retirement neared, the couple sold their home in the Benson neighborhood and moved back to their hometown, 74 miles west of McCook, on the edge of vast grasslands.
"We felt so fortunate with our careers. So we thought 'Why not go back and do some things for the community?' " LaNeta Carlock said. "Everyone thought we were a little nuts."
Since their return, "some things" have turned into many things. This dedicated pair have ramrodded several projects at the "cornerstone of Nebraska," the place where the borders of Kansas, Colorado and Nebraska intersect.
The Carlocks — in many cases with the help of other local volunteers — have:
» Renovated a nearby house into a handsome Victorian bed-and-breakfast.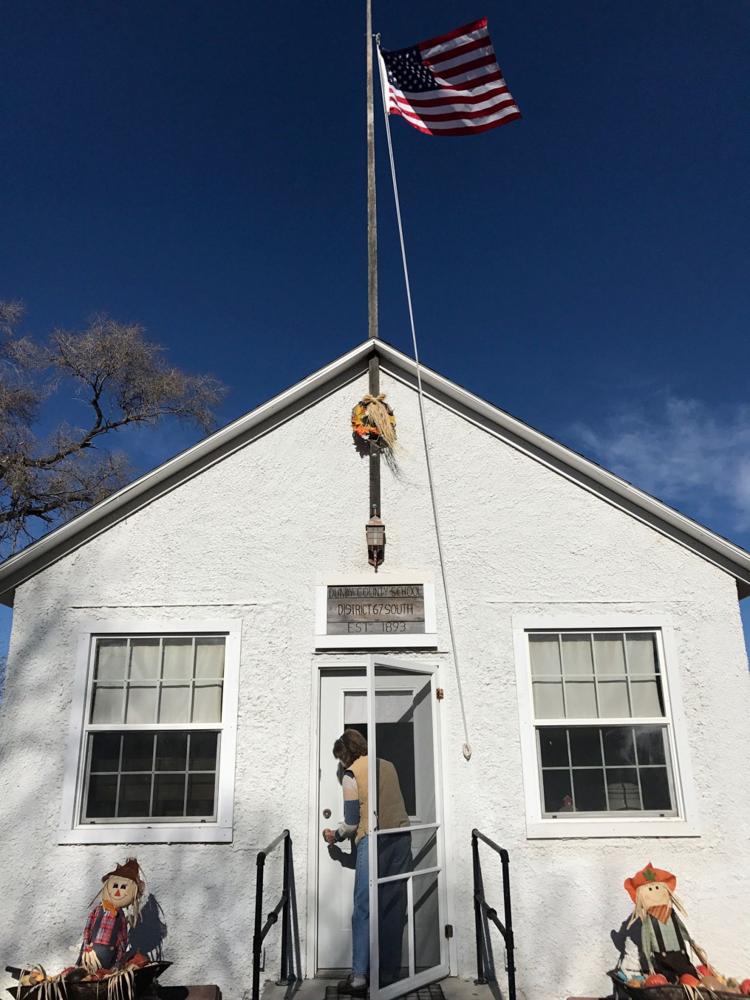 » Attacked the town's feral cat problem by trapping, "fixing" and releasing more than 100 felines.
» Established a complex of museums that now covers half a city block. It began with the renovation of a shelled-out, one-room schoolhouse and now includes antique farm equipment, a wooden windmill and a building crammed with donated heirlooms and high school memorabilia.
» Purchased the town's closed elementary school and converted it into a bustling community center. The "Haigler Cornerstone Center" features the town library, a secondhand clothing store and a tai chi exercise business. The school's old gym hosts a dozen craft shows and community festivals a year, from a tractor show to an annual Tumbleweed Festival to a Cowboy and Cowgirl Roundup featuring big-time entertainers.
» Established a nonprofit community foundation that collects donations and holds fundraisers to finance upkeep and utility costs for the museum and events center.
» Began transforming an old Conoco filling station into a tourist information center along U.S. 34. Stan is also working to turn a paint-chipped house, donated to the Haigler Community Foundation, into a residence for visiting artists.
"They have a lot of energy," said Jim Kent, superintendent of the Dundy County-Stratton Public Schools. "Like a lot of people who come from a little town, they really appreciate what they got when they were there."
LaNeta Carlock, who learned a thing or two about grant writing as a consultant, estimates that nearly a half-million dollars has been raised through local donations and foundation grants for this menagerie of projects in their old, and new, hometown. That's more than $3,000 per person in Haigler. If that happened in a city like Omaha, that would amount to more than a billion dollars.
"There aren't many people who have the 'go' that LaNeta does," said Barb Wheaton, owner of the Haigler Country Cafe. "We're lucky to have LaNeta and Stan."
The Carlocks deflect the compliments, saying that they are just "catalysts" for projects that have taken off. There are a lot of Haigler alums and friends who have pitched in, they said.
"It's taken more than us," Stan said. "We get way more credit than we deserve."
On a recent evening, a local farmer showed up at the Carlocks' front door and donated $1,000 to the community causes.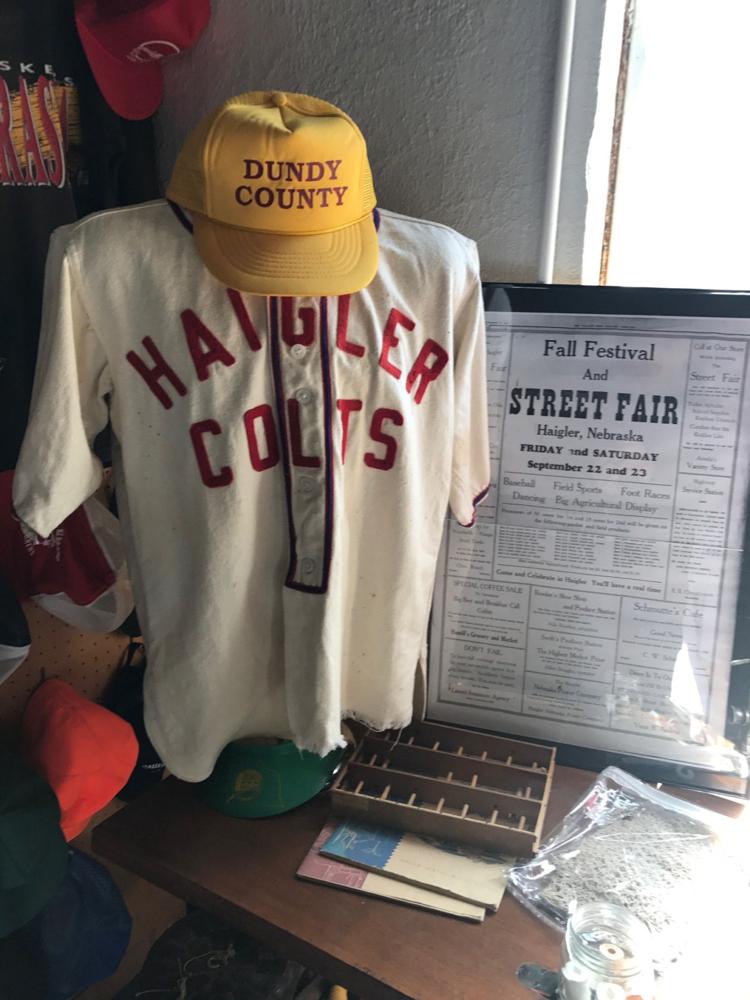 More than once, Stan said, people have come to the museum to donate keepsakes, including the medical bag used by Haigler's former town physician and a doctor's buggy.
During a recent whirlwind tour of Haigler (which included bypassing a herd of eight mule deer ambling through town), LaNeta was on her cellphone, coordinating the arrival of dealers to the gun show being held that weekend at the event center.
Stan was doing his maintenance and restoration work, after feeding the town cats, and taking one old cat, Spook Junior, on his daily walk around the museum grounds.
LaNeta is the organizational, promotion and fundraising part of the couple.
At the secondhand clothing store (which helps fund utility bills at the buildings) she showed off brand-new clothing she purchased at cut-rate prices from area shops that were closing. In the gym you could see a new heating and air conditioning system, funded by a matching federal grant.
LaNeta said "Wouldn't it be nice?" is one of her favorite phrases when thinking of the projects that could help Haigler.
"Stan says 'Don't let me hear those words again,' " she joked.
Randy Cantrell, a rural development specialist at the University of Nebraska-Lincoln, said he's heard similar stories of people moving back to their small-town roots and contributing.
Is it a trend? That's hard to say, Cantrell said. But the most recent Rural Poll done by UNL showed that "newbies" in small towns contributed nearly as many volunteer hours as residents who had lived there five years or longer.
To be sure, what the Carlocks have done hasn't increased the population in Haigler, which has been declining since topping out at 530 in 1930.
But Wheaton, at the town cafe, said the new activities and events have increased her business. And Jason Frederick, the editor of the Benkelman Post and News Chronicle, said the improvements led by the Carlocks may have inspired other nearby towns to pick up the pace.
"I don't know what they're going to do when they're gone," Frederick said.
LaNeta Carlock said she's already working on that, developing new leadership for the Haigler Community Foundation to take over when she and her husband decide to retire for good.
She said she's convinced that a small towns like Haigler, far from the bright lights of Denver and Omaha, can survive.
"You've got to get buy-in from people in the community," Carlock said. "It's worked here."