SCOTTSBLUFF, Neb. — Officers from 200 law enforcement agencies across Nebraska and the United States gathered in Scottsbluff on Thursday to honor the first Nebraska State Patrol trooper to die in the line of duty in 20 years.
An estimated 500 people attended Smith's funeral. Gov. Pete Ricketts said during the service that law enforcement officers from New York to California were in attendance.
He described Smith's life as one dedicated to a noble mission: to protect and serve, first in his dedication to military service and then to the Nebraska State Patrol.
"Jerry knew God's plan for his life was a life of service," he said, "whether it was serving overseas or for the state of Nebraska."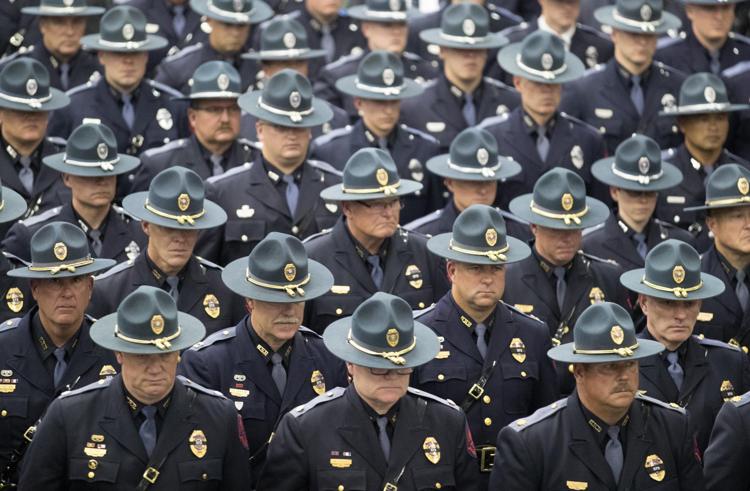 Before he joined the patrol, Smith served in the U.S. Army for 25 years, from 1986 to 2011. During that time, he investigated a number of crimes and earned numerous awards, including a Bronze Star during two tours of combat in the Iraq War.
Ricketts addressed Smith's family on Thursday . "We feel that loss as well in the Nebraska State Patrol and across the state."
The public gathered for a procession before Smith's funeral. Flags and blue ribbons tied to trees, poles and signs decorated the route to Western Nebraska Community College, where the service was held.
Firefighters from the Scottsbluff Fire Department flew a large American flag from their ladder truck at the entrance to the college.
Cody Thomas, a patrol spokesman, said the gym at the college could hold 600 people, and an area for overflow was established. Ricketts, first lady Susanne Shore and State Patrol Superintendent Col. John Bolduc attended, with Ricketts and Bolduc both giving remarks. Mechelle Smith spoke on behalf of the family.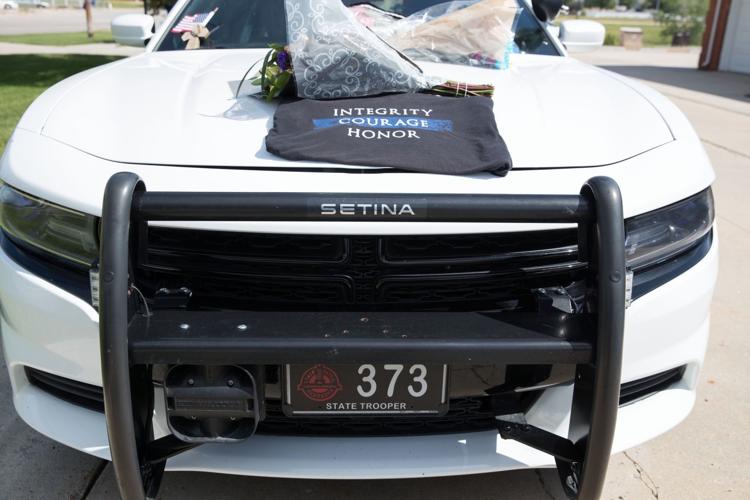 Memorials for Smith were set up around town before the service. In front of the funeral home that handled the funeral arrangements, a Nebraska State Patrol vehicle became a makeshift memorial. People topped the car with American flags, flowers and other items.
Among those placing flowers was 13-year-old Natalie Teppert.
"I was sad and emotional when I heard the news," Natalie said, noting that she wanted to pay her respects to Smith. "They (law enforcement officers) do what they're supposed to do to keep us safe."