WASHINGTON — Many Americans consider April 15 a painful time of year, but Omahan Tiffany Bock approached this year's tax deadline with a heightened sense of foreboding.
Word among Nebraska spouses of fallen service members like her was that a change in federal tax law was hitting them hard.
"I was seriously worried to go get my taxes done," Bock said. "I was dreading it. I kind of waited almost until the last minute because I was like, I don't want to have to owe tons of money."
Her husband, Marine Staff Sgt. Michael Bock, was killed in Afghanistan in 2010. Their son Zander was 3 years old at the time.
Because of quirks in the rules governing survivor benefits, Bock and many other surviving spouses have opted to sign over to their children some or all of their benefits.
Those benefits are taxable at a rate that previously averaged about 12 percent.
As the previous Republican-controlled Congress moved to simplify parts of the tax code, however, it made changes that threw those benefits into a "kiddie tax" bracket of 37 percent.
That part of the tax code targets wealthy folks trying to avoid taxes by assigning unearned income to their children. But caught in the crossfire were the surviving spouses and children of America's fallen warriors.
"No one realized that our surviving families would fall into this," said Candace Wheeler, senior adviser for policy and legislation at the Tragedy Assistance Program for Survivors. "It's not something we saw coming."
While the situation appears to be clearly unintentional, Democrats have seized on it as evidence that Republicans rushed through ill-conceived tax changes without properly vetting their legislation.
Republicans have characterized it as the kind of technical glitch that often accompanies complicated legislation, as lawmakers from both sides of the aisle scramble to find a solution.
Rep. Don Bacon, R-Neb., joined a bipartisan group of House members last week introducing legislation to exempt surviving family members from the tax hit in the future. It also would allow those already affected to refile under the old rates.
"We need to fix it," Bacon told The World-Herald.
Sign up for World-Herald news alerts
Be the first to know when news happens. Get the latest breaking headlines sent straight to your inbox.
Bock said that because she works only part time, it worked out to not claim her son as a dependent, and that allowed them to significantly mitigate the impact, but she worries about the future if the law isn't fixed.
But there are others who had to pay much more in taxes.
Those include Omahan April Kielion, whose husband, Marine Corps Cpl. Shane Kielion, was killed in Iraq on Nov. 15, 2004, the same day his son Shane Jr. was born.
Like Bock, she put the survivor benefits in their son's name. And she had a nasty shock when she sat down to file her taxes this year and found out that the rate on their benefits had skyrocketed.
"Even my tax preparer — she had no idea that there was a change in the tax laws for us," Kielion said.
She said she was fortunate that she had some money set aside to cover the tax bill, unlike other families.
"There's a lot of people that I know that, because of this, it's like 'Well, am I going to pay my mortgage this month?' " she said.
Advocates say that congressional efforts to fix the immediate tax hit are welcome but that policymakers need to address the underlying problem that stems from how survivor benefits are paid out.
There are two chief sources of money for surviving spouses.
The Survivor Benefit Plan is a Defense Department program created in 1972 to provide income to survivors of retired service members.
That program is voluntary; service members pay into it and the payouts are taxable. The amount of the monthly benefit varies by service member.
After the terrorist attacks of Sept. 11, 2001, Congress expanded the program beyond retired personnel to include those who die on active duty.
A separate VA program called Dependency and Indemnity Compensation pays a flat monthly sum — tax free — to surviving spouses of those killed in the line of duty.
Rules against "double dipping" mean that survivors are not allowed to receive the full amount from both pots of money. The reduction in benefits that results is often referred to as the "widow's tax."
And it's why so many survivors assign their SBP money to their child and collect the DIC for themselves. That helps in the short term, but it also means that the SBP money gets cut off when the child comes of age.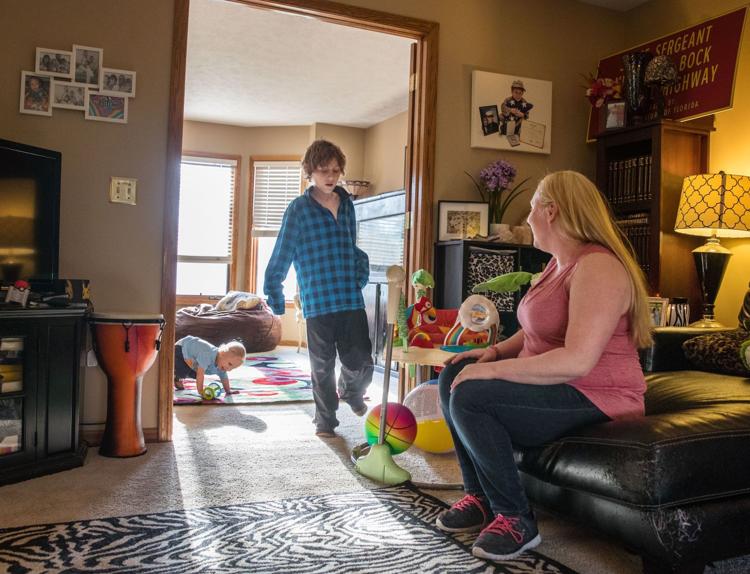 Advocacy groups such as TAPS have been pushing legislation for a long time that would eliminate the offset altogether and allow survivors to collect from both programs. They note that service members actually paid into the SBP system and shouldn't be penalized.
They feel like they have some momentum, with more than half the House and 60 senators signing on as co-sponsors of the legislation. The price tag is an estimated $500 million a year.
"We want them to deal with the root of the problem," Wheeler said.
Another rule governing the benefits is that surviving spouses can lose their benefits, including health insurance, if they remarry.
Bock said that when she met her boyfriend, he told her that he didn't plan on ever getting married.
"I said 'Oh, I'm perfect for you — I can't get married,' " Bock recalled.
They now have a 17-month-old son together but are still careful to keep their lives separate in many ways. That means not buying a house together or putting their names on a car title.
Such actions could result in lost benefits even if they aren't officially married.
"We have actually made sure that we aren't presenting ourselves as a married couple," Bock said.
If they were to get married, she would lose benefits, including health insurance.
"A little piece of paper is not worth me losing thousands of dollars a month plus my health insurance," she said.
Advocates say there are many surviving spouses being hurt by the prohibitions on marrying again.
"They're making it so I can't move on," Bock said. "I was a widow at 27. That's very young still."
Bacon is promoting legislation to eliminate the remarriage penalty. He said he has heard from widows saying they have to wait until they reach their late 50s, after which there's no penalty, to remarry.
"I just think we could do better," Bacon said. "I'd like them to be able to move on in their life."
Honoring our heroes: A gallery of Nebraska veterans
Honoring our heroes: Nebraska veterans and their service.