Stacy Pearsall got her start as an Air Force photographer two decades ago at Offutt Air Force Base, processing U-2 spy plane photos at a secure lab deep inside the old Martin Bomber plant building.
This Veterans Day week, the Texas native is back in Nebraska for the first time with a pedigree as one of the finest combat photographers of the 21st century. She is completing a quest she started in 2008, after she was medically retired because of traumatic brain injuries suffered in Iraq, to produce portraits of veterans in all 50 states.
"I thought it would be great to leave Nebraska for last, because that's where I started my career," Pearsall said. "It's great to be back."
She calls her quest the Veterans Portrait Project. After visiting Waterloo, Iowa, on Saturday to notch her 49th state, she arrived in Bellevue early Monday to set up a makeshift studio at Bellevue University's Military Veterans Service Center.
Pearsall was accompanied by her service dog, Charlie, who is something of a celebrity himself. Charlie spent 14 months during his training as a daily visitor to the set of NBC's "Today" show before he became Pearsall's companion and partner two years ago.
Forty-five local veterans were scheduled for free portrait sessions during her two-day visit, which will continue Tuesday. All together, Pearsall estimates that she has made portraits of about 8,000 individual veterans.
Sign up for World-Herald news alerts
Be the first to know when news happens. Get the latest breaking headlines sent straight to your inbox.
J.R. Richardson, director of the Veterans Service Center, said Offutt's 55th Wing asked if Bellevue University would host the photo sessions.
"It was an immediate, 'Absolutely!' " Richardson said. "This is a gathering place, where you can talk. It's very fitting, in this community of veterans, to have this here."
Pearsall spent a few minutes chatting with each veteran to find out about them and their military careers.
In one sitting, Heather Carroll, 44, told Pearsall about her 22 years as a medic in the Air Force, Air National Guard and the Reserves.
Carroll mentioned that she had also performed as a vocalist with an Air Force entertainment group called Tops in Blue. Pearsall asked her to sing something. Veterans in the room stood at attention as she sang "The Star-Spangled Banner."
"It was kind of cool. Really awesome," Carroll said afterward. "Singing in the morning!"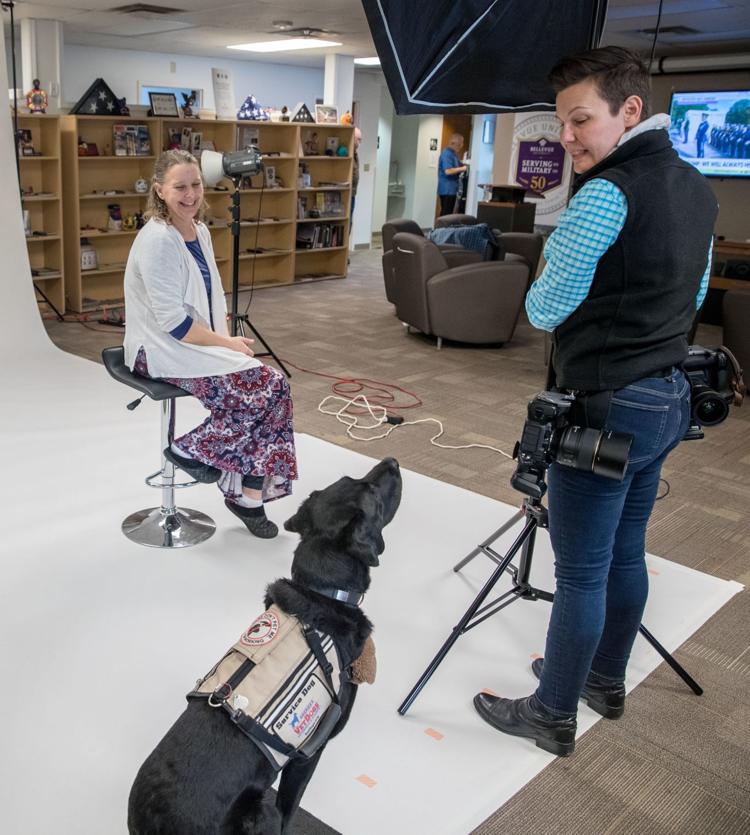 John Schniedermeier, 85, of Omaha wore a "Vietnam Vets" cap and a colorful vest. He grew up in Germany during World War II and later served for 20 years in the U.S. military, including a tour as a military liaison to the Soviet staff in East Berlin. He also served as a driver for Adm. John S. McCain Jr., who grew up in Council Bluffs and was the father of Sen. John McCain.
He appreciated the tribute from a photographer who is also a veteran.
"There's more support for Vietnam veterans now than there used to be," Schniedermeier said.
After her initial tour at Offutt in the late 1990s, Pearsall had worked hard to earn a place in the military's "Combat Camera" unit in 2002. Pearsall drew assignments all over the world.
She was wounded by a roadside bomb during a tour in Iraq in February 2004. She suffered a traumatic brain injury and persistent vertigo. She minimized her injuries in order to return to duty.
"I recovered well enough to hide my impacts," Pearsall said.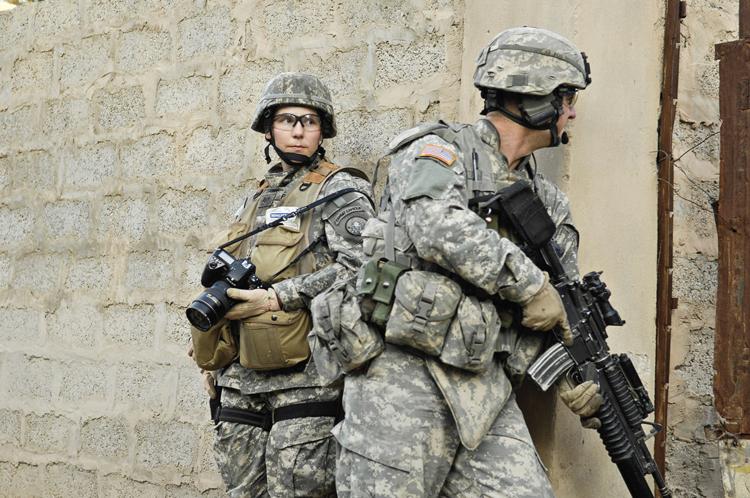 She captured plenty of action photos, but her trademark is sensitive portraits of service members in quiet moments — "between the bullets," as she describes it. Pearsall's work has twice earned her the Military Photographer of the Year award from the National Press Photographers Association. She is the first woman to do so.
She says her work blossomed when she stopped shooting "by the book" and listened to her own voice.
"I embraced the nature/nurture part of my personality," Pearsall said. Today, her work is featured prominently at the National Veterans Museum, which opened a year ago in Columbus, Ohio.
In 2007, she was hit again by an IED. Then a freakish accident in 2008 effectively ended her career.
She was in a wheeled Stryker combat vehicle that was parked during an engagement in Iraq. She saw a gravely wounded soldier nearby and ran to help him. In the dark, she forgot she was attached to the vehicle by a headset. When she reached the end of the cord, it snapped her head and neck backward. It severely aggravated her previous head injuries.
Pearsall was medically evacuated and never returned to battle.
"I could barely keep my head up straight," she said. "I didn't want to leave the unit, but I didn't have a choice."
Pearsall received care through the Department of Veterans Affairs, but she sometimes felt patronized. At times she was told flat out that she didn't belong in the military.
In VA waiting rooms, she often sat quietly, sometimes resenting the older men around her.
"When you're in a dark place, you don't recognize the people around you," Pearsall said.
Then one day a World War II veteran who volunteered at the VA hospital came up and sat beside her, talking to her kindly. They shared their stories from combat. He had helped to liberate the Nazi concentration camps near the end of the war.
She realized that she had far more in common with veterans from other generations than the surface differences.
"I had an epiphany," she said. "I thought I was all alone. But regardless of what campaigns and wars we fought in, we're all the same."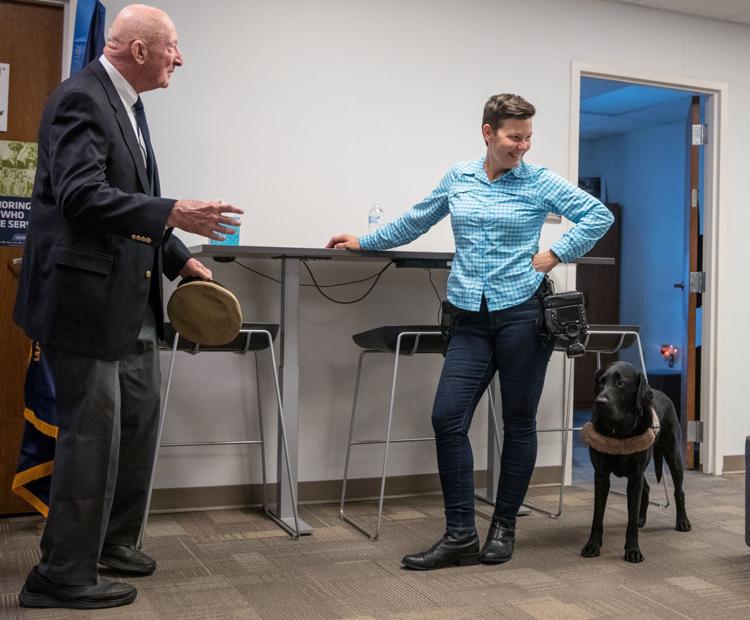 That's how the Veterans Portrait Project was born. She and her husband, Andy Dunaway — also a retired military photographer — opened a commercial studio in Charleston, South Carolina.
But her passion has been the portrait project. Though she has had corporate support for her plan to visit every state, she has sunk $88,000 of her own money into the project.
"I wanted a project that would last a lifetime," Pearsall said.
Her Nebraska visit achieves the 50-state goal. Next she'll work on a book of the best portraits, and work on a project with South Carolina Public Television.
But Pearsall plans to continue to photograph her veteran peers.
"It makes me feel human again," she said.
Honoring our heroes: A gallery of Nebraska veterans
Honoring our heroes: Nebraska veterans and their service.