Cpl. Ed Morrissette of Omaha slogged on for three long years as an infantryman during World War II.
He survived North Africa and Sicily, D-Day on Omaha Beach and long months of fighting through Normandy, the Ardennes and Rhineland, to Germany and Czechoslovakia.
Somehow, he never got in the way of an enemy bullet.
"I can't really say that I enjoyed it," Morrissette, now 96, wrote decades later in an account of his wartime adventures, "but I will say that there were many exciting and interesting times spent over there."
Morrissette has outlived nearly everyone he served with in the 16th Infantry Regiment of the 1st Infantry Division — the Army's fabled "Big Red One."
And on Wednesday he was honored by the government of France, the longtime U.S. ally he helped liberate on D-Day. Guillaume Lacroix, French Consul General in Chicago, pinned him with the French Legion of Honor, the nation's highest military or civilian medal.
"Without America, the end of the war would have been completely different. We will never forget it," Lacroix said. "For all your actions, I want to say thank you."
Gov. Pete Ricketts was among about 75 friends, family and well-wishers to attend the ceremony at the Omaha Army Reserve Center in Elkhorn.
"We get to share one of our great Americans with one of our great allies," Ricketts said. "It is truly the 'Greatest Generation' that you represent, and it is an honor to see you receive this high honor from the government of France."
Sign up for World-Herald news alerts
Be the first to know when news happens. Get the latest breaking headlines sent straight to your inbox.
Morrissette, a North Carolina native, lied about his age to enlist in the Army in January 1941, at age 17. He joined the 1st Infantry Division in New York, trained as a military policeman and crossed the Atlantic with the 1st ID in mid-1942. He was part of the North Africa campaigns, and earned a Bronze Star for shooting down an enemy during the battle of El Guettar, in Tunisia.
After taking Algiers, Morrissette and his Big Red One comrades boarded ships for Sicily, a large island off the "toe" of boot-shaped Italy. It took six weeks for Allied forces to take the island in July and August 1943.
The division spent months training for the D-Day landings, which would make history on June 6, 1944. Morrissette's company went ashore in the second wave, assigned to hit the Easy Red sector of Omaha Beach. He leaped over the side of the landing craft into shoulder-deep water, carrying a roll of communications wire.
"I had that up in the air and the rifle in my other hand," he recalled. "(German machine gunners) honed in on that wire."
So he dropped it. Dodging the bodies of American soldiers in the surf, he and two other men made it to a concrete pillar on the beach. They hid behind it for about 20 minutes, smoking some cigarettes he had wrapped in cellophane to keep them dry. He managed to crawl away across the sand and connect with his unit for the push up the beach, and into the hedgerows.
In the months ahead, they would fight at Saint-Lô, and at Aachen, and were headed to Prague at the time of the German surrender in May 1945. He sailed for home that summer and was discharged from the Army in September 1945.
After the war, Morrissette got married and raised five children. He spent most of his career as a civilian engineer — a job that brought him to Offutt Air Force Base in 1972. He retired in 1981 as deputy director of operations and maintenance and has lived in the area ever since.
Morrissette said he was humbled to receive the honor, and the attention, that came with the presentation. He remembered his own service, but focused on the sacrifices made by others.
"I don't know that I particularly deserve it," Morrissette said. "But I know the men and women of the 1st Division that landed in France deserve it. I had some friends that didn't make it back — and I miss them."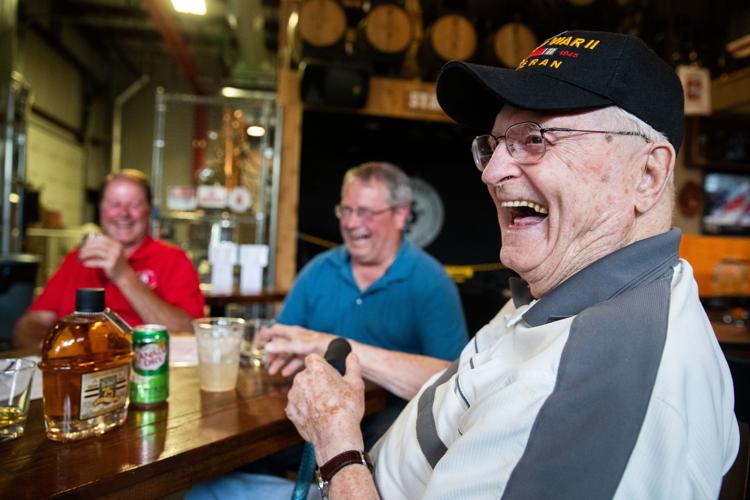 Lacroix said the French Legion of Honor was created by Napoleon Bonaparte in 1802 and is awarded for "eminent service" to the French Republic. About 10,000 Americans have received the award, including Gens. Dwight Eisenhower, Douglas MacArthur and George Marshall; aviator Charles Lindbergh; and actors Kirk Douglas, Clint Eastwood and Jerry Lewis.
Any American service member who served on French soil during World War II is eligible to receive it. Omahan Joe Kirshenbaum, 99, who served in Gen. George Patton's 3rd Army, received the award on D-Day in California.
Mark Jensen of Omaha said he's working to help several local veterans obtain the award. They include Herb Hahn, a member of the Army Signal Corps; William Brown, a B-24 pilot who flew 35 missions; and Gail Farrell, a B-17 tail gunner, and Bill Shlesinger, a B-17 pilot, each of whom flew 21 missions.
Honoring our heroes: A gallery of Nebraska veterans
Honoring our heroes: Nebraska veterans and their service.