Editor's note: This story was originally published in The World-Herald on Feb. 29, 2016. 
The command-post radio in Lang Vei crackled with the report: Wounded soldiers, trapped and under fire from North Vietnamese troops, needed a medevac helicopter — quickly.
The evening twilight and low clouds meant danger. Still, Mick Guttau of Treynor, Iowa, and Lyle Borders of Bellevue jumped into one of two AH-1 Cobra gunships at the crude camp near the Laos border and took off to escort the medics.
"It doesn't matter if it's getting dark," Borders recalled this month. "You're going to go out and get your guys."
The two Cobras circled over the jungle, guns silent for fear of hitting friendly forces below. They drew enemy fire away so the medevac could slip in and gather up the wounded.
The two men from the Midlands — who both received valor awards for the mission — became friends flying helicopters together during an intense six-week campaign that began 45 years ago this month.
Called Lam Son 719, the battle made front-page headlines in early 1971. South Vietnamese infantry forces were ferried into battle by American helicopter crews and invaded southern Laos. Their mission was to cut off North Vietnamese supply routes on the Ho Chi Minh Trail.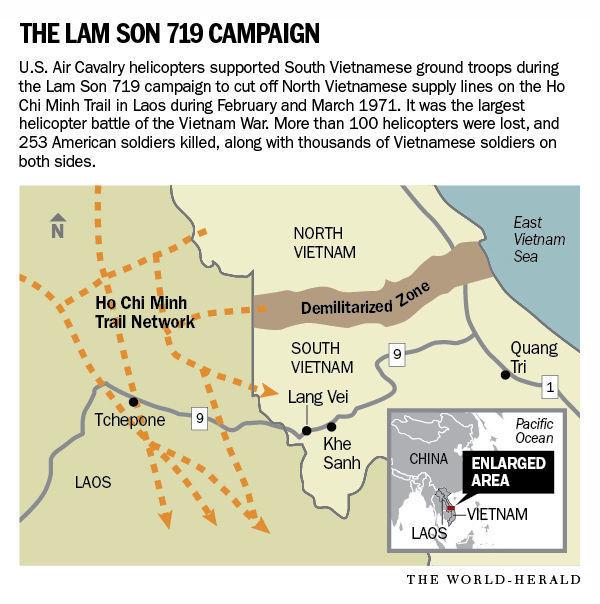 "There's nothing since to compare with the magnitude of this battle, the number of helicopters getting up and flying into harm's way," said retired Army Col. Robert Sander, who flew in Lam Son 719 and chronicled it in a 2014 book, "Invasion of Laos 1971."
The campaign failed amid communications problems and poor decisions by South Vietnamese leaders. The defeat made clear that President Richard Nixon's "Vietnamization" policy — training South Vietnamese troops to take over the fighting — hadn't succeeded.
"It was just a disaster from the get-go," said Mike Sloniker, historian for the Vietnam Helicopter Pilots Association.
In spite of its importance, Lam Son 719 is almost forgotten now — even by many Vietnam veterans.
Yet to the small community of Army helicopter crews, it is their own Iwo Jima. They flew long hours, almost every day, against the fiercest anti-aircraft fire of the war.
"Flying in Laos was extremely intense," Sander said. "There isn't anybody who can tell me they weren't afraid when they flew across the border."
Damage reports vary widely. But the most common U.S. accounts show 168 helicopters destroyed, 253 soldiers killed, and more than 1,150 wounded in the campaign. Nearly every Army aviator who survived lost friends in combat. Six helicopter units received unit awards for valorous service, including Borders' and Guttau's B Troop, 7th Squadron, 1st Air Cavalry — the "Dutchmasters."
"It was sort of a defining event for all of us," Borders said. "We thought we were invincible. It turns out we weren't."
The Laos campaign also changed the way the Army flies helicopters, Sander said. Until then, battlefield doctrine dictated pilots fly high to avoid ground fire.
North Vietnamese anti-aircraft weapons, though, were lethal as high as 10,000 feet, In Laos, pilots had to adjust to flying just above the ground — what crews call "nap of the earth" — to give enemy gunners little time to aim. What used to be a cowboy maneuver became a flying tactic still used today.
"Before, pilots would get their hands slapped for doing that," Sander said. "That changed after Lam Son."
Politics at home affected the battle. Protests had erupted on college campuses the previous spring after U.S. and South Vietnamese forces invaded Cambodia, to the south, to wipe out North Vietnamese supply lines at the southern end of the Ho Chi Minh Trail.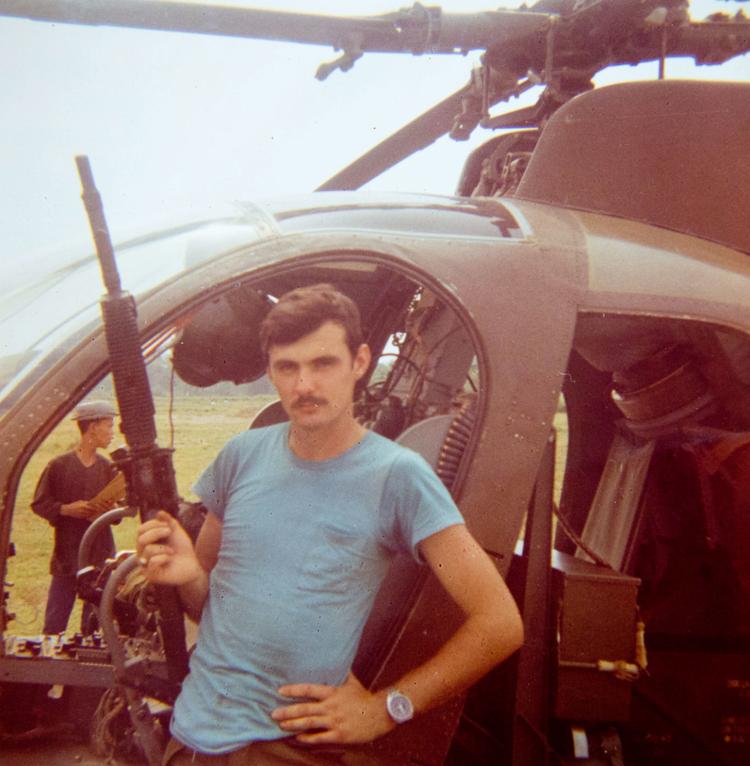 That campaign proved militarily successful, but it angered antiwar activists who viewed it as an expansion of a war they wanted to see end. Congress voted to bar U.S. ground forces from operating outside of South Vietnam starting in 1971.
Planners of the Laos invasion, though, exploited a loophole that allowed American helicopter crews to drop off South Vietnamese troops across the border and bring them supplies. U.S. engineers, artillery and logistics troops also would support them from inside South Vietnam.
The plan called for an assault west from Quang Tri along Highway 9, then the reoccupation of Khe Sanh — abandoned after a 1968 siege — followed by the capture of Tchepone, a key junction on the Ho Chi Minh Trail. From there, South Vietnamese soldiers would fan out and cut off the trail.
But the invasion force ran into a North Vietnamese enemy that outnumbered them more than 2 to 1 and had filled the jungle with anti-aircraft weapons that posed a mortal threat to the helicopters. That included the two-seat Cobra that Guttau and Borders flew.
The two pilots had grown up only a few miles apart, but they never met until Vietnam.
Guttau, raised on a farm near Treynor, had earned an agriculture degree at Iowa State. But he expected to join the Army after graduating in 1969, and go to Vietnam.
"From the time I was a junior in high school, it was Vietnam, Vietnam, Vietnam, every night on the news," recalled Guttau, now 69 and the chairman of Treynor State Bank. "I believed in what we were doing. I believed I was defending the right of people to believe in God."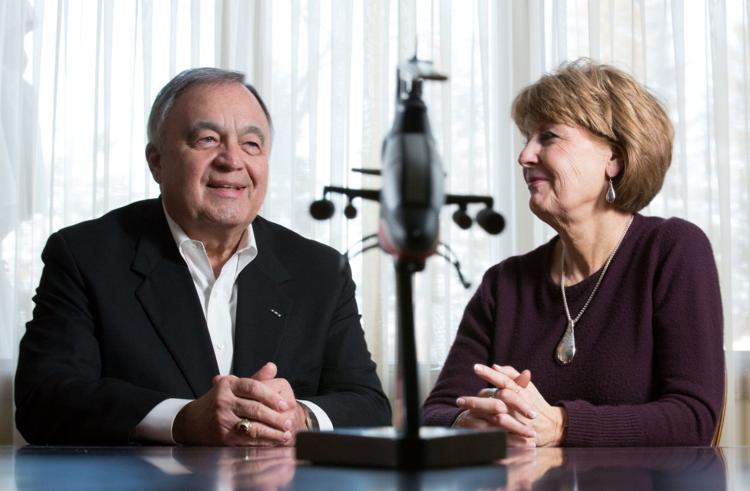 He planned to be an infantry officer but jumped at a chance for flight school instead. He deployed to Vietnam in July 1970.
Borders was born in Omaha and grew up in Bellevue. The son of a minister, he was one of the few kids in his school who didn't come from a military family. But a neighbor who had been a helicopter pilot got him interested in flying.
Borders saw an Army recruitment ad about becoming a helicopter pilot as a warrant officer. He joined in October 1969 and finished his training 14 months later — shipping out to Vietnam just in time for Lam Son 719. He racked up his first combat hours on the first day of the battle, Feb. 8, 1971. He was 21.
"The first day, two crews were killed," Borders said. "I got a pretty good baptism by fire."
After some initial progress, the South Vietnamese advance along Highway 9 bogged down. Enemy forces frequently attacked the landing zones and firebases that had been hacked out of jungle hilltops on either side of the road into Laos. Some of them were surrendered.
The pilots who flew UH-1 Hueys could count on flying into "hot" landing zones almost any time they picked up or dropped off South Vietnamese troops.
Guttau wasn't there when the battle started. He had secured leave to meet his wife, Judy, for R&R in Hawaii in early February, and arrived at Khe Sanh on the third night of the battle. He found his team, sleepless on their cots in a frigid barracks.
"Everybody was cold and depressed," Guttau said. "We'd already lost so many guys in the first couple of days."
Guttau and Borders frequently flew search-and-destroy missions, looking for enemy tanks or ammo dumps to blow up. Guttau remembers on one flight spotting a pipeline running through a clearing and swooping low to attack. It led to a petroleum storage site.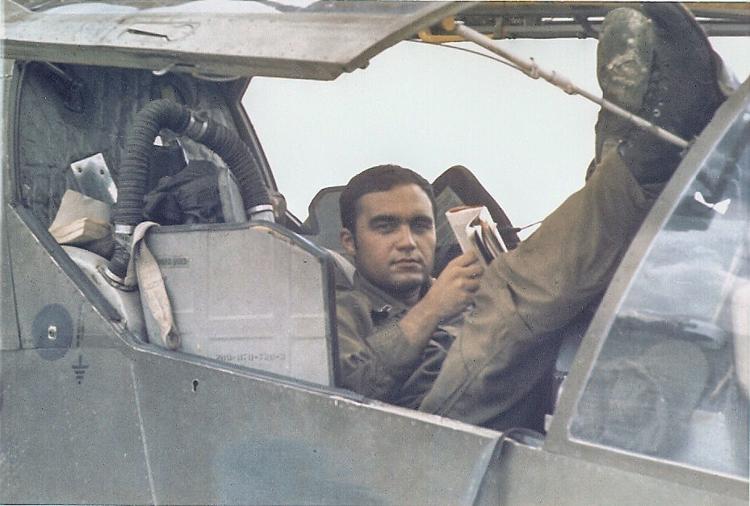 "Just dumb luck, one of my rockets hit a pipe in the trench, about a foot wide," Guttau recalled. "The fire went right down that pipe and into the jungle. It exploded. We destroyed a lot of stuff like that."
On their missions, Borders wore a turquoise civilian T-shirt under his flight suit instead of the Army-issue olive drab. They chuckle about it now.
"He was convinced it was a good-luck charm," Guttau said.
Lucky charm or not, both men survived the six-week battle without wounds. But there were close calls. On a mission Borders flew without Guttau, a round blew a hole in the main mast of the helicopter just above his head.
Somehow the rotors stayed attached. If they hadn't, Borders and his fellow pilot would have plunged to their deaths.
"We got shot at so much, it didn't bother me that much," Borders said. "It was just part of the day's activities."
The relentless anti-aircraft fire took a huge toll on the Army's helicopter fleet. Ground mechanics worked around-the-clock to keep the birds flying, but hundreds were damaged beyond repair and replacements had to be brought in.
"(Our unit) went up there with 30 helicopters," Borders said. "Of those, I think we came back with two."
The two pilots were eyewitnesses to Lam Son 719's most notorious event, the ill-fated assault on Landing Zone Lolo. In his book, Sander described it as a "poorly planned, uncoordinated blunder" that resulted in the destruction of nine helicopters and damage to 44 more.
The March 3 assault had been delayed several days, and the landing zone was poorly prepared. Some of the crews had been briefed to expect little opposition. Instead, they got shot up badly.
"You had these Hueys lined up, one after the other," Sloniker said. "It was like shooting ducks out of the sky."
Despite the setbacks, South Vietnamese forces reached Tchepone on March 6. But their supply lines were so vulnerable, the troops within days began to retreat. North Vietnamese forces harassed them all the way back to Khe Sanh.
The last South Vietnamese troops left Laos on March 24, 1971, bringing Lam Son 719 to a close. Although more than 8,000 enemy soldiers were killed or wounded and thousands of tons of supplies destroyed, the North Vietnamese resumed use of the Ho Chi Minh Trail within weeks.
Guttau took leave again in early April to meet his wife in Hong Kong. A schoolteacher in Ankeny, Iowa, Judy took out a bank loan to pay for her trip.
"We decided it was necessary," she said. "We really didn't care if we had any money left."
When they met, she found her husband to be more serious and reserved. But Judy, too, had endured a lot during Lam Son 719. The skin peeled off her hands because of stress.
"We have a deep faith," Judy said. "I had to cling to the faith that God wasn't going to give me more than I could handle."
For Borders, his worst trial came three months after the Laos invasion, when he was shot while flying near the southern tip of South Vietnam.
The bullet damaged his right leg and tore an artery. He nearly bled to death. Somehow he landed safely, and was medevaced to a military hospital — still wearing his lucky blue shirt.
"The helicopter was red from one end to the other," he said.
Doctors amputated his leg and sent him to an Army hospital in Colorado to recuperate. After his medical retirement the next year, Borders married his girlfriend, Lois, and took a job as a federal air traffic controller in Denver. He was fired during the 1981 strike and got a job flying helicopters for a succession of companies, retiring from CenturyLink last year.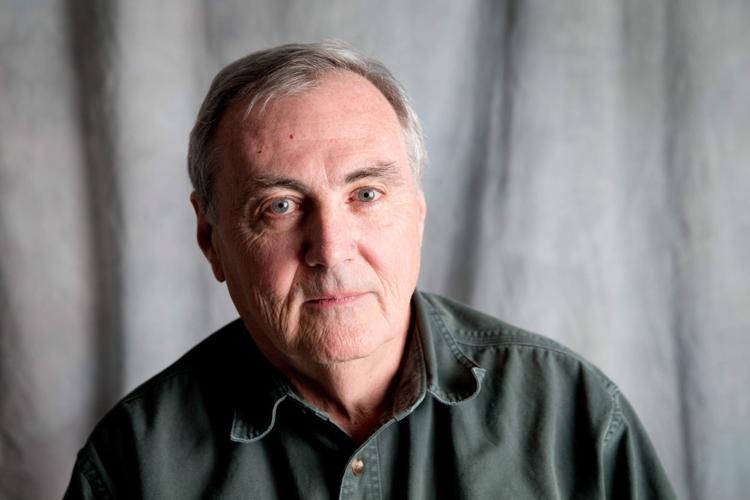 Borders frequently visits relatives in the Omaha area.
He also visits Guttau, who left the Army in 1972 and served in the Nebraska National Guard for seven years. Guttau also got a job with the bank in Treynor, and bought it in 1978. He and Judy still work there.
With all he's been through since, Guttau said those six weeks in 1971 remain his crucible experience.
"There was no similar period in my life that was so life-forming as Lam Son 719," Guttau said.
In 2013, his children surprised Mick and Judy by taking them to Vietnam and Laos to visit the sites he had seen during the war. They brought toys to children in a Laotian village near a landing zone he had mapped out during Lam Son 719. They were treated as honored guests.
The failure to cut off the Ho Chi Minh Trail likely sealed South Vietnam's fate. China and the Soviet Union boosted aid to North Vietnam after the victory, while Congress cut aid to its South Vietnamese ally.
The U.S. signed a peace agreement in January 1973. South Vietnam collapsed under a Communist offensive two years later. The war was lost.
Guttau thinks the Communists secured, at best, a Pyrrhic victory. During his 2013 trip, the Iowa banker found modern Vietnamese to be capitalistic, and friendly to the United States.
"They ridicule their Communist government," Guttau said. "We did not lose the war."
Sander believes Lam Son 719 is so dimly remembered today because it wasn't led by Americans, and partly because people were so sick of Vietnam by then.
"America wanted to forget that war," he said, "and they did."
Honoring our heroes: A gallery of Nebraska veterans
Honoring our heroes: Nebraska veterans and their service.