If adopting three little girls to join your family of three boys seems a little scary to you — well, then, you're not quite as brave as Staff Sgt. Dustin Stroh and his wife, Kala.
The Strohs finalized the adoption of sisters Faith, 5, Hailee, 3, and Avery, 2, this year. They join the Omaha couple's three biological sons: Mykel, 15, Dayved, 13, and Jaxyn, 11.
But doubling their number of children is a small feat compared with the hurdles Dustin, 36, and Kala, 34, have already jumped over.
Like Dustin's two tours in Iraq with a National Guard unit.
And Kala's emergency medevac and delivery of their second child while Dustin was training for his first Iraq deployment.
And the discovery while Dustin was in Iraq that their new baby had a developmental disability.
And Dustin's out-of-the-blue cancer diagnosis at age 27.
Yet all of this adversity actually contributed to the Strohs' decision five years ago to start taking in foster children — and, ultimately, to adopt the three girls.
"I know what it's like to not be in control of your environment, to be displaced from your home," Kala said. "It's the satisfaction of providing stability to a family, when we've been through so much upheaval ourselves."
Sign up for The World-Herald's afternoon updates
Receive a summary of the day's popular and trending stories from Omaha.com.
The couple's partnership started at a McDonald's in Fargo, North Dakota, where they both worked in high school.
Dustin, then 18, enlisted in the National Guard to earn money for college just after graduating from high school in June 2001. He was watching TV in his dorm room when airplanes struck the Pentagon and World Trade Center on 9/11.
He left for Army boot camp in early 2002, and they started dating after his return.
Before that, Kala said, "I didn't like him very much. Basic training whipped him into shape."
By the time his unit got called up for duty in Iraq in 2005, he was managing a Radio Shack store in Aberdeen, South Dakota. The couple had a 1-year-old son, a second on the way, and were planning to get married. They scrubbed the big wedding they had planned for a quick courthouse ceremony.
Only 20 at the time, Kala wasn't fazed at the prospect of an 18-month separation, including Dustin's train-up and deployment.
But just two months later, 26 weeks into her pregnancy, her water broke. She went to the doctor, who immediately sent her on a medevac helicopter to a larger hospital in Sioux Falls.
Kala was ordered hospitalized. She got word to Dustin, who was training in Mississippi, through the Red Cross. His first sergeant pulled him off the grenade range and broke the news.
"I just crumbled," Dustin said.
His fellow soldiers passed a hat so he could afford to fly home on emergency leave. Dayved was born two days later and placed in the neonatal intensive-care unit, where he would stay for three months. Dustin and Kala spent Christmas in a Ronald McDonald House between hospital visits with their newborn.
"It was very, very stressful," Dustin said.
After the holidays, he returned to training and soon after deployed to Iraq. He was one of 16 soldiers assigned to a tiny forward operating base in southern Iraq.
He was trained to be a radio operator and maintainer in the Signal Corps. But his unit, the 334th Brigade Engineer Battalion, was assigned to infantry duty instead.
Dustin spent much of his tour manning a .50-caliber machine gun atop a Humvee as his team ran patrols.
At home, Dayved was released from the hospital, but he didn't seem to grow or hit milestones like other babies his age. A tube was installed to feed him through his stomach. Over time, he would need physical therapy, speech therapy and occupational therapy, plus medical treatments.
After another Red Cross message, Dustin came home from Iraq in December 2006.
Soon after his return, he took a new job and moved his family back to Fargo, where they would be near relatives. In 2008, they had a third son.
The following year, Kala noticed a lump growing on Dustin's neck. She talked him into seeing a doctor, who ordered a biopsy.
The verdict: stage 2 Hodgkin lymphoma.
He endured seven months of chemotherapy. He lost his hair and felt crappy but missed only two days of work.
"I muscled through," Dustin said. "All I could think about was, 'I don't want my kids to see me sick.' "
The treatment worked. In the years since, his cancer hasn't recurred.
Dustin suspects he contracted it due to exposure to trash-burning pits, which were present on every base during the first years of the wars in Iraq and Afghanistan.
During the Iraq deployment, he said, the guard tower on their tiny FOB stood directly above the pit where they burned their garbage. Standing watch meant being shrouded in toxic smoke.
His doctor couldn't positively link his cancer to the burn pit, but he has signed the Department of Veterans Affairs' burn-pit registry in case researchers someday are able to confirm the link.
Dustin moved his family to Omaha in 2010, though he continued to drill with his Minnesota National Guard unit. He deployed with them to Iraq and Kuwait again in 2010 and 2011. It was shorter and less chaotic than his first deployment, but still meant a year away from home.
Even with three kids, they wanted more.
"I've always just loved being around babies," Kala said.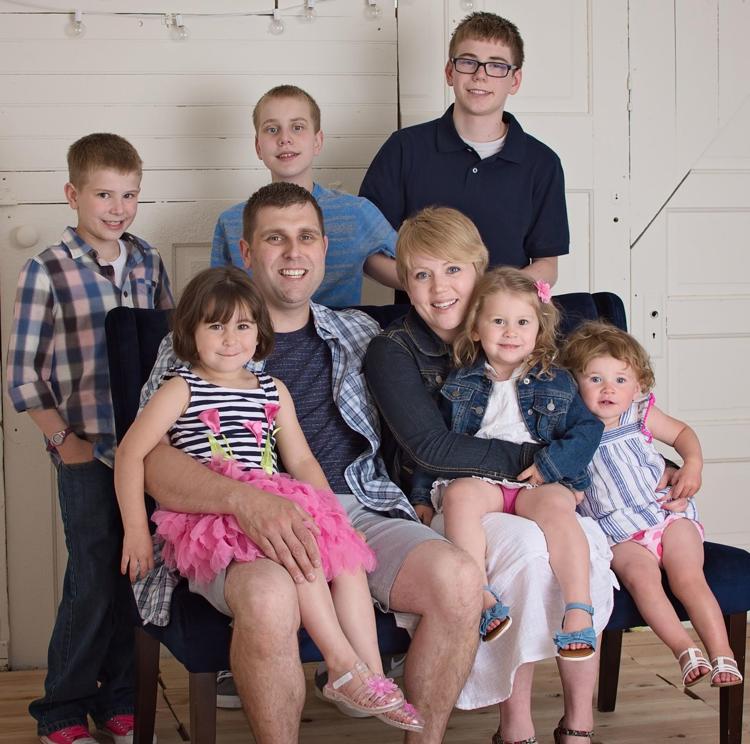 Dustin's cancer and cancer treatments made it inadvisable for the couple to have more biological children. So they volunteered to be foster parents, hoping eventually to adopt.
That meant being ready to open their home to children in trouble, often on very short notice.
They were certified as foster parents in 2014 and, in a short time, gave temporary shelter to 11 children.
Four years ago, they took in two little girls they knew were special. Faith was 19 months old and Hailee 3 months old when the Stroh family took them in.
Faith had been attacked by a dog the day before she arrived. But she was cheerful and embraced her new family.
"She was so bold, no fear. Really independent," Kala said. "It was very charming."
The girls' biological mother became pregnant again. The state decided to terminate her parental rights.
Dustin and Kala wanted to adopt Faith and Hailee. The state wanted to place all three girls together, but the Strohs weren't sure whether they were ready to take on the baby, too.
"The night we made that decision, I didn't sleep a wink. I kept crying," Kala said. "The next morning, I said, 'We have to figure out how to do this.' "
It took 14 frustrating months to clear all the bureaucratic hurdles.
Now they're finally, officially, a family.
Dustin returned last month to his job as a premier banker at Wells Fargo. Kala recently went to work as a catering manager at Jimmy John's.
Three years ago, Dustin transferred to a Nebraska National Guard unit, the 67th Maneuver Enhancement Brigade. After nine years, Omaha is now home.
He is part of a veterans group at Wells Fargo. Every year, the group marches in Bellevue's Veterans Day parade.
Dustin and Kala see military service and foster parenting as two sides of the same coin.
"We're always looking for ways to give back," Dustin said.
Honoring our heroes: A gallery of Nebraska veterans
Honoring our heroes: Nebraska veterans and their service.