Gen. John Hyten, leader of the Offutt-based U.S. Strategic Command, has been nominated by President Donald Trump to serve as vice chairman of the Joint Chiefs of Staff, the second-highest military position at the Pentagon.
Hyten's nomination was submitted Monday to Congress and announced publicly Tuesday by Air Force Secretary Heather Wilson. Hyten and Wilson had met March 22, when Wilson visited Offutt Air Force Base to observe flood damage.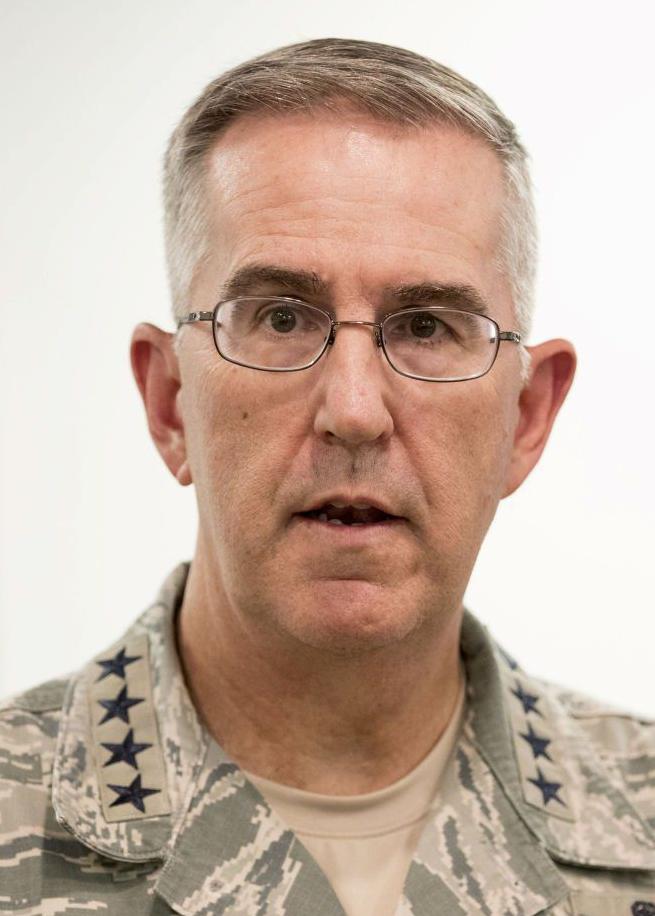 On Tuesday, Trump also nominated Army Gen. Mark Milley to succeed Marine Gen. Joseph Dunford as chairman of the Joint Chiefs. Dunford's term ends Oct. 1.
If confirmed by the Senate, Hyten would follow Air Force Gen. Paul Selva as vice chairman. He would serve an initial 2-year term and could serve up to six years.
He would be only the second former StratCom commander elevated to the vice chairmanship. The other was Marine Gen. James Cartwright, who stepped up to the Joint Chiefs in 2007.
Sen. Deb Fischer who serves on the Senate Armed Services Committee, has worked closely with Hyten on military issues.
"I have benefited from his wisdom and counsel, and appreciated his strong advocacy for the importance of our nuclear deterrent," Fischer said in a statement. "Based on his knowledge and expertise, I believe he is immensely qualified for the role."
Rep. Don Bacon, a retired Air Force brigadier general who serves on the House Armed Services Committee, described Hyten as "one of the finest generals I have known."
"He is an intellectual giant who is also humble and treats junior service members with respect," Bacon said. "There could be no finer choice."
Hyten, who formerly headed Air Force Space Command, took over StratCom from Adm. Cecil Haney in November 2016. He has had a busy time since.
Besides overseeing the readiness of U.S. nuclear forces, he played a lead role in the development of last year's Nuclear Posture Review, aided in the standup of U.S. Cyber Command and began the creation of an independent U.S. Space Command. Both cyberwarfare and space warfare previously fell under StratCom's purview.
Last week, Hyten opened a new Nuclear Command, Control and Communications Enterprise Center to streamline the operation and integration of all nuclear forces. Previously, those functions had been divided among several Air Force and Navy commands.
And Hyten has been a plain-spoken and tireless advocate for modernizing the nation's nuclear arsenal, including the planned B-21 strategic bomber, Columbia-class submarines, the B-61-12 gravity bomb and a new submarine-launched nuclear cruise missile.
Hyten also has overseen outfitting of StratCom's new $1.3 billion headquarters at Offutt. More than 3,500 military and civilian workers are expected to move into the building this year.
"He's pushed our military to move quickly to meet urgent needs, while committing time and resources to long-term challenges," Sen. Ben Sasse said in a statement. "He's been a thoughtful warrior for the Air Force."
Sign up for World-Herald news alerts
Be the first to know when news happens. Get the latest breaking headlines sent straight to your inbox.