The U.S. Strategic Command's Twitter feed had a blast on New Year's Eve, then later apologized.
StratCom's public affairs office sent out a tweet at 2:22 p.m. that made reference to "dropping the big ball" in Times Square. It added "if ever needed, we are #ready to drop something much, much bigger."
The tweet urged viewers to "Watch to the end!" and included an embedded video of an Air Force B-2 bomber dropping a large bomb on a test range. Though the bomb depicted was a conventional explosive called a "Massive Ordnance Penetrator," many commenters took it as a reference to StratCom's best-known mission, which is preparing for nuclear war.
The tweet drew more than 1,900 "likes" but also plenty of criticism from followers who called it "evil," "crass" and "unbelievable." Several people used the off-color comment "WTF," or its military variant "Whiskey Tango Foxtrot."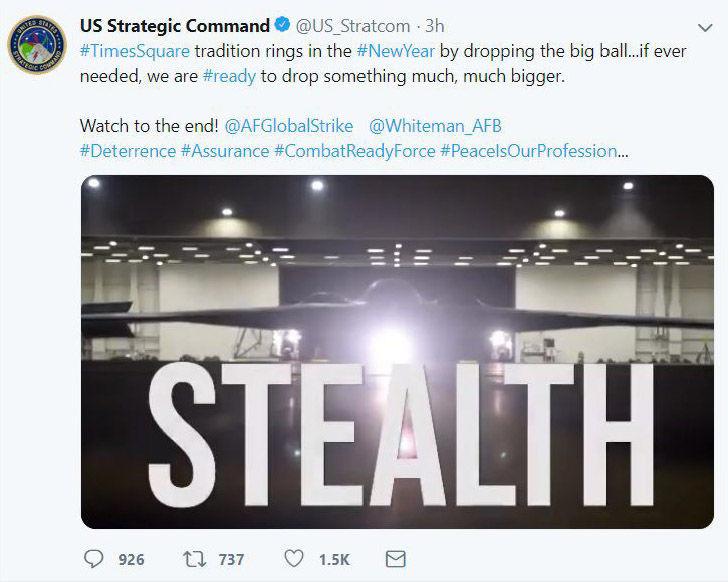 StratCom's public affairs office was closed Monday because of a federal holiday. Reached at home, Maj. Meghan Liemburg-Archer said the tweet was posted as part of an end-of-the-year series of tweets on the command's missions. It included hashtags such as #Deterrence, #Assurance, #CombatReadyForce, #PeaceIsOurProfession, a slogan begun in the Cold War by StratCom's predecessor, the Strategic Air Command.
A few hours later, the agency sent out another tweet apologizing for the first one, saying it was "in poor taste & does not reflect our values."
Our previous NYE tweet was in poor taste & does not reflect our values. We apologize. We are dedicated to the security of America & allies.

— US Strategic Command (@US_Stratcom) December 31, 2018
Liemburg-Archer said the first tweet was meant to show that StratCom was standing watch, even when civilians are celebrating the New Year.
"It was saying we're always ready," Liemburg-Archer said. "It's an old post we posted quite a while ago. We kind of repurposed it with a New Year's message."
The first tweet was removed about 4:20 p.m., within minutes of a query from The World-Herald.
Some commenters wanted it back. John Noonan, a former Air Force officer and who is now a military adviser to Arkansas Sen. Tom Cotton, called it a "great tweet," adding: "What do people think the military does!?"