Cpl. Kenneth Henson heard the water from fire hoses pounding on the side of the American Airlines jet, a traditional aviator's salute, as it taxied toward the arrival gate at the Dallas airport.
The young Marine, assigned to Offutt Air Force Base, had flown home many times before. But never wearing his formal dress blues, and never escorting such important cargo.
"The captain of the plane announced there was a fallen warrior coming home," recalled Henson, 22.
Henson left the aircraft first, as the passengers craned for a glimpse out the right-side windows. He stood at attention as the casket emerged from the hold, the white glove of his right hand crooked in a crisp salute.
It was Nov. 10, 2018, the birthday of the Marine Corps.
The bones in the flag-draped coffin belonged to his wife's great-uncle, Albert Earle "Buddy" Mills — like Henson, a corporal, but one who served in the Army. Mills had been killed 68 years earlier, in the chaotic first weeks of the Korean War. Mills' 1st Cavalry Division had been quickly pulled from occupation duty in nearby Japan and thrown abruptly into battle against the surging forces of communist North Korea.
Mills died July 25, 1950, barely a week after his 20th birthday, and was buried anonymously. For a few months, his remains lay in a South Korean hillside at Yongdong, where his unit — F Company, 2nd Battalion, 5th Cavalry Regiment — had mistakenly advanced up the wrong hill and been nearly annihilated by a much larger enemy force. Then the remains were buried in a United Nations cemetery in South Korea.
After the war, his body, unidentifiable because the skull was missing, was moved to a military cemetery in Hawaii and buried under a headstone marked "Unknown."
His parents and four sisters never knew any of this. They knew only that Buddy, the family jokester and the only boy, was missing and never came home. All of them died without knowing his fate.
"There was kind of a hole left in the family," said Michelle Juby Henson, 19, Kenneth's wife. "We knew he was dead. But we never believed we would get him back."
Now he is back, memorialized by his family on Veterans Day, and buried at Dallas-Fort Worth National Cemetery the following day.
Michelle Henson said: "The whole day was filled with laughter and joy and love. It was magical to see this casket, this man who was one of us."
For Henson, escorting the remains of his wife's great-uncle was a behind-the-scenes glimpse at how the Defense POW/MIA Accounting Agency identifies long-missing service members at its two labs in Honolulu and at Offutt Air Force Base, and then returns them to their families.
"It would have been within the rights of the Army to leave him where he was," Henson said. "I was really surprised by how much they cared about doing the right thing."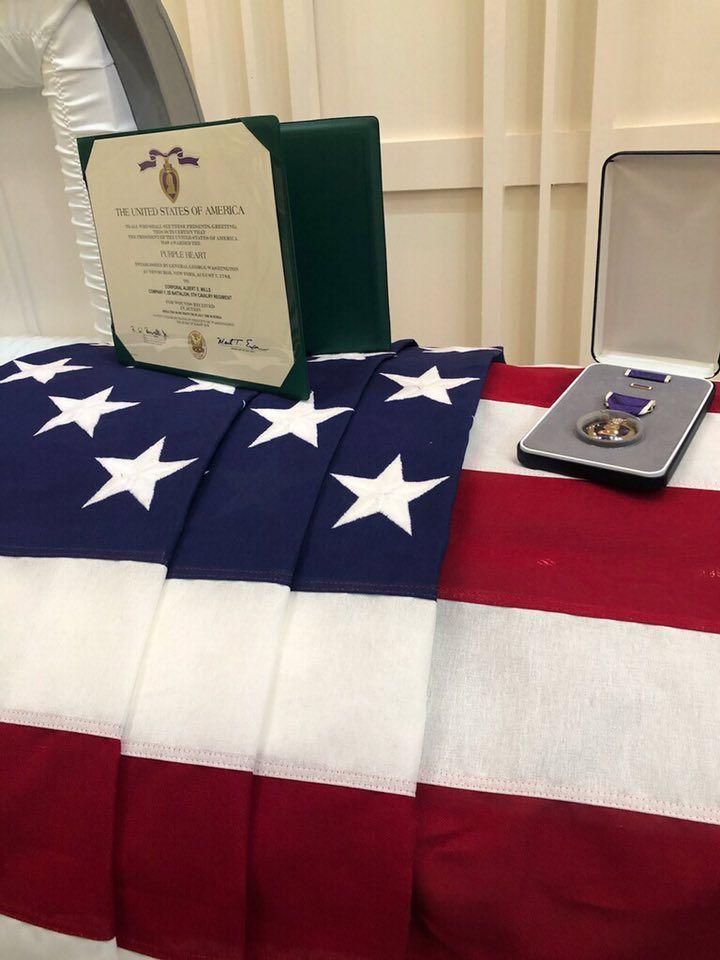 For most of the past seven decades, Mills' remains were called X-852 and buried in Section U, Grave 982 of the National Military Cemetery of the Pacific in Honolulu.
The remains were disinterred in 2017 based on a petition from the relatives of another soldier who died in the same battle and thought X-852 might be their loved one.
Forensic anthropologists from the accounting agency's lab in Hawaii examined the remains and found them consistent with someone of Mills' age and height (5-foot-8). But the clincher was a comparison of X-852's collarbones and several vertebrae with a chest X-ray the Army gave Mills when he enlisted in August 1948. It was a perfect match.
"His bones told us who he was," Michelle Henson said.
She is in college studying to be a forensic anthropologist, a career direction she said was confirmed when she read the report about her great-uncle.
"I felt in that moment everything that happened in my life pushed me in this direction," she said.
A service member always escorts a set of remains to its final resting place. Kenneth Henson, then a lance corporal, got the call.
"I thought it was really cool," he said. "It's not uncommon to have an escort, but it's rare that the escort would be a family member."
Henson had toured the Offutt lab, which is in the World War II-vintage Martin Bomber plant.
He flew alone to Hawaii and met the anthropologist who identified his wife's relative. He was taken to a viewing room on the lab's second floor, above a courtyard.
"His bones were laid out in plastic bags, to preserve them," Henson said.
Then the bones were placed into a blanket and pinned shut, then slipped into a body bag. At the mortuary, the bag was covered with a replica of Mills' uniform. Henson inspected it to make sure he had received proper medals, including a Purple Heart.
The uniform and bag were placed in a coffin, which was covered with a flag. The coffin was transferred to a hearse and taken to the airplane. At each step, Henson observed as honor guards paid their respects.
"This process is something I never had to think about before," Henson said. "There was a lot of respect and dignity behind it, and I appreciated that."
When Henson joined, he wanted to be a reconnaissance Marine but had difficulty with some of the swimming requirements. So the Corps trained him in computers. That's how he wound up at StratCom, where few Marines are assigned.
Still, he remembers what the instructors told him in his infantry training about leaving no one in the field — something Mills would have heard, too, 70 years ago.
"They told him that, and they told me that," Henson said. "To hear 'no man left behind,' and then to see it — this was definitely very sobering."