U.S. Strategic Command no longer needs 40-year-old floppy disks to stop — or to start — Armageddon.
StratCom in June finished phasing out the last of its notorious 8-inch floppies from the legacy Strategic Automated Command and Control System (SACCS). They were used to communicate "emergency-response" messages from its Offutt Air Force Base headquarters to ballistic-missile launch sites, bombers, tankers and reconnaissance aircraft.
Sign up for The World-Herald's afternoon updates
Receive a summary of the day's popular and trending stories from Omaha.com.
An 8-inch disk holds 80 kilobytes of data. It would take 3.2 million of them to fill up a modern flash drive, which can be purchased for about $12 at Walmart.
A 2014 "60 Minutes" episode, followed by a Government Accountability Office report two years later, turned StratCom's "atomic floppies" into a symbol of the nation's neglect of its nuclear arsenal, the subject of Twitter snark and jokes by late-night comics.
Before leaving StratCom two weeks ago, then-commander Gen. John Hyten told The World-Herald that the floppies, introduced in the 1970s for data storage on SACCS, had been replaced with a form of SD (secure data) cards of late-1990s vintage. They are similar to the tiny inch-square cards used in digital cameras from the pre-cellphone era.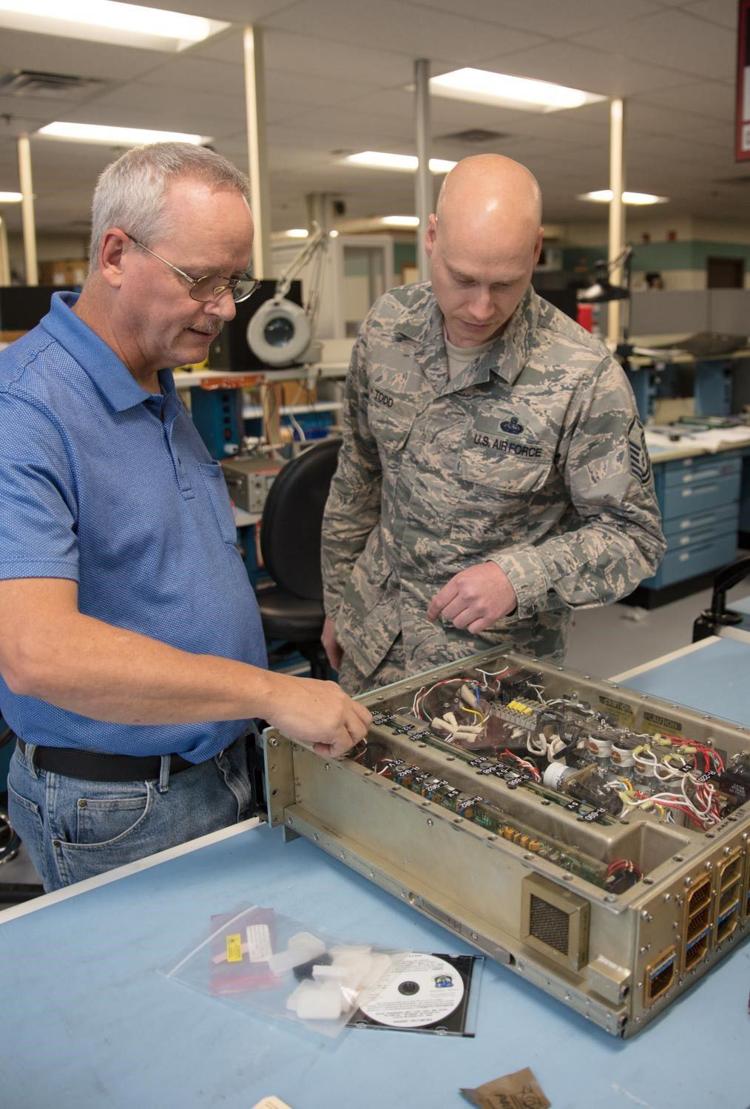 It's a small part of a massive effort to modernize nuclear command-and-control infrastructure, and to centralize it at Offutt, under StratCom's wing. Hyten acknowledged the upgrade is overdue.
"You might think, 'Oh, wow, we've gone from floppy disks to SD cards!' " Hyten said. "We're still very analog across the system. It is a significant storage device — a whole lot better than a floppy disk — but it's just advanced 20th century architecture."
The news, first reported in October on the defense technology website c4isrnet.com, has brought attention to the Offutt-based 595th Strategic Communications Squadron, which keeps the critical system running around the clock, even though in technological terms SACCS is ancient.
"We're kind of the tip-of-the-spear operating system," said Lt. Col. Jason Rossi, the squadron's commander. "We're here in Omaha, and we do this every day, 24 hours a day, seven days a week."
While the 595th's floppies are now history, the system still operates using a half-century old IBM Series/1 mainframe computer. The 2016 GAO report quoted Defense Department officials as saying SACCS was "made up of technologies and equipment that are at the end of their useful lives."
The report also said replacement parts "are difficult to find because they are now obsolete."
Rossi said airmen reporting to his squadron — which is part of the Air Force's Louisiana-based Global Strike Command — have been trained on some of the world's most advanced cyberwarfare systems. They find themselves fixing circuit boards and trouble-shooting PC cards Air Force technicians of their grandparents' age would find familiar.
"They solder things, they replace cards, really deep-level board repair," he said. "It's not sexy work."
At the same time, Rossi said, older systems like SACCS can be safer because they are less vulnerable to hackers.
"It's really secure, it works really well, and it's cheap," he said. "You can't hack it because it's not online."
Hans Kristensen, director of the Nuclear Information Project for the Federation of American Scientists, said the tittering over StratCom's atomic floppies has always been a bit overblown.
"There's a tendency to overplay these things, because they stand out," Kristensen said. "I haven't been convinced about there being a safety advantage for the (newer) operational system."
In the Cold War era, maintaining the nation's nuclear forces was a job that commanded respect, and the Strategic Air Command was among the nation's elite military units.
But after the fall of the Soviet Union, the nuclear deterrent seemed less important. SAC went away, its nuclear mission and its Omaha headquarters transferred to StratCom.
Upgrading nuclear systems fell down the priority list.
"There was the peace dividend," said Rossi, referring to the post-Cold War downsizing of the military. "And (since 9/11) we've really been focused on the war on terror."
In the 2010s, StratCom commanders have worked to restore the prestige of the nuclear force after a series of shocks, including the accidental transport of nuclear weapons across the country on B-52s and several cheating and drug scandals.
Hyten made promoting rebuilding and upgrading the nuclear arsenal a centerpiece of his just-completed three-year tenure at StratCom. His successor (and former deputy), Adm. Charles Richard, has promised to continue a push for new weapons and delivery systems, as well as new computer systems to operate them.
"It's the entire nuclear capability that's being modernized: the bomber, the ICBM, the submarine, the cruise missile, the nuclear command and control," Hyten told The World-Herald. "They all need to be modernized at the same time."
Hyten also spoke out often and loudly about the need for the Air Force to modernize faster.
Rossi said the needs are different, though, when it comes to upgrading the computers that run the arsenal and slower can be better.
"It has to be a zero-fail system," he said. "Modernization is a go-right process, not a go-fast process."
Rossi declined to discuss the pace of modernizing the SACCS system. The 2016 GAO report described a $60 million SACCS upgrade that was to continue through fiscal year 2020.
Kristensen said it makes sense to make smaller improvements to the current system while the Air Force is still planning replacements for today's missiles and bombers. Nuclear command-and-control also has to merge with cyberwarfare capabilities, which are still in their infancy.
"It's a big, sweeping upgrade of the entire nuclear weapons system," he said. "We're still sort of in the building-block phase."
Hyten said that while the virtue of the old system is its simplicity, complexity may be StratCom's ally as it faces 21st century threats.
"I think the answer is to create a near-infinite number of communication pathways for these messages to go through," he said, "so near-infinite that the adversary will never figure out where these messages are going."
One thing is all but certain. The future won't include atomic floppies.
Photos: Offutt Air Force Base through the years
A historical overview of Offutt Air Force Base, longtime headquarters of the Strategic Air Command during the Cold War and current headquarters of what's now known as the Strategic Command.