On a rainy German afternoon 75 years ago, 2nd Lt. Karl Timmermann stood on a hill and peered through wet haze at the bomb-battered railroad bridge he and his men had to find a way to cross.
This span at Remagen, alone among the Rhine River bridges in these last days of World War II, somehow had survived strafing by Allied bombers, and hadn't been dynamited by retreating Nazi forces.
Timmermann and his soldiers knew the enemy must have wired it for demolition. German batteries had their guns trained on it.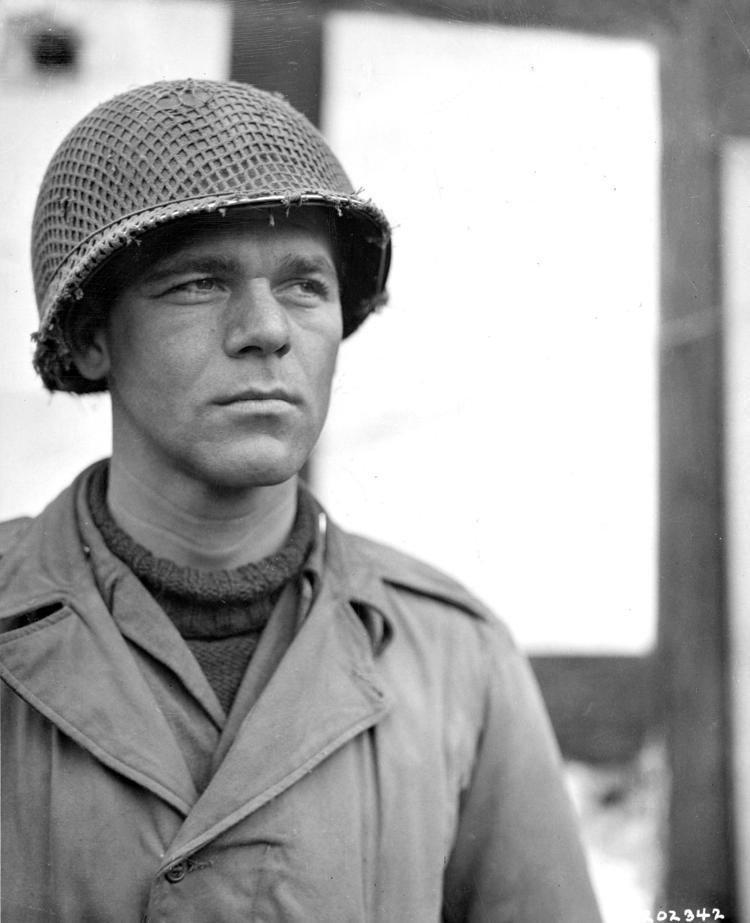 Crossing the rickety bridge more than three football fields long, right under the enemy's nose, was a fool's errand, a virtual suicide mission.
But it had to be done. They had orders. Timmermann, a quiet, sturdy Nebraskan, knew his troops would follow him.
"What's holding up the show?" he shouted, waving at his soldiers. "Get goin', you guys, get goin'!"
So the men of Company A dashed across the bridge even as it was strafed by gunfire and rocked with explosions. They were the first invading soldiers to cross the Rhine since Napoleon.
"God was surely smiling on Karl Timmermann and his men that day," wrote Ken Hechler, an Army historian and onetime speechwriter for President Harry Truman who chronicled the battle. He described it as "a brilliant stroke of military daring."
Gen. Dwight Eisenhower said taking the Remagen bridge March 7, 1945, shortened the war in Europe by six months. The Nazis surrendered just two months later.
The Remagen miracle sparked worldwide headlines, bringing renown to Timmermann, 22, of West Point, Nebraska, in his home state and far beyond. He was one of several soldiers in his unit awarded the Distinguished Service Cross, the Army's second-highest award for valor. His heroism was later celebrated in Hechler's popular 1957 book, "The Bridge at Remagen," and a 1969 Hollywood movie of the same name.
But back in West Point, Timmermann's wartime achievements didn't carry much weight. His neighbors had a hard time forgetting that he was German-born, part of a poor family from the wrong side of the tracks. Worst of all, his father, John, had deserted from the U.S. Army in Germany after World War I and returned home a few years later with a German bride.
"A lot of people in town looked down on him," said Robert Wostoupal, a Vietnam War veteran from the West Point area who served for years as Cuming County's veteran services officer. "He was just kind of shunned for what his father did or didn't do."
Wostoupal worked with Hechler — who took part in the Rhine River campaign and interviewed Timmermann soon after — to bring attention to the soldier's accomplishments. In 2004, Hechler published a second book, "Hero of the Rhine: The Karl Timmermann Story."
In an interview that year, Hechler told The World-Herald that he was shocked to learn of Timmermann's ill treatment.
"The whole story of his life is so fascinating to me," said Hechler, who died in 2016 at age 102. "It's stranger than fiction."
The first invading officer to cross the Rhine had been taunted and called "Hitler" as a teenager because of his heritage.
Sign up for World-Herald news alerts
Be the first to know when news happens. Get the latest breaking headlines sent straight to your inbox.
A generation earlier, John Timmermann had worked at his own father's feed store in Snyder, Nebraska, until enlisting in the Army in spring 1919. He was assigned to post-World War I occupation duty in Germany but was one of about 40 members of his unit who went absent without leave once they got there.
He married a German woman, Maria (Mary) Weisbecker in 1921. Karl, the oldest of the couple's four children, was born the following year. But the family couldn't make a living in postwar Germany. They returned to Nebraska in 1924.
Four years later, John Timmermann turned himself in to the Army. He served no jail time but received an other-than-honorable discharge. That solved his legal problems but didn't change his neighbors' disdain. John Timmermann couldn't find steady work, and Mary was subject to taunts at her job at a local cafe.
"We were looked at as second-class citizens," Karl Timmermann's sister, Mary Ellis of Omaha, told The World-Herald in 2004. "We knew what prejudice is. We knew it, we felt it."
Karl Timmermann joined the Army within a month of graduating from high school in 1940 "to clean up the Timmermann name," said Ellis, who died in 2012.
Karl served as an enlisted soldier for three years before being commissioned as an officer in 1943. While home on furlough, he met and married La Vera Meyer of West Point that May after a three-month courtship.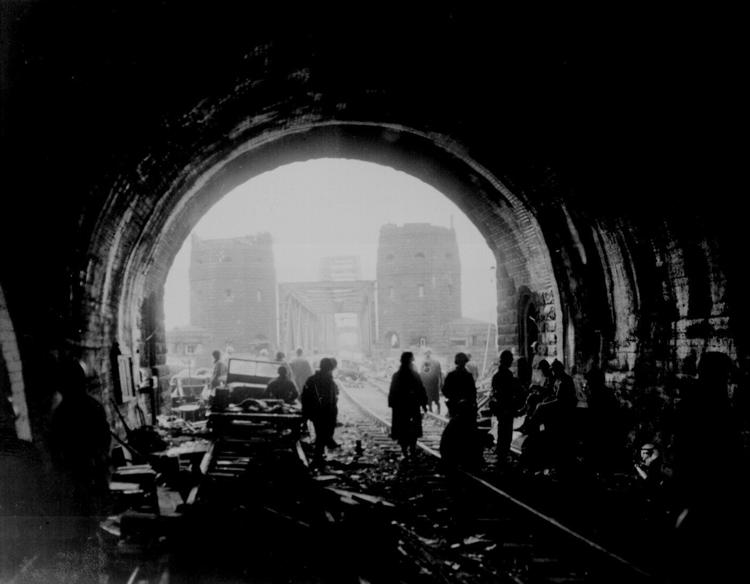 His unit, the 27th Armored Infantry Battalion of the 9th Armored Division, landed in France in August 1944, and engaged in months of heavy fighting. Timmermann was wounded by shrapnel during the Battle of the Bulge later that year. The night before the bridge engagement, he was named company commander despite his rank because senior officers had been wounded.
Neither Timmermann nor his men were eager heroes. When one of his men asked what they should do if the Germans blew up the bridge while they were on it, he said, "Swim."
Timmermann assembled three platoons to accomplish the task, and put himself with the first one. As he gave instructions, a massive explosion nearby sent timbers and steel flying through the air.
German defenders on the other side had set off a charge in hopes of destroying the bridge. They blew a large hole in the road leading up to it, but the bridge remained standing.
Then it was Timmermann's turn.
German machine guns opened fire, but Timmermann and his men kept going. One soldier, Sgt. Joseph Delisio of New York City, climbed a three-story tower at one end of the bridge and captured three German gunners who had some of the Americans pinned down. Delisio's buddy, Sgt. Al Drabik, was the first across.
Karl Timmermann held the distinction of being the first officer across, only a few steps behind.
The men of Company A secured the bridge and fought off pockets of German resistance on the other side. Over the next 10 days, 25,000 American troops crossed it.
Then, finally, weakened by bomb damage and too much heavy traffic, the bridge collapsed into the Rhine. At least 20 soldiers were killed.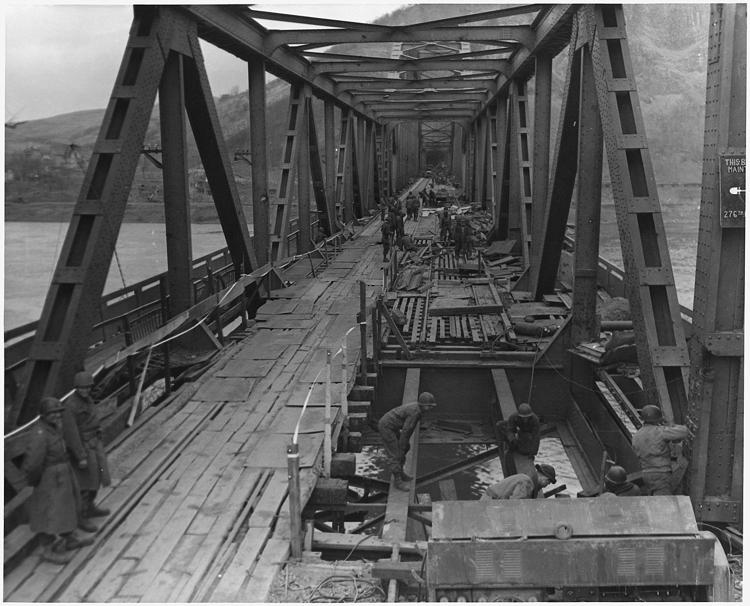 The World-Herald described Timmermann's exploits two days later under a headline that read "Nebraskan Heads First Unit Across." The story also reported that La Vera Timmermann had given birth to the couple's first child, a daughter named Gay, a week before the raid.
Timmermann was discharged in December 1945 and returned to West Point, in Hechler's words, "a lone figure trudging into town with a barracks bag slung over his shoulder. His reception committee consisted of one little dog who snarled and snapped at his heels."
He worked for a time as a salesman in Fremont but rejoined the Army in 1947, and later was assigned to Japan. He saw combat again when war broke out in Korea, taking part in the landing at Inchon in September 1950.
Within weeks, though, Timmermann was sent to a military hospital in Colorado after developing a painful lump in his groin. It turned out to be cancerous. He died in November 1951, at age 29.
A few in town argued that West Point's hometown hero deserved a memorial. A former mayor told Hechler in the 1950s that "most people were tired of the war. Also, there were many deserving veterans who came home from World War II."
Ed Baumann, a local department store owner and president of the War Dads during World War II, wrote to Hechler that "Karl was a real gentleman and a true-blue soldier. He was a hero. But the town belittled him."
He blamed John Timmermann's braggadocio and religious prejudice, because Karl Timmermann was Catholic and had married La Vera, who was a Missouri Synod Lutheran.
Over time, some of the hard feelings softened. In 1965, the town named a park for him. And in 1995, Wostoupal organized a celebration in Timmermann's honor, on the 50th anniversary of the bridge crossing. A monument was erected in his honor, too, calling him the "Hero of the Rhine."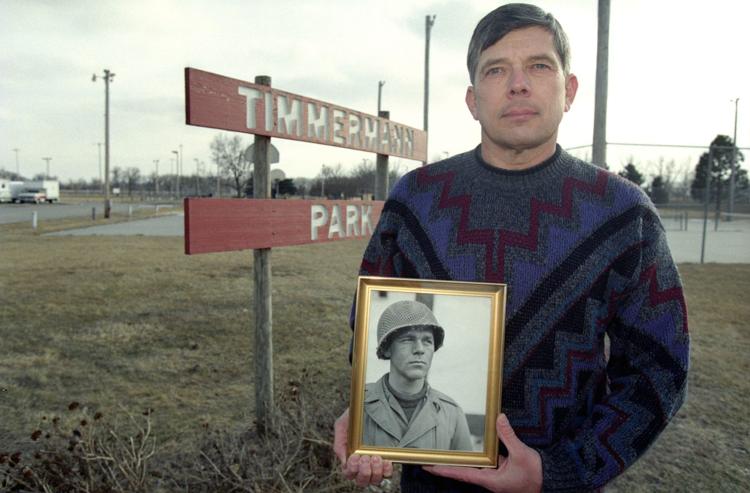 "I just took it upon myself to do it," he said. Hechler spoke at the ceremony. So did then-Gov. Ben Nelson.
Wostoupal said he's heard no mention of any events to honor Timmermann this year. His close family is all gone. His parents and three siblings have died. La Vera, who remarried in the 1950s, died in 2002. His daughter died in 2015.
But Wostoupal still thinks Timmermann's story deserves to be told.
"He did not get the praise or glory he deserved," Wostoupal said.
Browse 27 of The World-Herald's best books available for purchase
The World-Herald has produced several books that capture the character of Nebraska, including a look back at sacrifices made by local military heroes, great local athletes, Warren Buffett, eye-catching photography and more.